Vienna Shopping with a New Yorker

We had decided to go shopping in Vienna outside of the mainstream. However, we did not expect this to turn out to be one of our favorite Vienna travel tips. As an occasional visitor to another city, however, you cannot find your way straight away, so we met with Lucie in the Holiday Inn Vienna City * arranged to meet. It's sympathy at first sight. Lucie is a petite, friendly New Yorker who has us Vienna shows from their perspective. She is Vienna's shopping guide and takes her guests to shops away from the city's main shopping streets. However, that does not mean that the shops there are uninteresting. On the contrary, we discover a lot of the unexpected.
Lucie's Vienna shopping insider tip
She recommends: "If you want to go shopping in Vienna, I have an insider tip for you. Have a look at the small boutiques in the alleys away from the main streets. You can often find unique pieces there and get real bargains!"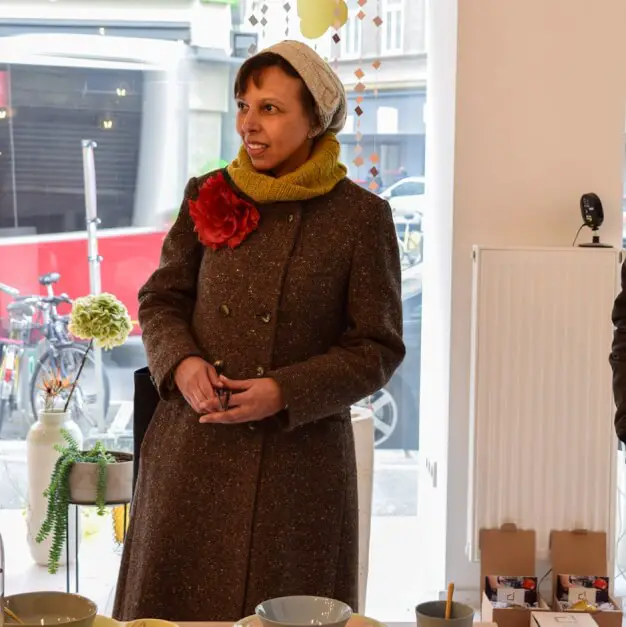 Shopping in Vienna with Lucie's Vienna Shopping Tips
Lucie Lamster-Thury was a fashion stylist in New York City until love took her to Vienna. Everything was a little quieter here. Lucie first had to get used to life in Vienna. Here, the day is more leisurely compared to New York. After some walks through the various districts of Vienna, however, she quickly realized what shopping treasures were hidden in the neighborhoods off the main shopping streets.
She spoke to the shopkeepers and suggested that interested visitors be taken there. Many of them recognized their opportunity and have been working with Lucie since then. Therefore, she shows us at the extremely fun and varied Vienna shopping shops in Vienna's 5th district. Your Vienna shopping tips are very exciting. There is something for every taste. Fashion fans will find what they are looking for Culinary experts.
No matter if you like to stand in the kitchen, and you are looking for equipment with taste. Or rather look for special ingredients for your next meal. Are you more interested in fashion? Lucie also has tips for this. And when it comes to making sure your table is nicely set for guests? Lucie knows where to find nice dishes. Shopping with her is great fun. Perhaps you will also find a suitable souvenir from your trip to Vienna that does not dust in the closet afterwards, but does useful services for you. We definitely discovered something during our shopping tour through Vienna's 5th district.
Lucie says: "If you want to go shopping in Vienna, you should definitely visit the small shops off the main shopping streets. There you will find individual and unique things that not everyone has." She is right! Our shopping spree through Vienna leads us to exciting shops.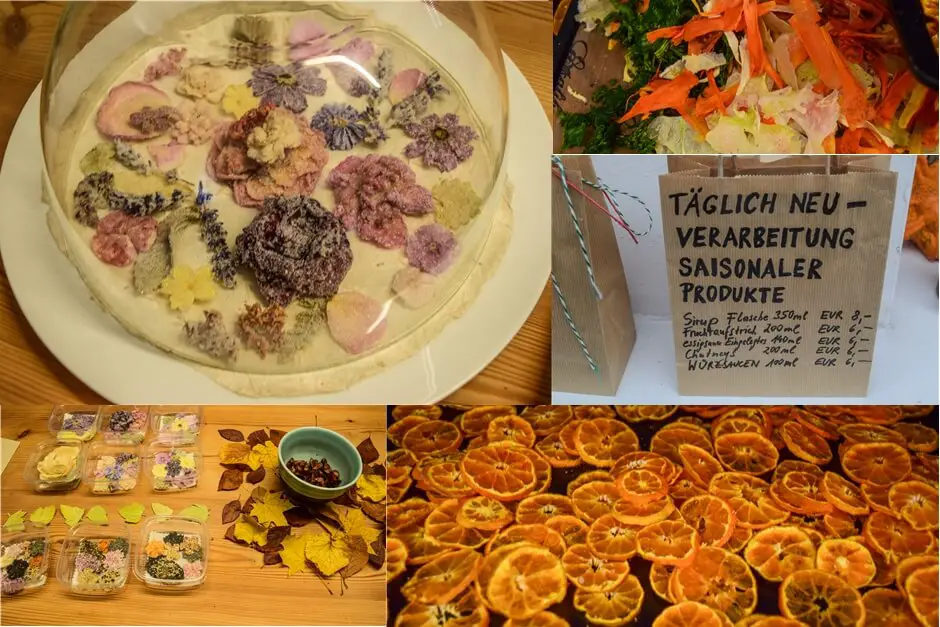 Where to shop in Vienna – Lucie recommends shopping in the 5th district
Our Vienna Shopping Tour starts with a visit to Henzl's harvest, where Getrude Henzl dies in spring, summer and Autumn collected fruits and vegetables processed. She dries and candies them. She also puts them in oil or vinegar. In any case, her inventive creations are imaginative, surprising, healthy and delicious. A great store for Gift for connoisseurs.
Im instead garden Instead, unlike the name might suggest, it's about natural cosmetics. Toiletries, trendy accessories and scents from all over the world lure us into the store. This should appeal to beauty lovers.
Book your excursions and activities in Vienna here: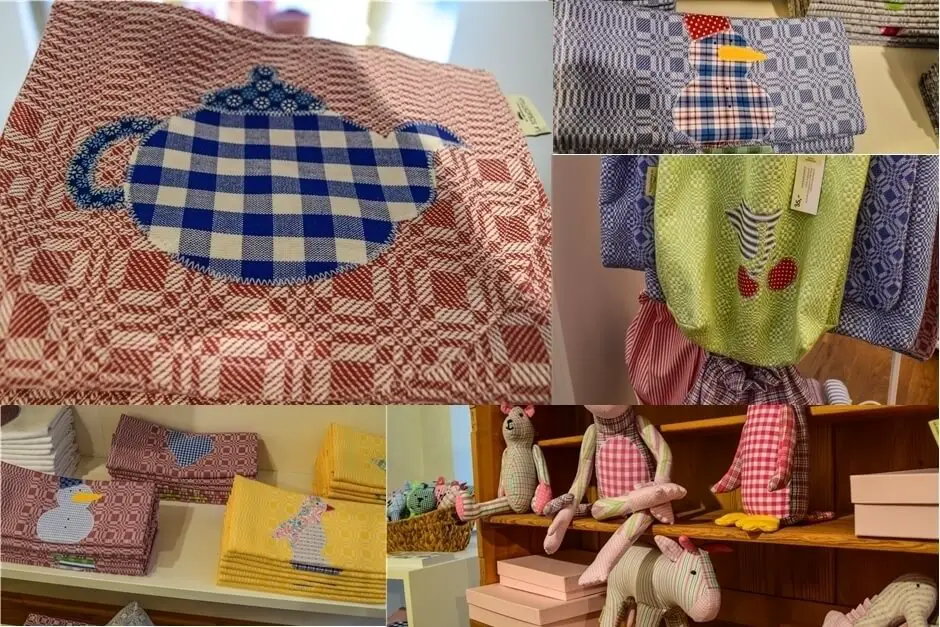 The artup store particularly liked Lucie's Vienna shopping tips. There are wonderful products from Austria that range from fashion to accessories and souvenirs to tableware, living and gardening.
Vienna shopping shops for fashion fans
I'm not usually someone who likes to buy clothes. But the shops Lucie shows us are fun. No matter if in the Saturday shopWherein Dorte merchant or gabarage upcycling we discover fashion made from high quality materials. In addition, there is a fresh design that reminds me in many ways of trendy fashion designers in New York. For me it's like a déjà vu and takes me back to the days when I wandered through New York's boutiques every few weeks. Under Lucie's Vienna Shopping Tips for Fashionistas we also find chic fashion from Austrian designers, which I also really like.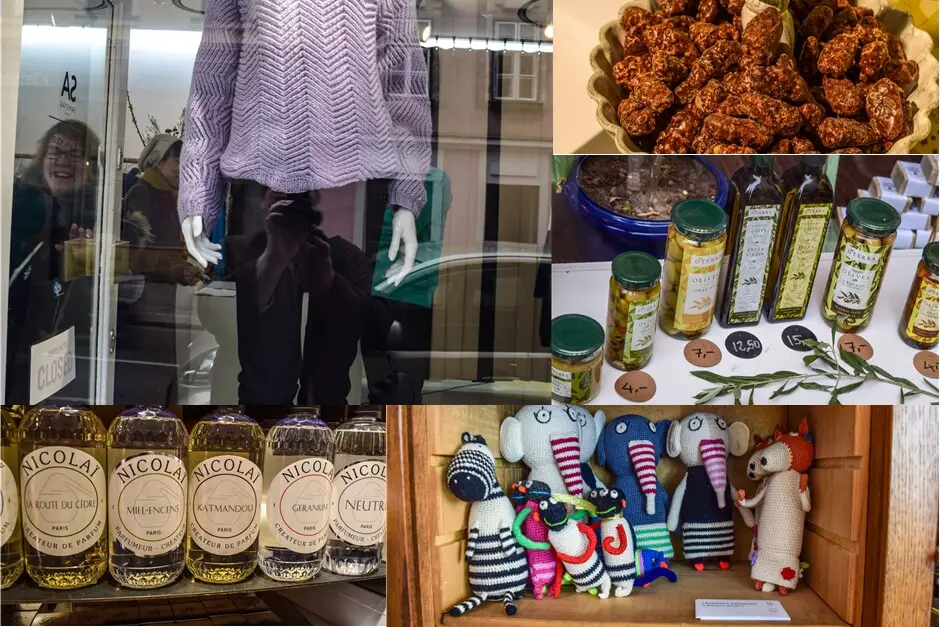 What I find most interesting of Lucie's Vienna shopping tips is a passion project by christian romauch, There is not only high quality clothing made of wool, but also cute hand felted slippers. There are also loving and playful accessories. The whole thing can be viewed with a cup of tea. This is how shopping in Vienna is fun! What I also particularly like is that christian romauch supports a South African project. There a group of women knits cute woolen dolls and fantasy animals, which he sells in his shop.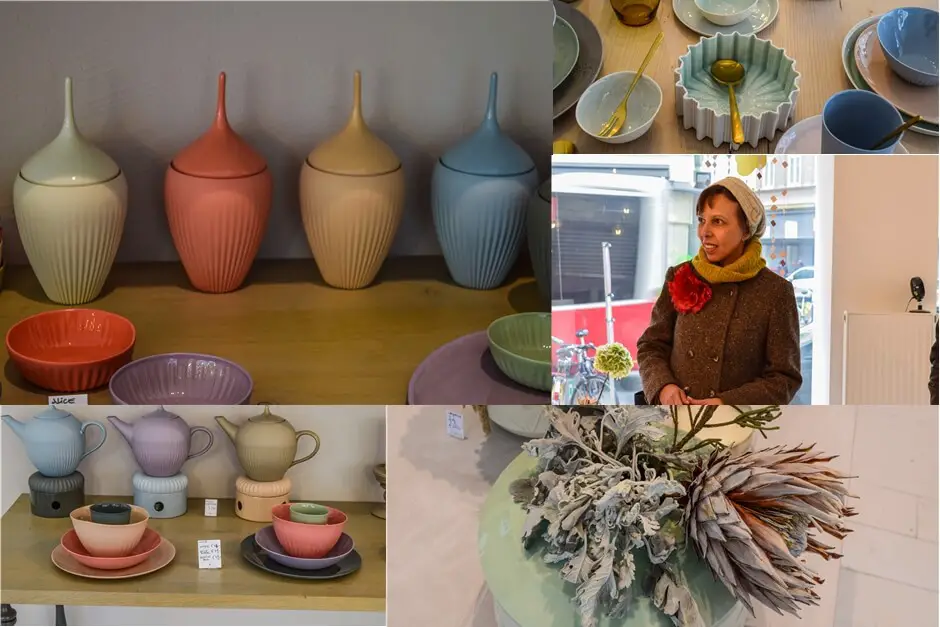 Shopping for fine things in Vienna
But there are not only fashion and delicious things in the 5. Vienna district. In the Porzellanmanufaktur fine things I could have spent hours. There we discover very tasty porcelain creations in pastel colors. In this shop I was particularly drawn to pulling out my wallet. It's a good thing that after our Vienna Shopping Tour with Lucie another appointment was waiting for us. So our wallet got stuck. But who knows? Maybe we will come back soon.
Conclusion: Vienna Shopping with Lucie is fun
One thing is certain: we would never have discovered all these shops without Lucie. When shopping in Vienna with an insider, you will discover hidden treasures and insider tips away from the well-known shopping streets. Lucie put together an entertaining and varied Vienna shopping tour through the 5th district for us. We got to know the best Austrian designers as well as great accessories, home decor and more.
The way was like a leisurely walk, where we didn't cover long distances, but rather browsed extensively in nice shops. And if we finally get the urge to buy, Lucie gives us a small package with the business cards of the shops we've visited. So we can continue browsing in peace after the tour. And maybe take advantage of the big discounts she has negotiated for her guests at the shops. By the way: if you want to save money on your visit to Vienna and still want to see a lot, you should read this article about the Vienna Pass read.
If you want to enjoy shopping in Vienna with Lucie yourself, you can find it on their website Shopping with Lucie additional Information. She offers various group tours, but also arranges individual tours to interest by appointment. The group tours cost currently (06.02.2020) 35 € per person with six to eight people and last three hours.
Shopping in Vienna with tasting
Make your shopping in Vienna an experience with a tasting of local specialties. Here it goes:
Questions and answers about shopping in Vienna
Where is the best place to shop in Vienna?
In the old town of Vienna, the best places to shop are around Kärntner Strasse, Graben and Kohlmarkt. This is where most of the posh shops and jewelers are located. If you are looking for hip shops, Mariahilfer Strasse and the surrounding streets are the right place for shopping in Vienna.
Which shops are there only in Vienna?
There are some. Among them are eg
The candy workshop
glitter jewellery
The Chili Workshop
Viennese soap factory
The Dog Deli
ZAK shoes
The celery
The Vienna Store
fine chef
The workbench
You can find detailed information about this in this article 10 extraordinary shops in Vienna.
Where is the largest shopping center in Vienna?
This is WIEN MITTE The Mall. With 60 brand shops and premium restaurants, it is the largest and most modern shopping center in Vienna. You can find it at Landstrasser Hauptstrasse 1B, 1030 Vienna.
How many shopping centers are there in Vienna?
In Austria's capital you will find more than 35 shopping centers for shopping in Vienna.
A selection:
Shopping City South
The Mall – Central Vienna
gladly
Danube center
Central Station – City Station
Westbahnhof – Bahnhof City
Designer Outlet Parndorf
Lugner City
The Columbus Center
Shopping Center North
More information and a map of where these shopping centers are located in Vienna has the Vienna Tourist Information.
---
Travel Arrangements:
Arrival by plane, train and bus
Arrival by plane, bus or train*. Lufthansa, Austrian Airlines and Swiss will follow Vienna. It is possible to travel to Vienna by train. Long-distance buses also go to Vienna.
Rental car
Book your rental car here for Vienna *
Campers & RVs to Rent
Accommodations:
Here you can find the right one Accommodation in Vienna *
Are you traveling to Vienna in a motorhome to go shopping?
---
Do you also know:
Source for Vienna shopping tips: own research on site. We would like to thank the Holiday Inn Vienna City for supporting this city tour. However, as always, our opinion remains our own.
Text: © Copyright Monika Fuchs and TravelWorldOnline
Photos: © Copyright Monika Fuchs and TravelWorldOnline
Vienna Shopping away from the mainstream