Buy roof tent ( hard shell ) car Ragna GT, CC BY-SA 4.0, via Wikimedia Commons
You should know this before buying your roof tent for the car
A roof tent on the car offers you several advantages compared to buying a mobile home. With a car roof tent you are more flexible on the road than with a mobile home. You can mount a car tent on the roof of a Bulli or van. Do you need a roof tent in the hard shell or a roof tent for 3 people? Here you can find it.
Advantages that a car tent has
You can easily spend the night with a car roof tent in any car park, as long as you don't set up camping chairs and your roof tent doesn't increase the dimensions of the vehicle. A roof tent in the hard shell is perfect for this. If you sleep in the roof tent, this serves to restore your ability to drive. After the night you should drive on. Multi-day stays are similar to the Caravan not allowed in Germany.
While an RV doesn't fit under every bridge because of its height, you don't have this problem with a rooftop tent. Hard-shell roof tents in particular are packed so compactly that they do not cause any problems.
In cities you are more flexible with a car with a roof tent. You can find parking spaces wherever cars are allowed to park. With a mobile home this is difficult. You are often dependent on parking spaces and parking spaces outside the city center. Long walks into the city are not uncommon.
Roof tents are cheap
A big difference to the mobile home is the price. Buying an RV is a big investment. If you want to buy a roof tent for the car, you can get it - depending on the size and equipment - at prices between 1000 and 6500 euros. Particularly good car roof tents cost up to 8000 euros. You can even buy a roof tent for pickups, which you set up on the loading area of ​​the vehicle, for less than 200 euros. Whether cheap roof tents are worthwhile, however, must be considered carefully. The cheapest models are not automatically the best.
Here you can buy your tent for the car roof
Roof tent with awning
Car roof tent extended incl. awning all sizes and colors
Order here*
Prime Tech car roof tent extended incl. awning all sizes and colors
Order here*
Roof tent hard shell for 2-3 people
Prime Tech hard shell car roof tent Gamma all sizes and colors automatic 52KG
Order here*
Qeedo Freedom Slim hard shell roof tent for 2 people
Order here*
Prime Tech hard shell car roof tent Utah 120cm aluminum automatic 59kg
Order here*
Prime Tech hard shell car roof tent Nevada 140cm ABS automatic
Order here*
DUTUI Car Roof Tent, SUV Car Side Tent for Two People, Hard Top Shell, Quick Opening, Waterproof and Wear-Resistant
Order here*
Roof tent 3 people
Qeedo Freedom family roof tent for 3 people (182 x 142 x 39cm)
Order here*
Roof load on a car for a car roof tent
The permissible roof load must be observed. The information can be found in the manufacturer's manual for the vehicle. It's not on the vehicle registration document. Depending on the vehicle, this is between 50 and 75 kilograms, sometimes even higher. This means the load weight that may be transported during the journey. In the case of a car roof tent, this load is the weight of the closed tent. Tent and roof rack should not exceed the specified roof load.
If the car is stationary, it can withstand a higher weight. Tent manufacturers state the maximum load of the roof when stationary at around 200 kilograms. The lower the weight of the roof tent and the user, the more people can sleep in it. Here you should make sure that Tent, the roof rack, the people and the luggage under the total mass of the vehicle lie.
Roof rack for car roof tent
When it comes to car roof structures, there are a few things you have to consider. It is important that the roof rack can withstand the weight of the roof tent including people. Roof rack with a load capacity of 200 kg * are best suited for this. You should also make sure that the luggage rack fits your own car, e.g. for one citroen*, one Volkswagen* , or renault*. There's a selection for different car brands, for example VDP*. In addition, roof racks must match your vehicle type. Some cars already have a railing or mounting points to which you can attach the cross members. The TÜV advises only buying tested luggage racks. Although there are no legal regulations, there is the DIN 75302 standard, which specifies the requirements and test methods for luggage racks. It therefore makes sense to use tested luggage racks. The best thing to do is to ask your car manufacturer about suitable roof racks. Then you can't go wrong.
Accessories for the car roof tent
So that you can sleep well in your car roof tent, we recommend an air mattress.

Car rear tent for more camping space
Where can I stay overnight with a car roof tent?
At campsites
Scandinavia allows wild camping (see "Everyman's Right"). This does not apply to mobile homes.
In Scotland you can camp wild.
In Germany in nature where it is not forbidden (fines are rare)
It is forbidden to stay overnight in a roof tent
In nature, wildlife and water protection areas
In public squares and streets
In the wilderness, especially in southern Europe (there are often high penalties)
On private property (be sure to ask in advance!)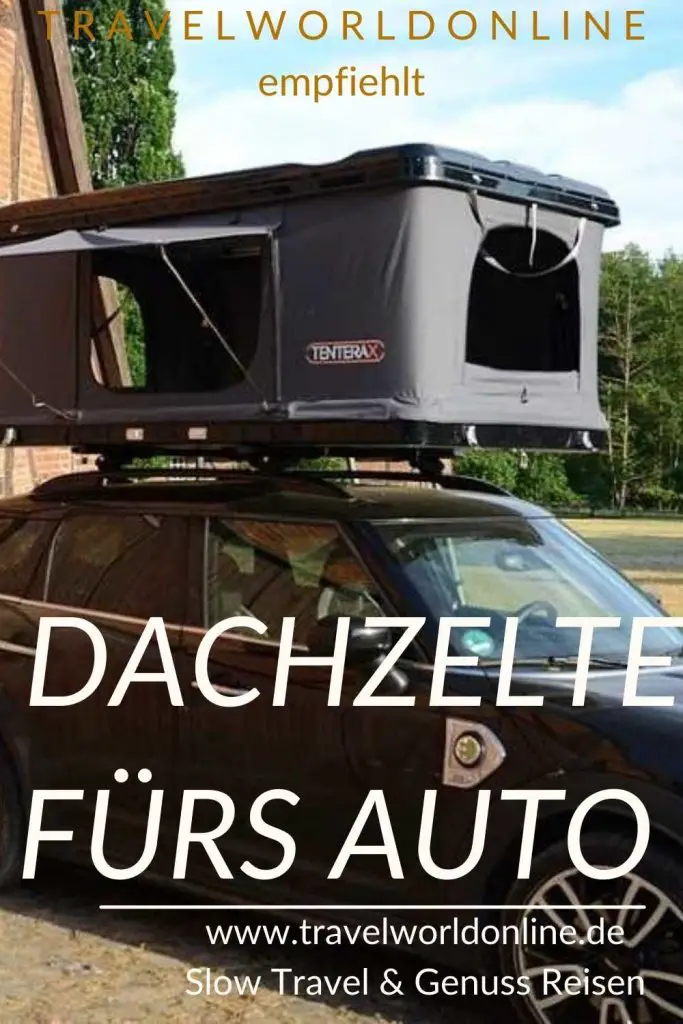 Do you already know:
Source Buying a roof tent for the car: own research.
Text Buying a roof tent for the car: © Copyright Monika Fuchs, TravelWorldOnline
Photos : © Copyright Wikimedia (see caption) and Amazon product photos
Buying a roof tent for the car – you need to know that