Oatmeal biscuits recipe with apricots and marzipan
This time we have an oatmeal biscuit recipe for that Christmas time to you. We are fans of oatmeal and oat biscuits. We are not only since we met Oatmeal Cookies in the USA. Even as a child, I often sneaked into the kitchen and made myself an oatmeal muesli. I was inventive with the ingredients. Sometimes I ate it with cocoa. Another time with vanilla flavor. If it wasn't in stock, I added milk and sugar. Sometimes the combinations were more adventurous.
The good thing about oatmeal is that there are many ways to prepare it. I liked them all. This desire for oatmeal increased during our trips to the USA, Canada and Great Britain. Oat cookies - or oatmeal cookies - are one of my favorite foods. The oat biscuits are part of everyday life there. With us they are now part of our diet.
Our kitchen smells of cinnamon, vanilla and Gingerbreadspice, Christmas is not far off. Christmas stollen, pepper nuts, vanilla crescents and other delicacies are definitely part of the Christmas season. The oatmeal biscuit recipe is not only available in Advent. We always have oatmeal at home. That's why the oat biscuits are also available throughout the year.
Oatmeal is healthy
Oatmeal can complement or even replace nuts. You can also use them as a substitute for around a quarter to third of the amount of flour. This gives the Christmas biscuits a wholemeal touch and contributes to a balanced diet. Oatmeal is a whole grain product and contains nutrients, especially fiber. This oatmeal biscuit recipe goes well with Advent coffee.
Oatmeal Cookies Recipe
Ingredients for 16 pieces:
60 g oats
100 g marzipan paste
2 tbsp apple juice
16 dried apricots (approx. 125 g)
approx. 150 g dark chocolate couverture
In these cookbooks you will find cookie recipes
How to make the oatmeal biscuit recipe:
Toast the oat flakes in a pan without fat until they are fragrant, remove immediately.
Finely grind 50 g of oat flakes in a lightning chopper. Set the rest of the oatmeal aside.
Knead the marzipan with the oatmeal flour and apple juice. Cover and chill for about 30 minutes.
Halve the apricots with a knife to create a bottom and top.
Shape the marzipan into a roll and cut into 16 pieces. Shape pieces into balls.
Place 1 marzipan ball between 2 apricot halves and press flat.
Chill for at least 1 hour.
Chop the couverture and melt over a water bath.
Dip the oatmeal biscuits into the couverture with a fork and turn them until they are coated. Drain, then place on parchment paper. Sprinkle with the rest of the oatmeal. Let dry.
In a tin can in the refrigerator, the pralines stay fresh for 2-3 weeks.
For a variant, you can also press the marzipan balls between 2 walnut halves instead of apricot halves.
Under www.alleskoerner.de There are also oatmeal cookie recipes and more.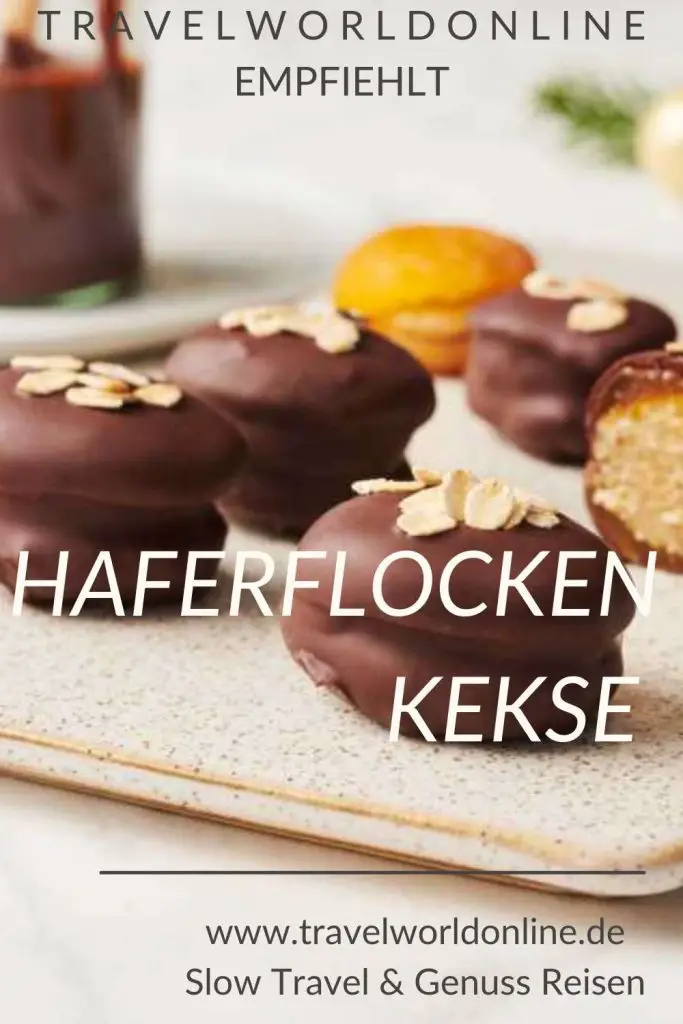 Do you already know:
Source: djd / www.alleskoerner.de
Text oatmeal biscuits recipe: Monika Fuchs
Photo of oat biscuits: djd / www.alleskoerner.de
Oatmeal biscuits recipe with apricots and marzipan