Black and White Cookies - Black and White Cookies Recipe From GeoTrinity - Own work, CC BY-SA 3.0
These biscuits were always a highlight on my mum's Advent plate. She tried very hard. At least in our children's eyes. Therefore, they were also something special for us children. I loved these cookiebecause they tasted chocolaty. They are very easy to prepare though. Every time I see these cookies, I think back to my childhood, to cozy coffee breaks on Advent afternoons and the anticipation of the upcoming Christmas celebrations. You can find out how to bake them yourself in this black and white biscuit recipe.
Black and white biscuits recipe
Ingredients:
125 grams butter
125 grams of sugar
one egg
1 package vanilla sugar
250 grams of flour
1 teaspoon baking powder
2 teaspoons cocoa
How to prepare the black and white biscuit recipe:
Make sure the butter is room temperature. Then put all the ingredients except the cocoa in a bowl and knead them into a smooth dough.
Then divide the dough in half.
Add the cocoa to one of the halves and knead it into the dough.
Then you form two balls from the types of dough and put them in the fridge.
When the dough is cool, you can use the rolling pin to cut it into sheets about 1 centimeter thick. Then place the dark sheet over the light sheet of dough and cut strips about 1 centimeter thick from both sheets.
Then cut the strips again into pieces about 1 centimeter thick.
You can then arrange them in a checkerboard pattern to give them their typical appearance.
Line a baking tray with baking paper and preheat the oven to 200°C.
You distribute your preformed biscuits on it.
Now bake them for about 10 minutes.
As you can see, they are very easy to bake. We hope you enjoy them as much as I did when I was a kid.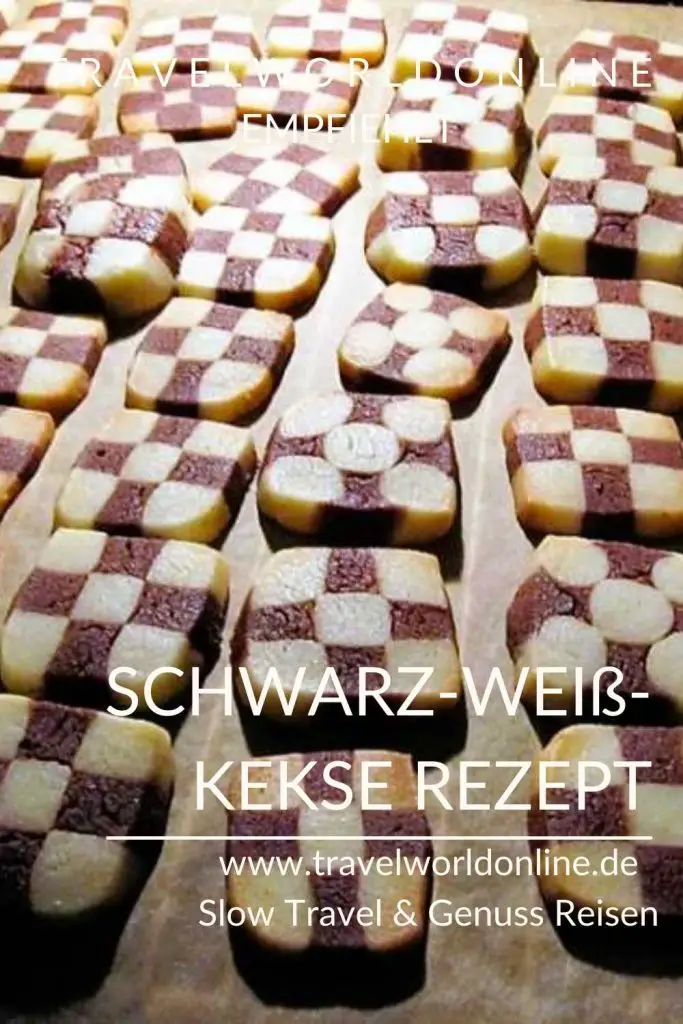 Do you also know:
Source Black and White Cookies Recipe: My Mom's Recipe Collection
Text: © Copyright Monika Fuchs and TravelWorldOnline
Photos from GeoTrinity - Own work, CC BY-SA 3.0