Luxembourg Specialties you should know
Luxembourg is a small country, but it has a variety of delicious dishes to offer. Many of these dishes are typical of Luxembourg and have a long tradition. You should know these dishes when you travel to Luxembourg. Our trip to Luxembourg showed us how important it is to know dishes from your travel destination. Before our trip, we knew that Luxembourg has culinary specialties. What we didn't know, however, were their names. It was only in the local restaurants that we realized that we should have dealt with this before we arrived. Because on site we didn't understand a word that was on the menu at first. Menus are written in Luxembourgish. Even if the country is multilingual and almost everyone speaks German or French.
There was Grompere Kichelcher. Kuddelfleck. Andouillette. Träipen. Kallefskaap. I could go on with the list. Just what is it? Some things could be deduced after getting used to Luxembourgish, but not everything. We couldn't have the waiter translate the menu every time. By the time he finished his translation, we had already forgotten, what the dishes were. Therefore, our restaurant visits turned out to be quite an adventure. What ended up on our plate was always a surprise. Therefore you should definitely get to know a few specialties of the country you travel to. That makes a trip a lot easier.
A Crime Story from Luxembourg
We have seen for ourselves that Luxembourg has culinary specialties. A crime novel I read recently reminds me of this. Tom Hillenbrand's investigator is star chef Xavier Kieffer. He lives in Luxembourg. So it's no wonder that culinary delights play a role in these thrillers. I devoured his thriller Bitter Schokolade. Not only does he present the capital's gastronomic scene and the upper and lower towns in detail. He also describes dishes that the star chef and others serve in their restaurants.
In volume 6 of his crime series, Kieffer meets his childhood sweetheart Ketti again, whom he has not seen for years. She now produces pralines in her chocolate factory near Brussels. At a meeting, she collapses before his eyes, mortally wounded. She was shot by strangers. Does her murder have anything to do with the fair trade chocolate, she grows in the Congo?
Hillenbrand weaves a story about the delicacy, which, however, leaves a bitter aftertaste due to the machinations of certain people. For this reason alone, this crime story is worth reading. You can order the crime thriller here* (in German).
You can get all the crime novels with star chef Kieffer in one collective issue * (German edition).
Do you also want to cook the dishes yourself? Then you need the cookbook Kachen: Luxembourgish specialties *.
I also used Hillenbrand's crime thriller to learn more about the country's specialties. The crime thriller is a culinary treasure trove. His protagonist Xavier Kieffer is a star chef. On his return from Paris, he decides to serve local specialties to the guests in his Luxembourg restaurant. You can hardly find a better teacher. Every instance he prepares his menu for the next day is an exciting part in the novel. I end up collecting his menu suggestions on a notepad, that I put next to my reading chair.
Luxembourg Specialties
Kieffer's breakfast usually consists of croissants or brioches with coffee. It immediately reminds me of our breakfast with view of the old town . His chases through the city and his visits to the Old town are like a déja vu. In my mind I follow his paths through the city. Even his visits to the government district and the hotels of the city evoke images of a city, as we got to know it, when we were there.
However, the matter of food gets more complicated with the main meals. The names of the dishes are not as easy to recognize as croissants or brioches. Some names can be derived from Luxembourgish into German after we get used to the pronounciation. With others, however, it is more difficult.
Hearty Luxembourg dishes include 'Judd mat Gaardebounen', a meal of salt pork and green beans. The "Kachkéis" is also a popular dish. This is a flavorful, melted cheese served on bread. Another specialty is the "Gromperekichelcher", potato pancakes, which are often served with applesauce or cranberries. And don't forget the "Kniddelen", small dumplings made from potato or flour dough, which are often served as an accompaniment to meat dishes.
Sweet specialties in Luxembourg
There are also sweet specialties in Luxembourg. This includes, for example, the Quetschentaart, a kind of plum cake. Also known is the Bamkuch, a spit cake that is mainly served on special occasions.
Glossary of Luxembourg Specialties
| | |
| --- | --- |
| Grompere Kichelcher | potato pancake |
| Huesenziwwi | rabbit ragout |
| hassle stain | a traditional dish made from rumen |
| andouillette | sausage made from offal |
| Träipen | filled blood sausage |
| Kallefskapp | calf's head |
| Graf Pati | terrine made from liver, pork, bacon, eggs, wine and spices |
| Feststengszalot | meat salad |
| gebotschte Gromperen | fried potatoes |
| Biwwelamoud | Boeuf à la mode or sauerbraten |
| Judd mat Gaardebounen | a national dish, pork neck with broad beans and potatoes |
| Choucroute | Sauerkraut |
| Verwurelte | carnival pastries from Luxembourg |
| Hiecht mat Kraiderzooss | pike with herb sauce |
| Chou Fleur Zopp | cauliflower soup |
| cuddles | flour dumplings |
| mummaart | topped apple pie |
| squeeze fluid | plum cake |
| Riesling paschtèit | puff pastries with pork |
| Suet pudding | kidney fat cake |
| Wäinzoossiss mat Moschterzooss | sausages with mustard sauce and mashed potatoes |
| kachkei | cooking cheese |
| Queen's bite | Puff pastry patties with chicken fricassee |
| Boune slip | Luxembourg bean stew |
| Consomme diablotins | Broth with slices of bread topped with cheese and béchamel sauce |
| Frying | Deep fried Nosel fish in batter |
| ganache | Cream of couverture and cream |
| Gratin de queues d'écrevisse | scalloped tails of crayfish |
| lobster Thermidor | Lobster ragout baked with cream and mushrooms |
| Kanengche mat Moschterzoos | Casserole with rabbit in mustard sauce |
| Loup de mer en croûte feuilletée | Sea bass in puff pastry crust |
| Mousses d'ecrevisses au Cliquot | Cream of crayfish refined with champagne |
| Ortolan au suc d'pineapple | Bunting in pineapple juice |
| Bone marrow | marrowbone |
| Paté a Jelli | Pie with jelly |
| Poularde en vessie | Chicken cooked in a pig's bladder |
| Rapes des Vosges | Lorraine potato pancakes |
| Gribiche sauce | cold sauce with egg, capers, gherkins, mustard and herbs |
| smear | Luxembourg spread |
| Sole a l'Oseille | Sole with sorrel |
| stuffy | Luxembourg cottage cheese |
| Truite farcie braisee au porto | Trout stuffed with port wine sauce |
| Coucou de Malin | Mechelen cuckoo, chicken species from Flanders |
| Cremant | Luxembourg champagne |
| Entrecote Bercy | Stick with white wine shallot sauce, parsley and cress |
| Enjoy the Riesling | Trout in Riesling |
| Gramigna | short noodle |
| clap | whipped cream |
| Chorone sauce | Variant of Béarnaise sauce with tomato paste |
| Tarte Tatin | Apple pie baked upside down |
| Vol-au-vents | Puff Pastry Patties |
Influences on the Cuisine of Luxembourg
Of course there are more specialties. But these dishes will get you further as a traveler. On our trip we also learned that along the border with Germany you can often find dishes that have been taken over from the cuisine of the neighboring regions. Along the French border, for example, you can find dishes from French cuisine in the restaurants. The cuisines from Italy and Portugal also play a role in Luxembourg's gastronomic mix. Immigrants have left their mark. This definitely guarantees menus in the restaurants that provide variety.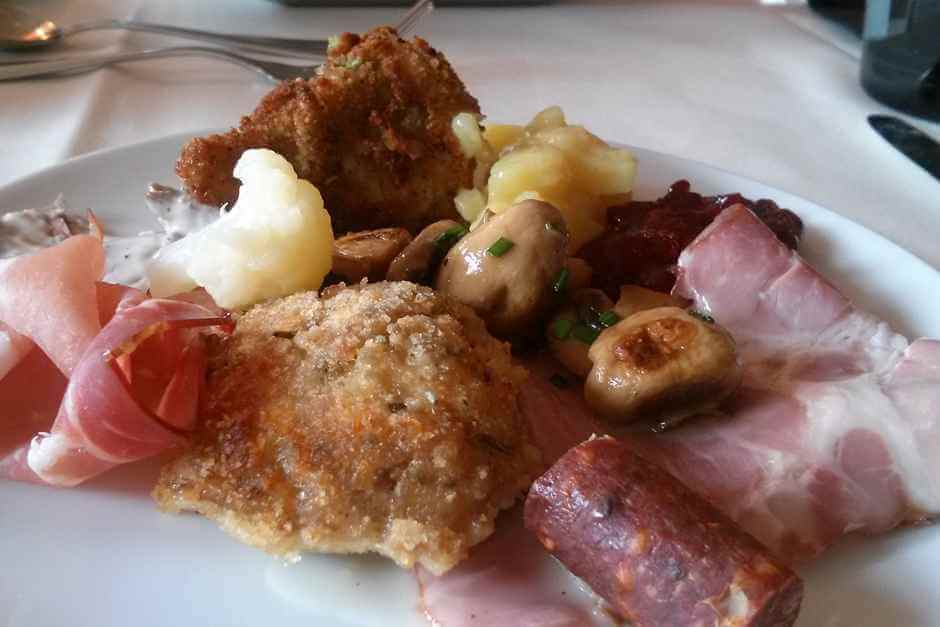 Specialties that are popular
One of the dishes that Luxembourgers like to eat is Judd mat Gaardebounen. Wikipedia refers to it as the national dish. This is pork neck that is cured or smoked. It is served with broad beans. The Bouneschlupp is also popular. It's a bean soup with bacon and potatoes. This soup is not only known in Luxembourg, but also in Lorraine. We also got to know Kniddelen on our trip to Luxembourg. That's what dumplings made of flour, water, eggs and salt are called. These are served with a bacon and cream sauce or with applesauce. For dessert, people like to eat a quetschentaart afterwards. This is a plum cake. An omelette soufflé also tastes good at the end. Specialties from Luxembourg are definitely dishes from the country's home cooking.
Products from the Region
I also find it exciting that Luxembourg produces a lot of specialties from the region. There is, for example, the ham from the Ardennes or the pork in aspic. In the wine regions there is Rieslingspaschtéit, a Riesling pie. This is one of the national dishes from Luxembourg. It is a puff pastry pie filled with pork and a layer of gelatine. This is prepared from Riesling. Rivers such as the Moselle or the Lower Sûre provide fish that the restaurants in the river valleys have on their menus. These include trout, pike and crayfish. If you want to be sure that you buy products from the region when you buy souvenirs, then look for the seal "Produit du terroir". Only products that are produced in the region may bear this seal of quality.
Conclusion: Food in Luxembourg is Hearty
The food in Luxembourg surprised us. We expected to feel the influence of fine cuisine from France. However, this can only be found in the restaurants and hotels in the Europaviertel. However, this food has little to do with the country's specialities. Instead, specialties from Luxembourg are down-to-earth. For example, you can easily imagine how grandma or mother would put kniddelen on the family table. Or how Jupp mat Gaardebounen is served to a family gathering on festive days. The influences from neighboring countries also tend to come from home cooking. They therefore go well with the dishes from the country's cuisine. Let our recommendations inspire you to try these specialties. It is worth it .. However, you have to bring your hunger with you. Because the portions are big. In any case, we wish you a good appetite!
Besides, do you know?
Text Luxembourg culinary specialties: © Copyright Monika Fuchs and TravelWorldOnline
Photos: © Copyright Monika Fuchs and TravelWorldOnline
Luxembourg Specialties you should know