Food to Savor on Trips in the Food and Travel Blog
In our food and travel blog we present you ideas and suggestions on how you can savor your trip. That's more than you probably think. Of course, restaurants, cafes and hotels all play a role. But that is by far not all. Your travel destination is guaranteed to know specialties that are typical of the region. There are plants and animals there that you can also find on the menus. Have you ever wondered where the ingredients for your food come from? Who prepared them? And how? You can discover that in markets. It is even more exciting to visit their producers. Here you will find suggestions as to where and how this is possible.
With these tips for culinary trips to savor you can turn your journey into an unforgettable experience.
Visit Local Producers
Discover, what local producers do and how they work. Get insights on how they make local specialties and products. Such visits also offer the opportunity to meet and talk to locals. A look behind the scenes is fun and also shows you your travel destination from an indepth perspective.
Stop by an innkeeper and let him explain to you what is special about his menu choice. Go to the meadows with a herbalist. From her you can learn what to do with the herbs of her homeland. Visit a brewer and find out what types of beer they produce. Or go shopping in a farm shop and let the farmer's wife explain to you which specialties she has on offer. You can find tips for this in the pleasure blog:
Discover specialties in markets and shops in the pleasure blog
Another way to get to know the cuisine of a region is to visit markets. A market in China offers different food products than a market in Québec. In the pleasure blog you will find inspiration and suggestions.
The same goes for stores. Here you can get to know a region as well. In this case, however, enjoyment is not limited to culinary delights. You can of course discover that too. However, there are also shops that also give you an insight into everyday regional life or art and culture. A confectionery in Salzburg makes different pralines than one in Toronto. A traditional costume shop in Scotland shows you different clothes than a traditional costume shop in Bavaria. And a glass dealer in Sweden offers a different design than one in Vermont or Bavaria. It's worth looking deeper with the pleasure blog.
Restaurants and Cafés to Savor
The best restaurants are not always the most expensive. Have a seat in a restaurant where they serve dishes based on recipe books that are more than 200 years old. Enjoy a local coffee break that consists of four courses and takes the whole afternoon to savor. Try a homemade goose on St. Martin's Day in the Burgenland, Austria. And do not miss the tasty Brettljausen (snacks) on the pastures of the Alps. The gastronomy of the destinations you visit often offers surprises worth discovering.
Enjoy wellness and spa experiences
Enjoyment is not just culinary. It's also about wellbeing. Where better to experience this than with a wellness treatment, in the spa or in the sauna. Let yourself be pampered also has to do with enjoyment. That is why we also collect wellness and spa experiences on our travels, which we get to know on the way. After a day of discovery, there's nothing like relaxing in the spa. Let yourself be massaged. Enjoy the warmth in the sauna after a walk in winter. Or rejuvenate your body and mind in an aromatic bath.
Hotels for connoisseurs in the pleasure blog
A pleasure trip includes hotels where you can enjoy your stay. There are various aspects that turn a hotel into a hotel to savor. That can be culinary offers. This can be a loving decoration of the rooms. The ambiance of a hotel plays a very important role. You can also enjoy spa and spa services. Or it is a particularly beautiful environment that turns a hotel into a hotel to enjoy.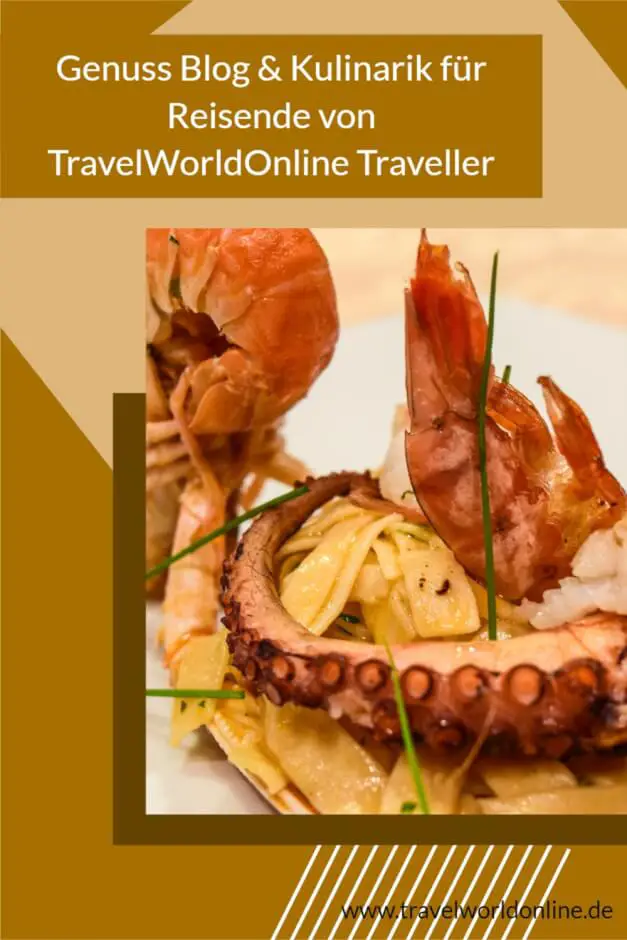 Do you already know:
Text: © Copyright Monika Fuchs, TravelWorldOnline
Photos: © Copyright Monika Fuchs, TravelWorldOnline