Hiking on the Wild Pacific Trail on Vancouver Island
Wir erleben am Wild Pacific Trail auf Vancouver Island wohl einen der schönsten Wanderwege an Kanadas Westküste im April dieses Jahres. Eigentlich hatten wir diese Jahreszeit gewählt, weil wir einen der berüchtigten Stürme am Pacific Rim erleben wollten. Stattdessen beschenkt uns der Wettergott mit einem Aufenthalt voller Sonne und herrlichem Wetter. Von den berühmten Stürmen an Vancouver Islands West Coast war keine Spur! Naja, das war sicher nicht das letzte Mal, dass wir diesen herrlichen Flecken Erde besucht haben. Und so nutzen wir die Gunst der Stunde für eine Wanderung auf dem südlichsten Stück des Wanderwegs, der sich – in Abschnitten – zwischen Ucluelet und dem Pacific Rim National Park erstreckt. Map
The Lighthouse Loop, a section of the Wild Pacific Trail
Geplant ist, dass er einmal die gesamte Länge zwischen dem Fischerdorf und dem Nationalpark einnehmen soll. Im Augenblick gibt es einige Teilstücke, von denen jedes schöner ist als das andere. Da ich Leuchttürme liebe, entscheiden wir uns für den Abschnitt, der südlich von Ucluelet beginnt und vorbei am Amphitrite Lighthouse durch den Küstenregenwald führt und immer wieder herrliche Ausblicke auf die Klippen, die Broken Islands und den Barkley Sound bietet. Dieses Stück des Wanderwegs ist gerade einmal zweieinhalb Kilometer lang, für die wir uns eine gute Stunde Zeit nehmen – viel werden die einen sagen. Zu wenig, sagen wir, denn die wundervollen Aussichten unterwegs laden immer wieder ein zum Innehalten und Staunen, vor allem aber zum Genießen. Ein weiterer Vorteil dieses Teilabschnitts des Wild Pacific Trail ist, dass es sich um einen Rundweg handelt. Er beginnt und endet an einem Parkplatz, an dem man bequem sein Auto parken kann.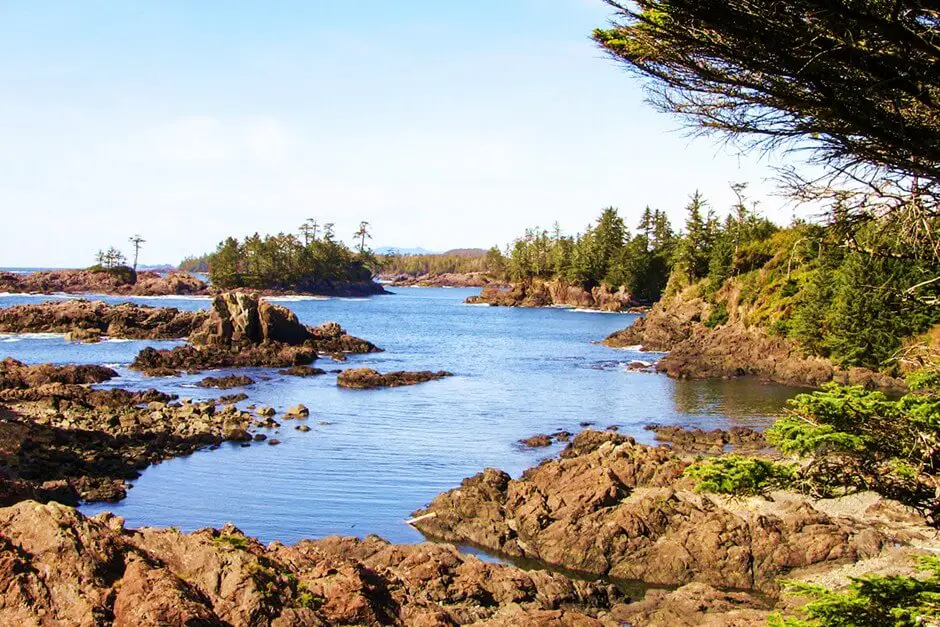 Hike on the Lighthouse Loop Trail
Cozy leads the well-maintained path in a circle through a forest area. Most of the time we walk along the edge of the forest with ever-changing views of cliffs, wild surf and offshore islands. In between, there are small lookouts, sometimes with, sometimes without a bank, from which you can enjoy the wild coast even better. In some places I like it so much that I would like to spend the whole day here.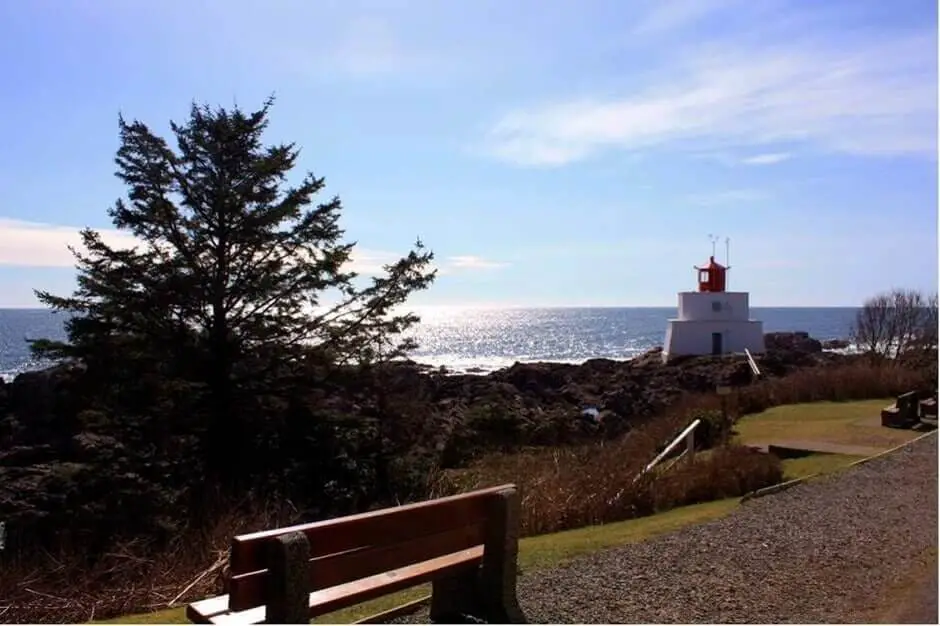 The Broken Island Group from the Wild Pacific Trail
In the southern part of the hiking trail there are views of the Broken Island Group. Behind it we see the mountains that extend south on the west side of Vancouver Island. This region cannot be reached by road. The only means of transport that get there are seaplanes or chartered boats. Alternatively, you can hike along the coast along the rugged West Coast Trail. However, this demands the utmost from hikers. You are on the road for several days. Climb over stick and stone. Uses shaky cable cars that you operate on your own to cross deep gorges. Spend the night in the wild. An adventure for anyone looking for a wilderness experience.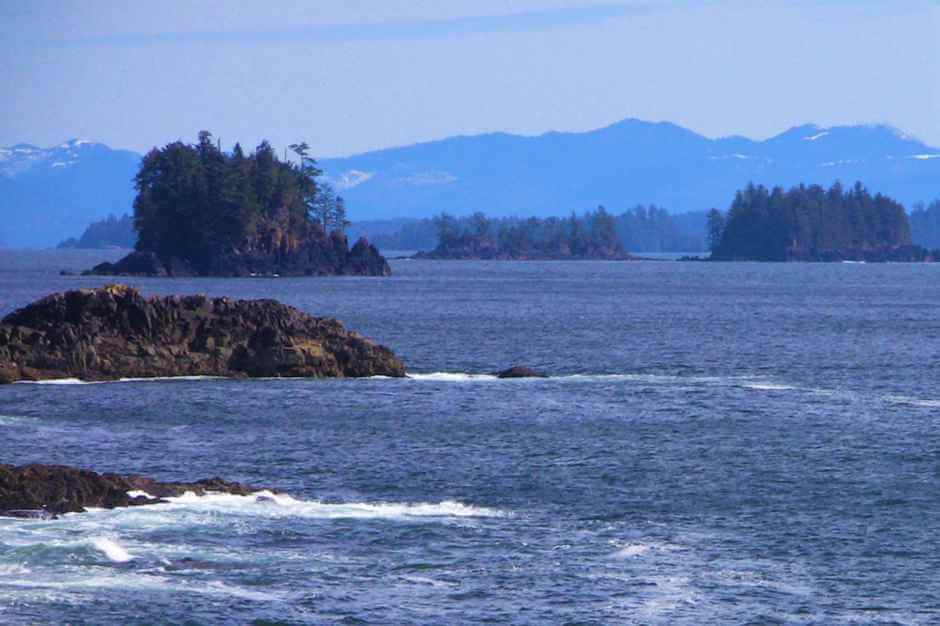 A hiking trail for connoisseurs
Ganz anders der Wild Pacific Trail: bei diesem Wanderweg handelt es sich um einen gut ausgebauten Pfad, der an der Küste entlang führt. Teilabschnitte durchqueren den Küstenregenwald. Hier erlebt der Wanderer die Natur der West Coast hautnah – aber auf zahme Art und Weise. Ein weiterer Vorteil des Wild Pacific Trail ist, dass dieser jederzeit und für jedermann zugänglich ist. Im Gegensatz zum West Coast Trail. Wer diesen wandern möchte, muss sich dafür anmelden. Denn auf der Strecke durch die Wildnis sind pro Tag nur eine bestimmte Anzahl von Wanderern zugelassen. Die Anmeldung stellt außerdem sicher, dass diejenigen, die in dieses Abenteuer aufbrechen, sich nach dessen Ende wieder abmelden. So behält die Behörde den Überblick, dass auch alle Wanderer gesund an ihrem Ziel ankommen. Maßnahmen wie diese sind auf dem Wild Pacific Trail nicht erforderlich.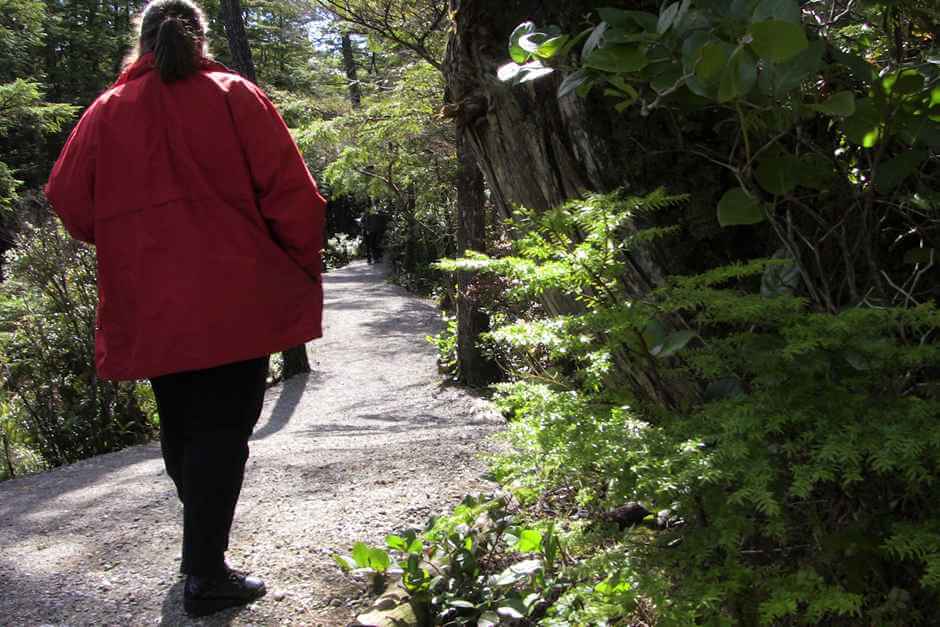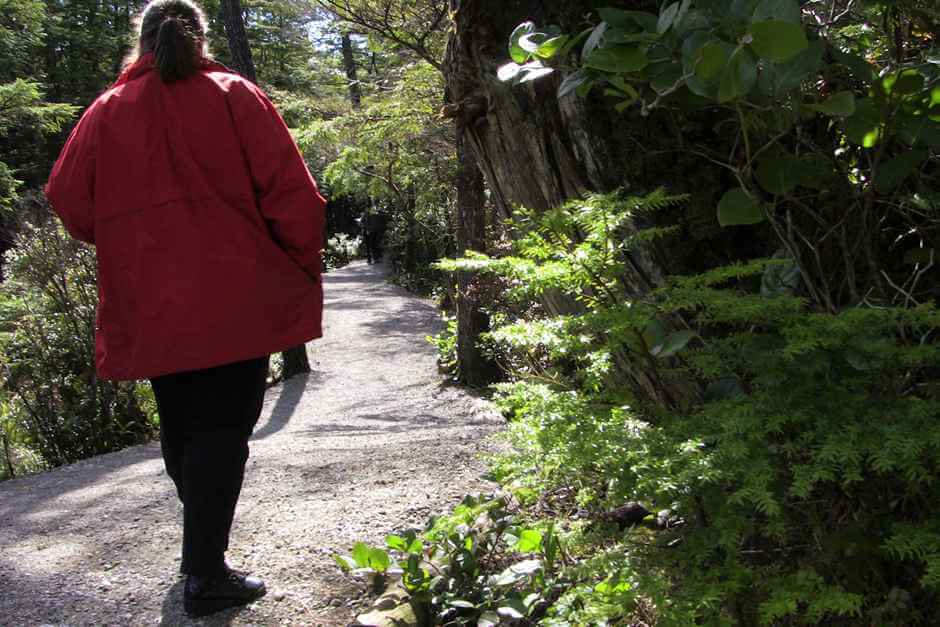 The coastal rainforest on the Wild Pacific Trail
Sections of the Lighthouse Loop run through the coastal rainforest. Here, too, the Wild Pacific Trail offers an easy option to get to know the typical flora of the region. The paths are well maintained and easy to walk. In the Pacific Rim National Park a few kilometers further north there are also paths that lead into the coastal rainforest. However, these are more difficult to master than the Wild Pacific Trail. As you climb and hike across boardwalks through the harsh world of forests, the Wild Pacific Trail path is an easy trail that contains only a few easy climbs. This makes it easy for most hikers to master.
The Wild Pacific Trail offers hiking for slow travelers
Unlike the West Coast Trail, which begins on the other side of the estuary and stretches south on adventurous trails on the west coast of Vancouver Island, the Wild Pacific Trail also allows inexperienced hikers to experience the beautiful nature of the Pacific Rim up close. This path can be mastered without climbing sections, gorges and rock crossings. You should only bring enough time and leisure to enjoy the scenic beauty of this nature intensively. Take it especially in spring and autumn when the Gray whales on the coast passing by, enough time, you can maybe even watch the whales from the coast.
The second section of the Wild Pacific Trail at Ucluelet
The second section of the Wild Pacific Trail starts at the Black Rock Resort's car park and winds its way along the coast for about three kilometers. Again, there are lookout points that offer the best views. However, you have to go back this section again, as this piece is not a circular route, as in the southern section.
A hike on the Wild Pacific Trail should definitely be part of every visit to the Pacific Rim, because there is hardly a better place to experience the great nature of this region. It's easy to put in one Road trip through Vancouver Island plan on.
Videos are subject to copyright
Travel Arrangements:
Getting there
The nearest airport is in Tofino, International flights land in Vancouver. From there you can either use the Seaplane to Tofino * to fly. Or you rent a rental car. Then you should plan 2-3 days for the arrival.
Rental car
A Car * you can rent at the airport in Vancouver. You should know that landslides occur on the Pacific Rim road after long rains.
Find more Slow Travel Tips here.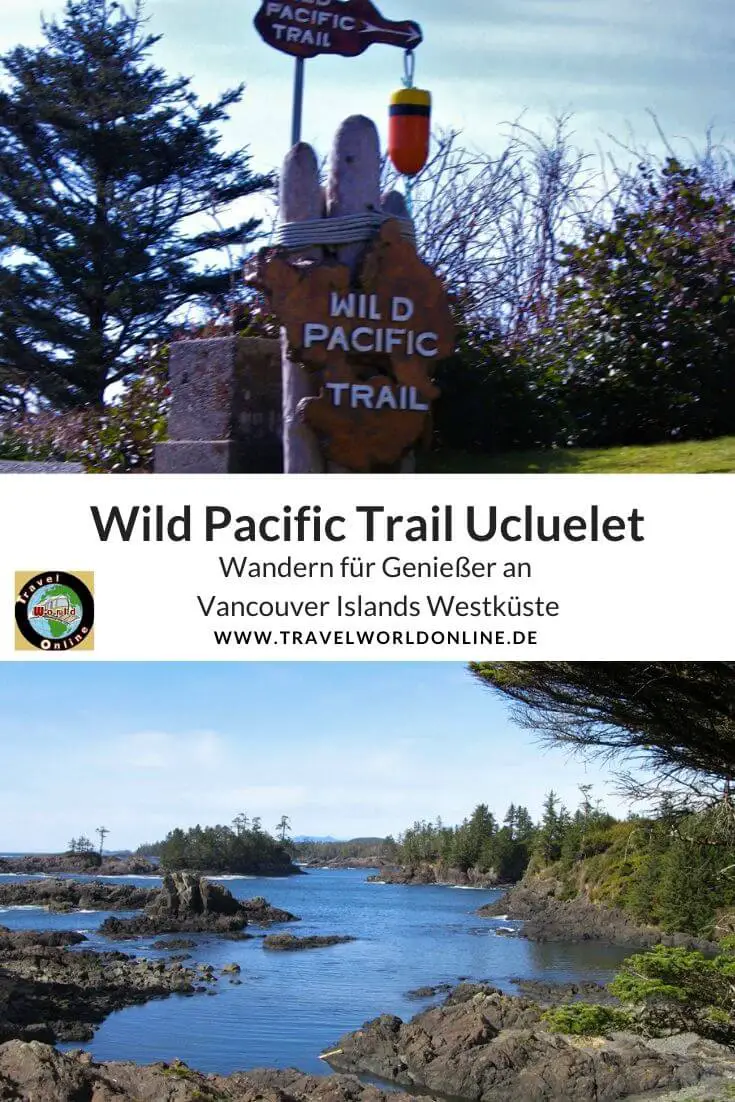 Source: own research on site with the kind support of Tourism British Columbia and Tourism Tofino. Our opinion remains our own.
Text: © Copyright Monika Fuchs, TravelWorldOnline
Photos: © Copyright Monika Fuchs, TravelWorldOnline