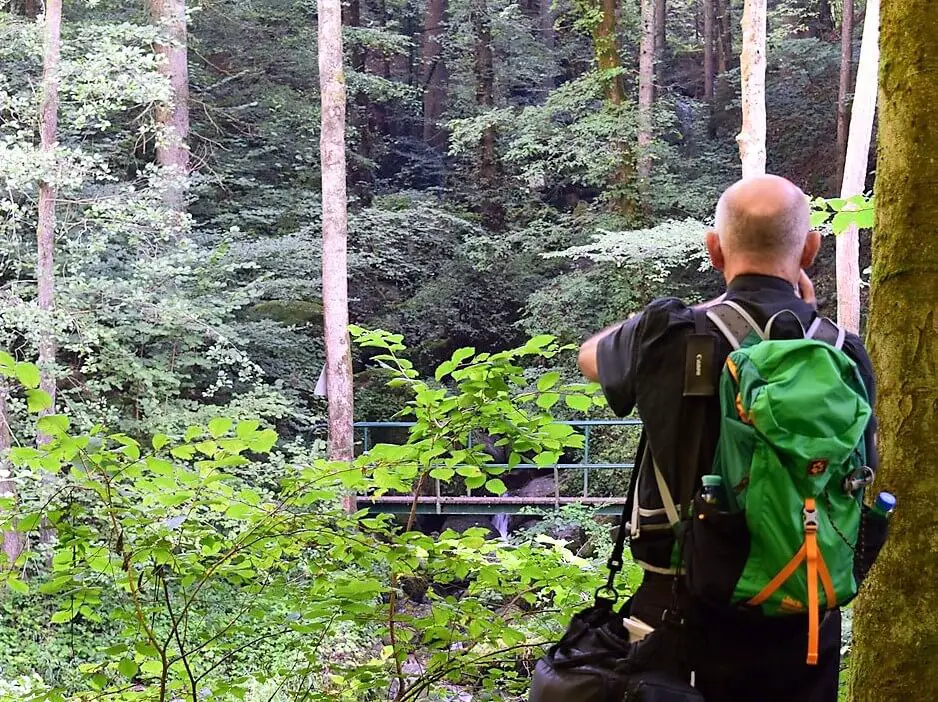 You want to buy a hiking backpack
Do you want to buy a hiking backpack that meets your requirements? Which fits for yours Hiking equipment? Then it is important that you first understand what your hikes usually look like. Before you buy, you should ask yourself a few questions so that you can choose the right hiking backpack for you. Not everyone hikes the same way. Hiking is not equal to hiking.
What kind of hiker are you? Are you going backpacking?
Buy hiking backpack for casual hikers or walking hikers
Petar and I are pleasure hikers. There are guaranteed among those who do not even call us as such. Because we like to walk very slowly. Cozy. With a lot of time. Exhausting walks are not our thing. We certainly do not like hiking uphill. Instead, our walks are more like walks. These can take longer. But they have to be cozy. With many breaks. It is important to us that we take our time and leisure to fully appreciate the path, the landscape, the views and the background noise on our hike. Have time for taking pictures. To look out for the bird that sings so beautifully. Just enjoy nature. Slow hiking.
Ultralight hiking backpack
For us as pleasure hikers, it is important that we do not carry heavy weight on our backs. For short hikes, a snack and drinks are to be transported. There must also be room for Raincover or a jacket that we have for a possible change of weather. Therefore, we take on most of our walks or walks one ultra-light backpack * With. One model that we particularly like is this:
Cool drinks on the go
Since we are always traveling together, we can use different backpacks. Petar usually wears the drinks and Brotzeit-Backpack. I take the backpack, in which we place jackets and rain cover. So we distribute the weight on our walks. This is also very practical because we can take fresh sausage and drinks on longer hikes. Thus, the walking break on the road is a real treat. Practical are cooling backpacks, which are insulated and with Cold packs * to provide cool drinks.
cool backpack
Especially with longer hikes is important to us to have fresh drinks. Also the food, which we take, should stay fresh. This is an option Cool backpack * on. This cooling backpack is what we like best:
Buy hiking backpack for nature lovers
We are often out in nature looking for places with beautiful views. We do not care about hiking. Then we look for places where we can enjoy the scenery in peace. Away from crowds. On lonely country roads. At the edge of the forest. Mostly the paths are short on these trips. It is important to us that we have enough time to relax and enjoy. This may be due to one of the lakes or rivers in the Chiemgau his. Or at one of the places of powerthat we discover over time.
picnic backpack
The weight of the backpack does not matter on such trips. You can also wear a little more on short distances. However, it is important to us on these excursions that we take in the landscape picknick enjoy. It is important that drinks are well chilled. The food we bring should stay fresh. The backpack must also have space to accommodate picnic dishes and a picnic blanket. There is one for that Picnic Backpack * on. We like this best:
Buy hiking backpack for touring and mountain hikers
Some of our friends walk in a different way. There are those for whom a hike must involve a difference in altitude of several hundred meters. Alternatively, a day hike is interesting for them, where brisk walking and longer tours are important. Such walks are exhausting. They cost strength. Of course, this must be replaced again. Through a picnic and cool drinks. A light hiking backpack is no longer enough. The best is a backpack, in which also one Hydration * fits. You need one
Tour backpack
This backpack has to endure a lot. The hiker carries him over rough terrain. He overcomes steep paths as well as long distances. Of course, the weight plays a role. This should be as low as possible. On the other hand, the hiker is long on the way. He needs enough drinks and food. If he overcomes larger height differences, there must be room for one Fleece jacket * or rain cover. On Hat that protects against the sun, should also have room. For that is suitable Tour Backpack * especially good. Our favorite is this one
Buy hiking backpack for multi-day hikers
Others like to hike for several days. They love long-distance hiking trails with overnight stays along the way. Others are weekend hikers. They spend every weekend on a different hike. These may also take several days. During such hikes, the hiking backpack must also be able to accommodate changing clothes and equipment Hiking poles * and other utensils such as one Outdoor cooker *, You need one
Hiking backpack for multi-day hikes
A Hiking backpack for multi-day tours * On the one hand, it has to have as little dead weight as possible. On the other hand, it has to provide space for all the equipment needed for a hike that spans several days. Changing clothes must fit as well as the snack and drinks or one Hydration * for hunger and thirst on the way. This hiking backpack must make it easier for the wearer to carry the weight. He has to be flexible in his size so you can pack things. Our favorite is this one
You should consider this, if you want to buy a hiking backpack
It is clear that such a purchase makes very different demands on the hiking backpack. These tips will help you decide if you want to buy a hiking backpack. Do you have any tips on what to look for when buying a hiking backpack? Then let us know in the comments.
Source: own research.
Text: © Copyright Monika Fuchs, TravelWorldOnline
Photos: © Copyright by Monika Fuchs, TravelWorldOnline or product photos