The Kensington Market Toronto

We visit Kensington Market Toronto. There is no city in Canada that is home to more cultures from all over the world. Multiculturalism is very important in the metropolis on Lake Ontario. As Canada's hotspot, Toronto attracts more immigrants than any other city in the country. The more than 5,5 million residents of the Greater Toronto Area speak more than 140 languages ​​and dialects. Over 30 percent of the city's residents speak a language other than English or French at home. About 30 percent of new immigrants to Canada live in the city. That's about 20 percent of all immigrants to the country. Half of Toronto residents were born outside of Canada. This results in a colorful mix of people in Canada's largest city. Reason enough for us to take a closer look at the diversity of cultures in Toronto. This makes Kensington Market a place where you can really get a feel for Toronto's multicultural mix.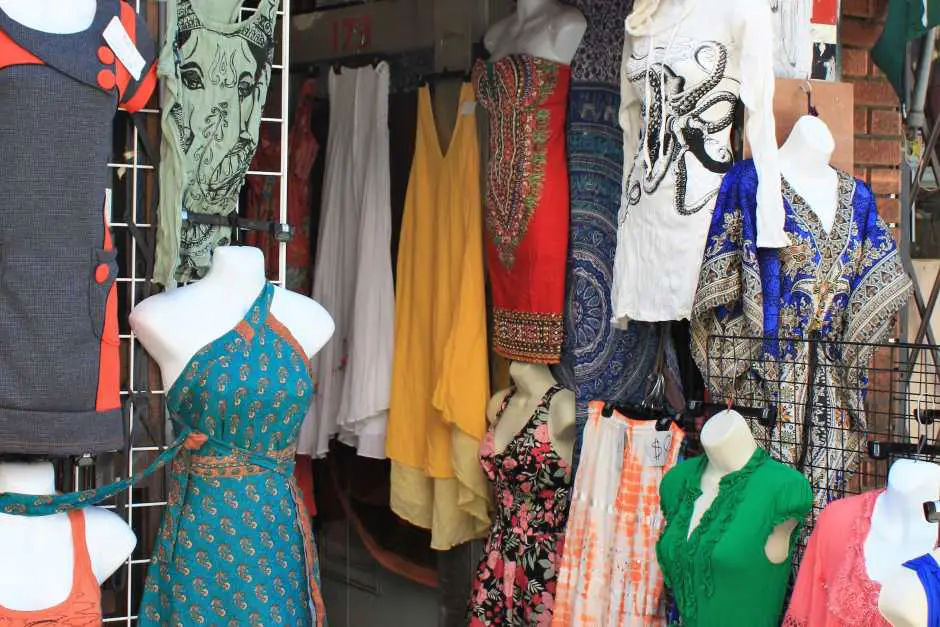 Kensington Market Toronto is a culture market
The Kensington Market is adjacent Chinatown, It is located between Spadina Avenue, Dundas, Bathurst and College Street. On Spadina Avenue, however, you don't see much of what the market is all about. To do this, you have to walk a little into the side streets. We choose Bathurst Street and finally arrive in a district that overwhelms us with its mix of shops. These offer goods from all over the world. On the one hand there is the Dickey boutique selling fashion from Tibet, silver jewelry and incense as well as pashmina and silk scarves. In the shop next to it, on the other hand, there are second hand clothes. These remind me strongly of the time of the Flower Power period. In any case, Bob Marley, Indian elephants, octopuses and a bird of prey are emblazoned on T-shirts hanging over the door.
The people we meet on the way, are also unmistakably from all parts of the world. A young woman of Arab origin in a long skirt with a headscarf crosses the street. A family with Asian facial features strolls down the street. The fruit-seller, who is filling up his boxes in front of the shop, is of Caucasian descent. A mixture of people from all over the world, whom we meet here.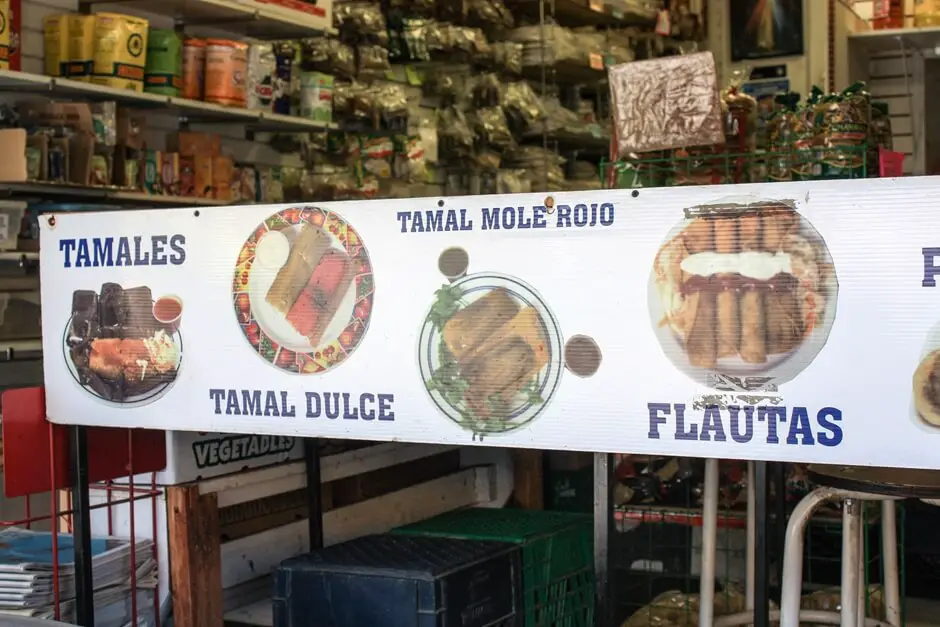 Products from Jamaica, Mexico and the Caribbean at Kensington Market Toronto
Shops and stalls also testify to the diversity of people who have chosen Toronto as their home. Patty King, for example, offers pastries and specialties from the West Indies, including, for example, ground beef on coconut bread from Jamaica. A few steps away, a Mexican offers hazelnuts, poppy seeds, dried peppers, and Mole Verde, the mild-grained sauce you like to serve with meat in Mexico. The next Mexicans, on the other hand, are a little bit sharper. He praises tamales and flautas (tortillas) with the hellishly sharp mole rojo. However, he also has dulces (sweets) on his blackboard in front of the shop. Maybe to reassure the palate of his guests? Finally, Le Ti Colibri offers French-Caribbean cuisine.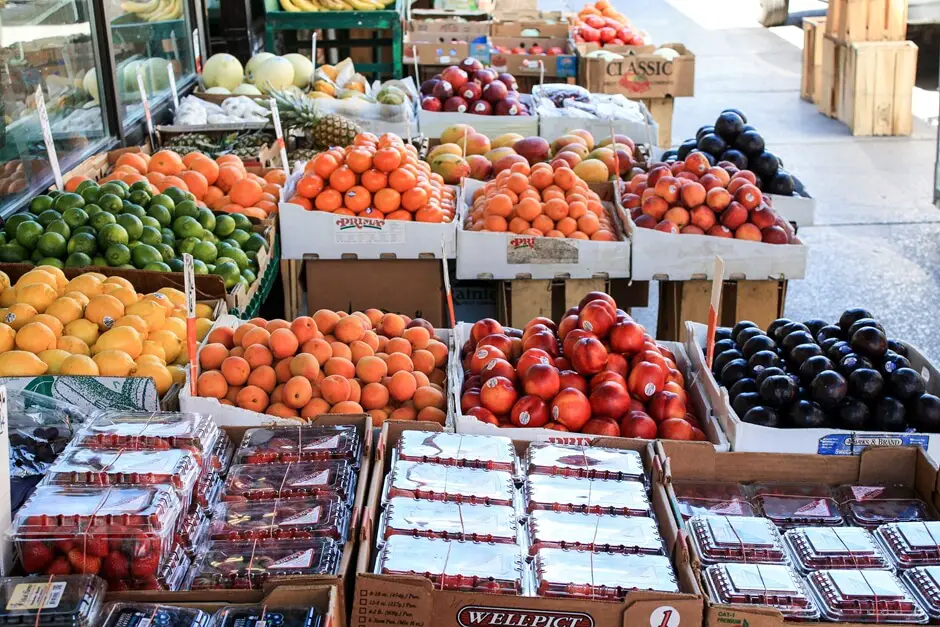 At Kensington Market Toronto there's fruit, cheese smoothies, ice cream - and fashion
Between these specialty shops we find fruit stalls that overflow with tomatoes, peaches, apricots, plums, limes, pineapples and lemons. A cheese shop, on the other hand, promises "Cheese Magic", and in the fruit shop next door, melons are already hanging ready to go in nets above the fruit crates. Murals that are so beautiful that I don't want to call them graffiti are eye-catchers. Discounters like Tom's Place offer "Designer Fashion to Discount Prices". A tattoo shop hides between a butcher and a cafe. A health food store, a shop that sells smoothies and ice cream, and a shop that sells vintage items make for a mess of goods, customers, and sellers. This makes our visit to Kensington Market an experience that brings the diversity of the city up close. Fascinating!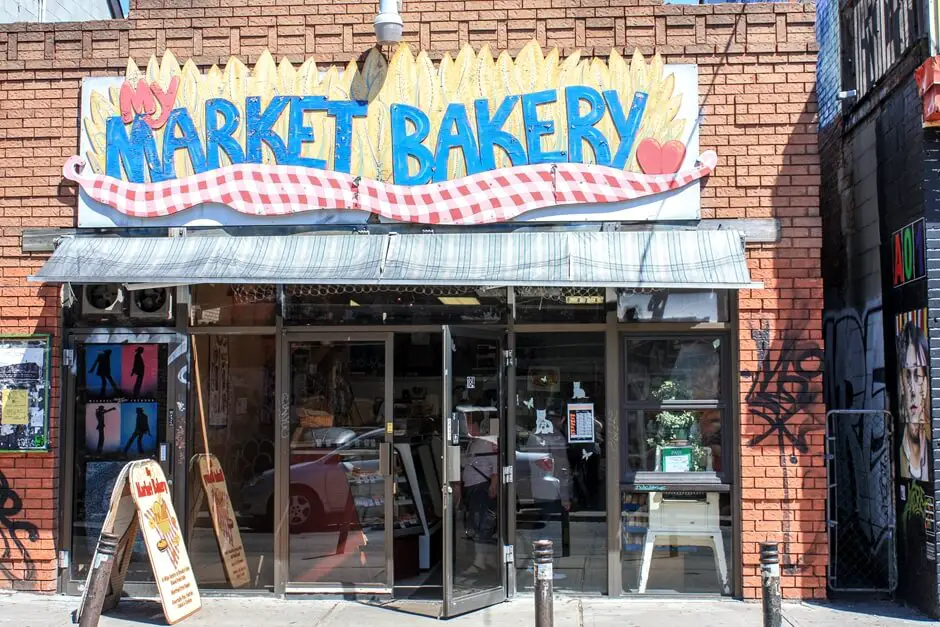 Anyone who wants to experience the population of Toronto in everyday life, which is just right on Kensington Market. It's definitely fun to browse the cultures of the world that have found a home in the metropolis of Ontario.
---
Travel Arrangements:
Check in:
Arrival by plane, bus or train*. Air Canada, Lufthansa, Condor and Icelandair fly from Germany Toronto.
Car Rentals:
Cheap car hire - book quickly and easily!
Camper Rentals:
Transfers:
Conveniently from the airport to the city center bring you these transfers *.
Hotels:
Hotels in Toronto * You can also book through our partner booking.com.
Sightseeing tours
Bay here your sightseeing Tours in Toronto or a trip to Niagara Falls * through our partner Get your Guide.
Travel guide for your Toronto vacation in Canada:
Toronto Travel Guide *
 You can also order from Amazon.de to prepare for your holiday.
---
Do you already know:
Source: own research on site. The trip was supported by Tourism Ontario. However, our opinion remains our own.
Text: © Copyright Monika Fuchs and TravelWorldOnline
Photos: © Copyright Monika Fuchs and TravelWorldOnline
Kensington Market Toronto