The loyal readers among you know that we are almost always traveling by car on our travels through Canada. Sometimes we change to ferries or smaller boats, but otherwise we never travel by train in Canada. On our winter trip to Ottawa and Toronto, we decided this time, however, for a ride with VIA Rail. We once wanted to test train travel Canada. There were several reasons for this.
In winter, the Canadian weather is unpredictable - we are lucky, we can do the route between Ottawa and Toronto, although with the rental car. Since nobody can guarantee that, however, the train travel seems more reliable and stress-free.
On icy roads and dense snow, the distance between the two cities on a car ride can be quite uncomfortable.
And then there was the curiosity: how do rail travel differ from traveling by bus or rental car? We wanted to test that and traveled by business class with VIA Rail from Ottawa to Toronto.
Rail Travel Canada in Business Class by VIA Rail
The decision turned out to be wise, as we were confronted with temperatures of up to -33 ° Celsius including felt wind chill on our trip to wintry Canada. The temperatures had risen again a bit to "chubby" -25 degrees by the day we left for Toronto, but that too is a weather situation in which we Europeans who are spoiled by winter, whose winter temperatures rarely drop below - 5 degrees Celsius, prefer to be careful are.
We pick up our tickets for the trip from Ottawa to Toronto at the counter in Ottawa Central Station, where they are handed over to us on presentation of our passport. Only when we hold the tickets in hand, we find that we will travel in business class of VIA Rail. Thank you, VIA Rail, for the kind invitation! This allows us to use the Business Class Lounge at the train station, where we can serve up to the departure of the train to free drinks. I find it particularly pleasant that we have free Wifi access and can easily charge our mobile phone. Train travel Canada in a comfortable way!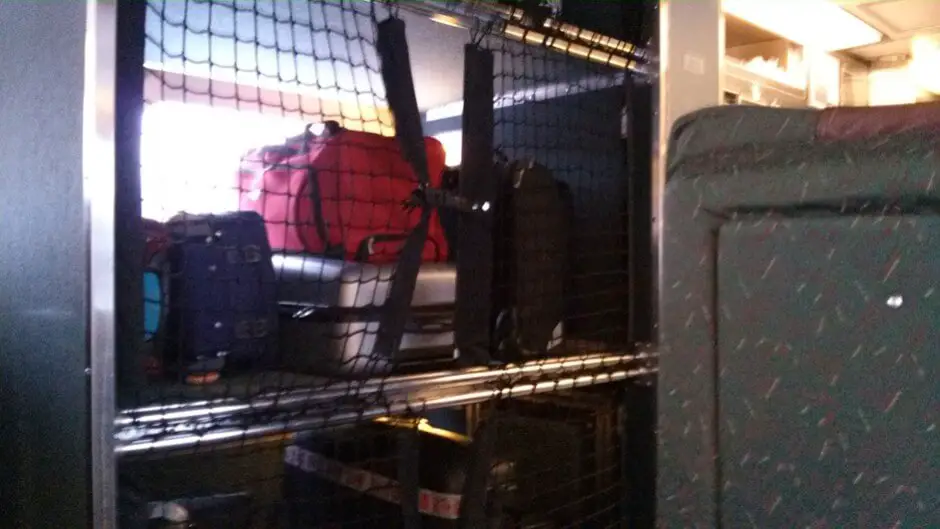 When our train, which comes from Montreal, enters the station, it is called in the Business Lounge. We take our luggage and queue with the other Business Class passengers. After the arriving passengers leave the train, the Business Class guests are taken to their wagon. Our seats are already reserved. Since there is no separate luggage cart on the train, the amount and weight of our luggage is limited. For large suitcases, there is a shelf at the beginning of the wagon where you can park them. In addition, we have a large storage compartment over our seats available. Sufficient space for our belongings.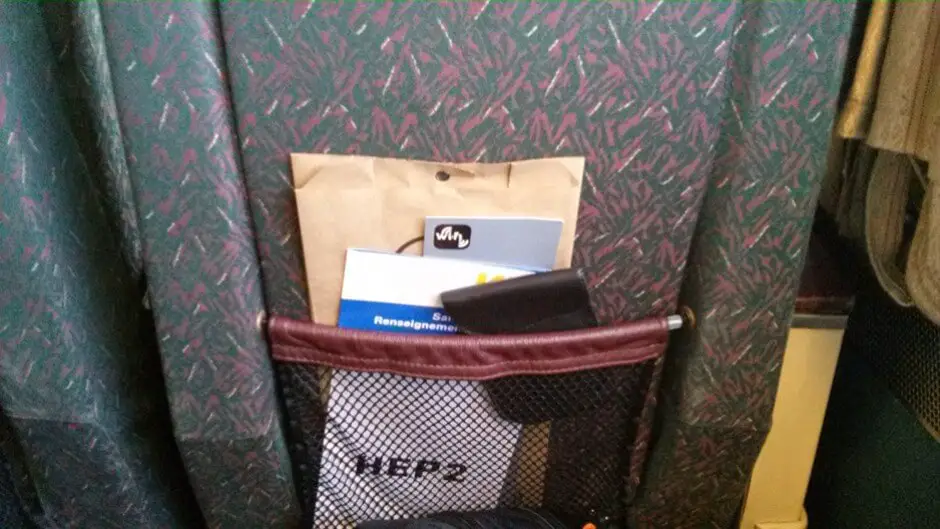 Business Class Service at VIA Rail: almost like a flight
Also during the train ride we have free Wifi available. So I can pass the time that our followers can experience our trip live on the social media channels. Only now and then does the digital access slow down a bit, but generally I can quickly upload my photos.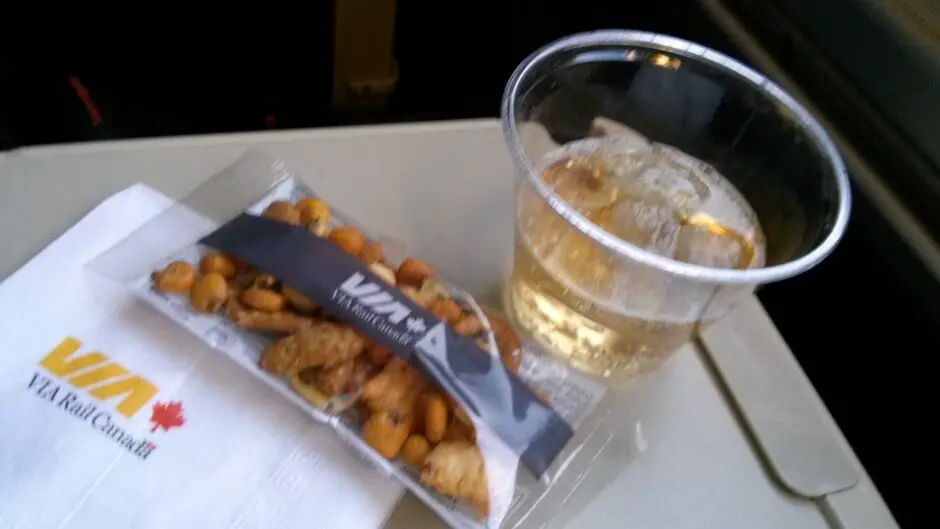 But we would not be boring if we had no Wi-Fi. Shortly after leaving the Ottawa area, we are served a small snack: a drink - alcoholic or non-alcoholic - and some savory biscuits, similar to almost everyone else Transatlantic flight is offered. After that, nothing happens, certainly because the train stops again and again for short stretches.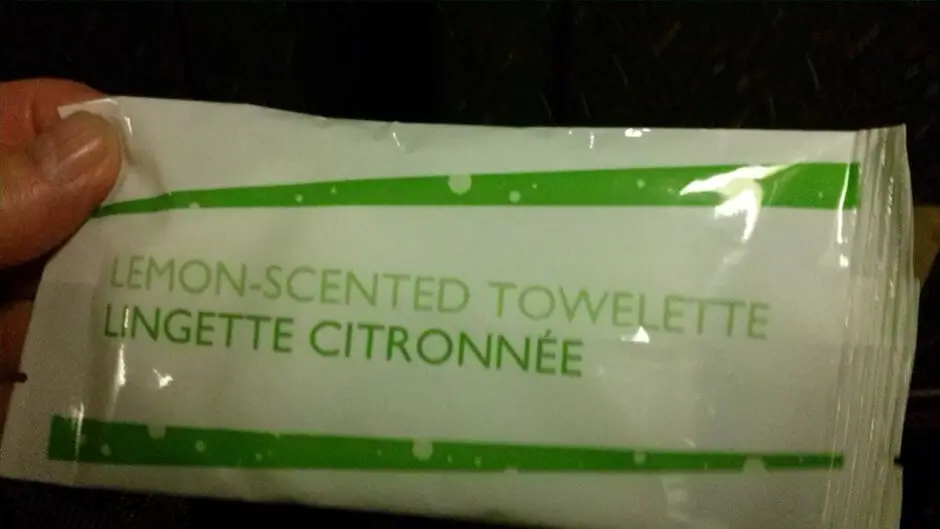 Only on the longer route between Kingston and Oshawa, two places already on Lake Ontario, will we be served a warm dinner. This is brought on trays like in the airplane. I pick chicken with vegetables and Petar takes beef with puréed sweet potatoes. There is salad as an appetizer and a dessert: with me fruit, Petar Pudding. Finally, there's coffee, tea and - if you want - a liqueur, cognac and whiskey.
Due to the snow conditions, the departures were delayed over and over again, and so our train rolls into Toronto's train station, Union Station, in the middle of the city center, about half an hour late. From here we have direct and easy access to the subway or skywalk, which allows us to reach our hotel in a few minutes, protected from the elements and dry feet, despite the storms and snow outside: the Delta Hotel on Lower Simcoe Street ,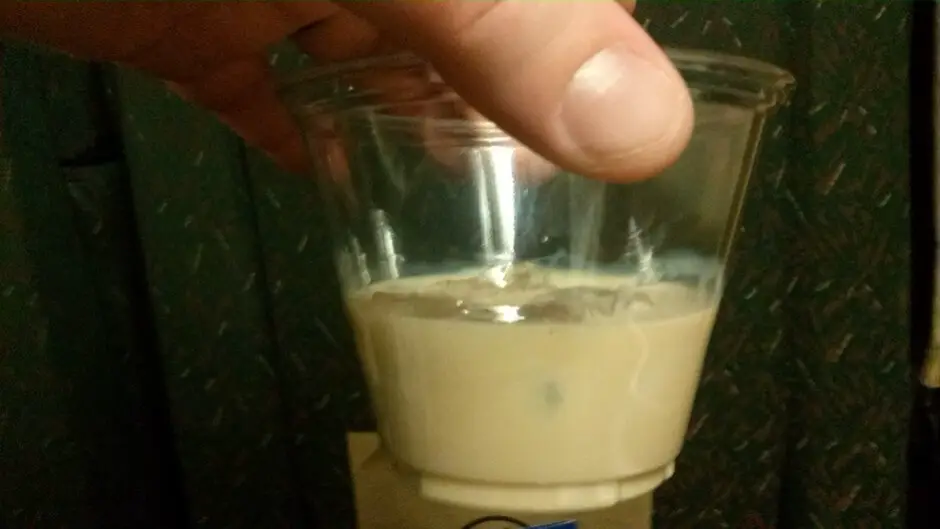 With that, the Bahn Reisen Canada has proven itself for us, and maybe we also make a longer journey through the country by train? VIA Rail has convinced us with its service and made our wintry trip from Ottawa to Toronto an interesting experience.
---
Travel Arrangements:
Parking at the airport
Here you can reserve your parking space at the airport.
Arrival:
Arrival by plane, bus or train*. Air Canada, Lufthansa, Condor and Icelandair fly from Germany Toronto. You can also buy train tickets here.
Car Rentals:
Cheap car hire - book quickly and easily!
Camper Rentals:
Transfers:
Conveniently from the airport to the city center bring you these transfers *.
Hotels:
Hotels in Toronto * You can also book through our partner booking.com.
Sightseeing tours
Bay here your sightseeing Tours in Toronto or a trip to Niagara Falls * through our partner Get your Guide.
Travel guide for your Toronto vacation in Canada:
Toronto Travel Guide *
 You can also order from Amazon.de to prepare for your holiday.
---
Do you already know:
Source: own research on site. We would like to thank VIA Rail for the kind invitation. However, our opinion remains our own.
Text: © Copyright Monika Fuchs and TravelWorldOnline
Photos © Copyright MonikaFuchs and TravelWorldOnline
Rail Travel Canada: Business Class