What country life and enjoyment mean for us
Country life and enjoyment go hand in hand. We saw that up close today. As many of you know, we moved to the country a year ago. Today we live in the northern Rupertiwinkel on the Bavarian-Austrian border. It was clear to us that life in the country is different from our life in the Munich area. But we hadn't suspected that country life and enjoyment are so close together. Today we saw the best example of this. But let me tell you from the start.
Experience country life and enjoyment first hand
One of our Facebook friends today posted a photo of one Meadow with blooming dandelions. He suggested making dandelion salad. "Actually a good idea," I thought immediately. Since we live in the country, that's not a big problem. There are plenty of meadows. Only the rainy weather did not invite to a trip to the dandelion meadows in the area today. A look out of the window at the lawn in front of our terrace quickly showed that this is not necessary. What is growing there? A big dandelion bush! That fit very well, because here I was sure that the soil was not fertilized.
Said and done. We grab a container and a knife and collect the young, tender dandelion leaves. A few yellow flowers for decoration! Now all I have to do is know how to properly prepare a dandelion salad. But what's Google for? After some research, I know that you should wash the leaves lukewarm. So you remove them bitter substances. Cut away brown spots and also remove thick stems. As a dressing, it was recommended to keep it rather sweet, to soften the bitter taste of the leaves. That awoke my ingenuity. Et voila! Here is my
Dandelion salad spontaneous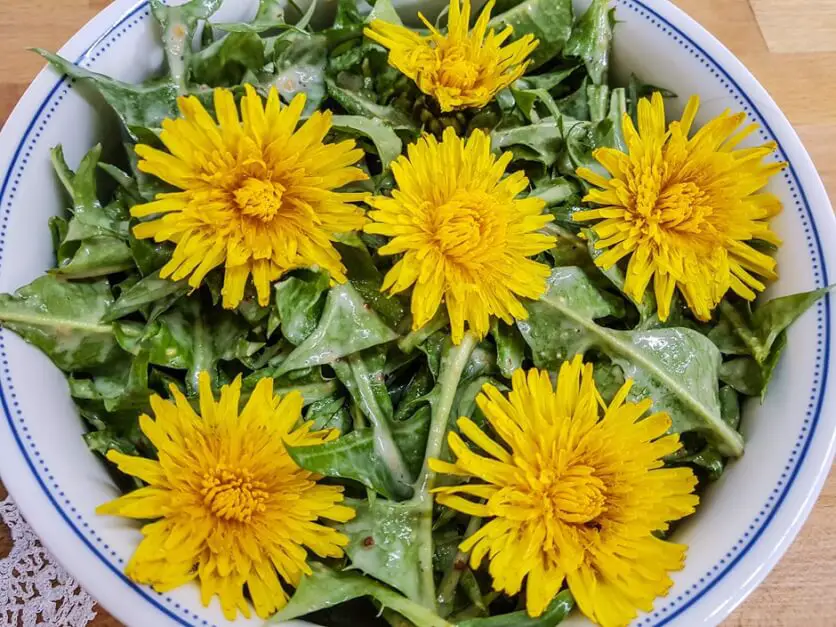 Ingredients
a bowl of young dandelion leaves
a few flowers for decoration (which one can also eat)
for dressing
2 EL sweet mustard
2 teaspoon sugar
3 EL oil
sth. cream
Method
Thoroughly wash the dandelion leaves in lukewarm water. Remove stems, brown spots and hard leaves. Pick the leaves in bite size. Mix the dressing and then mix it with the salad. Finished!
The dandelion salad went wonderfully with our Easter roast with potato vegetables. It tastes spicy. We noticed little of bitter substances. This will definitely not be the last time we made it.
And the best part: dandelions are also very healthy. It has a detoxifying effect. Dandelion also stimulates the bile, liver and metabolism and contains vitamin C. So there are even more reasons to make a dandelion salad again soon. This makes country life and enjoyment fun!
Source: own recipe
Text: © Copyright Monika Fuchs, TravelWorldOnline
Photos: © Copyright Monika Fuchs, TravelWorldOnline
Country life and enjoyment - dandelion salad with flowers