Which is more practical – travel bag or trolley on the train?
Travel bag or trolley – which is more practical on the train? On our trip from Munich to Cesenatico in Italy we traveled by train. From Bologna Airport we took the shuttle bus to the city's main train station. From there we continued by train to Cesena. There we were picked up. Since we were only there for four days, we were spoiled for choice. Our large suitcase was too big for the few days. Should we take a trolley or a bag instead? As experienced road trippers and air travelers, this question was not that easy to answer. Otherwise we just pack the trunk of our car. Or we load our luggage straight into the rental car at the airport.
Should You Buy A Bag or A Trolley? Consider this:
- How big is the luggage compartment above the seats in the train?
- Do you need free space for purchases you make locally?
- How far are the distances you need to cover with your luggage?
- Are these distances easy to handle? Or do they lead over bumpy terrain, over many steps or are there elevators?
Since we should only get the answers to all these questions and the question of trolley or travel bag on site, our considerations were as follows.
Trolley or travel bag - a comparison
We compared the pros and cons of trolley and holdall. Only then did we decide which pieces of luggage we would take with us on our train journey.
Travel bags for train journeys
---
---
The advantages and disadvantages of a travel bag
- A travel bag gives way and can also be stuffed in luggage racks on the train, but with the side effect that the clothes that are transported in it no longer look freshly ironed.
- A travel bag has the advantage that you can put new purchases in the last corners and spaces and the material is usually yielding enough, to accommodate even the most formless souvenirs.
- Travel bags have to be carried usually. Therefore, one of the disadvantages of this type of luggage is, that its weight becomes a heavy burden over long distances and over many stairs.
Trolleys for train journeys
---
---
The advantages and disadvantages of a trolley
– In contrast to a travel bag, a trolley offers relatively little space. However, you can stow the clothes in it neatly and they will arrive at your destination freshly ironed.
- The dimensions of a travel trolley are accurately measured so that they fit both in the luggage racks in the aircraft and on the luggage racks above the seats in the train. This has proven to be excellent on our trip to Italy.
- When packing, you have to plan from the outset so that there is room for any souvenirs. You should avoid packing anything unnecessary. This is not always easy when you are used to having all kinds of equipment with you in the trunk of your car.
- One of the great things about a trolley is that you can roll it across the dirtiest terrain so you do not have to carry the weight on your shoulders.
Conclusion: bags and trolleys have advantages and disadvantages when traveling by train
Whether you take a travel bag or a trolley with you on the train journey depends on your own needs. For example, I dread having to carry a bag or suitcase over long distances when travelling. Therefore, a trolley is the only option for me. But if you prefer to take a piece of luggage with you that is flexible, a travel bag is more suitable.
That was ultimately the decisive factor in our decision: a trolley is the right piece of luggage for us - for car, train and air travel. We travelled with two trolleys to Cesenatico and even found enough space at the end of our trip for two bottles of wine, a few pieces of  Fossa cheese and fruit jellies from the  Emilia Romagna, So a trolley was for us the perfect luggage! So we answer the question whether trolley or travel bag in the train clearly with trolley.
Not only bags or trolleys are important for train journeys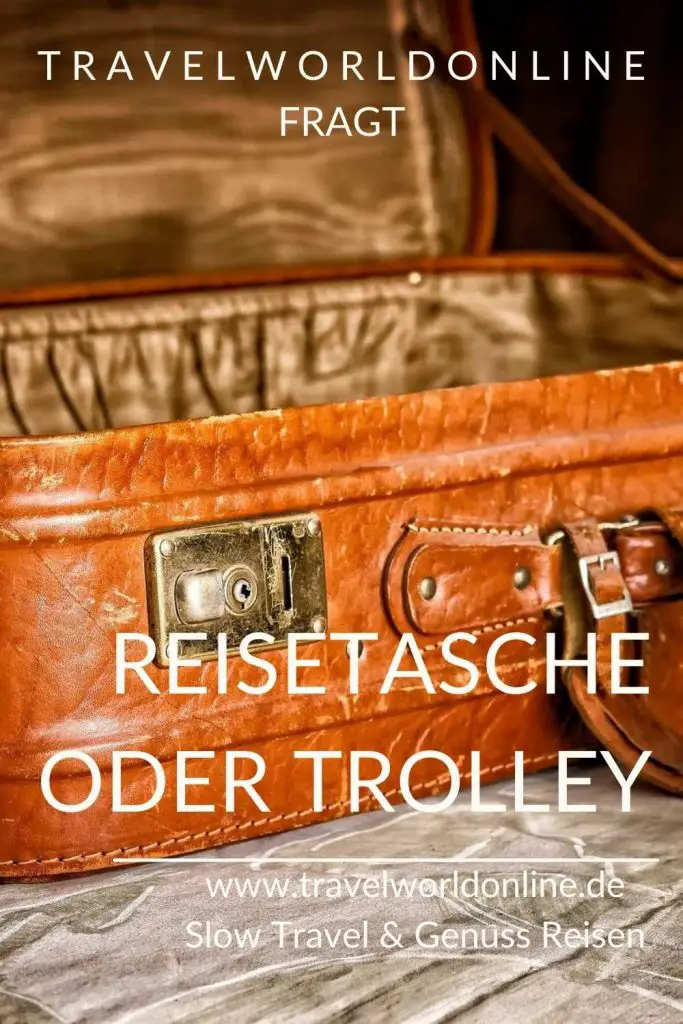 Trolley or travel bag? tell us up Pinterest, which is your favorite.
Do you already know:
Source travel bag or trolley: own research on site.
Text travel bag or trolley: © Copyright Monika Fuchs, TravelWorldOnline
Photos: © Copyright Monika Fuchs, TravelWorldOnline
Bag or Trolley? How to Choose the Right Bag for Your Train Ride