Fort Lauderdale, Florida offers more than just sunny beaches and beautiful landscapes. Unique shopping malls await you in Fort Lauderdale that will inspire you. This goes far beyond the most famous of them, the Sawgrass Shopping Mall in Fort Lauderdale. In Fort Lauderdale there is even an outlet shopping mall for vintage lovers.
The Gulfstream Mall is a shopping center in the southern part of the city that not only looks chic, but also houses a racecourse. When strolling through the various streets and alleys, you are surrounded by fountain squares and manicured green spaces. Rather than a central square, there is a parade where jockeys parade their horses and keen spectators eagerly vote for their favourites.
But there are also plenty of shopping opportunities in Fort Lauderdale away from the Gulfstream Mall. Las Olas Boulevard, for example, which runs through the center of town to the Atlantic Ocean, is lined with boutiques, craft shops and sidewalk cafes. Here you can stroll through the shops and be enchanted by the old world charm.
For vintage lovers, Fort Lauderdale also offers flea markets like the Festival Flea Market, where you can find everything from second-hand clothing to vintage advertising signs. And if you're looking for affordable designer clothing, be sure to visit Sawgrass Mills, one of America's largest outlet malls.
Fort Lauderdale has a shopping experience to suit every taste and budget.
Best shopping in Fort Lauderdale is eclectic
A shopping mall in Fort Lauderdale? This is clearly more than the usual malls and shopping centers that are otherwise found in American cities. You should take your time for this, because the shopping centers in Fort Lauderdale, Florida, offer more than just elegant shopping temples. Not only the Sawgrass Outlet Shopping Mall attracts shoppers in Fort Lauderdale. Best shopping in Fort Lauderdale is above all one thing – diverse!
Shopping near Fort Lauderdale: The Gulfstream Shopping Mall and its horse races
Our first acquaintance with the shopping possibilities in Ft. We do Lauderdale in the Gulfstream Mall in the southern part of the city. Officially, the area is called "Gulfstream Mall and Race Track". It looks chic here as we turn off Highway 1 into the parking lot in front of the shopping center, which doesn't actually look like one. So we park our car and are actually in front of a village in the city. It has everything from restaurants to boutiques to shops clustered around a large central square. Various streets and alleys lead into the center of this shopping mile, interrupted by pretty and well-kept squares with rippling fountains. The center of the whole thing is also different from what we imagine a shopping mall to be. Instead of shops, one restaurant follows the next around a large square.
There is also a parade ground in the center of this square, but there are no music groups on it. Instead, jockeys show off their horses to the competitive spectators. Excitedly, they look for their favorites among the expensive racehorses, which then show their skills on the nearby course. From the loudspeakers, a metallic voice introduces each of the thoroughbreds together with their rider. We sit down in one of the nearby restaurants and watch the hustle and bustle with interest for a while. An exciting hustle and bustle that takes place here. New gamblers keep popping up and placing their bets at one of the betting booths behind the parade grounds. They are spellbound as they watch the course of the race, which is displayed on large panels above the site. We almost feel like we're in the opening credits of the TV series "Miami Vice", transported to a world of the rich and famous.
That's why The Village at Gulfstream Park is worth a visit
Diverse shops: The Mall offers a wide range of stores including well-known brands such as Crate & Barrel, Pottery Barn, The Container Store and Williams-Sonoma. You can find out more at TripAdvisor
Unique location: The mall is built around the renowned Gulfstream Park racecourse, giving it a unique ambience.
Arts and Culture: Aside from shopping, there are also art galleries that offer visitors a cultural experience.
Entertainment: There are numerous restaurants, bars and cafes where visitors can take a break and relax. There are also regular special events that provide additional entertainment.
Something for everyone: Whether you're looking for fashion, housewares, souvenirs or culinary delights, you're sure to find what you're looking for at Gulfstream Shopping Mall.
Central location: The mall is easily accessible and close to other important ones Attractions in Fort Lauderdale.
Reviews: The positive reviews on sites like TripAdvisor indicate that many visitors enjoyed their experience at the mall.
Best Fort Lauderdale Shopping in town - Las Olas Shopping Fort Lauderdale
However, shopping in Fort Lauderdale is different. Just a few kilometers from this mall, Las Olas Boulevard runs through the center of the city to the Atlantic. For Las Olas shopping in Fort Lauderdale, there is one store after the next. One boutique follows the next. In between there are always nice street cafés where shoppers can relax after shopping or window shopping.
But you can also watch other shoppers shopping. There are also pretty things here: paintings and handicrafts as well as second-hand shops, hat shops and fashion designers who want to sell their current collections to men or women. We stroll along the street and let the flair of this street work on us. It reminds us a bit of old-world charm, unlike what we usually experience in American malls.
Why you should shop on Las Olas Boulevard
Variety of shops: Las Olas offers an impressive selection of over 212 shops. From fashion boutiques to art galleries to specialist retailers, you'll find everything here. You can find an overview of the shops here.
Unique ambience: The architecture of Las Olas shows a Mediterranean influence complemented by finely designed green spaces. It is a place where you can not only shop but also enjoy the ambiance.
Restaurants, cafes and bars: In addition to shopping, you can linger in the numerous restaurants, cafes and bars of Las Olas and enjoy culinary delights.
events and festivals: Las Olas is not just for shopping. There are regular events like the Las Olas Art Fair as well as the Las Olas Food and Wine Festival where you can experience art, culture and culinary delights.
Atmosphere: The street extends from the beach at A1A and offers views of palm trees and the Intracoastal Waterway with views of million dollar homes and spectacular yachts. You can find out more here.
Trendy environment: Las Olas Boulevard is probably the most popular street in Fort Lauderdale and offers unique shops, galleries, restaurants, boutiques and nightclubs. It is the place where the city plays and lives.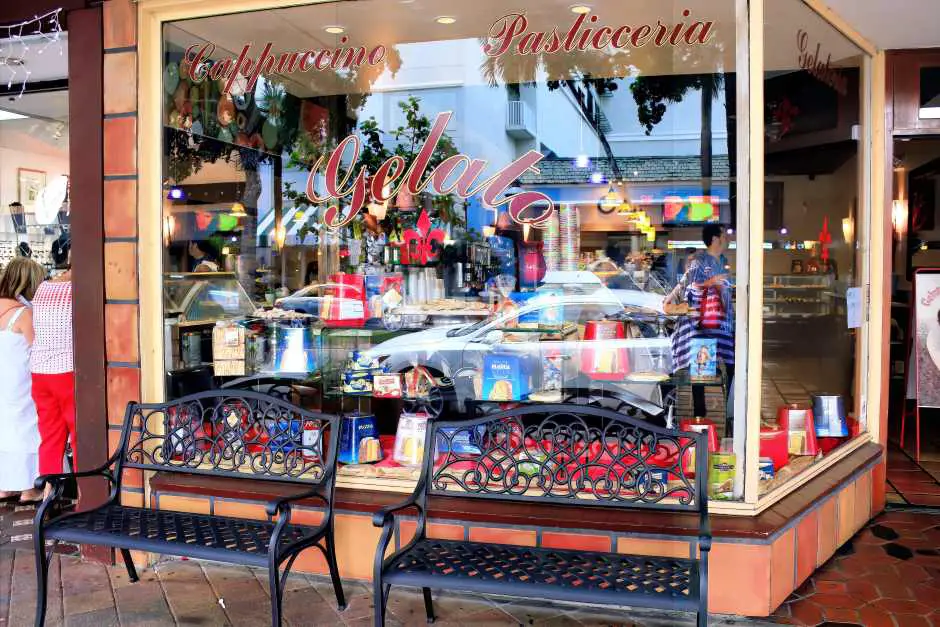 Best vintage shopping at flea markets
When it's time to get older, there's nothing better than visiting one of Fort Lauderdale's flea markets. We choose a rainy morning to visit the Festival Flea Market in the north of Fort Lauderdale out of. A good choice, as it turns out, because you can easily spend a whole day in this huge area. Here we find everything from second-hand bathing suits and elegant hats from the past to jewelery and trinkets from old jewelers' stocks. Our favorite, however, is the Hillsboro Antique Mall at one end of the shopping precinct. Here we find everything from old toys and historical advertising signs to used porcelain and old furniture. Anyone who wants to rummage through America's past is definitely in the right place here. Nowhere better to find more authentic souvenirs than here.
What makes vintage shopping at Festival Flea Market special
Incredible variety: The Festival Flea Market in Pompano Beach, just a few miles north of Fort Lauderdale, isn't just any market. At over a quarter mile long, it offers more than 500 stunning and unique shops under one roof.
Antiques and vintage treasures: A special highlight for all vintage lovers is the antiques area. Here you can indulge in the past and perhaps discover one or the other piece of jewelry.
A sense of community: The market has a strong sense of community. Local vendors offer high quality products at unbelievable prices and present an exceptional variety.
More than just shopping: In addition to shopping, there is also a food court to please every palate and an entertainment center. That means you can not only shop, but also eat, drink and have fun.
From ordinary to extraordinary: No matter whether you are looking for everyday things or something special, you will definitely find what you are looking for here. The spectrum ranges from ordinary to unusual items.
Family Friendly: With its easily accessible location and ample parking, this family-friendly shopping temple is the perfect place to spend a whole day.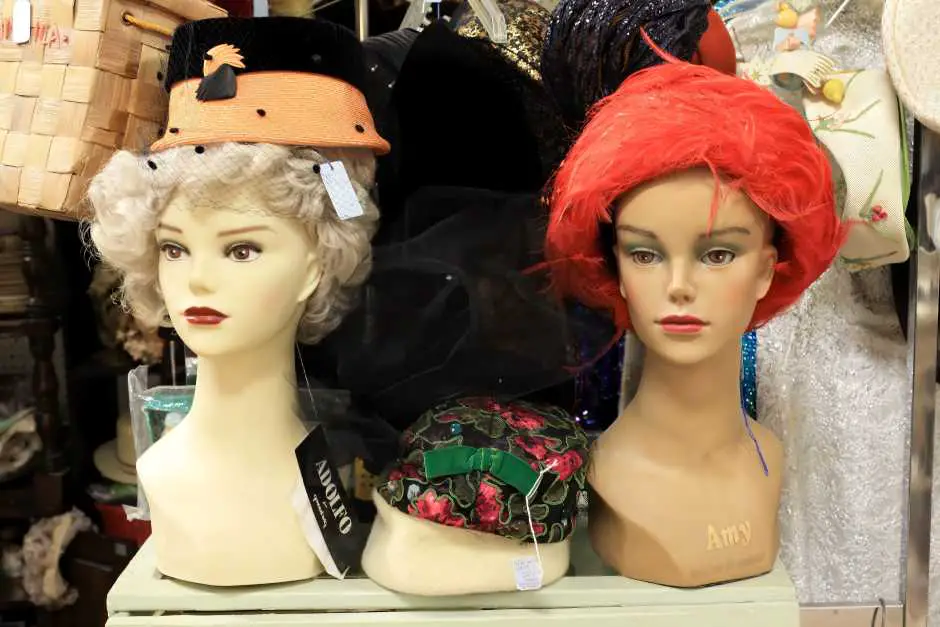 Sawgrass Mills: this is outlet shopping Fort Lauderdale
Finally, in Fort Lauderdale there is Sawgrass Mills, one of the largest outlet malls in the USA. You should set aside a whole day for outlet shopping in Fort Lauderdale. Because the factory outlets in this mall take up an entire district with its own access roads and a large number of shops in which you first have to find your way. If you're looking for affordable designer clothing, you've come to the right place. The names emblazoned above the shops testify to the exclusive branded items that are often offered in the shops at greatly reduced prices. If you want to come here, it is best to fly from home with a half-empty suitcase. He can easily fill this up on site. Because I can't imagine not finding exactly what you're looking for here - at a reasonable price.
Do not miss! The Fort Lauderdale Outlet Shopping at Sawgrass Mills
Exclusive luxury brands: You will find over 70 exclusive luxury brand outlets not found anywhere else in South Florida. These include GUCCI, Burberry, Balenciaga, Jimmy Choo, Prada, Valentino, Balmain, Tory Burch, Coach and Versace. If you are looking for high quality fashion, is Sawgrass mills the right place for you.
The Colonnade Outlets: This dedicated division of Sawgrass Mills offers a unique selection of luxury brands. It is a must-have for fashionistas and anyone who wants to treat themselves to something special.
Shopping experience for more than 3 hours: The size and variety of shops means you can easily spend hours browsing and shopping. So plan enough time to explore everything. See Tripadvisor for more information.
Something for every taste: In addition to the luxury brands, there is also a wide range of other stores that cover different styles and price ranges. Whether you're looking for designer pieces or bargains, you'll find it here.
Good accessibility: Sawgrass Mills is located in Sunrise, Broward County, Florida and is easily accessible. It is an ideal place to spend a day shopping and enjoying.
Unique atmosphere: The design of the mall and the arrangement of the shops contribute to a pleasant shopping experience. The architecture and ambience also make shopping a special experience.
dining options: After a long day of shopping, you can take a break and refuel in one of the many restaurants or cafes in the mall.
A visit to one or more of these shopping temples is worthwhile for anyone who likes to take home typical American souvenirs from their trip to Florida. But most of all it's a lot of fun.
And finally ...
In summary, Fort Lauderdale is a paradise for shopaholics. The city offers shopping opportunities that go far beyond the usual malls and shopping centers.
The Gulfstream Mall is a unique combination of shopping center and racecourse. Las Olas Boulevard, on the other hand, offers a charming Old World shopping experience. Fort Lauderdale's flea markets and outlet malls are also well worth a visit.
All in all, Fort Lauderdale offers a varied and exciting shopping experience that will inspire you. So next time you're in Florida, be sure to explore the city's shopping streets and let yourself be enchanted by its charm!
 
Questions and answers about shopping in Fort Lauderdale:
What makes the Gulfstream Mall in Fort Lauderdale so unique?
The Gulfstream Mall is a combination mall and racecourse. Here you can not only shop, but also experience horse races and watch the jockeys at their performances.
Where is Las Olas Boulevard located in Fort Lauderdale?
Las Olas Boulevard runs through the center of the city to the Atlantic.
What can you find at flea markets in Fort Lauderdale?
At Fort Lauderdale's flea markets, you'll find everything from second-hand clothing and vintage advertising signs to used china and vintage furniture.
What is Sawgrass Mills?
Sawgrass Mills is one of the largest outlet malls in the United States and offers affordable designer clothing. The Sawgrass Shopping Mall in Fort Lauderdale is the most famous shopping center in the city.
Is it worth planning a visit to the shopping malls in Fort Lauderdale?
In any case! Fort Lauderdale offers a variety of unique shopping opportunities that go far beyond the usual malls and shopping centers. Here you will find the right shopping experience for every taste and budget.
Tips for the region
Travel Arrangements
Parking at the airport
Here you can reserve your parking space at the airport.
Excursions and tours
Excursions and Tours in and around Fort Lauderdale * is available at Get Your Guide, for example
Travel guide for Florida
Hotels in Fort Lauderdale
Accommodation in Fort Lauderdale * you can book here, for example. We have stayed in these hotels.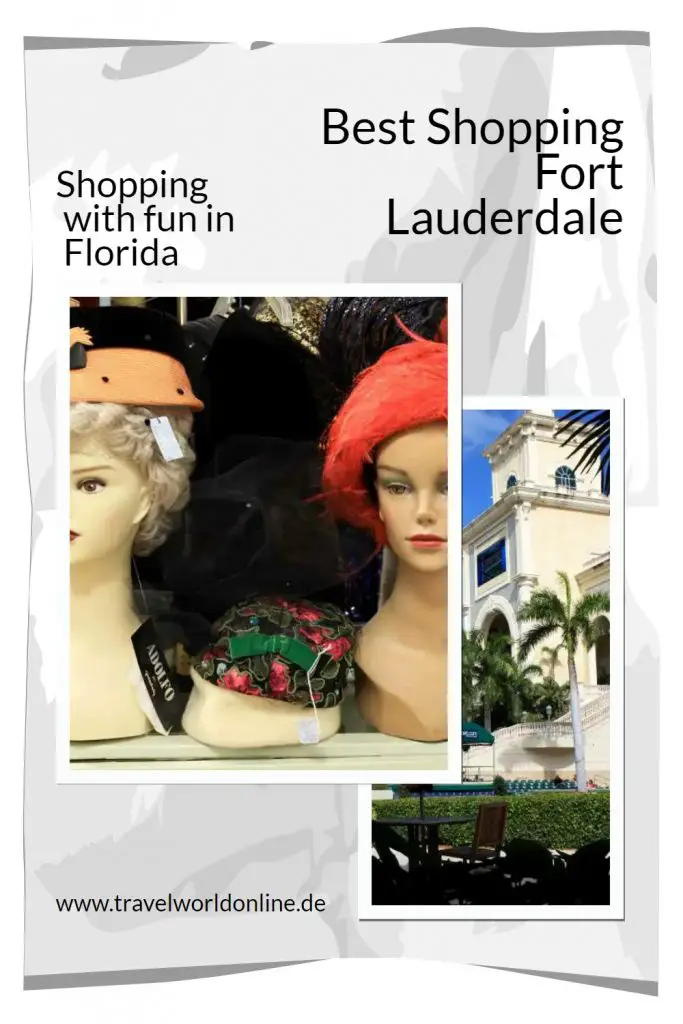 Do you also know:
Source: On-site research with trip support from GFLCVB. Thank you very much for that. However, our opinion remains our own.
Text: © Copyright Monika Fuchs and TravelWorldOnline
Photos: © Copyright Monika Fuchs and TravelWorldOnline
Best Shopping Fort Lauderdale - Shopping with fun in Florida