The Bonnet House Museum & Gardens in Fort Lauderdale
We like people who create something special and are interested in their way of life. We struck gold in Fort Lauderdale, Florida. However, the people who are the subject of this article are no longer alive. They left a house full of memories. Nonetheless, it makes me feel like its residents are stepping out the door at any second. It is The Bonnet House Museum and Gardens in Fort Lauderdale.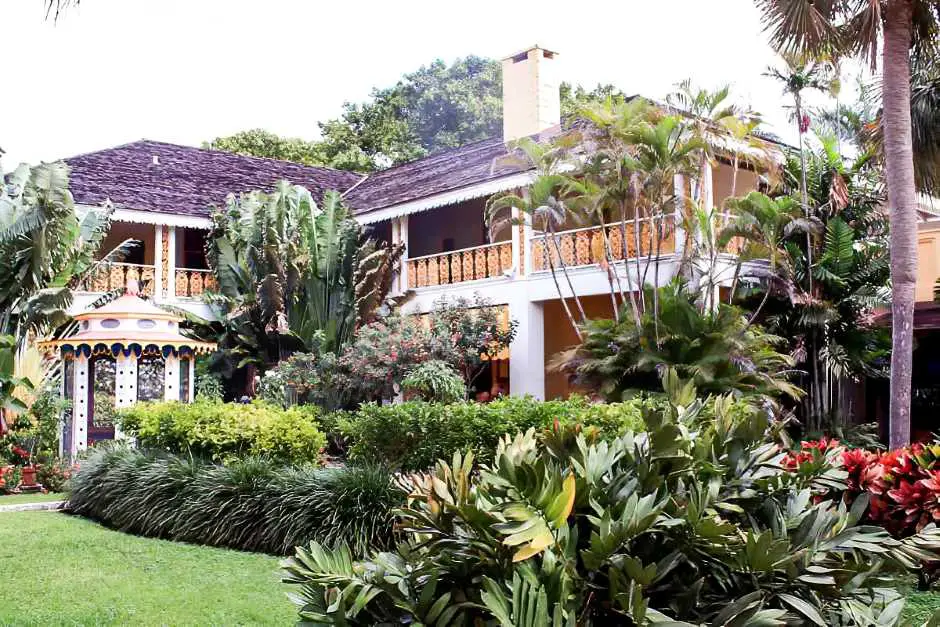 Hotels near The Bonnet House Fort Lauderdale
If you are visiting Fort Lauderdale and want to explore the historic Bonnet House Museum, there are a few nearby hotels to consider:
Summerland Suites Fort Lauderdale Beach*: Just 0,3 miles from the Bonnet House Museum, this hotel offers suites with full kitchens. It features four outdoor pools and is just three blocks from Fort Lauderdale Beach. More info
Rolo Beach Hotel*: This Central Beach hotel has a very good rating and offers free WiFi and a pool. It is close to the Bonnet House Museum. More info
Motel Lauderdale Inn*: Another Central Beach hotel with a good rating. It also offers free WiFi and a pool. More info
Each of these hotels has its own characteristics and advantages. Depending on your preferences and your budget, you can choose the right hotel for you. Its proximity to the Bonnet House Museum makes it ideal for anyone wanting to visit this historic landmark.
We were attracted by the gardens, which are announced together with the museum. At first we were disappointed, because apart from a garden with a few palm trees and other trees that are native to Florida, we didn't see anything at first. Only a wall behind which the house is hidden made us curious. However, don't let this impression fool you. Because behind this wall amazing things are waiting.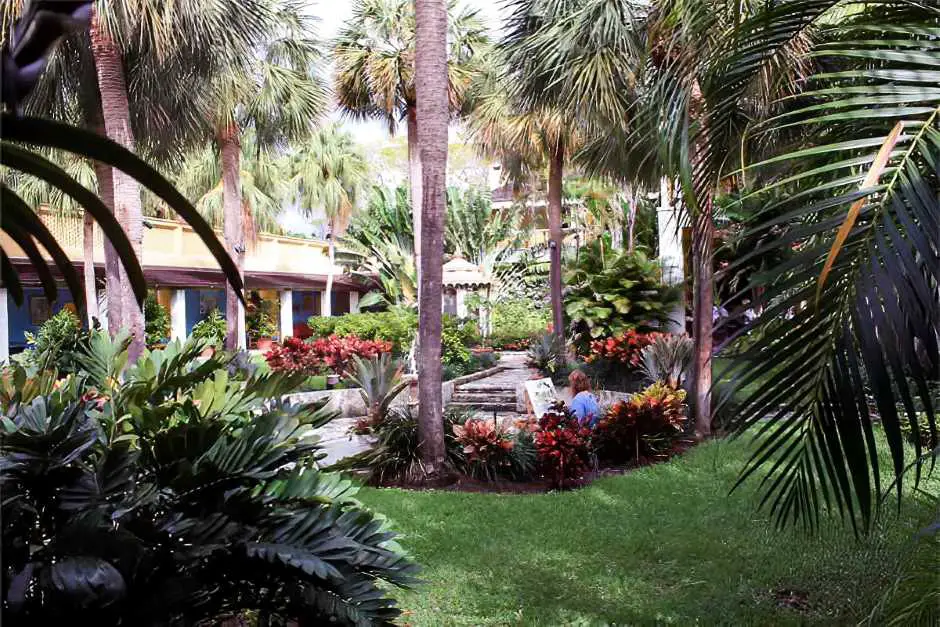 A guided tour of The Bonnet House
The inner courtyard and the rooms of the house can only be entered with a guided tour. This takes you into a world of artists and bon vivants. Bonnet House was built by one of the first settlers in the Fort Lauderdale area, Hugh Taylor Birch. He spent the winter months in this house, often with his daughter Helen. At that time the house was still surrounded by thick bushes that stretched to the sea. Today, however, The Bonnet House gardens are the only green space in Fort Lauderdale that remains in its original form.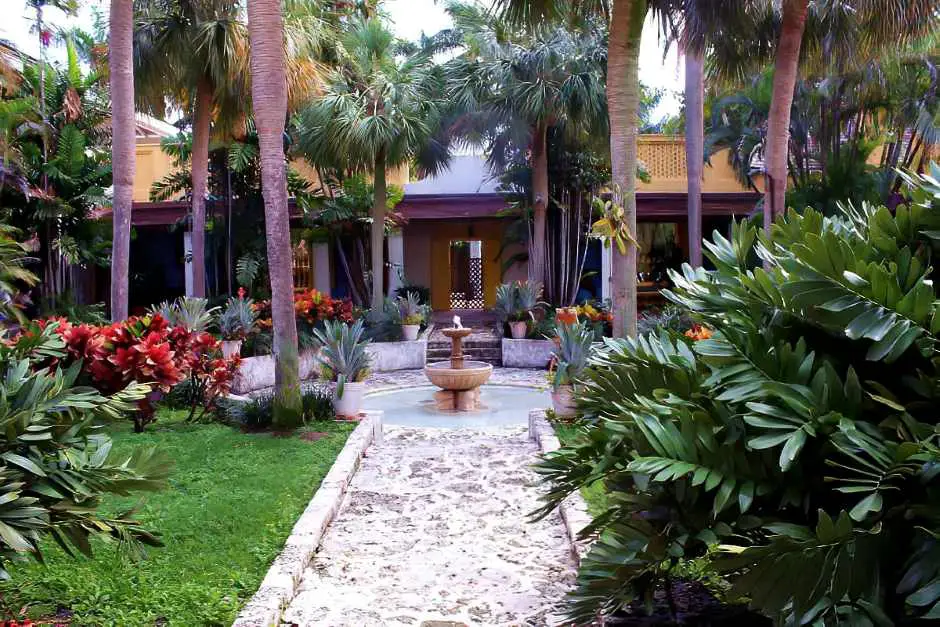 The Bonnet House Fort Lauderdale – This is what you need for a visit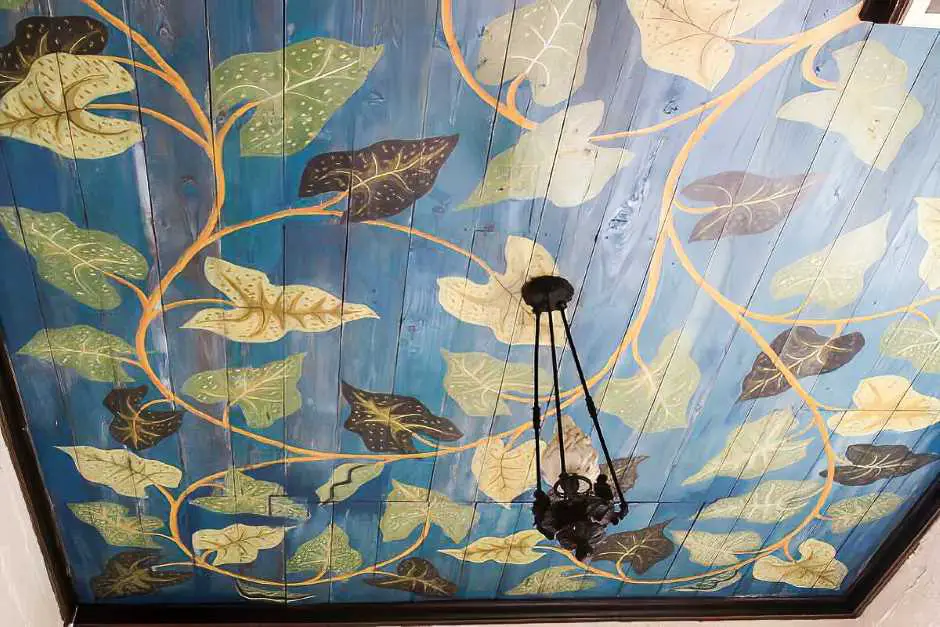 The Bonnet House Museum & Gardens and its history
The actual history of The Bonnet House began with Helen's marriage to Chicago artist and painter Frederic Clay Bartlett in 1919. Helen was Bartlett's second wife. His first had died a few years earlier. Hugh Taylor Birch gave the couple the house on the Florida coast for their wedding. Bartlett had already made a name for himself as a painter of high society and portrayed their representatives and their way of life with his pictures. At the same time, Bartlett was a person who designed his house according to his own taste. He was assisted by Helen, whose early death from breast cancer kept him away from Bonnet House for several years. It was only when he remarried six years later - Evelyn Fortune Lilly - his third wife, that he returned to Fort Lauderdale with her.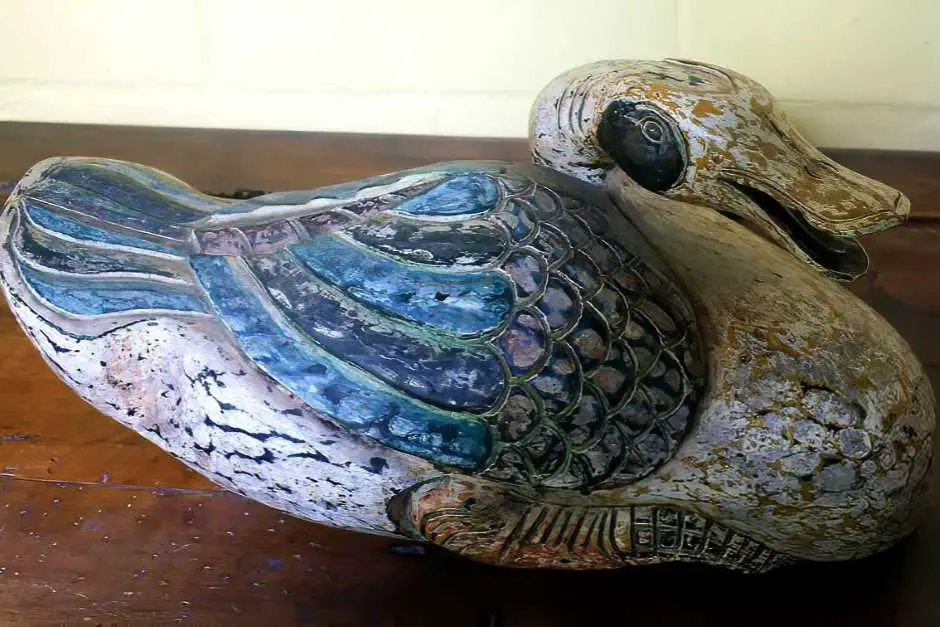 The Bonnet House in Fort Lauderdale features art and junk
Bartlett's third wife also came from a wealthy family. The relationship cemented his contacts in the community of America's rich and famous. She also brought him commissions from all over the world. Frederic and Evelyn traveled a lot during the years of their marriage and brought art - and also junk - with them from everywhere. The only decisive factor in the choice of her souvenirs was that it fit their idea of ​​a "plantation house". That's what they called the style they used to design their home.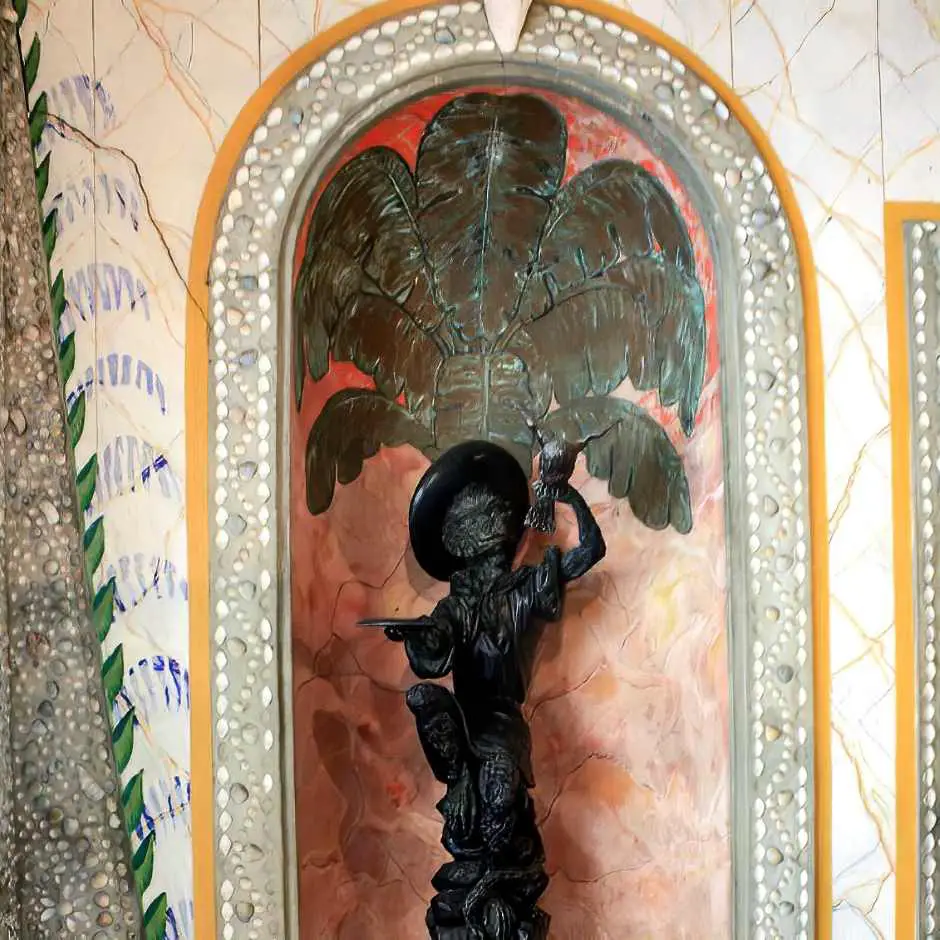 The museum has handicrafts from all over the world
Among the souvenirs were wood carvings from South Africa as well as two "butlers" from the Plaza Hotel in New York. These are two statues that hold a plate towards the guests. You could leave your business cards on them. No souvenir was too big or too small for them. If Evelyn liked a porcelain service because it was decorated with seashells - a motif that comes up again and again in the Bonnet House - then she simply had it shipped home. On another trip, Bartlett liked columns with capitals, which he found attractive. He had them cut in half and they now line the entrance to the Bonnet House drawing room. In addition, gifts from admirers from all over the world were added in the course of time.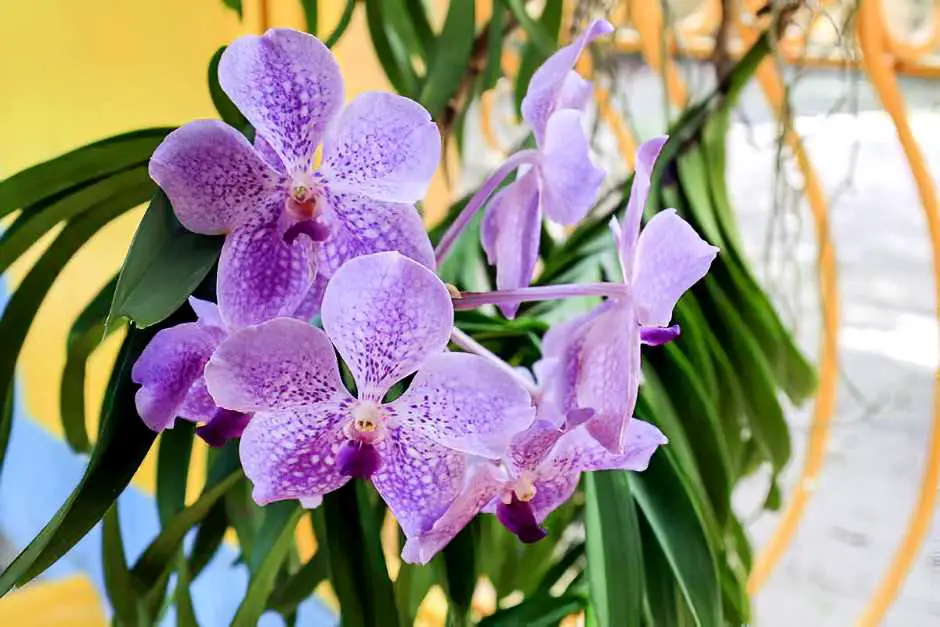 The orchids at The Bonnet House
From this hodgepodge of individual pieces, ceilings and room floors and an inner courtyard in which Evelyn grew the orchids, a mixture of vegetation, art and clutter emerged that is second to none. The decisive factor in furnishing the Bartlett's house was that the decorative objects match their idea of ​​a "plantation house". Architectural purists are likely to clap their hands over their heads at the sight of what has come of it. However, it is undeniable that you can feel comfortable in this house and its inner courtyard.
Discover The Bonnet House Fort Lauderdale
Bonnet House, also known as the Bartlett Estate, has a rich history. Hugh Taylor Birch originally purchased the property in 1895. He later gave it to his daughter Helen and her husband, the artist Frederic Clay Bartlett, as a wedding gift. The couple then built a Caribbean plantation-style estate known today as the Bonnet House.
The architecture of the house reflects Frederic Bartlett's interpretation of the Caribbean plantation style. The property consists of several buildings including the main building, an art studio and a music studio. The handcrafted woodwork and creative designs that adorn the house are particularly impressive.
In recent times Bonnet House has seen many developments. It has become a historical museum and offers regular tours. It also serves as a venue for cultural events as well as workshops. The facility has also attracted media attention. For example, it was the filming location for the reality show "The Amazing Race".
There are numerous resources for those wanting to delve deeper into the history and architecture of Bonnet House. The official site bonnethouse.org offers detailed information as well as up-to-date information on events. I also recommend the Wikipedia article on this Bonnet House, which provides a comprehensive overview.
Visit The Bonnet House Fort Lauderdale
The Bonnet House Museum has a clear mission: to tell the story of Frederic and Evelyn Bartlett and to preserve the art, history and nature of Bonnet House. It serves as a source of inspiration and resting place for everyone. The museum sets strategic goals to fulfill this mission. One of these goals is to preserve the cultural heritage of the house for future generations.
Would you like to visit the museum? It offers regular guided tours. From Tuesday to Friday you can explore it between 11am and 15 pm. At the weekend, i.e. Saturday and Sunday, it opens its doors from 11 a.m. to 16 p.m. The museum is closed on Mondays. Also note special closing days, such as May 11 and 12, 2024 due to the Fort Lauderdale Air Show.
If you have any further information or questions, the museum team will be happy to help. You can reach her at (954) 563-5393. Or visit her in person at: 900 North Birch Road, Fort Lauderdale, Florida 33304.
 
Frequently Asked Questions
How do I get to the Bonnet House Museum in Fort Lauderdale?
The Bonnet House Museum is located at 900 North Birch Road, Fort Lauderdale, Florida 33304.
Are there tours of the Bonnet House?
Yes, the museum offers regular tours where you can discover the history as well as the architecture of the house.
Can I park at Bonnet House?
Yes, there is a car park directly in front of the museum where visitors can leave their vehicle.
Are dogs or other pets allowed at Bonnet House?
No, pets are not allowed in Bonnet House, with the exception of service dogs.
Are there any special events or workshops at the Bonnet House?
Yes, the Bonnet House regularly hosts cultural events, workshops and special tours. It is advisable to check the calendar of events on their website or check with the museum directly for current events.
Tips for Fort Lauderdale and the surrounding area
Do you like to travel by motorhome?
Do you want to rent a mobile home? Then you will find information and a selection of booking options.
Also check our packing list for campers to see whether you have packed everything for your motorhome tour.
There are many campsites in and around Fort Lauderdale. For example, one is Easterlin Park, 1000 NW 38th St, Oakland Park, FL 33309, United States
Travel Arrangements
Parking at the airport
Here you can reserve your parking space at the airport.
Excursions and tours
Excursions and tours in and around Fort Lauderdale * are available at Get Your Guide.
Travel guide for Florida
Hotels in Fort Lauderdale
Accommodation in Fort Lauderdale * you can book here, for example. We have stayed in these hotels.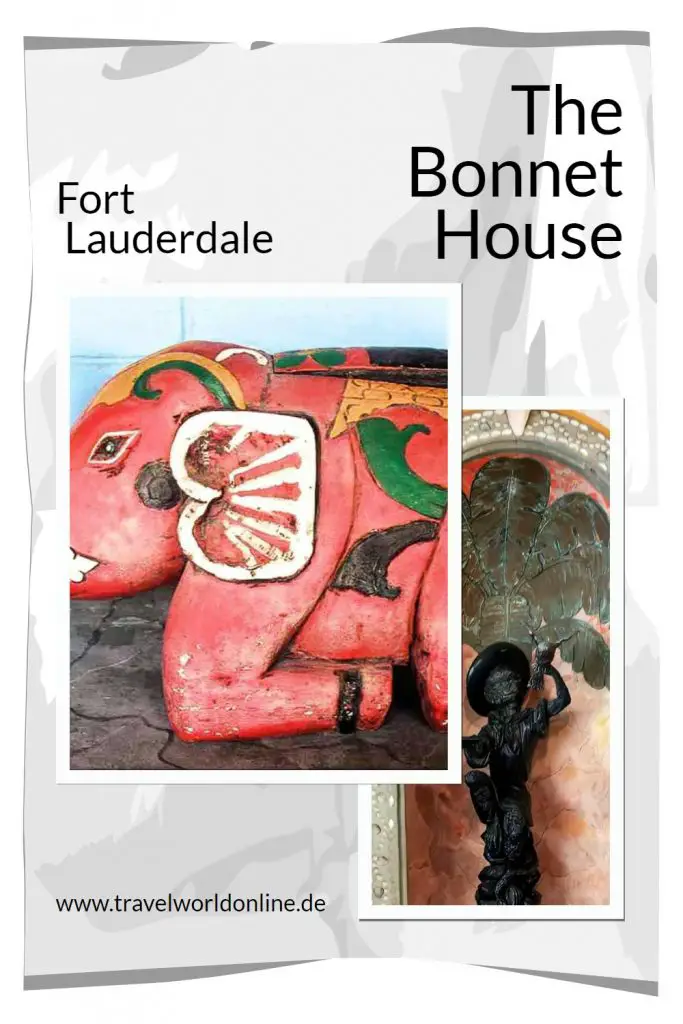 Do you also know:
Source The Bonnet House Fort Lauderdale: On-site research supported by the Greater Fort Lauderdale Convention & Visitors Bureau
Text The Bonnet House Fort Lauderdale: © Copyright Monika Fuchs and TravelWorldOnline
Photo: © Copyright by Monika Fuchs and TravelWorldOnline
Video: © Copyright by Petar Fuchs and TravelWorldOnline
The Bonnet House Fort Lauderdale: Experience History Up Close.