Cooking Waldviertel specialties
Anyone who has read our Genuss travel blog for a long time knows that we value Austrian cuisine very much. Therefore, this cooking course is one of our Vienna travel tips. We are particularly impressed by the enjoyment regions of Austria, and there is a lot to discover there. This time we were invited to a cooking class in Kochatelier by Thomas Hüttl in Vienna, where we cook our food together with Elena and Hermann Paschinger von Creative travel and Joesy Rozsnyai from Gastro Magazine tried on Waldviertel specialties. Waldviertel Learn how to cook specialties with tips on how we can do this at home.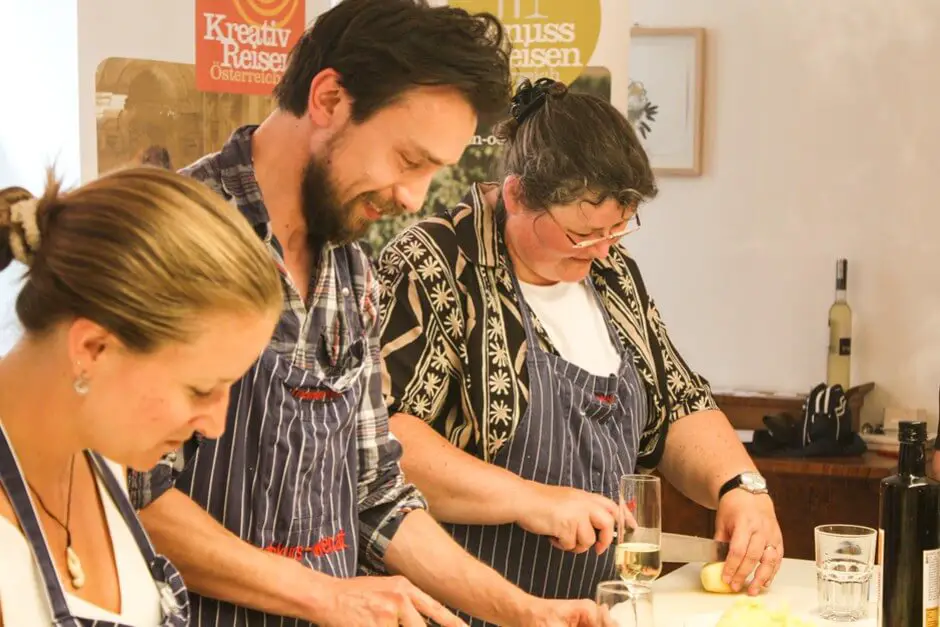 Thomas Hüttl learned the trade from scratch in various apprenticeships, including those in which cooking stars such as Alfred Schubeck and Eckart Witzigmann came and went. Since 2003 he has been offering cooking courses of various lengths in his cooking studio at Schönbrunnerstraße 36/3 in Vienna. For some of his courses, only the main topic is fixed beforehand: fish, meat or pastries. "The dishes that we ultimately cook together are then determined by the market," laughs Hüttl. He likes to go to the Viennese Naschmarkt with his course participants, where they look for the fresh ingredients from which delicious things are conjured up together.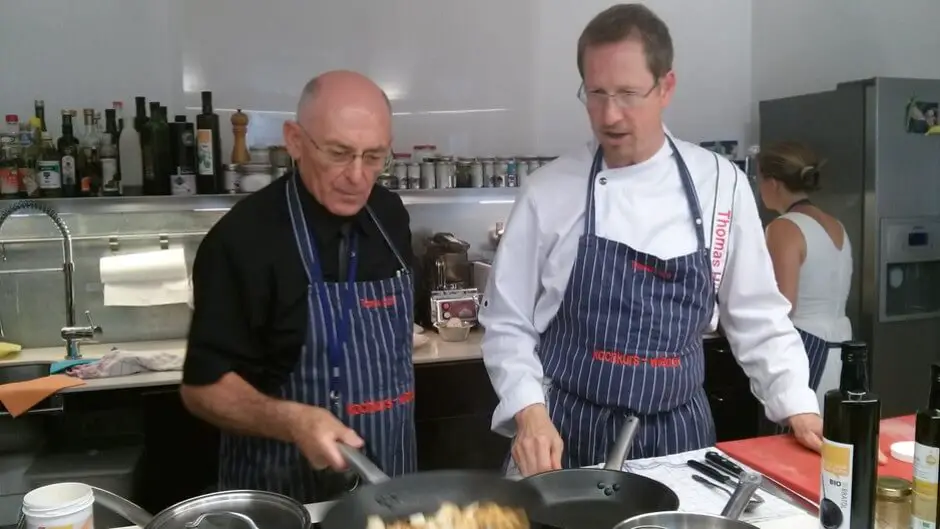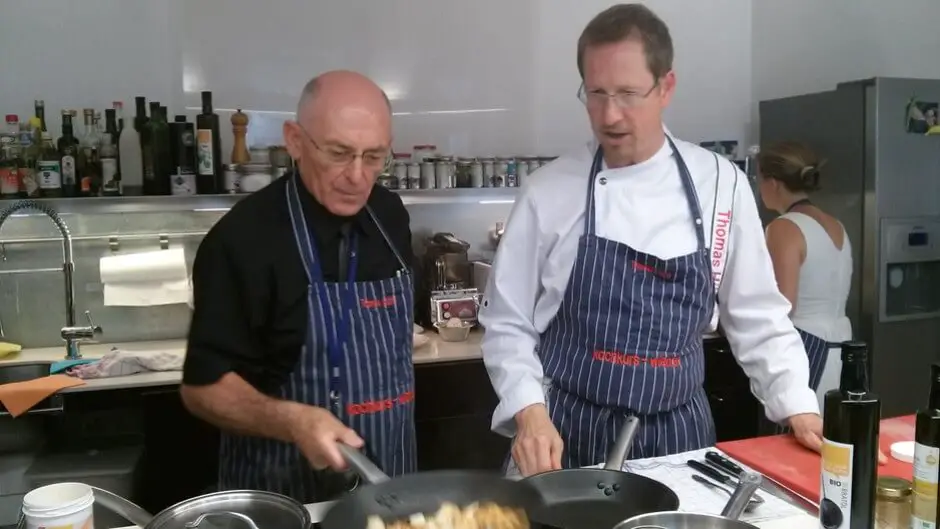 Learn to cook Waldviertel specialties by Thomas Hüttl
At our cooking class in Hüttls Kochatelier, the ingredients are already available, and the Waldviertel specialties, which we cook together, are set.
On the menu are Waldviertler organic carp in smoked crust from the bacon pan on red beets and a wine tavern in white wine krawn sauce as an appetizer. There is also a Grünnen Veltliner Kellerberg 2014 from the vineyard on the mountain.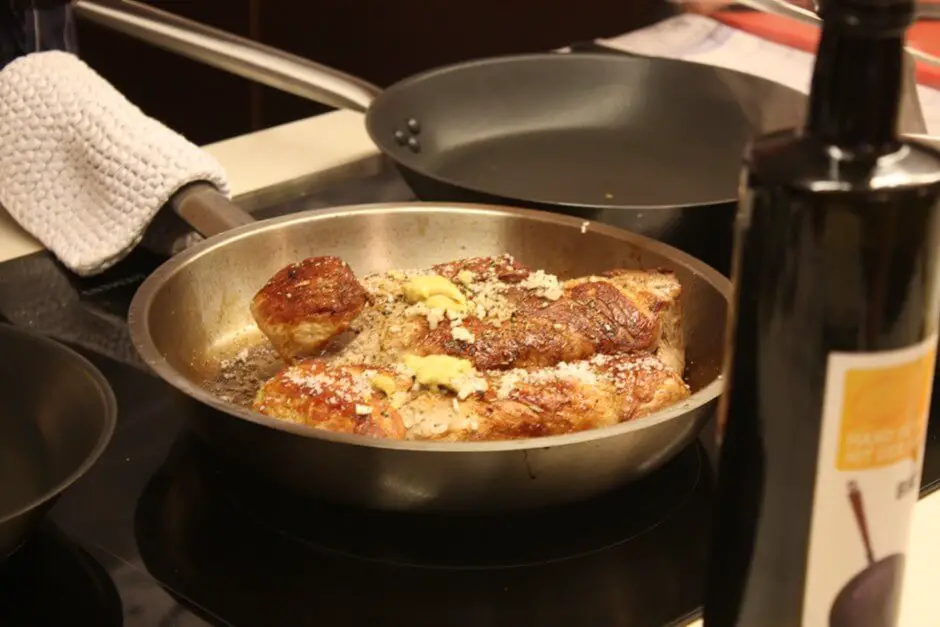 main course
For the main course we cook according to the instructions of Thomas Hüttl a Dachsberger pork tenderloin on mushroom in root cream with herbal napkin dumplings. The Riesling Gaisberg 2013 from Schloss Gobelsburg tastes wonderful. Because barrique wines are not among my favorite wines, I renounce the Zweigelt Barrique 2011 of Eitzinger. Wines are known to be a matter of taste.
dessert
The dessert then meets again exactly our taste: we conjure a chocolate soufflé with soft chocolate core with caramelized Wachau- Marillenröster to which the Trockenbeerenauslese 2007 by Rabl fits wonderfully.
That's how it's done
I'm always careful with carp, but this smoked-crusted carp from the Waldviertel was probably the best I've eaten so far. The crust and the bacon make this fish a real treat. There was nothing "fishy" about it. During preparation, I was surprised how long it was fried on the skin side, but that is exactly what makes the crust so tasty, as Thomas Hüttl explains to us.
First we sear the pork tenderloin. Then it is placed in the oven, where it continues to fry at medium temperature for about 20 minutes. Then it comes into the tube at about 50 degrees and rests - wrapped in aluminum foil - until we have prepared the rest of the meal. So it is exactly right when serving: still slightly pink, wonderfully juicy and tender. We prepare the mushroom sauce from different types of mushrooms. There were also herbal serviette dumplings, the dough of which was wrapped in cellophane film and cooked in boiling water for about 20 minutes.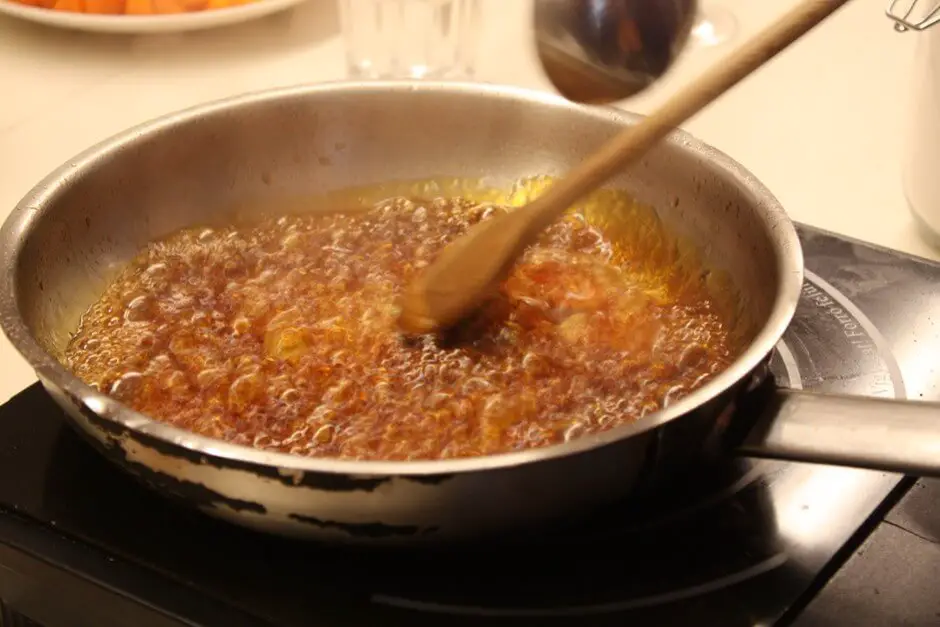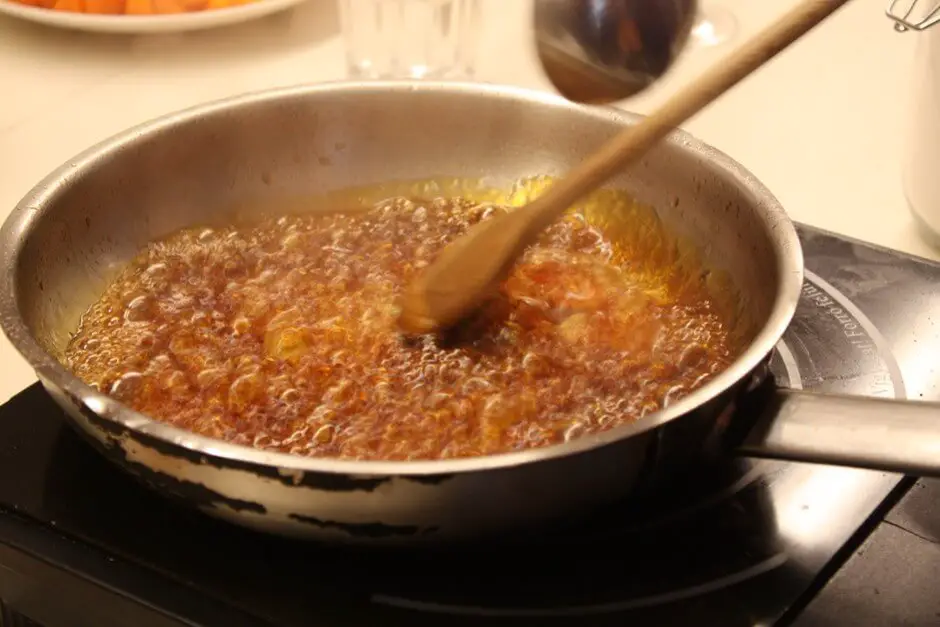 The recipe of the dessert we must not publish. Only so much: the soufflé depends on gram-precise measuring of the ingredients. Then that works well with the soufflé. In any case, it tasted delicious.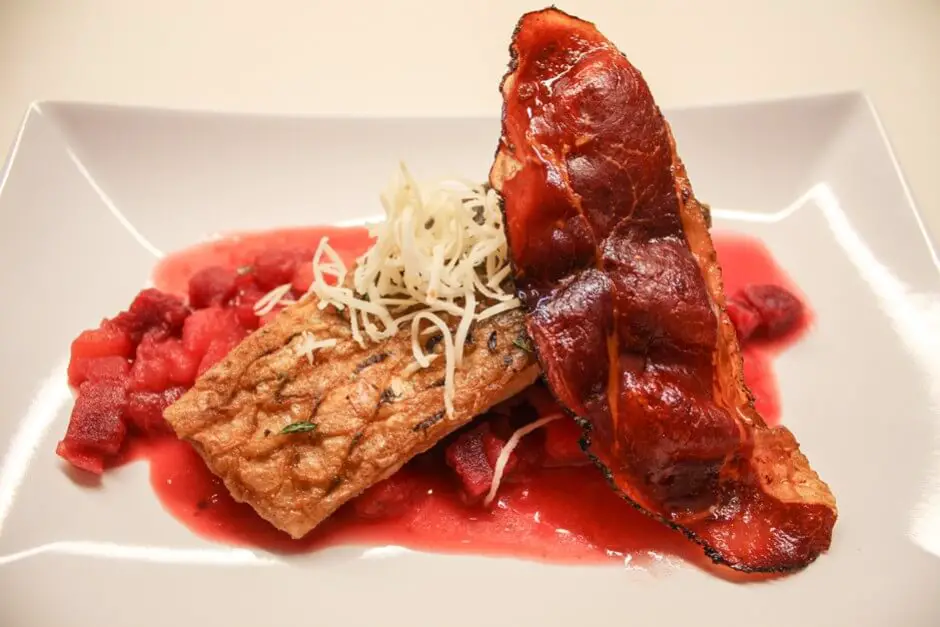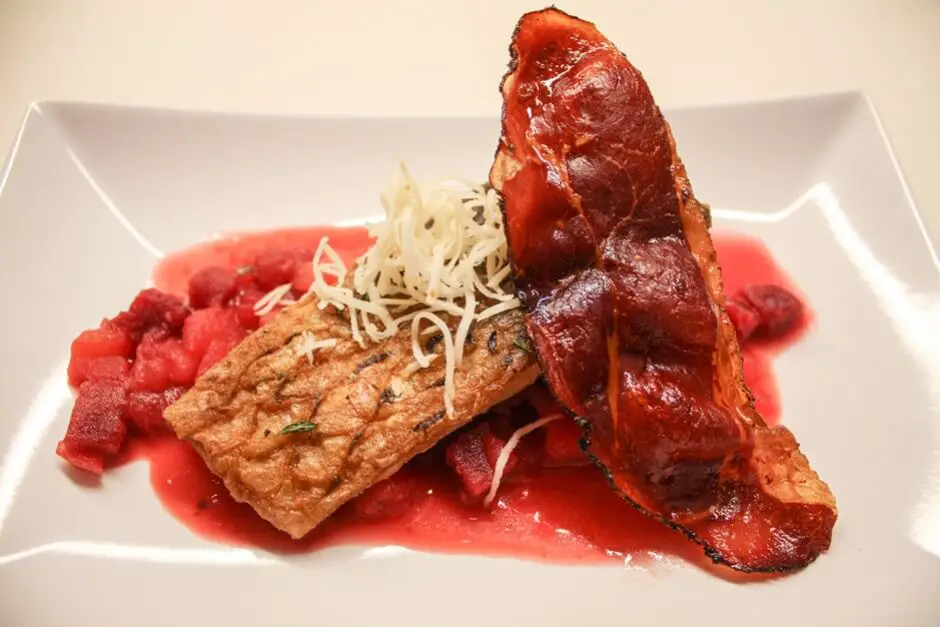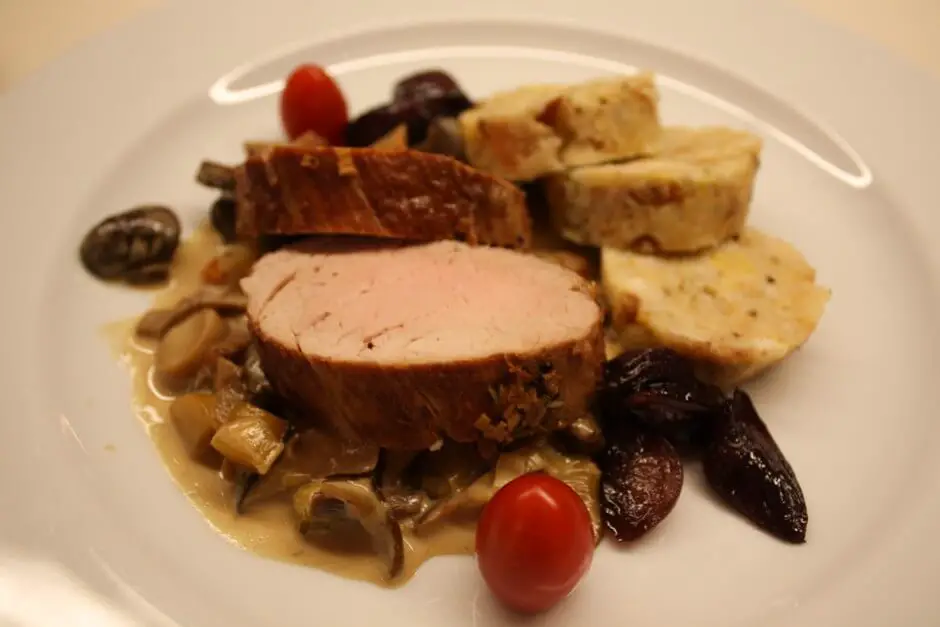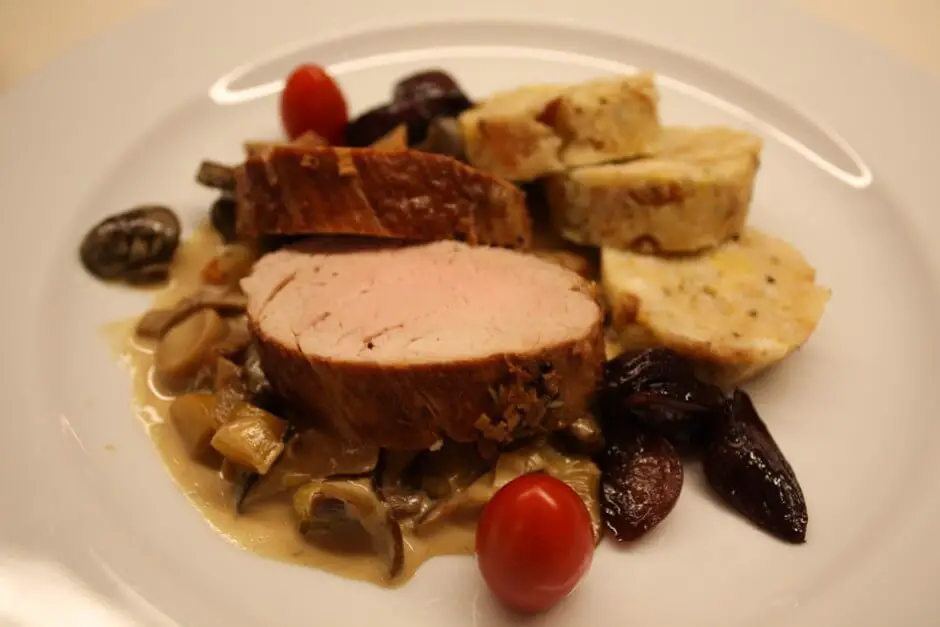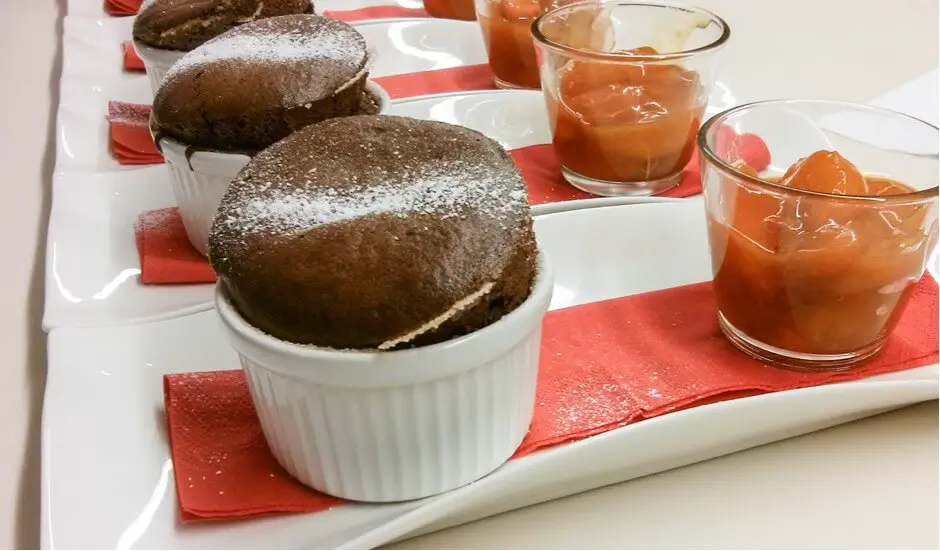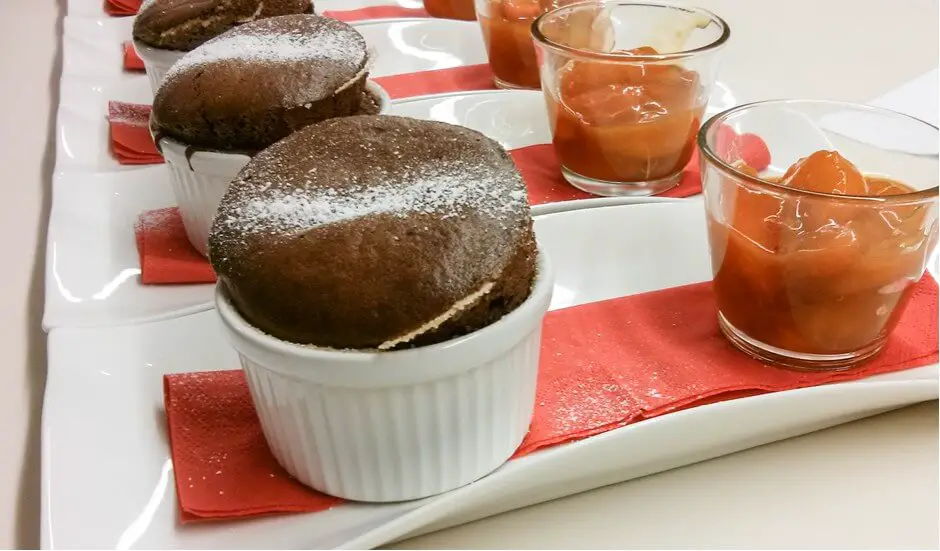 Enjoy together
It is well known that after work comes pleasure. In this case, this consists of a meal in the adjoining room of the course kitchen, during which we review our cooking skills. And who knows, maybe we will succeed in such creations from Waldviertel specialties at home and we can there lower austrian Cook delicacies until your next trip to Austria, a land of pleasure.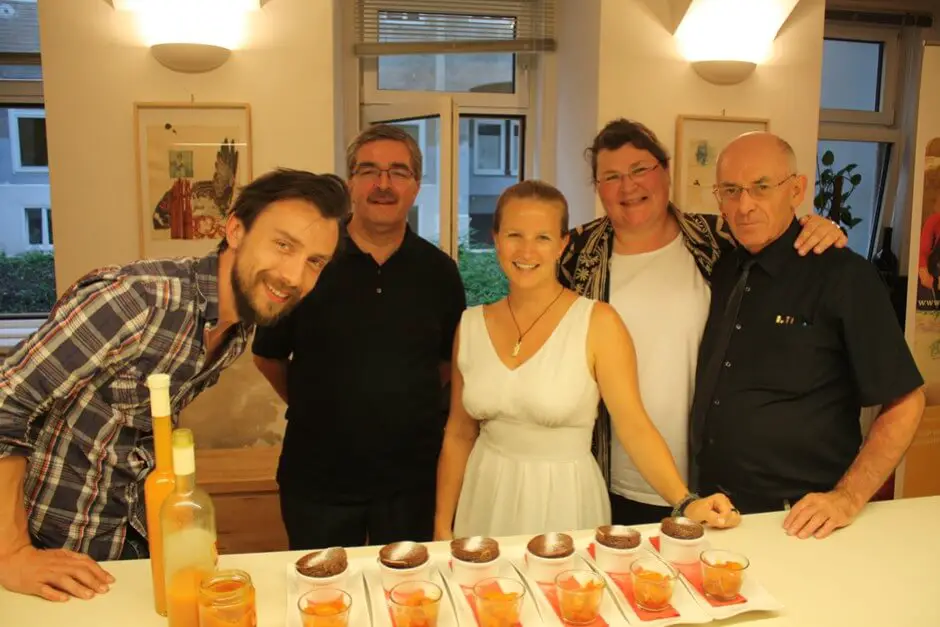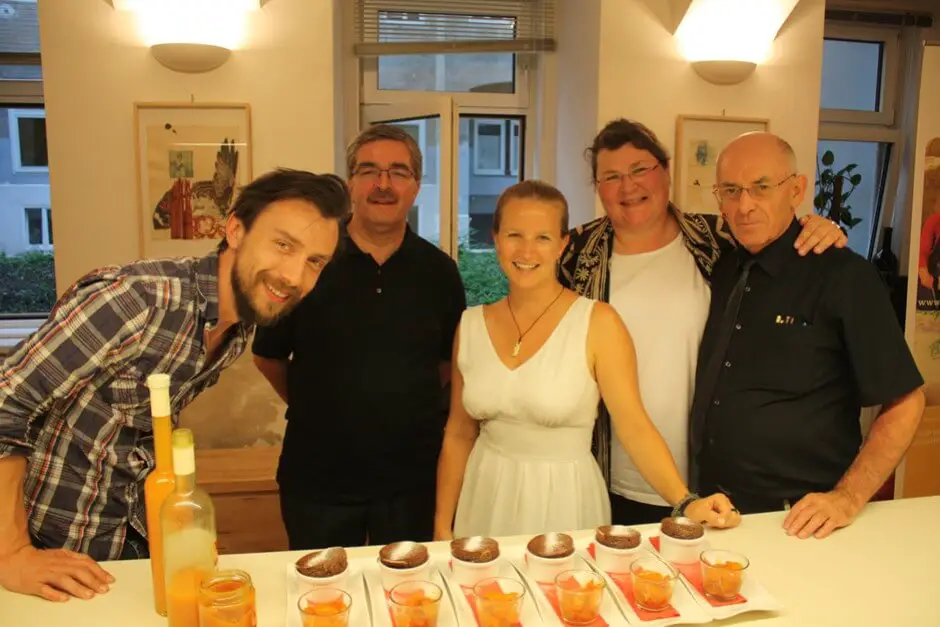 If you would like to take part in a cooking course with Thomas Hüttl yourself, you can do so in his cooking studio in Vienna. An experience for everyone who likes to cook and wants to get tips from the master. Incidentally, also a gift idea: there are also vouchers to give away for Thomas Hüttl's cooking courses. Or are you interested in cooking courses in other countries? Laura Lynch of Never a Dull Knife describes in detail how to improve your cooking skills during a cooking holiday, The article is in English, but so well researched and so detailed that it's worth bringing it along Google Translate to translate.
We stayed in this time in the Enziana Hotel Vienna *, which tries to celebrate the Austrian way of life with gentian, dirndl and lederhosen in the big city. The hotel is close to Karlsplatz. The guests came from all over the world.
You can find tips for Vienna here:
---
Travel Arrangements:
Arrival by plane, train and bus
Book yours here Arrival by plane, bus or train*. Lufthansa, Austrian Airlines and Swiss will follow Vienna. Arrival by train is possible. Long-distance buses also go to Vienna.
Car Rentals:
Rent a car - book quickly and easily!
You can book a city tour through Vienna with our partner Get Your Guide.
With our partner booking.com you can book hotels and accommodations in Vienna.
---
Do you already know:
Source: On-site research. We thank Trips to Savor for the invitation and assistance with this trip. Our opinion remains our own.
Text: © Copyright Monika Fuchs, TravelWorldOnline
Photos: © Copyright Monika Fuchs, TravelWorldOnline
Learn to cook Waldviertel specialties in the Kochatelier in Vienna