Christmas time in Vienna
The time of the Christmas markets in Vienna begins in November. With these Vienna travel tips you are well prepared for the Advent season. Even if the Christmas season in Vienna hasn't officially started yet, it's all over the place Vienna From mid-November, Christmas glitter in the city center and especially at the Christmas markets. One of them opens its doors one by one from the second half of November. We have therefore seized the opportunity and are in winter to Vienna drove to get us in the right mood for the "stade" time of the year.
We like it when the smell of freshly baked Gingerbread blowing through the winter air, and when hot apple punch invites you to warm your clammy fingers on the cups. It's nice when not only children's eyes start to shine at the sight of the many imaginative and glittering light decorations that illuminate the streets of Vienna's city center and the huts of the Christmas markets in Vienna. Christmas in Vienna is a great experience!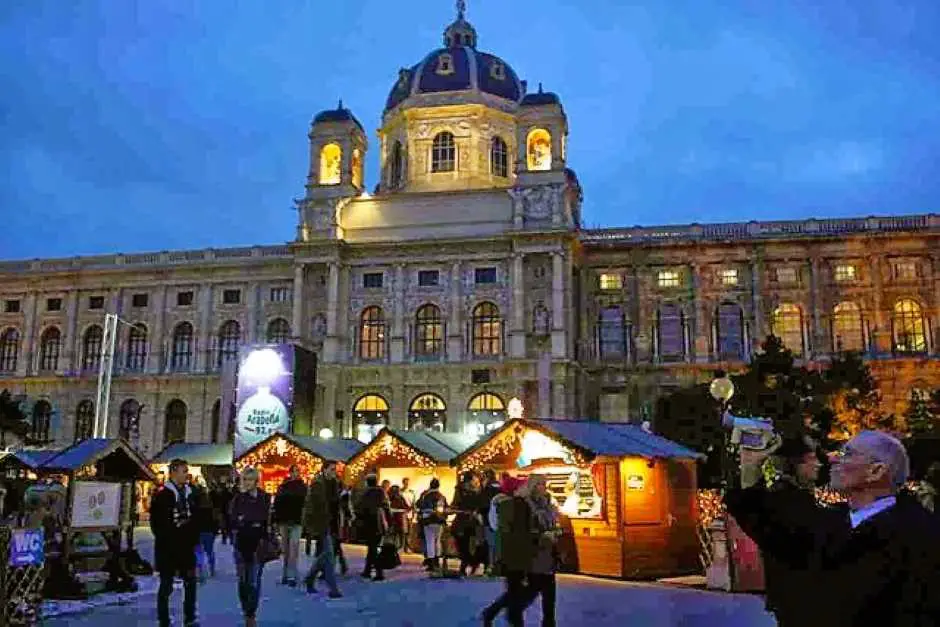 Officially, there are 18 large and permanent Christmas markets in Vienna. These are joined by countless small and short-open Christmas markets, which are distributed over the entire city of Vienna. As newcomers to the Vienna Christmas season, we limit ourselves to looking at some of the larger markets. A good day and a half are available to us, and we know in advance that we can not see all the Christmas markets in the city. We are planning our tour through the Advent markets meticulously, they differ not only in the offer, but also in their opening times.
The Christmas village on the Maria-Theresien-Platz in the Museumsquartier
Opening hours:
Open from 16.11.2022/26.12.2022/XNUMX to XNUMX/XNUMX/XNUMX.
Sunday to Thursday from 11:00 a.m. to 21:00 p.m.,
Friday and Saturday from 11:00 a.m. to 22:00 p.m.
Christmas Eve 24 to 16 p.m., 00 and 25. until 26.12 p.m
We stay in the center of the biggest Christmas markets in the very chic Lifestyle Hotel Sans Souci in Burggasse and on the day of our arrival in Vienna we visit the Christmas village at Maria Theresien Platz, which we can reach in a few minutes on foot from our hotel. We walk past the stands under the eyes of Empress Maria Theresa. There we admire ornate glass balls and brightly colored candle holders. The scents of Christmas spices mix in apple punch or Mulled wine. Freshly baked muffins, gingerbread or cookies make our mouths water.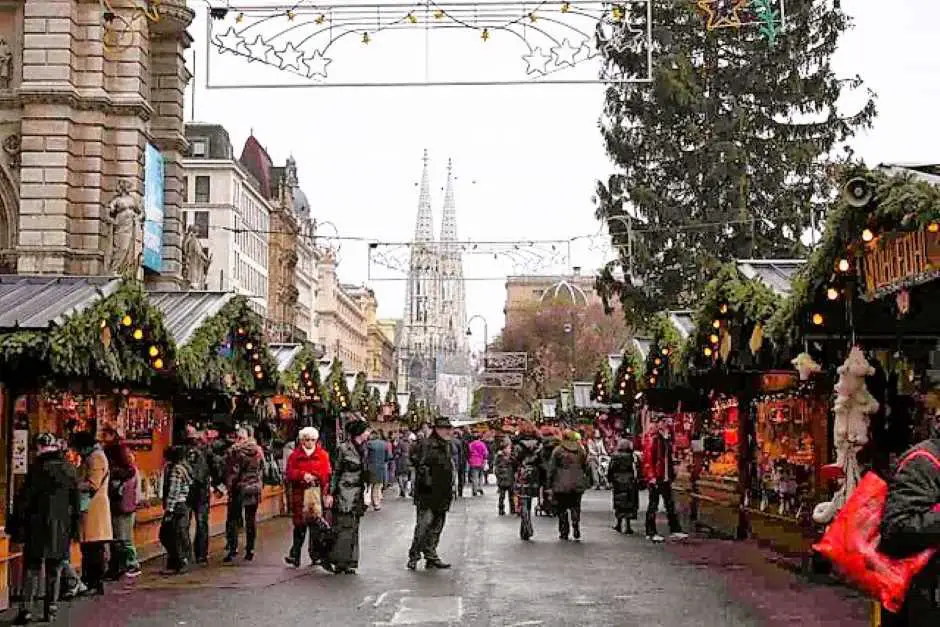 The Viennese Christmas Market and Viennese Advent Magic on Rathausplatz
Opening hours:
Open from Friday 19.11. until Monday 26.12.2022.
Daily from 10:00 a.m. to 21:30 p.m.,
Fridays and Saturdays until 22 p.m.,
24.12. only until 19 p.m., 00. and 25.12. until 26.12:21 p.m
The next morning we leave after breakfast and get on the subway, which leaves directly in front of our hotel. Our first destination today is the largest Christmas market in Vienna (and all of Austria), the Christmas market on Rathausplatz. It opens its doors at 10.00 o'clock, and when we arrive at the square a few minutes later, many visitors are already strolling among the market stalls. Children stand with their eyes wide in front of stalls where chocolates, cookies or colorful lollipops stimulate the appetite.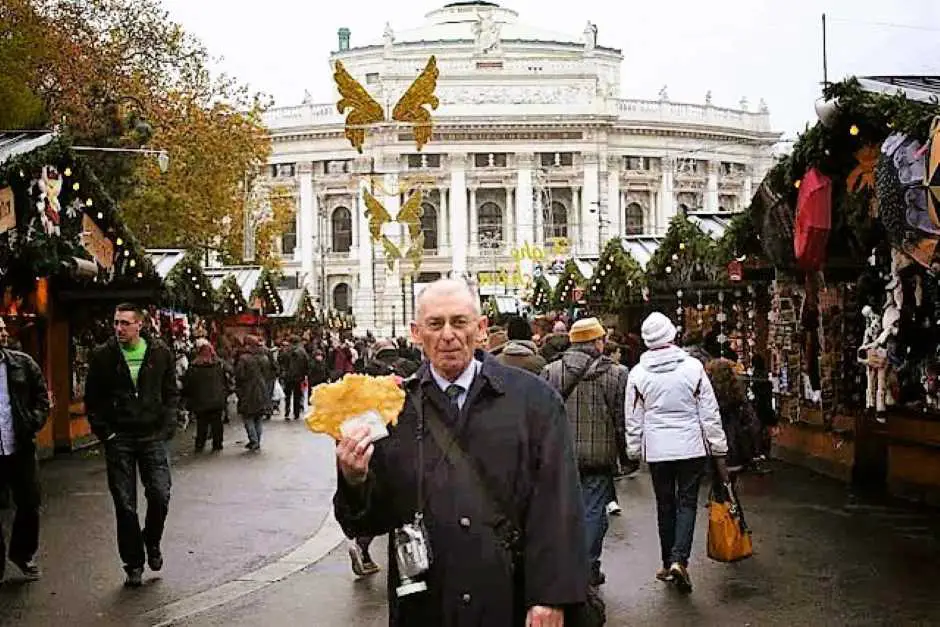 Culinary specialties – Christmas time in Vienna for connoisseurs
It's the same for us: but we are looking for a specialty that we heard about from a Facebook friend. We are looking for langos, a specialty from Hungary. This is a type of flatbread that is fried and served with garlic. I prefer this to sweets in the early morning and, as always, I'm eager to learn something new.
In fact, when we have the first street of huts behind us and turn the corner into the next, I read on a wooden sign on one of the huts "Langos", which can be bought with or without garlic, or rolled up with or without sausage . We choose the traditional form – with garlic, as it should be – and bite into the hot bread. It's crispy and tastes intensely of garlic. Delicious!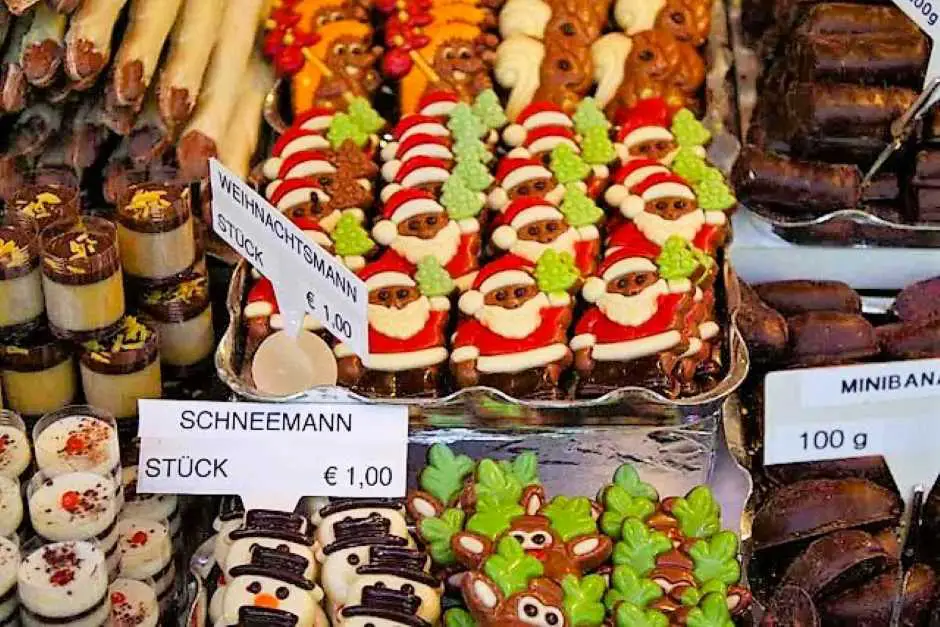 A Christmas market that children also like
We watch children enjoy listening to a group of large plastic dolls move to the beat of Christmas carols. The youngest ones are led around this "orchestra" on ponies. How nice is Christmas when you still believe in Santa Claus! However, the fun that children and mothers have also infects us. Therefore, in a good mood, we continue to stroll through the market, where the white Christkindl-Express trundles towards us. However, we prefer to continue strolling past the stalls on foot. Finally we leave for our next destination, the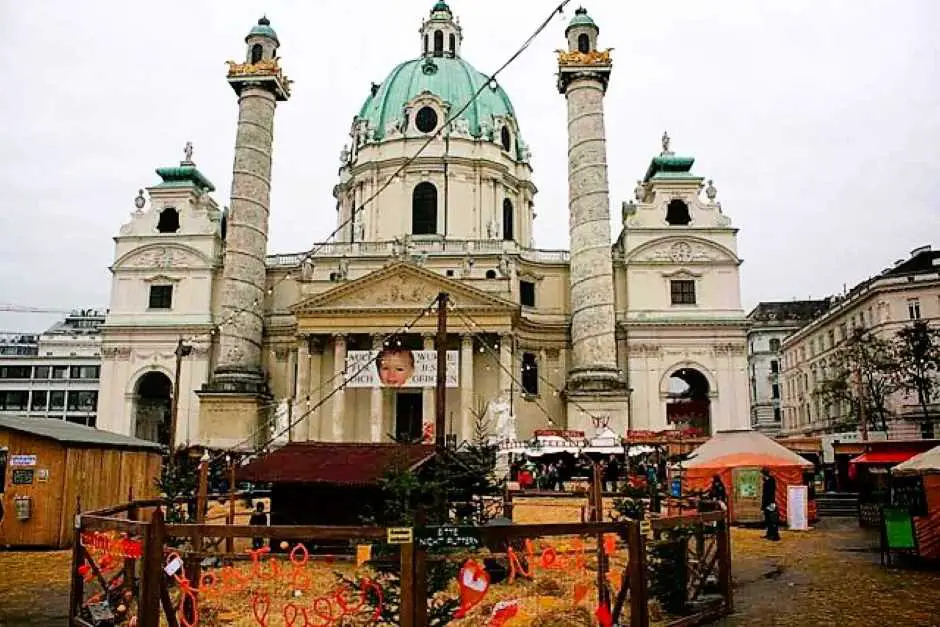 Handicraft market in front of the Karlskirche - fun and cultural enjoyment at Christmas time in Vienna
Opening hours:
Open from 18.11. until 23.12.2022.
Daily from 12:00 a.m. to 20:00 p.m
We can also reach this market directly by subway. We immediately notice the different character of this market. While the Christmas market at the town hall is traditional with everything that goes with it, we are in an art-loving environment here. Potters exhibit their coffee cups, teapots and candlesticks from their own manufacture. In addition, a sound artist offers his fantasy animals for sale. There are also musical instruments. We can also find homemade jewellery, carvings, woolen hats and scarves, beautiful quilts, second-hand clothes and more.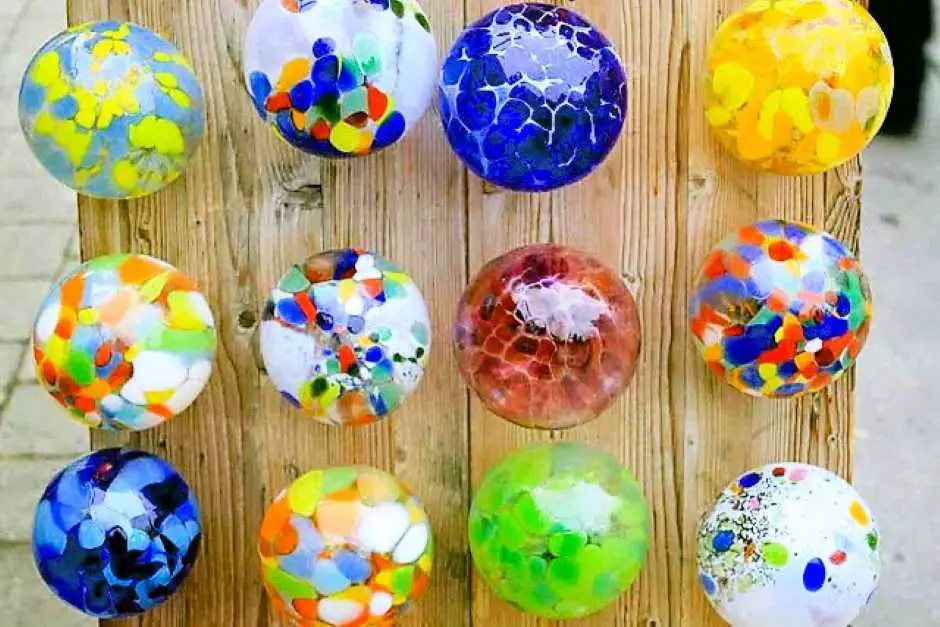 Children love this market at Christmas time in Vienna
Directly in front of the church, the basin was thickly filled with hay. Dsrin children frolic and roll in tall haystacks. Just watching is fun. On another corner we find a motley carousel on which parents put their little ones on plastic horses. There are also coffee cups. that spin, or a colorful dinosaur. Then they wave to their offspring while they leisurely do their rounds. Only a little one gets scared when she loses sight of her daddy. She screams at the top of her lungs until the carousel finally comes to a stop. As soon as her father picks her up, she beams all over her face.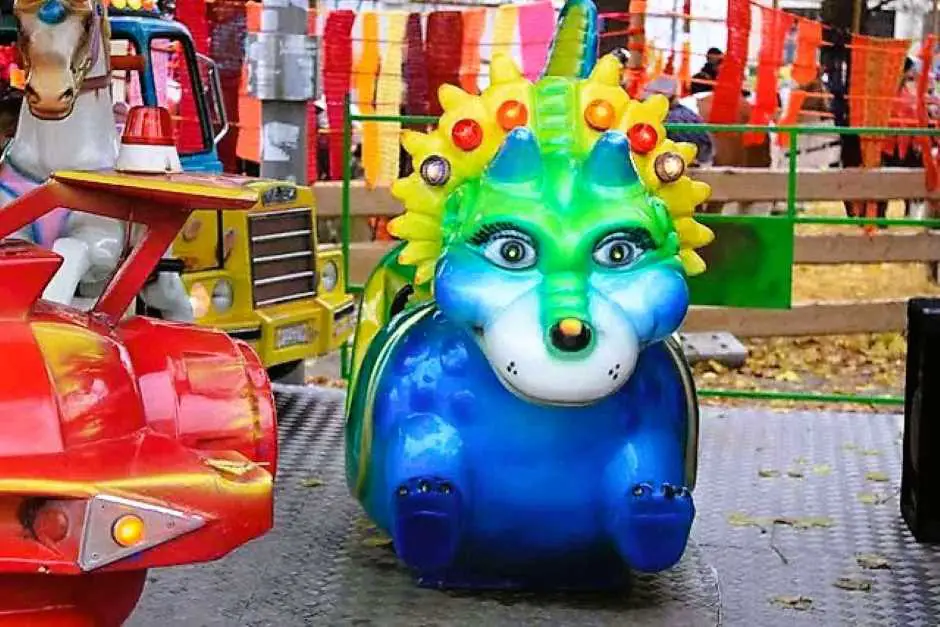 In keeping with the alternative character of this Christmas market, there is also a carousel of a different kind a little further on. Seating for the children was made out of scrap metal. There's an old tin bathtub as well as a barrel made of metal that has been given wings. Lustig is an ancient bicycle that promises a trip back in time.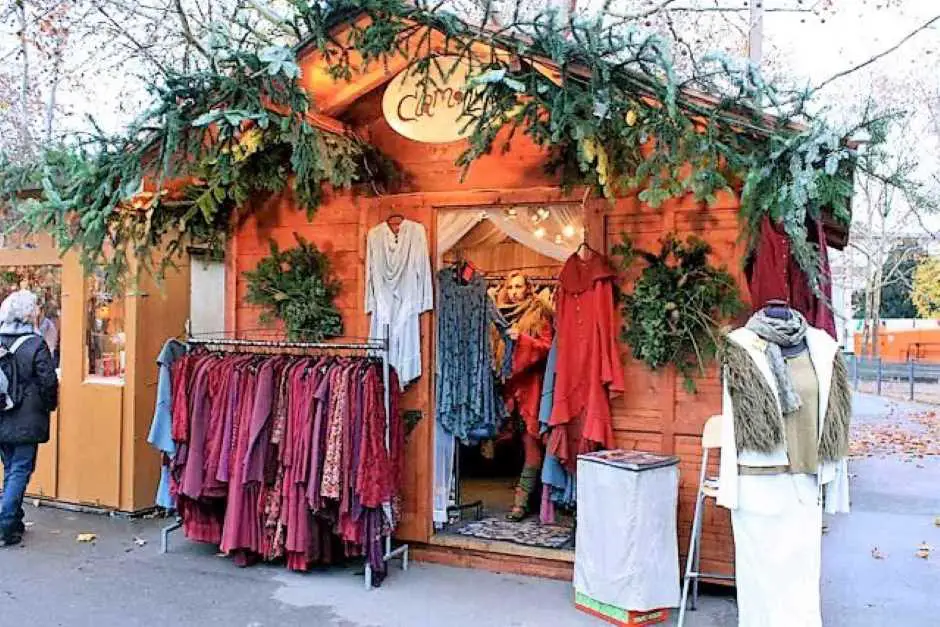 Gastronomic stands are just as rare here as on the first two Viennese Christmas markets. Here we can try Glühmost. Kling interesting, right?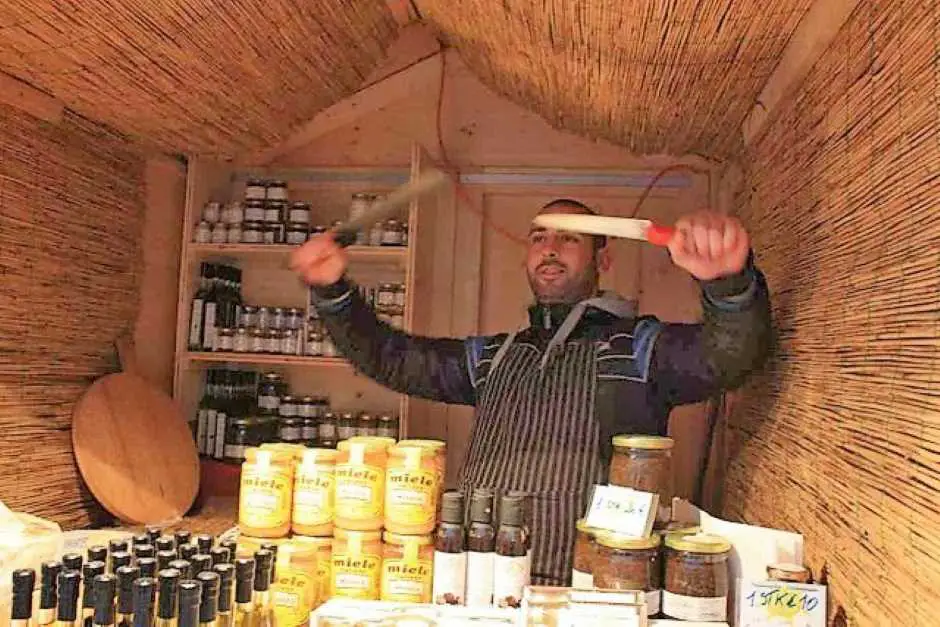 Gourmet Advent market on Mahlerstrasse - that's what Christmas is all about in Vienna
Opening hours:
MAHLERSTREET 6
1010 VIENNA
11.11.2022 – 31.12.2022
DAILY 11.00 a.m. - 21.00 p.m.
* Closed on December 24.12.2021th, XNUMX *
* 31.12.2021 until 2.00:XNUMX a.m. *
However, we curb our appetite a little, the next Christmas market is in the Mahlerstraße directly opposite the opera as a gourmet market. We will have the opportunity to do this at one of the first stands. This market has everything a connoisseur's heart desires. Vulcano ham from Styria, apricot liqueur from the Wachau, wines and liqueurs from the Kamptal.
However, an Italian stallholder tempts us to try his cheese with truffles. "You don't need money. It's Christmas! Just taste". Who can resist such words, especially when the cheeses look as good as his. "Stop! Stop! You also have to taste the pecorino", he stops us when we want to go further. With great ceremonies, he then slices some hard cheese into our hands.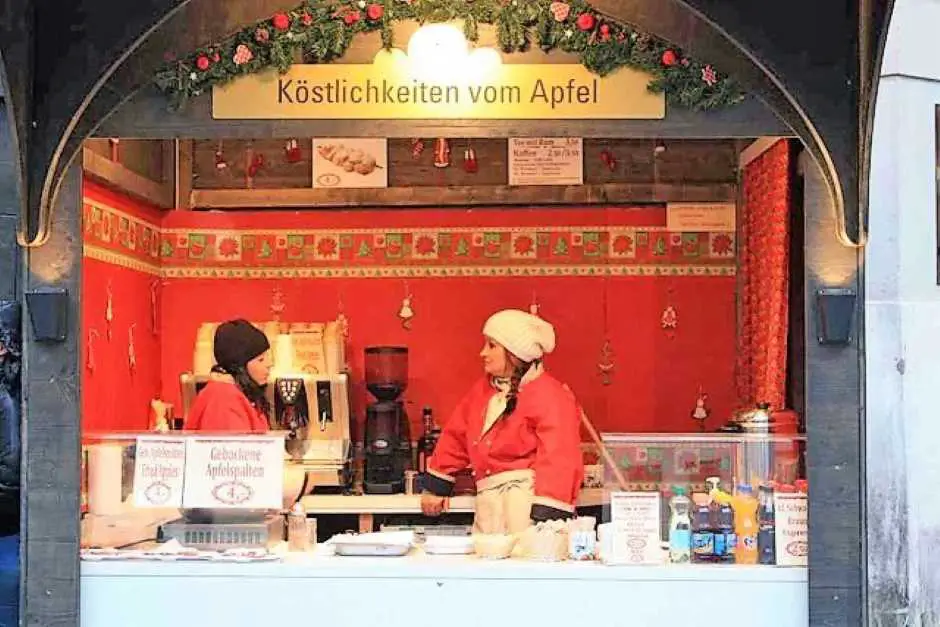 The Advent market at St. Stephen's Cathedral - Christmas time in Vienna with enjoyment from the surrounding area
Opening hours: 
Open from 11.11. until 26.12.2022.
Daily from 11:00 a.m. to 21:00 p.m.,
on 24.12/11 from 00:16 a.m. to 00:XNUMX p.m.,
25.12. and 26.12. from 11:00 a.m. to 19:00 p.m
We continue our walk through the pedestrian zone to St. Stephen's Cathedral. There are many regional specialties from the surrounding wine and fruit regions.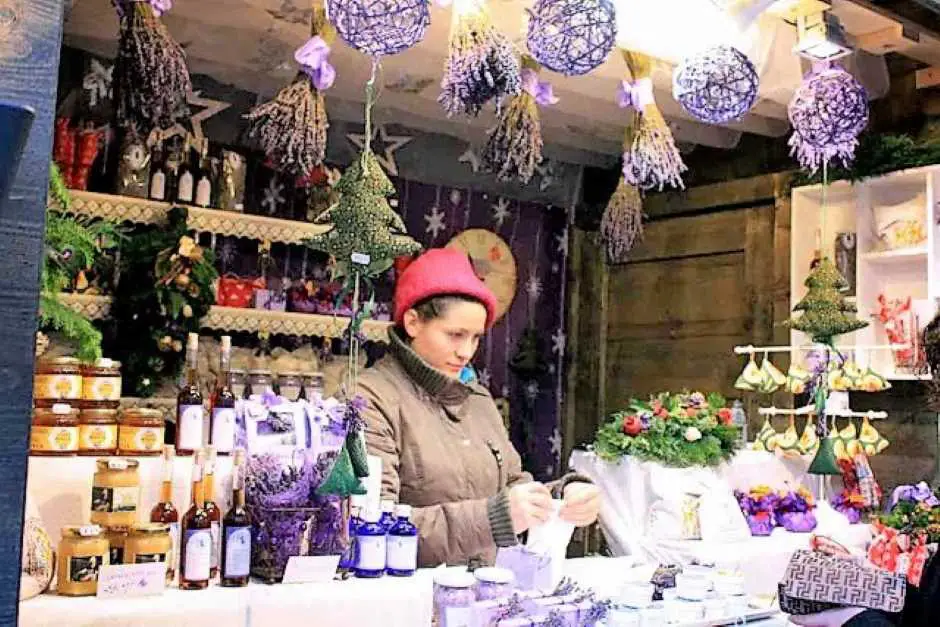 From here we take the subway back to our hotel. There we rest a bit, before we leave again in the evening for the most beautiful Christmas market in Vienna.
One of the most beautiful Christmas markets in Vienna on Spittelberg
Opening hours:
Open from 10.11. until 23.12.2022.
Mon – Thu from 14:00 p.m. to 21:00 p.m., Fri from 14:00 p.m. to 21:30 p.m.
Saturday from 10:00 a.m. to 21:30 p.m.,
Sunday and public holidays from 10:00 a.m. to 21:00 p.m
Maybe it's because we visit in the evening when the light decorations are at their best? But I think it's more the romantic Biedermeier alleyways with their gate entrances decorated with garlands. The illuminated windows, behind which there are Christmas decorations, give the whole thing a homely character. In any case, not even the rain bothers us here. Obviously not the many other visitors either.
It's getting crowded at the Spittelberg Christmas market. The view of beautiful Biedermeier facades in the evening light of the Christmas lights lures us further. Advent calendars wish "Merry Christmas". Colorful ceramic plates, cups and pots will seduce you. After all, potato pancakes with bear punch ensure that we feel good at the Spittelberg Christmas market.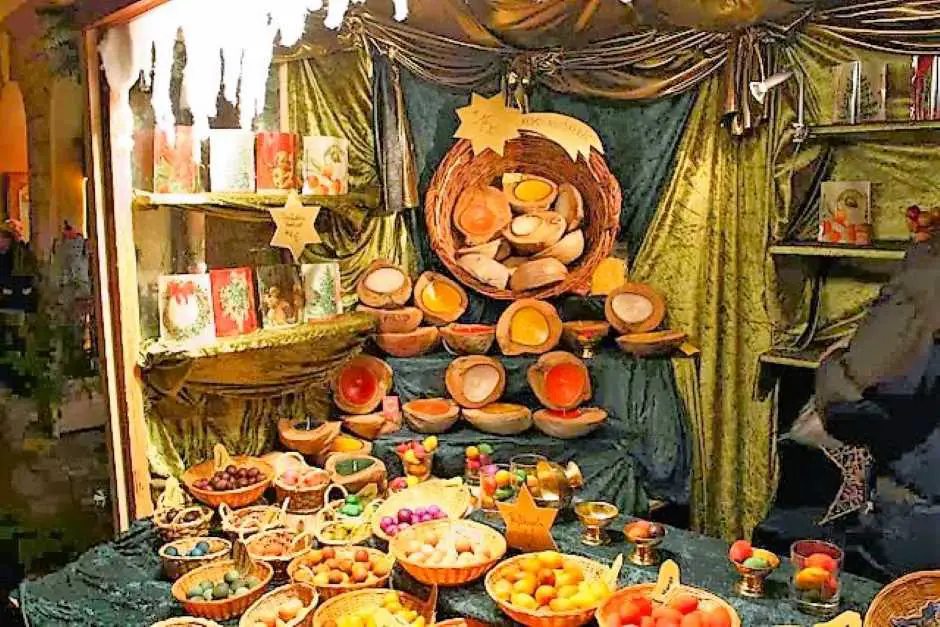 And as we walk back to our hotel through the neighboring streets, the real spirit of Christmas blows through the alleys. We look through open gate entrances at large illuminated poinsettias. In addition, beautifully decorated Christmas trees and garlanded windows awaken the Christmas spirit. It is almost as if we are reliving the original feeling of Christmas in this alley, as we knew it from our childhood.
Christmas time in Vienna – You can find more tips here:
---
Travel organization for the Christmas season in Vienna:
Arrival for the Christmas markets in Vienna
Arrival by plane, bus or train*. Lufthansa, Austrian Airlines and Swiss will follow Vienna. It is also possible to travel to Vienna by train. Long-distance buses also go to Vienna.
Car Rental - Christmas Markets in Vienna :
Accommodations during the Christmas season in Vienna:
around the Spittelmarkt and the Christmas village *
near St. Stephen's Cathedral and the Genussmarkt in Mahlerstraße *
Excursions and guided tours in Vienna:
You can book excursions and city tours here *
---
Here you can find Christmas tips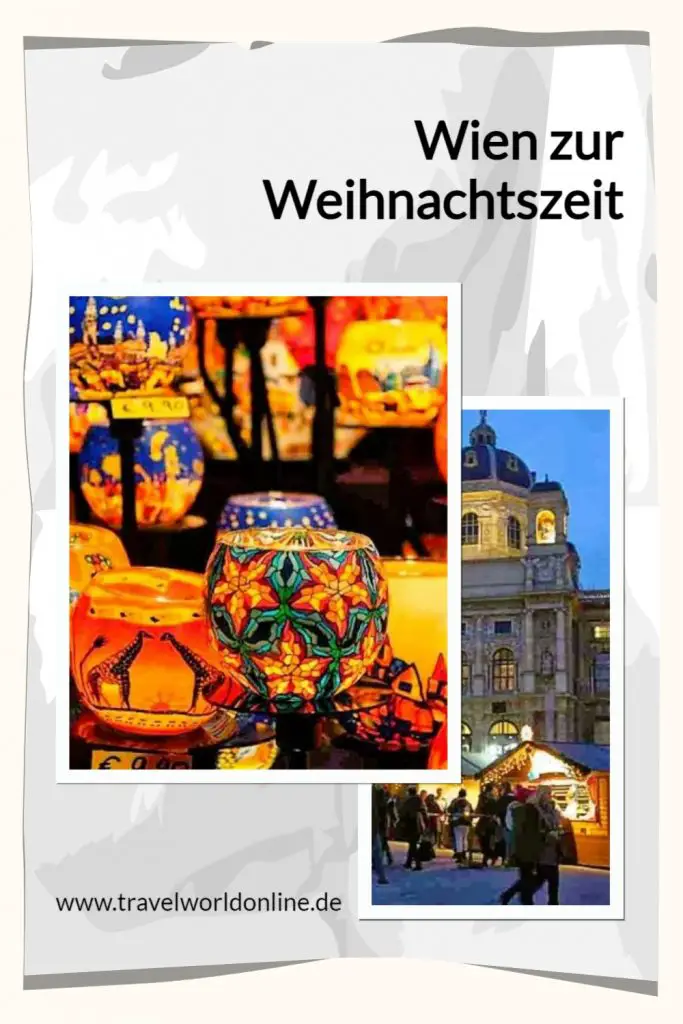 Do you already know:
If your great Tips for the time after Christmas in Vienna you are looking for, you will find it here. There are also tips for other Christmas markets in the blog parade I love Christmas market from Janina. Or look at the blog parade Dhe most beautiful Christmas markets by Thomas Limberg over.
Find more Slow Travel Tips is also available here.
Source: Christmas time in Vienna: Research on site at the invitation of Vienna Tourist Board. However, our opinion remains our own.
Text Christmas time in Vienna: © Copyright Monika Fuchs and TravelWorldOnline
Photos: © Copyright Monika Fuchs and TravelWorldOnline
Video: © Copyright Petar Fuchs and TravelWorldOnline
Christmas time in Vienna – the most beautiful Christmas markets