The Gengenbach Christmas market in the Black Forest
In the Black Forest there is the Gengenbach Advent Calendar in Gengenbach Christmas Market every year Baden-Württemberg with its changing motifs. The smell of roasted almonds and Mulled wine then fills the air in Gengenbach in the Black Forest. The Christmas tree decorated with candles shines in all its beauty in front of the town hall. Streets and squares of the city are also decorated with fir branches, winding garlands and glittering lights. Candles also light up the windows of the neat half-timbered houses around the city's market square and it's clear. Christmas is not far away.
Christmas in the Black Forest
The place Gengenbach is not far from the German-French border near Offenburg in Baden-Württemberg. A visit to the town's old town is particularly worthwhile at Christmas. Because that is when the historic backdrop of houses with half-timbered buildings, the city gates and the town hall from the 18th century offer a great backdrop for the Christmas market, where handicrafts, Christmas tree decorations and pastries are sold with punch or mulled wine.
Book your hotel in Gengenbach here
The Gengenbach Christmas market and the largest advent calendar in Gengenbach
Gengenbach also boasts the largest Advent calendar in the world! For a whole 23 day, a new Christmas theme will be revealed in one of the city hall's 24 windows every day. Point 18.00 clock, when it is dark, illuminates the 200 years old building in all colors of turquoise, red over sky blue to silver, and another window motif can be seen. On the last day of Advent, with all windows open, the city's town hall is the largest advent calendar in the world. The motifs of the Advent calendar are under a new motto every year.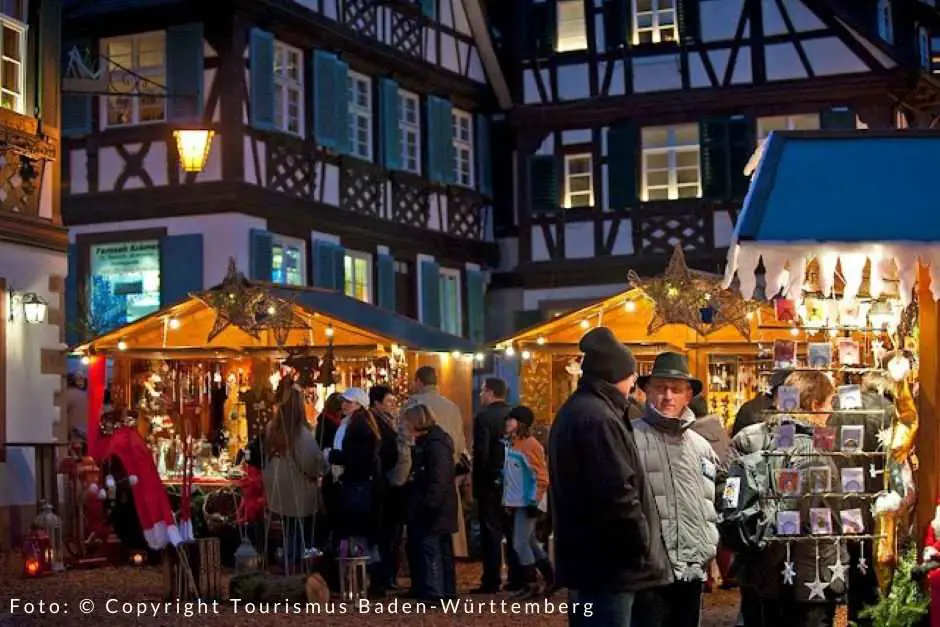 At the Gengenbach Christmas market, a window on the advent calendar is opened every day
A new window will be opened every day from the first day of Advent to December 23rd. Visitors to the Christmas market watch with a glass of mulled wine in one hand and Christmas cookies in the other. Christmas music also accompanies the event and also creates a Christmas atmosphere. The market is open from 30 November to 23 December 2022, Monday to Friday from 14 p.m. to 00 p.m. and Saturday and Sunday from 20 p.m. to 00 p.m.
Dress warmly for Christmas in the Black Forest
Tips on travel organization
Opening times Gengenbach Christmas market
The Gengenbach Christmas market takes place from 30.11. – 23.12.2022 instead
Overnight tips for the Gengenbach Christmas market
You can also book hotels in Gengenbach here *
Arrival
Arrival by plane, bus or train*. You can also arrive by car.
Here you can find Christmas tips for other regions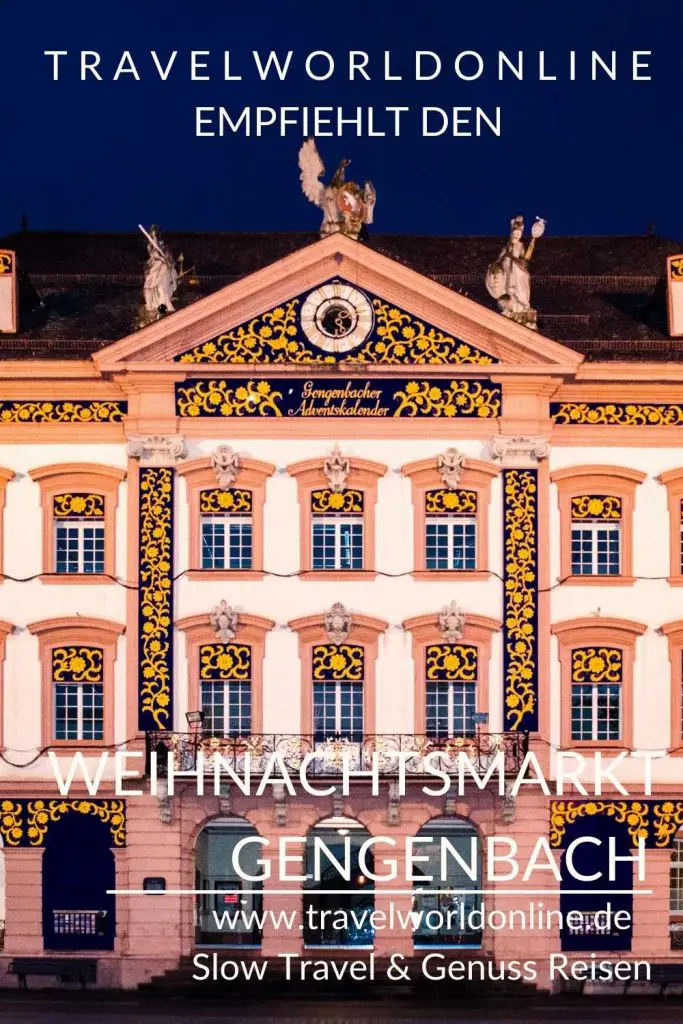 Do you already know:
Source: Tourism Baden-Württemberg
Text: © Copyright Monika Fuchs and TravelWorldOnline
Photos: © Copyright by Tourismus Baden-Württemberg
Christmas romance in Gengenbach in the Black Forest