You should know these recipes for mulled wine
Every year before Christmas we like to enjoy the evenings in peace. We make them ourselves nice like the danes. Comfortable. Leisurely. Full of pleasure. This includes a mug with mulled wine and a home-baked one Christmas cookies. There are many versions of the mulled wine preparation. Mulled wine tastes best when it is homemade. With the mulled wine ingredients you can determine the taste yourself. Here you can find out which mulled wine recipes we particularly like. For example, do you know the oldest mulled wine recipe? Or a recipe for white mulled wine?
Spiced wines have been around since ancient times
Spiced wines have been known in Europe for a long time. Even the Romans already drank these. In ancient times, spiced wine was called Conditum Paradoxum. In the Middle Ages, too, people liked to drink spicy wines. However, only the nobles and kings could afford this. Taillevent, the head chef of King Charles V of France, spiced the wine with cinnamon, cloves and orange blossom. But the spices were expensive. Too expensive for a farmer or craftsman. The spicy wine Hypocras was even ascribed healing powers. There was also a white variety, which was called Claret in the Anglo-Saxon region.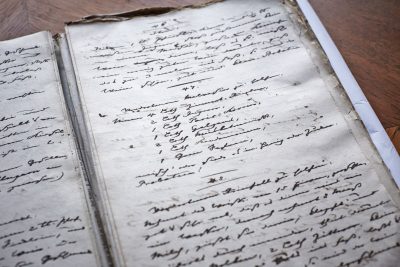 The oldest mulled wine recipe in Germany
Although the spiced wines have been known in Germany for a long time, real mulled wine has only been around since the 19th century. In December 1834 August Raugraf von Wackerbarth stood in his baroque estate in wintry Radebeul. The art and pleasure lover was looking for a special drink: It should make him forget the cold and warm his heart. First he added saffron, anise, pomegranate and other exotic spices to white wine. Shortly afterwards it occurred to him to warm the liquid. A brilliant idea. But the Raugrafen's recipe was forgotten and was lost for a long time. It was only rediscovered a few years ago in his estate in the Saxon State Archives. After careful examination, it was clear that this was a recipe that would be called mulled wine today.
His mulled wine recipe dates from December 11, 1843. It reads:
Good red wine per jug ​​(just under a liter)
four loth (one loth corresponds to almost 16 grams) cinnamon,
two loth of ginger,
a lot of anise,
1 lot of pomegranate,
a lot of nutmegs,
a loth of cardamom as well
1 grain (today around 60 milligrams) saffron,
sweetened with sugar or honey.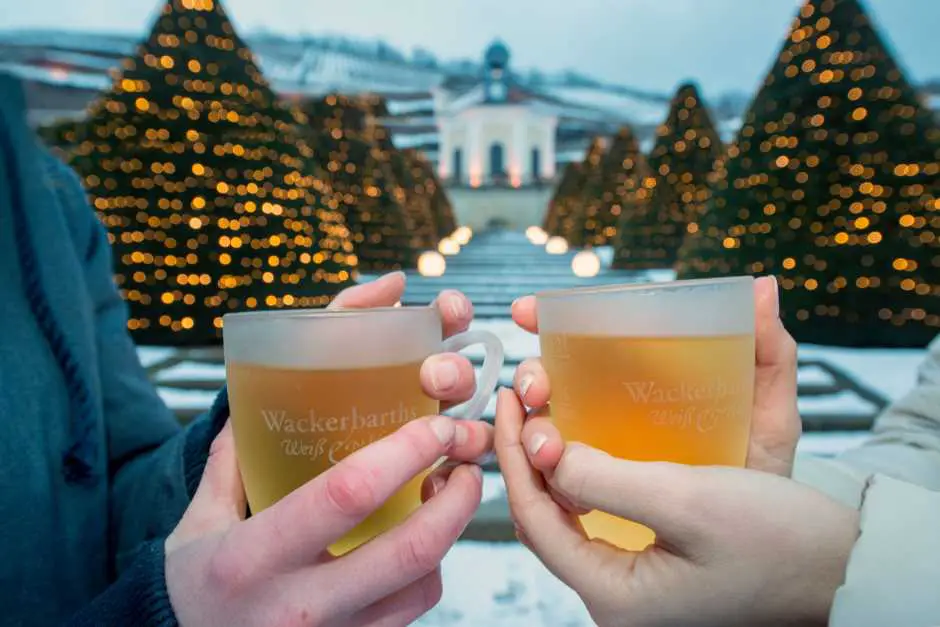 Historic mulled wine recipe in a modern look
After the winemakers of Schloss Wackerbarth had viewed the old Raugrafen document, they immediately began to revive this forgotten Saxon tradition. They selected the finest white wines from the Elbe Valley and carefully adapted the historical recipe to today's taste. Anyone who would like to try the delicately fruity winter drink "Wackerbarths Weiß & Heiß" themselves can do it in the Castle Wackerbarth order. And for all those who also rely on ambience: the delicious winter drink can be tasted at selected Christmas markets in eastern Germany, as well as directly on site at "Wein & Licht" at Wackerbarth Castle.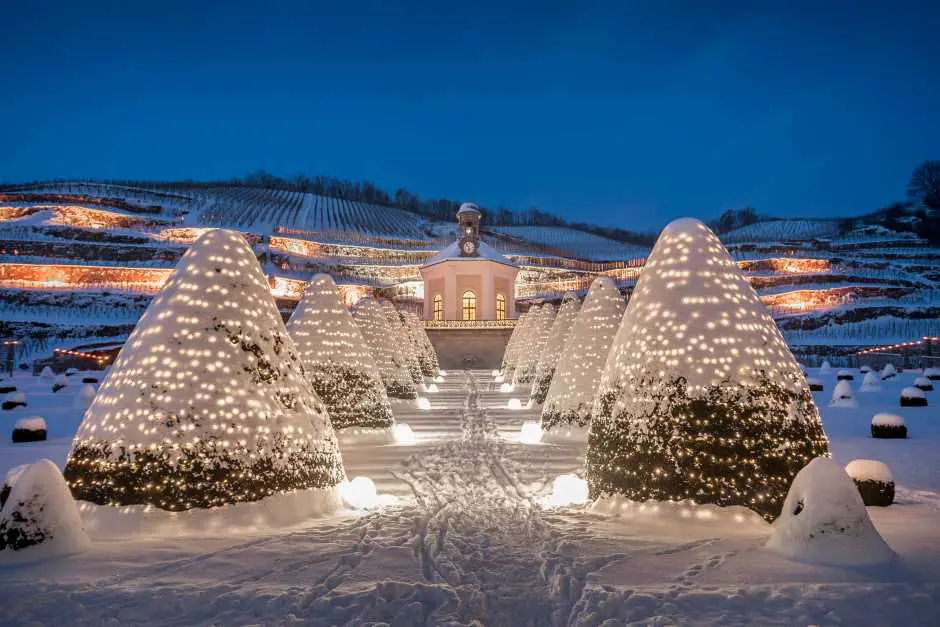 In the cold season, from November to February, Europe's first adventure winery transforms its baroque grounds and the adjacent vineyards into a fairytale world of lights with hundreds of lights every evening. With a cup of "Wackerbarths White & Hot" it is truly a pleasure for all the senses.
Our tip for connoisseurs: an Advent excursion to Wackerbarth Castle
In the heart of the Saxon Wine Route, in the middle of the picturesque Radebeul vineyards, lies Castle Wackerbarth. Europe's first adventure winery delights its guests every day with an ensemble of baroque palace and garden complex, wine culture landscape and modern manufacture as well as "Cool Climate" wines, bottled fermented sects and winter drinks. Guided tours, the estate's own inn and many gourmet events bring visitors closer to Saxon enjoyment with all their senses. So best warm winter boots and thick winter clothes put on your clothes and off you go to the Schloss Wackerbarth estate.
Which recipes make mulled wine a special pleasure
However, there are other mulled wine recipes that you can make yourself. While we mainly serve mulled wine made from red wine, there are also mulled wine recipes that are prepared with white wine. This is common in northern Italy and Austria, but people also like to drink white mulled wine in Nuremberg and Franconia.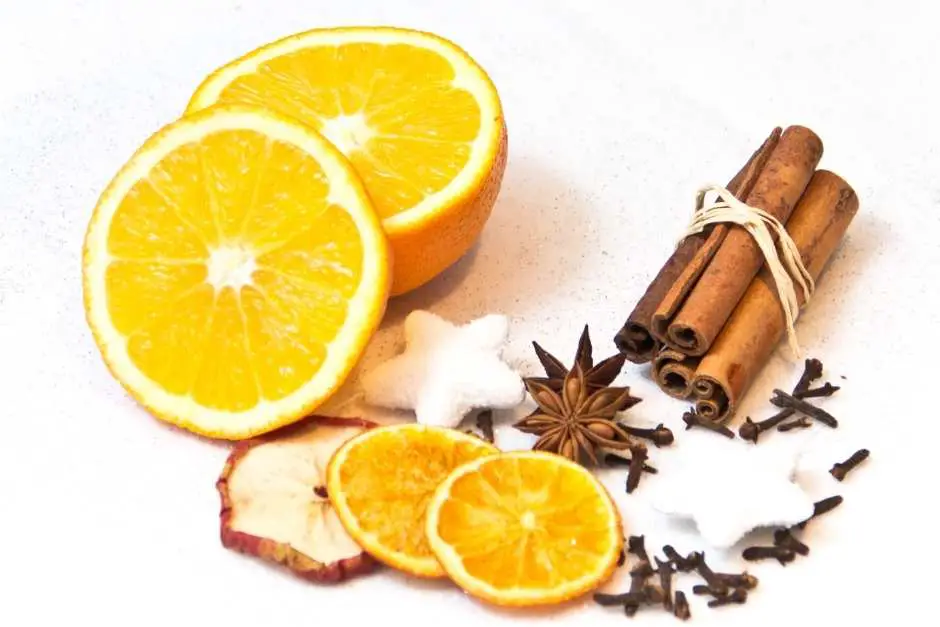 White mulled wine recipe
You won't get mulled wine like this at Christmas markets, however. What is officially served as mulled wine may only consist of red or white wine. Non-alcoholic ingredients are not permitted, otherwise it must not be called mulled wine. If you make the drink yourself at home, that's no problem. Therefore, here is a recipe for a mixed drink with wine and apple juice.
Ingredients for the white mulled wine recipe
a half liter

dry

White wine

a quarter of a liter of cloudy apple juice

three cloves
a stick of cinnamon
two star anise
three tablespoons

sugar

an orange
Mulled wine preparation
Wash the orange and cut it into slices. You distribute these in the mulled wine cups.
Put white wine, apple juice, spices, and sugar in a saucepan and heat slowly. The mixture should not boil, otherwise the alcohol will evaporate.
Then you fill the mulled wine into the cups. If you want to intensify the orange taste, you can then add a dash of orange liqueur.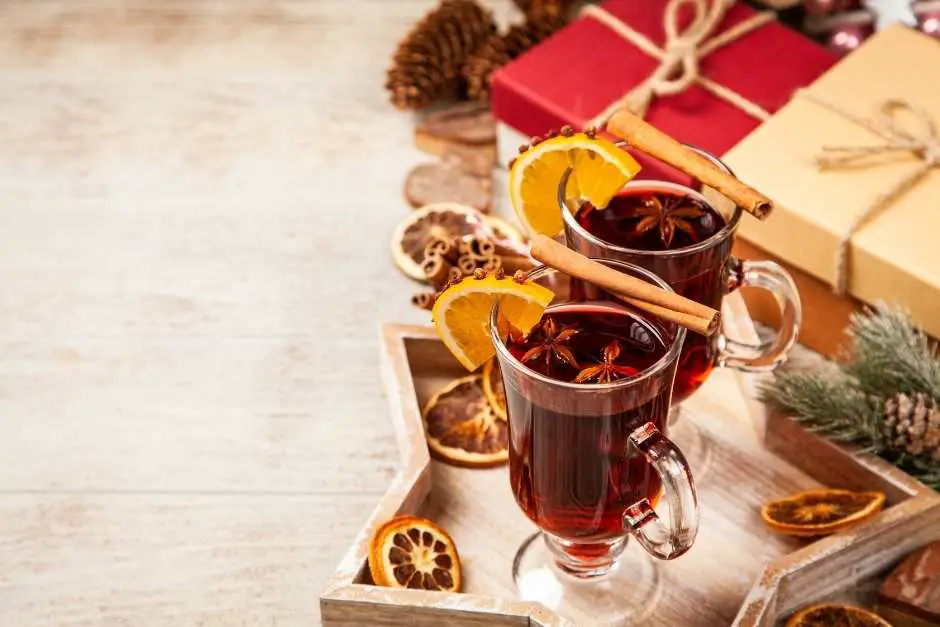 Classic mulled wine recipe
Since real mulled wine must not be diluted with non-alcoholic beverages, there is also a recipe for classic mulled wine here.
Ingredients for a classic mulled wine
one liter of dry red wine (a heavy, good quality red wine tastes best. You shouldn't skimp on this.)
up to 15 tablespoons of sugar (depending on the taste and sweetness of the wine)
a carnation
a stick of cinnamon
Mulled wine preparation
Warm up the red wine slowly (do not boil!).
Add all the spices and slowly add the sugar until it suits your taste.
Finally, put the mulled wine through a sieve to remove all the spices.
Mulled wine with a shot
If you want to serve something special, we recommend a shot of mulled wine. We have them for extraordinary occasions or when we have guests who we want to pamper.
Ingredients for mulled wine with a shot
1,5 liters of dry red wine (good quality)
an orange
a lemon
two cinnamon sticks
20 cloves
0,2 liters of dark rum
150 grams of brown sugar
Mulled wine preparation
Thoroughly wash the orange and lemon and cut into slices.
Heat red wine with orange and lemon slices, cinnamon sticks and cloves to the highest temperature.
As soon as bubbles begin to form and steam rises, reduce the heat to medium.
Add rum and sugar. After that, the mulled wine must no longer boil.
We wish you a lot of fun with these mulled wine recipes during the Advent season.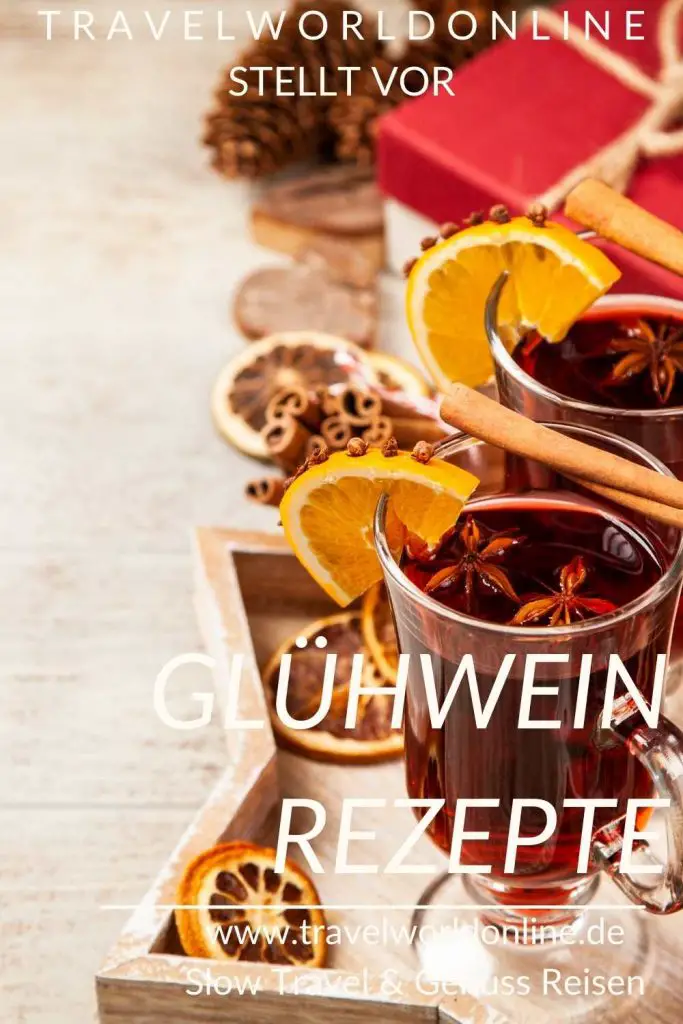 Do you already know:
Source: own research, Wikipedia and djd / Schloss Wackerbarth
Text: © Copyright Monika Fuchs, TravelWorldOnline
Photos © see captions as well as Canva and Wikimedia in the public domain
Which recipes make mulled wine a pleasure