A typical Viennese coffee house – where can you find it?

With these Vienna travel tips you are guaranteed to find one. We take a day to look for the original Viennese coffee house and get tips from our friends in Austria and on Facebook before and during our coffee house tour through Vienna. If we all took this to heart, we would have to be on the road in Vienna for weeks, so we limit ourselves to a few. It is an exciting tour through Vienna that we have planned. There are said to be around 1.100 coffee houses here at the moment.
During our evening stroll from our Hotel Johann Strauss in the 4th district in the direction of Karlsplatz, we keep seeing small coffee houses, some with attached restaurants such as Café Leanback, where Italian cuisine is served next door - or also in the café. A few steps further in the direction of Karlsplatz, there is another "Café" sign above a restaurant, which smells suspiciously of Greek cuisine. Neither of them are very typical.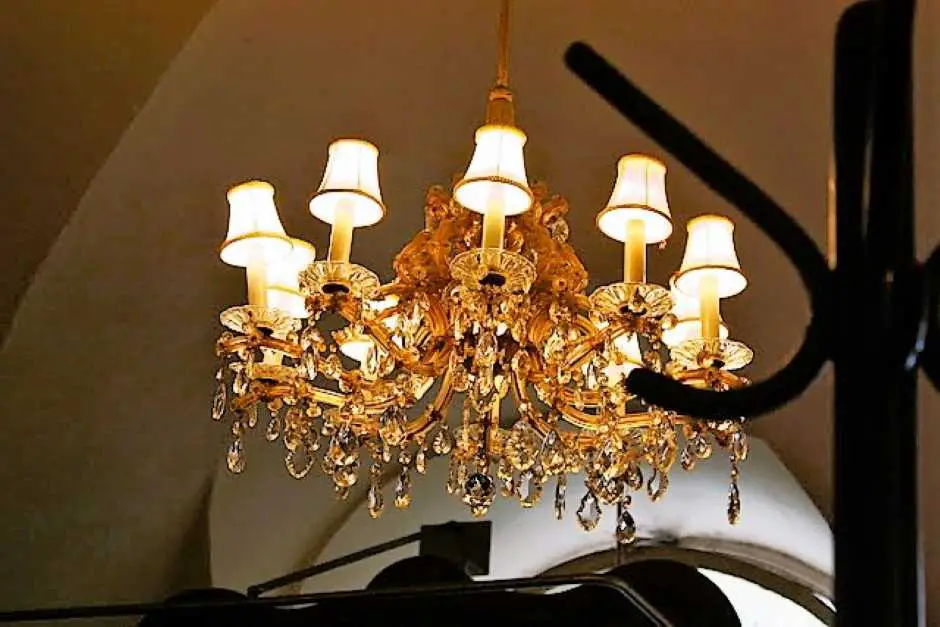 That's how it goes in a Viennese coffee house
But since we don't want to drive into the city center that evening, we stop at Café Leanback and get our first impression of what goes on in a Viennese café: three elegantly dressed ladies are sitting together at the table, sipping their drinks coffee and talk about everything and everything. In between, a gray-haired gentleman joins them, who with his white, well-groomed ponytail reminds a little of a Karl Lagerfeld who was a bit too short and greets the ladies gallantly with a perfectly formed hand kiss.
He's obviously Italian, as we can tell from his charming greeting. Bulging shopping bags show us what the trio of women did during the day – shopping in the city centre. Shortly after us, a friendly lady sits down at the table next to them, orders tea – so you don't just drink coffee in a coffee house – and seems to be waiting for someone. And indeed, a little later a man comes into the café and takes a seat at her table. With his elegant scarf and a slightly crumpled tweed jacket, he reminds me of an artist. They both order Italian food from next door and have a lively conversation. We settle into our comfortable armchairs and study the people who come and go in this café.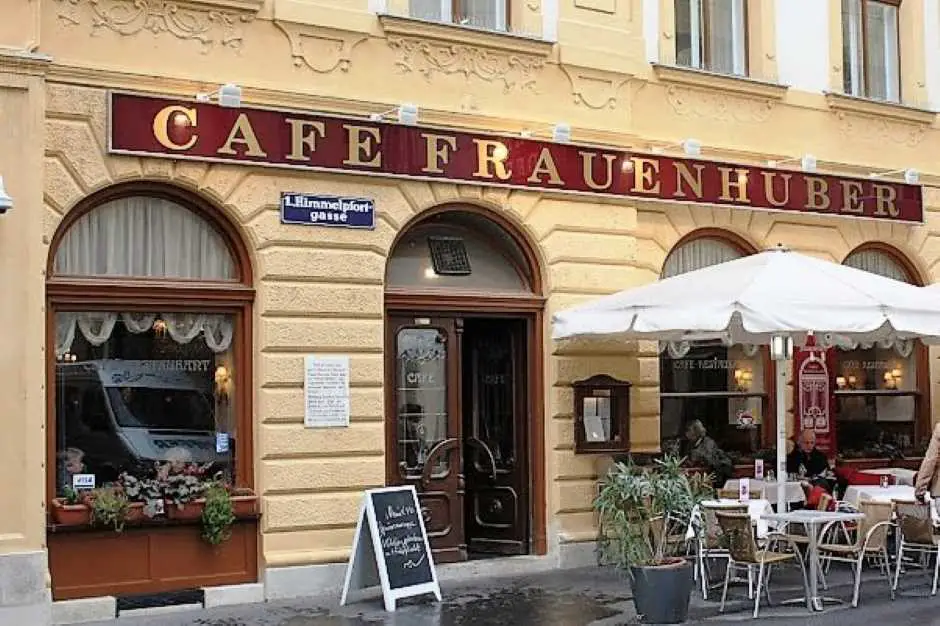 A real Viennese coffee house - Café Frauenhuber
The next morning we take the subway to the city center at Stephansplatz, where we first visit Café Frauenhuber, which was recommended to us as a real Viennese coffee house. We walk out of town along Kärntner Straße until we see Vienna's oldest coffee house in Himmelpfortgasse. A large sign draws attention to the fact that Café Frauenhuber has been around since 1824. The house can boast that Wolfgang Amadeus Mozart and Ludwig van Beethoven entertained their guests with table music.
Today, with its red, somewhat worn plush seating areas, the coffee house tables and the waiter dressed in black and white, who still addresses his guests with "madam" or "gracious gentleman", it looks just like you would imagine a Viennese coffee house . And the coffee menu reads the way I expected it to: in addition to a large and small brown, a Wiener Melange and a cappuccino, there are also typical Viennese coffee creations such as a Franziskaner (a Viennese Melange with lots of milk and whipped cream), a Einspänner (mocha with whipped cream), a Mozart coffee (large mocha with Mozart liqueur and whipped cream), a Maria Theresia (large mocha in a glass with apricot liqueur and whipped cream) or a Fiaker (large mocha with rum and whipped cream).
Café Frauenhuber
Himmelpfortgasse 6
1010 Vienna / Austria
Book your excursions and activities in Vienna here:
It's touristy in Café Central
In Café Central at Herrengasse 14, with its wonderful vaulted ceiling, we almost feel like we are in a coffee cathedral. Arthur Schnitzler, Sigmund Freud, Leon Trotsky and Peter Altenberg all felt at home here. The latter even had a table that was always reserved for him here, and today his statue at the coffee entrance watches over what is happening in his favorite café. Unlike at Café Frauenhuber, we first have to wait here for a table to be assigned to us. The rush of international tourists is big here. Even if it takes a little while, we're glad that we have a cozy corner to ourselves and can follow what's going on in Café Central in peace and quiet.
The patisserie counter in the middle of the café is particularly inviting, where not only Sachertorte, plum cake or apricot cake are tempting. We are also tempted by imaginative cream cakes with fruit, poppy seeds or curd cheese. We order a Wiener Melange and a Franziskaner and watch the guests from all over the world keep pouring in. In contrast to Café Frauenhuber, the crowd here is more international and the café is filled to capacity. Despite the impressive architecture, there is no real coffee house atmosphere here.
Café Central
Corner of Herrengasse / Strauchgasse
1010 Vienna / Austria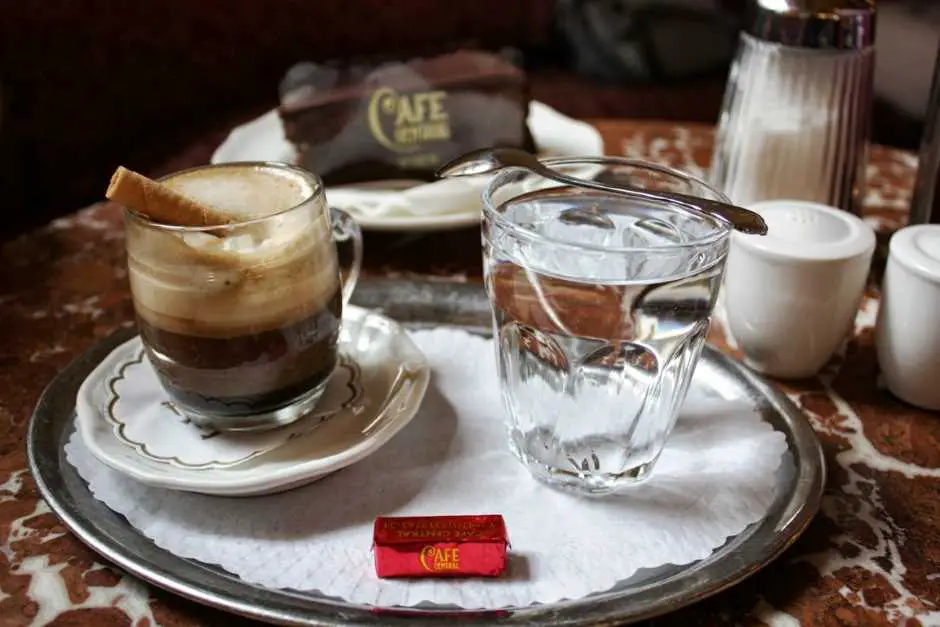 This Viennese coffee house is our favorite: Café Landtmann
Even if we are already quite psyched up after two strong coffees, we have a look at a third and well-known café: the Landtmann Café at Universitätsring 4 near the Burgtheater. Journalists like to meet here, and to us the audience seems different again than in the two coffee houses we have visited so far. A suit with a tie is the most popular item of clothing. We cannot check whether the owners are actually journalists, but it is noticeable that business-dressed visitors are clearly in the majority.
We sit down in the glass-clad porch and look at the facade of the Burgtheater in front of us. As in the other two coffee houses, there are also in-house specialties here. This time I don't order coffee, but a tempting Mozart chocolate: homemade, creamy drinking chocolate with chocolate and pistachio sauce and - how could it be otherwise - a Mozart ball to go with it. fantastic! Petar tries the wonderfully fragrant apple strudel with his cup of Darjeeling tea. The fact that tea and chocolate are also served in Viennese coffee houses goes back to the extension of the coffee-making concession by Empress Maria Theresa in 1752.
Cafe Landtmann
University ring 4
1010 Vienna / Austria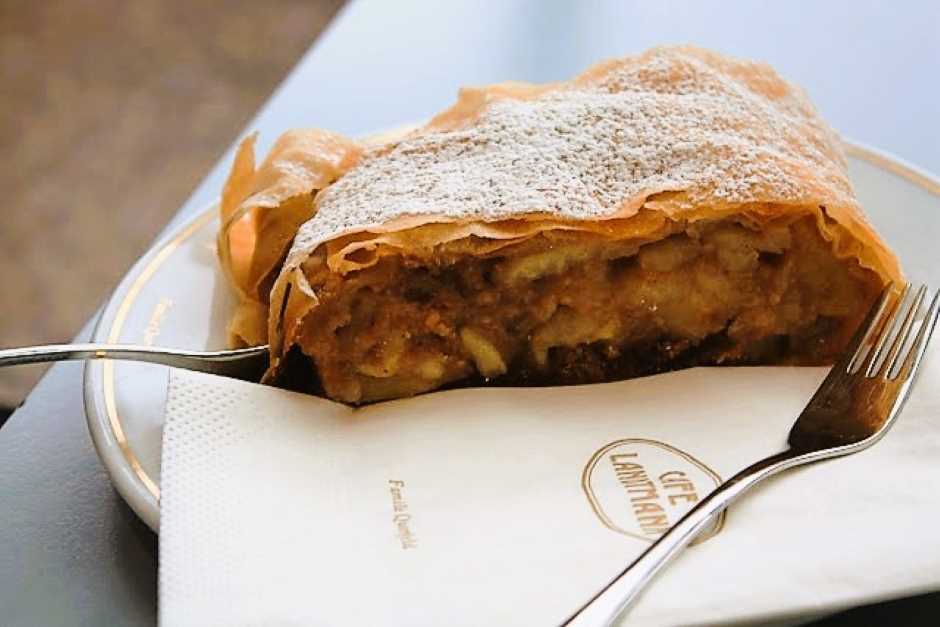 Our tour of three Viennese coffee houses showed us one thing: They are very different and it's fun to try out the various specialties of the coffee houses. We can hardly believe it, but initially the Viennese are said not to have been that enthusiastic about the intense and bitter taste of the coffee bean. It was only when they refined the drink brewed from it with milk that they began to like it, and the Viennese Melange resulted in a whole range of delicious coffee blends, which were further developed with imagination into ever new coffee creations.
You can find Vienna tips here:
---
Travel Arrangements:
Arrival by plane, train and bus
Arrival by plane, bus or train*. Lufthansa, Austrian Airlines and Swiss will follow Vienna. It is possible to travel to Vienna by train. Long-distance buses also go to Vienna.
Rental car
Camper Rentals:
Book yours Caravan here. Or do you prefer to travel with him in a roof tent on the car? Also the overnight stay in camping tents is possible. One campsite is Camping Neue Donau, Campsite O, 1220 Vienna, Austria. However, there are other campsites near Vienna. Why is a folding e-bike useful when camping?
Hotels
Book yours here Hotel in Vienna*
---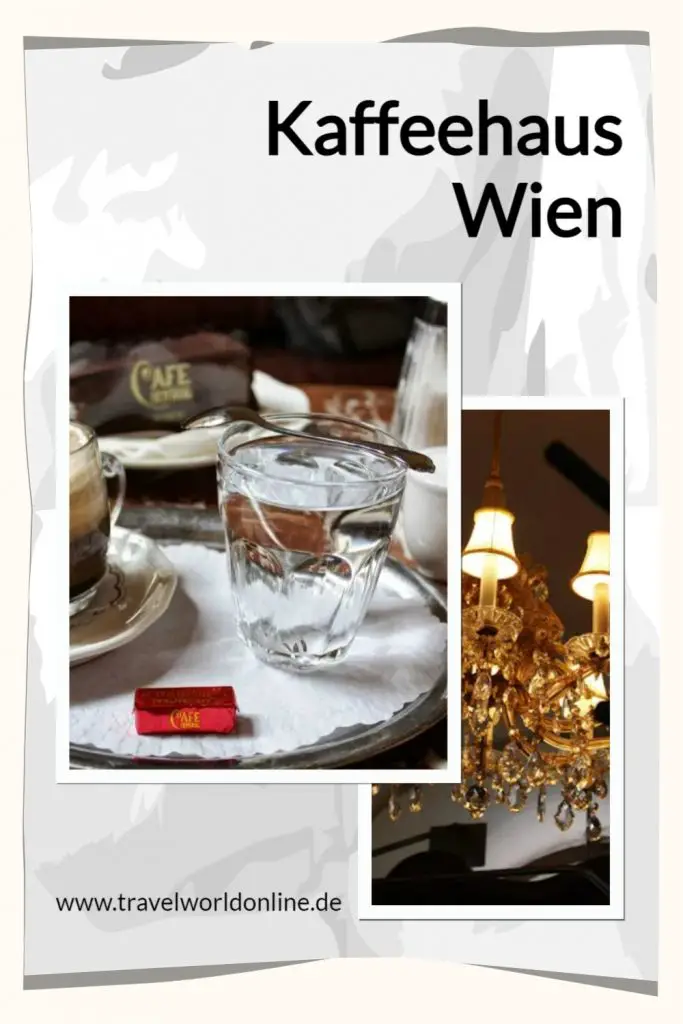 Do you already know:
Source: own research on site
Text: © Copyright Monika Fuchs, TravelWorldOnline
Photos: © Copyright Monika and Petar Fuchs, TravelWorldOnline
Viennese coffeehouse - where is this?