Chiemsee fish eat at the Chiemsee fishermen
Eating Chiemsee fish at a Chiemsee fisherman is something that connoisseurs will enjoy with theirs Chiemsee vacation not to be missed. We taste trout and char in a fisherman's hut directly on the Chiemsee in Bavaria. To do this, we spend a day in Prien at the Chiemsee and make - despite the rather cool spring weather - one Hike along the lake promenade along. We're leaving ours Hotel at the Chiemsee. Our path goes past horse paddocks and sedge that is repeatedly broken by jetties that lead out into the lake.
Book your hotel in Prien am Chiemsee
There is high fog over the lake, which gives the scenery a very special charm. Ducks, geese, coots and now and then a swan romp about in the lake, proudly stretching its plumage. There is a silence over the lake that doesn't seem to have really woken up from hibernation at the beginning of April. We only meet other hikers now and then. We have the lake almost to ourselves.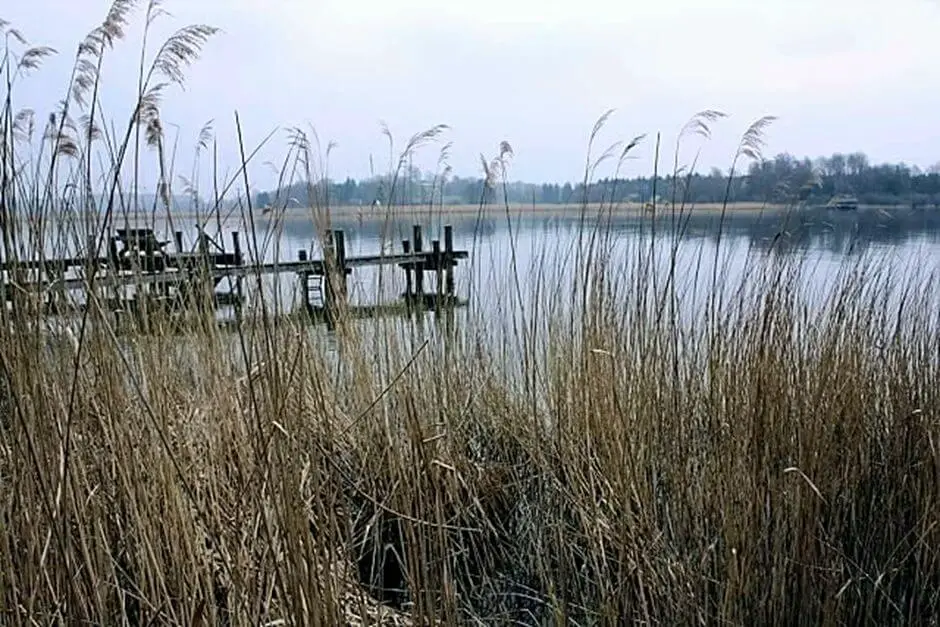 Fish hut rider
The aim of our walk is the Reiter fish hut, which is located in the moor regions directly on the lake. It is only separated from the lake by a few trees and the sedge belt. A sign announcing the local Wieninger beer tells us that the hut is open from 12.00 noon on weekends in winter. We use the waiting time to take a few photos of the wooden hut from the outside. It just looks like it is standing there on the black moorland.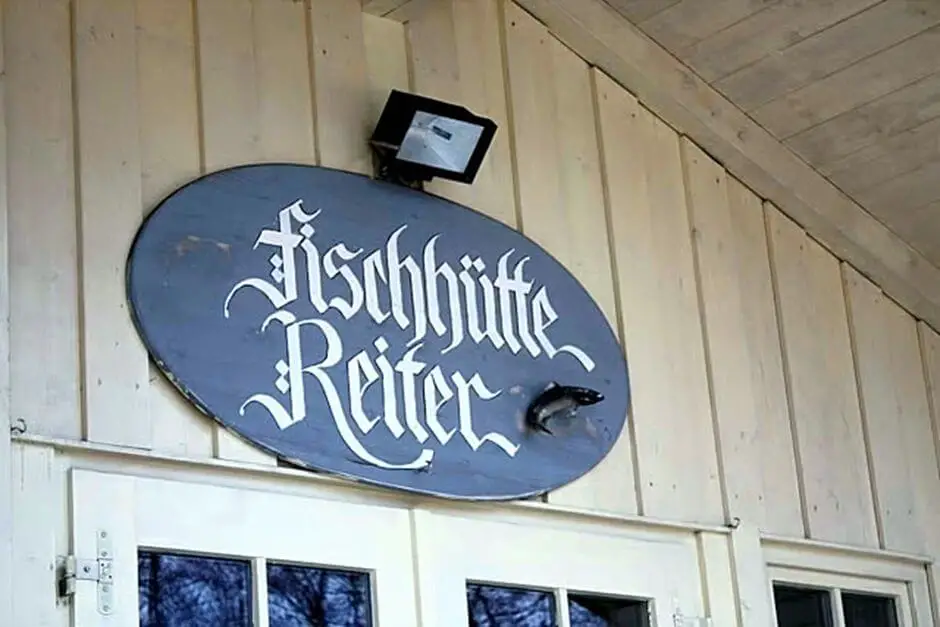 Eating fish at the Chiemsee
Smoke rises from the chimney of the hut. Therefore we know that we are the fishermen's products Chiemgau from the house's smokehouse. The selection is not large, but slow food in Bavarian. Smoked fish and other fish dishes are the most important thing on the menu. But non-fish lovers can also get one snack made from wiener, cheese, bacon or chimney root, if you wish. However, we want to taste trout, salmon trout and char from the Chiemsee. It is also freshly smoked.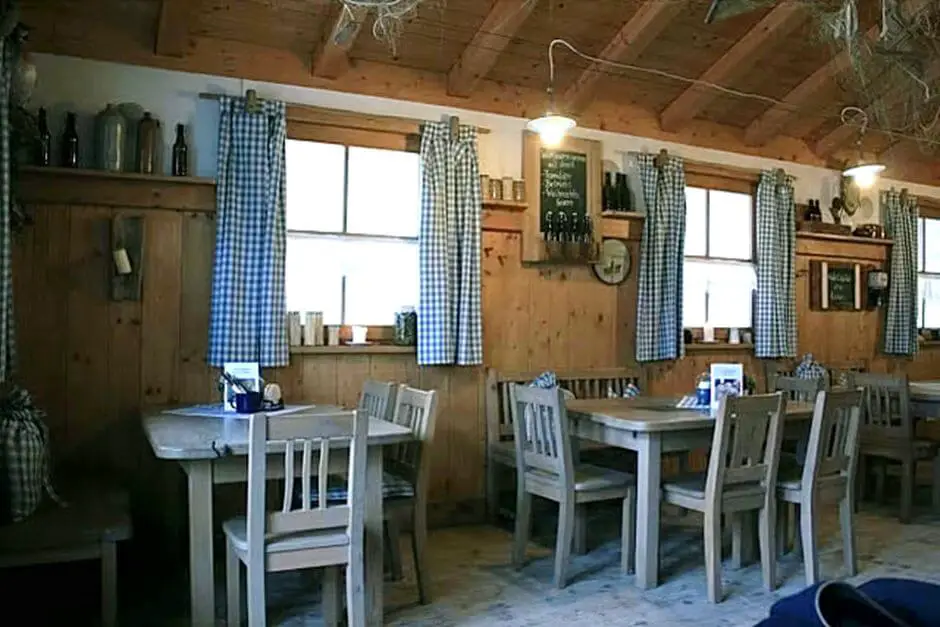 Cozy fisherman's hut
I didn't expect that after our tour around the simple hut: inside the hut is lovingly furnished in a country house style with a lot of taste. Blue and white, Bavarian-inspired cotton curtains, pillow cases and tablecloths adorn the wooden furniture. Old jugs with fresh flowers and lanterns with pillar candles in them also create a cozy atmosphere in the dining room.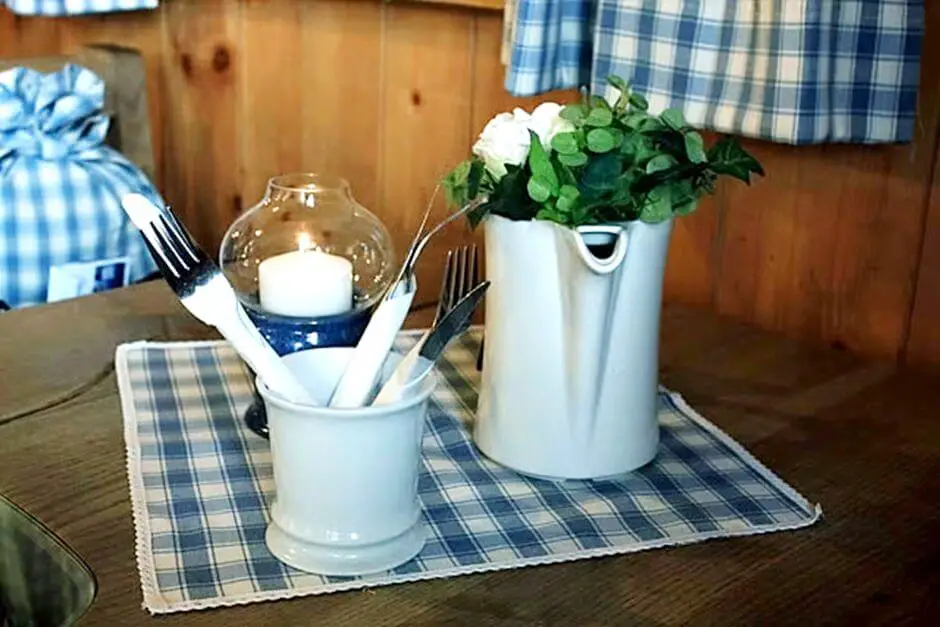 Freshly smoked - trout, salmon trout and char
We look at the menu and quickly decide on the smoked fish plate. This promises a selection of Chiemsee fish from our own smokehouse. When asked, the landlady explains to me in the most beautiful Upper Bavarian language that today she can offer trout, salmon trout and char. Of course we have to taste that. In the meantime, she brings us a freshly tapped beer and a cool Spezi while we wait for our fish plates.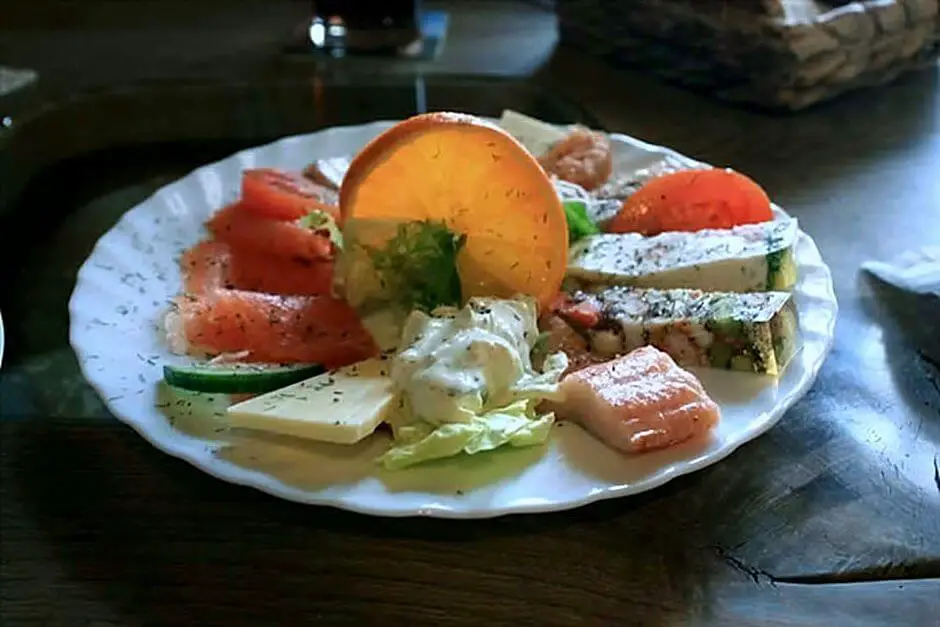 Finally, we enjoy our fish selection with rye bread and white bread. Fresh salmon trout, smoked trout and char, these are the smoked fish that Frau Reiter serves us with vegetable jelly, butter and a slice of orange. The taste of the smoke is still on my tongue. In any case, it is worth taking a break in this cabin on the lake. An experience that offers an insight into regional specialties fresh from the producer.
We are still here in the cool season, but I can well imagine that such a fish meal tastes even on a warm summer evening. Reason enough to come back, right? Another proposal for a Alpine panorama Tour through the Chiemgau with great views of the Chiemgau Alps we introduce here.
You can find the Fischerhütte Reiter here:
Chiemsee fishery Michael Reiter
Carp path 5
83209 Prien a.Chiemsee
Where can I buy Chiemsee fish
Typical species of fish that the Chiemsee fishermen catch are whitefish, bream, eel, lake char, lake trout, perch, pike and zander. The most popular food fish is the Chiemsee whitefish. You can buy these freshly caught from the fisherman. They are served smoked, baked, in a fish roll or – best of all – as a fish stick. In the restaurants you can get them as matjes or as a finely prepared fish dish. You can buy Chiemsee fish from various fishermen on the lake. The Reiter family is just one of them. You can find more fish shops, fish restaurants and fishermen here:
To Fischer am See · Harrasser Str. 145 · 83209 Prien am Chiemsee
Chiemsee fishery Joseph and Maria Wörndl, Fraueninsel 34, 83256 Chiemsee
Pollfischer beer garden, Frauenchiemsee house no. 2a, 83256 Chiemsee
Master fisherman Hans Stephan, Greamandlweg 16, 83209 Prien am Chiemsee
Thomafischer Chiemseefischerei, Markstatt 10, 83339 Chieming am Chiemsee
Master fisherman Franz Minisini-Gürtlerfischer, Fraueninsel 5, 83256 Chiemsee
Chiemseefischerei Stephan, Alte Rathausstr. 31 b, 83209 Prien a. Chiemsee
Fishery Florian and Miriam Kirchmeier, Traunsteiner Str. 2, 83358 Seeon-Seebruck
Fishery Martin Kreuz, Baumgarten 28, 83236 Übersee
Him Winkelfischer, Forellenweg 28, 83209 Prien a.Chiemsee
Master fishermen Thomas and Florian Lex – Wicklhütte, Frauenchiemsee 31, 83256 Chiemsee
Fishery Martin Dinzl, house 22, 83256 Chiemsee (Fraueninsel and Herreninsel)
Restaurant Fishing Minholz Bernau-Felden, Birkenalle 48, 83233 Bernau a.Chiemsee
Braxei's Fischhütte Bernau-Felden, Birkenallee 43, 83233 Bernau a.Chiemsee
Fish shop Fishing Minholz, Birkenallee 48, 83233 Bernau a.Chiemsee
Do you like to travel by motorhome? Here are tips
---
Travel Arrangements:
Parking at the airport
Here you can reserve your parking space at the airport.
Arrival:
Arrival by plane, bus or train*. The nearest airports are in Munich as in Salzburg. From Munich, the journey to takes Prien at the Chiemsee about an hour. It takes about 45 minutes to drive from Salzburg. You can also reach Prien by train.
Car Rentals:
You can book a rental car here. 
Accommodation near the Chiemsee fishermen:
Accommodation in Prien am Chiemsee * you can also book here.
Camping at the Chiemsee:
Campsites at the Chiemsee can be found here. A Rent a motorhome you can with these partners. With our RV packing list You'll never forget anything again.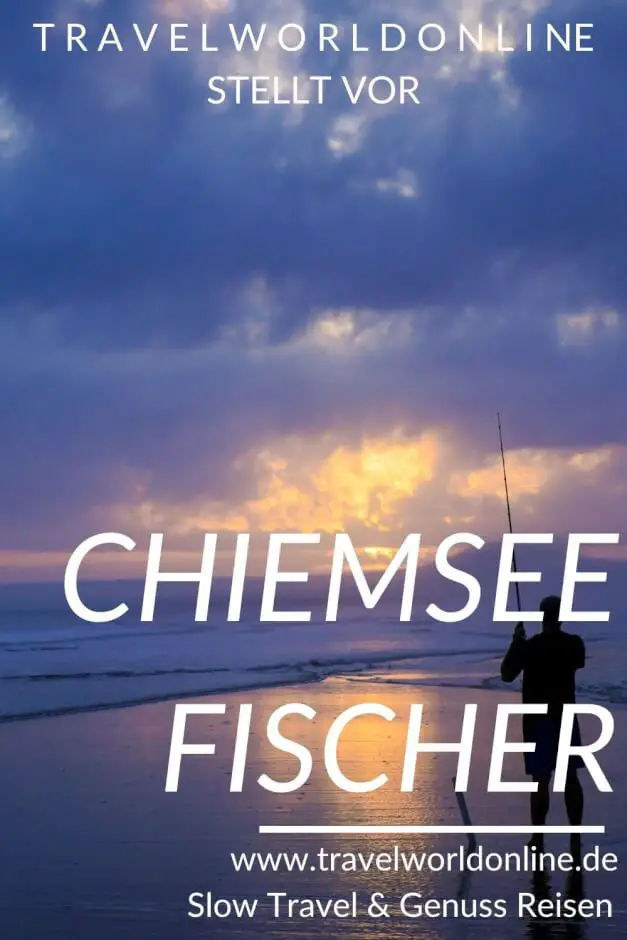 Do you already know:
Source Chiemsee Fischer: own research on site
Text Chiemsee Fischer: © Copyright Monika Fuchs and TravelWorldOnline
Photos: © Monika Fuchs and TravelWorldOnline
Freshly smoked trout and char from the Chiemsee fisherman