Tips for a Prien am Chiemsee vacation
We are always looking for opportunities Excursions in Bavaria. This time we decided to spend a few days on Chiemsee. We spend a short vacation in Prien am Chiemsee. We take it to one of the places from which Herrenchiemsee Castle is easy to reach. But we want - as always on our trips and excursions - to get to know a little more about the region. With these three tips you can plan a short vacation at the Chiemsee.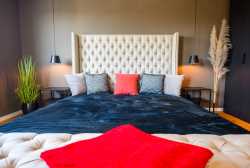 Are you looking for a modern apartment in Prien? Then take a look at this holiday apartment in Prien (just click on the photo for more information). Located between the city center and the lake, it can accommodate up to 4 people. Nearby is the Chiemsee-Schifffahrt for a trip to Herrenchiemsee Castle. You can also visit the Kurpark. If you prefer to stay in town, there are plenty of restaurants and cafes nearby for you to explore. And if you want to relax, you can use the in-house indoor pool. The apartment is fully equipped and has everything you need to make your stay comfortable.
For this apartment we can offer you a 20 € discount, if you book it via this link*. Simply enter the code "travelworldonline" there and you will receive a €20 discount on the normal price.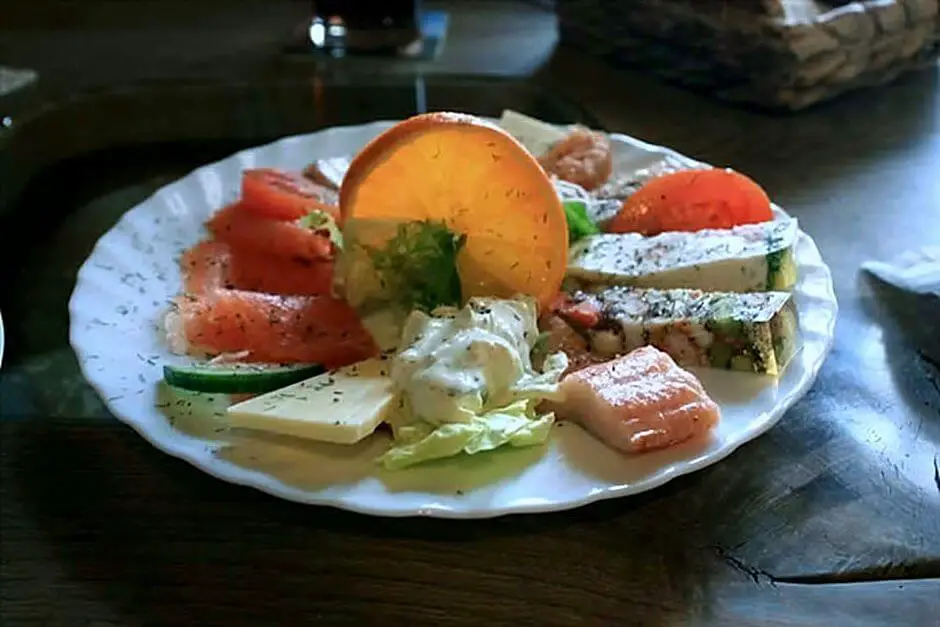 A visit to a fisherman's hut is part of the Prien am Chiemsee holiday
The Chiemsee is known for its fishing and its fresh, tasty fish. The fishermen at Lake Chiemsee have been fishing sustainably for centuries and offer their catch at the local markets and restaurants. Whitefish, a type of salmon trout, as well as pike and perch are particularly popular. Fishing is closely linked to the history and culture of the lake and is an important part of life in the region.
"If already at the lake, then right", I think to myself and look for an idea of ​​what we should do with the cool spring temperatures at Chiemsee. In doing so, I came across a brochure from the Prien tourism authority, which lists businesses that manufacture and sell the region's products themselves. "Food is always good," I think. Especially when it comes to char and trout from the lake.
The fisherman's hut rider
That's why I'm looking for one of these providers as a destination: the Rider fishing hutwhich is a few kilometers from Prien on the lake. To get there we have to walk a bit along the lake. So we also have our lake experience. A cozy one Hike along the banks of the Chiemsee.
What I didn't expect, however, was how atmospheric the lake looks even in high fog. Our weekend in Prien shows us the Chiemsee from a beautiful side. There is a magical atmosphere over the water as we look for our way to the fisherman's hut at the edge of the sedge belt and past jetties. At this time of year we have the lakeshore almost to ourselves. Only now and then do we meet another walker or hiker.
We are also the only guests in the fisherman's hut - with the exception of the landlords. What is served to us there surprises me. I have seldom enjoyed such freshly smoked fish. I almost think I can still feel the smoke in my mouth. How nice a visit to the Reiter family must be on a summer evening when you can sit outside at one of the beer tables.
Here you will find fishermen for your Prien am Chiemsee vacation who sell fresh sea fish:
That is a must for the Prien am Chiemsee vacation suitcase
Comfortable Shoes. In Prien you walk a lot.
forget comfortable pumps not, because in some Prien restaurants you dine in elegant surroundings.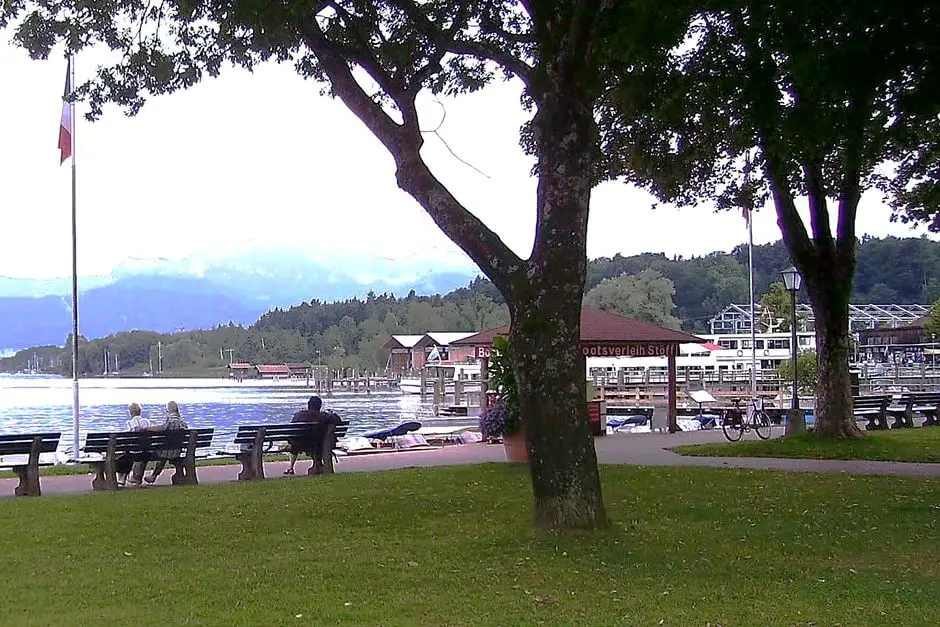 By boat to Herrenchiemsee Castle on our weekend in Prien
Our second destination this weekend in Prien is the island of Herrenchiemsee, on which the castle of King Ludwig II is located. We cross over with the "Siegfried", a ferry that connects Prien with the island. The crossing takes only a quarter of an hour, and then the ship already docks at King Ludwig's island paradise. The ticket counters for Herrenchiemsee Castle are just behind the boat landing stage, but cannot yet be seen from here. Signs show us the way past the old castle, which towers above us on a mountain. It says that it will take us about 15 to 20 minutes to get there.
Herrenchiemsee Palace was built by King Ludwig II of Bavaria in the late 19th century as a replica of the Palace of Versailles. Located on Herreninsel in Lake Chiemsee, it is an impressive attraction with sumptuous rooms and gardens. However, Ludwig II only spent a few days in his magnificent palace. Today, visitors can admire the ornate furnishings and sublime architecture and stroll through the extensive gardens.
Book your hotel in Prien am Chiemsee here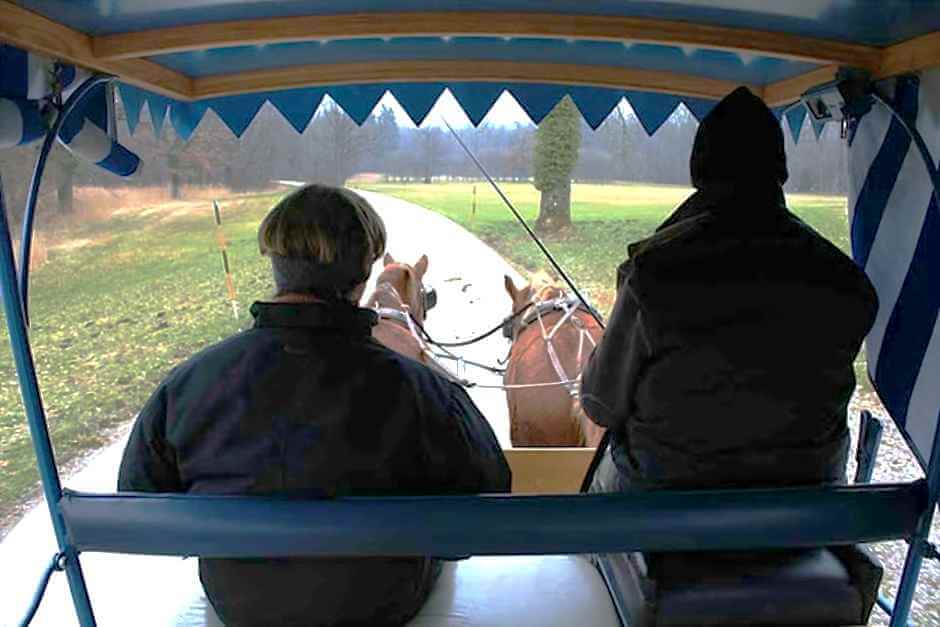 It's going to be slow on our weekend in Prien
There is a horse-drawn carriage next to it, and the driver can clearly see from me that I would rather go with him. He says: "We're going to the castle in a moment. Would you like to go with us? "Well, I won't miss the invitation. We are the only passengers who make the way to the castle on board the carriage at the other end of the island. The horses' hooves clatter to the rhythm of their movements, sometimes slow and sedate, then faster again when the coachman lets them trot over one of the low hills.
We slowly drive past the shore zones of the island with ever new views of the Fraueninsel, a little further in the lake, with its striking church tower. Then the carriage branches off into the interior of the island and after a short distance through the forest, Ludwig II's castle appears next to us. It looks magnificent with its long facade, which is so similar to its model in Versailles. No wonder, as King Ludwig wanted to have the palace built based on the French model.
We are only allowed to visit the rooms in the castle with a guided tour, and photography or filming is not permitted there. So we look at the hall of mirrors, the king's bedroom and the "Tischlein-deck-dich" without taking photos. It's actually a shame, because the things we see are impressive.
After our tour of the castle, we treat ourselves to a cup of chocolate with cheesecake in the castle cafe before we - again with the carriage - make the way to the ferry. We pass the old castle again, which today houses a museum and an art gallery. But since it is already half past four and we have scheduled another date for our excursion day, we take the next ship back to Prien.
Information of the Chiemsee shipping
Book excursions in the Chiemsee area here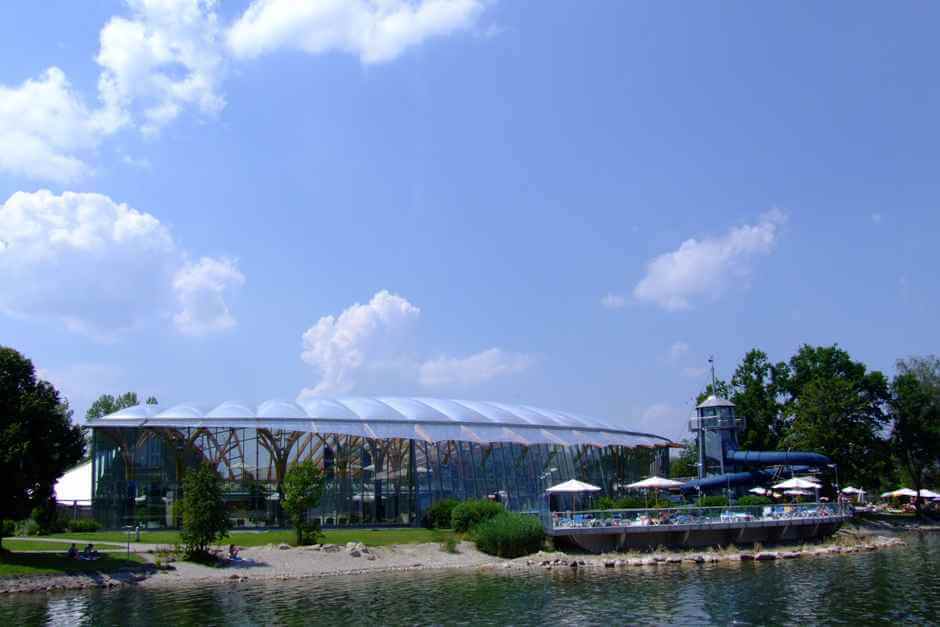 Treat yourself to a massage in the Prienavera adventure pool
The adventure pool in Prienavera am Chiemsee is a wonderful place to relax and unwind. Here you can swim in the various pools, slide down the slides or relax in the whirlpool. There is a separate area for the little ones with water games and slides. The sauna landscape offers various saunas, steam baths and relaxation areas for relaxation. There is also a restaurant and a bar where you can strengthen yourself.
Therefore, the third goal of our weekend in Prien is a detour to the Prienavera adventure pool. "What, swimming in cold spring temperatures!" you will say. No, we have something completely different in mind. We want to have our tired feet massaged. Maybe this way we can avoid the first sore muscles of the year? In any case, we have an appointment with Birgit in the wellness area of ​​the adventure pool, who is already waiting for us.
First, she explains to us which massage options are available. We opt for a foot reflexology massage. It involves pressing specific points on the foot to stimulate and invigorate the feet. I offer her my feet and then she begins her work. After half an hour I've almost fallen asleep and Birgit asks me if she should bring me a glass of water. I agree, enjoy the few minutes until her return and review the eventful day.
Information about the Prienavera adventure pool
You need that for a swim in Prienavera or Chiemsee
Our weekend in Prien is coming to an end. After Petar's feet are also relaxed, we go to our hotel, the Landhotel Neuer am See *. There we enjoy dinner before we end the day in our suite. What a beautiful day!
numerous ideas, what you can do with children in Prien and the surrounding area, you can also find it under on the go with a child.
Besides, do you know?
---
Travel Arrangements:
Parking at the airport
Here you can reserve your parking space at the airport.
Getting to your Prien am Chiemsee holiday:
Arrival by plane, bus or train*. The nearest airports are in Munich as in Salzburg. From Munich, the journey to takes Prien at the Chiemsee about an hour. It takes about 45 minutes to drive from Salzburg. You can also reach Prien by train ( Timetable and booking*).
Car Rentals:
You can book a rental car here. 
Accommodation for the Prien am Chiemsee vacation:
Accommodation in Prien am Chiemsee * you can also book here.
Camping at the Chiemsee:
Campsites at the Chiemsee can be found here. A Rent a motorhome you can, for example, with these partners. With our Motorhome packing list you will definitely never forget anything again.
Do you like to travel by motorhome? Here are tips
Chiemsee travel guide for travel tips
Chiemsee: mountains and lakes between Rosenheim and Salzburg. 55 tours with GPS tracks (Rother hiking guide)
Places of happiness on Lake Chiemsee: go there and be happy
Around the Chiemsee: unusual bike tours and hikes
Chiemgau & Berchtesgadener Land travel guide Michael Müller Verlag: Travel individually with many practical tips (MM-Reisen)
Reise Know-How travel guide Chiemgau, Berchtesgadener Land (with Rosenheim and excursion to Salzburg)
Chiemsee: mountains and lakes between Rosenheim and Salzburg. 55 tours with GPS tracks (Rother hiking guide)
Places of happiness on Lake Chiemsee: go there and be happy
Around the Chiemsee: unusual bike tours and hikes
Chiemgau & Berchtesgadener Land travel guide Michael Müller Verlag: Travel individually with many practical tips (MM-Reisen)
Reise Know-How travel guide Chiemgau, Berchtesgadener Land (with Rosenheim and excursion to Salzburg)
---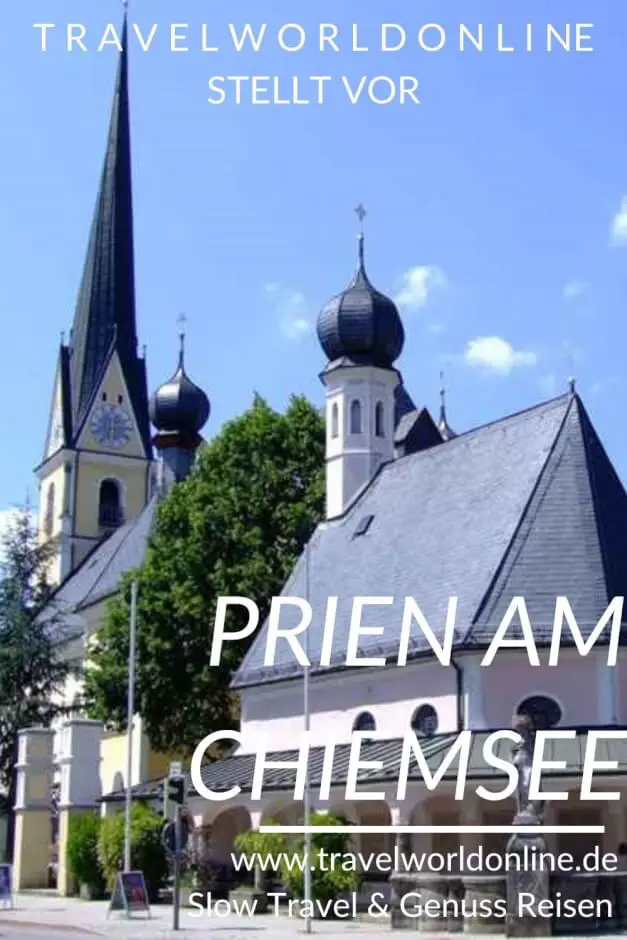 Do you also know:
Find more Slow Travel Tips you can also find it here. Discover others too cities in Germany.
Source: own research on site with the kind support of the trip by Prien Tourism. The experiences are our own. However, our opinion remains our own.
Text: © Copyright Monika Fuchs and TravelWorldOnline
Photos: © Monika Fuchs and TravelWorldOnline
Video: © Petar Fuchs and TravelWorldOnline
Tips for a Prien am Chiemsee vacation
Last update on 8.09.2023/XNUMX/XNUMX / Affiliate links / Images from the Amazon Product Advertising API