Flour is still ground in the Anthering Mill today
What sounds a bit pompous in the title is actually true for the grain mill in Anthering near Salzburg. To this day, the water of the torrent in front of the house drives the grinder of the Fuchsmühle im Salzburg country at. The Achartinger Bach provides the background noise for our welcome by Manfred Luginger in the Fuchs Mühle Anthering. He continues to run the Anthering Mühle at the foot of the Haunsberg in the tradition of his grandparents. The power grid provides additional residual energy. This makes it one of the oldest grain mills of its kind in Europe Austria.
The Fuchs Mühle in Anthering continues the family tradition
Somehow you can see the long tradition. On the way there, the path takes us back to another time through light deciduous forests, the ground of which is densely covered with wild garlic. When we finally drive over the torrent, the mill stands in front of us as a defiant building, which seems to say: "Here I am, and here I am!" would be the pretty hand-painted picture of Manfred Luginger's wife Katharina, which enlivens the gray house wall and gives the whole a friendly face. She then used simple brushstrokes to depict the grain harvest and shows how the grain was bundled and brought in with the cart.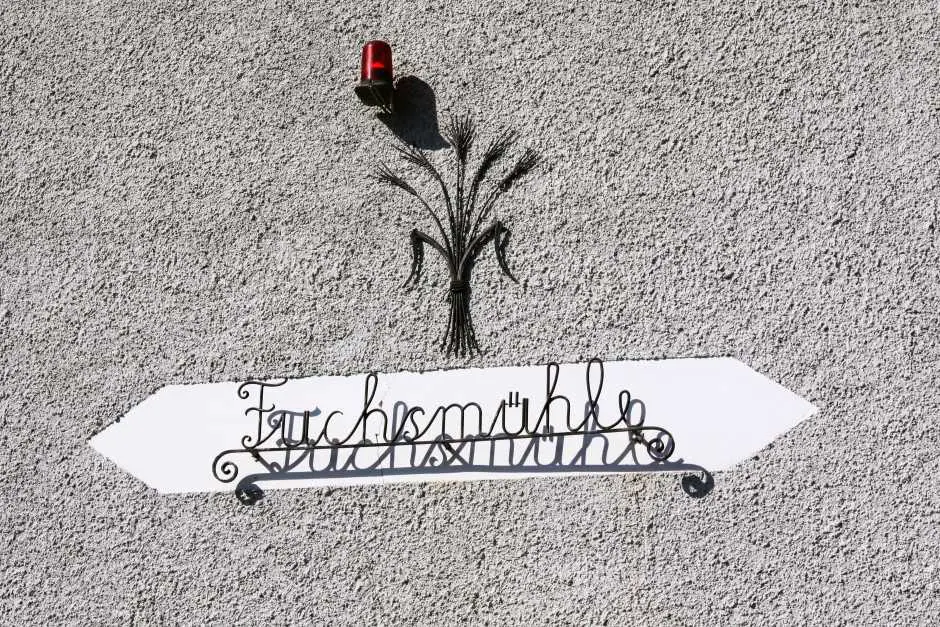 Flour has been ground in the Anthering mill since 1638
Above the entrance is proudly the name of the "Fuchsmühle", which is already mentioned in old records from 1638. As we see it today, it has stood here since 1948, when its grinder was renewed, and it was the smallest and most modern mill in the state of Salzburg with pneumatics. Nothing has changed since then: "If we need repairs, we get our mechanic, who does everything by hand," Manfred Luginger tells us. "Spare parts have not been available for a long time."
Fuchs Mühle Anthering still uses hydropower today
She's in perfect shape for that. Manfred Luginger proves this to us when he starts the grinder with a single push of a button and the Anthering mill starts to work on all floors. The grain is ground 12 times in a complex system of air and gravity and separated into flour, semolina and bran. The grain is ground with roller mills and finally sorted in a sifter with 24 sieves into different types of fine flour, semolina and bran. "It's no different in modern mills," says Manfred Luginger. "Only a lot more grain is processed there. And the whole thing is controlled by computers, while we are still doing our own work here." It can happen that a sieve is blocked and he has to switch off the entire grinder to find the fault. "I can't leave the mill alone when we're grinding grain," he says succinctly.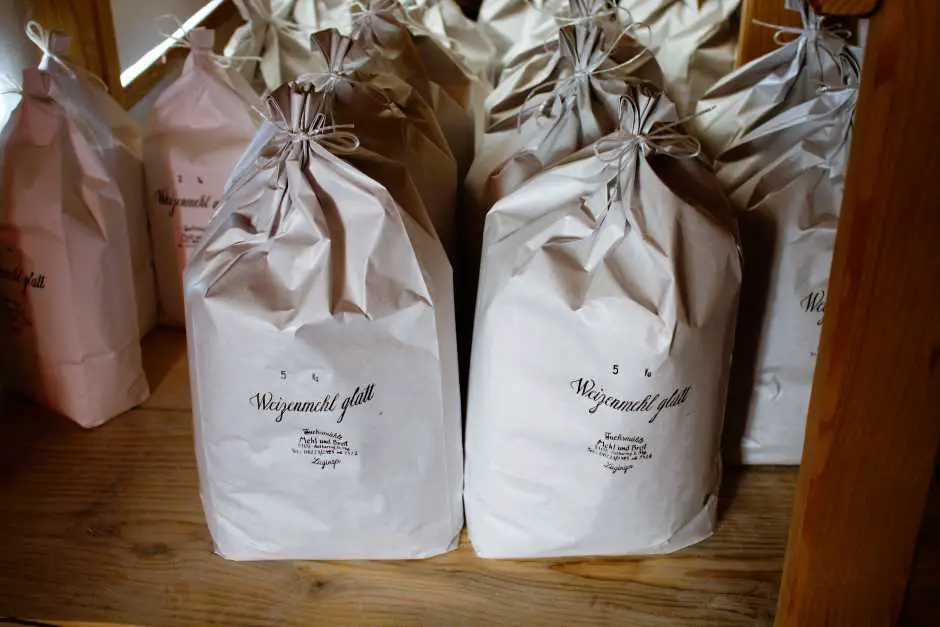 Milling flour on the sideline
Today, the Lugingers operate their Anthering mill more as a hobby than as a side business. Because it doesn't throw off much anymore. "We used to grind for bakeries in the area, but that's long gone." Today they sell their lovingly packaged flour to private customers in the nicely furnished shop, where you can also buy jams, baking books and other ingredients for baking bread can. Here, too, the artistic skill of the woman of the house is evident, as she lovingly decorated the shop and the mill with pictures she had painted herself. A shop that is a pleasure to visit!
You can also go hiking in the Anthering area. You need this:

If you would like to see for yourself how flour was ground in the past, then we recommend a visit to the
Fox Mill Anthering
Manfred and Katharina Luginger
Schoenberg 8
5102 anthering
Tel. + 43 (0) 6223 / 2424 or 2422
Opening hours sales room: Monday to Friday 9.00 to 13.00 clock
---
Travel Arrangements:
Arrival by plane, train and bus
Lufthansa, Austrian Airlines and other airlines fly to Salzburg *. Arrival by train is possible Salzburg:  Timetable and booking* . Also drive Long-distance buses * to Salzburg.
Rental car:
Cheap rental cars and e-cars - book here! *
Accommodation in Salzburg
Hotels in Salzburg * Book online via booking.com.
Our travel tips for Salzburg
These travel tips we tested ourselves. Maybe there is something for you?
Do you like to travel to Salzburg in a mobile home for hiking?
Do you want to rent a motorhome? Then you will find information and a selection in these  Booking options. Or would you rather stay in one roof tent on the car?
Check with our packing list for camperswhether you have packed everything for your motorhome tour.
A campsite not far from Anthering is Camping Nord-Sam, Samstraße 22a, 5023 Salzburg, Austria, Austria. After a day trip you can relax in a Dutch Oven on one portable grill Prepare your dinner by the lake.
---
Do you already know:
Source: Anthering Mühle: On-site research at the invitation of Tourismus Salzburg
How Elena Paschinger of Creativelena experienced our visit to the Fuchsmühle can be found here:
(M) A gourmet trip to Salzburg: At the last Ma (h) l grinding is announced
Gudrun Krinzinger's report deals with the processes involved in flour grinding:
The fox mill in Anthering
---
Text: © Copyright Monika Fuchs, TravelWorldOnline
Photos: © Copyright Monika Fuchs, TravelWorldOnline
Video: © Copyright Petar Fuchs, TravelWorldOnline
Flour from the mill by the rushing brook