Austria vacation summer tips
In these summer tips for slow travelers and connoisseurs you will find numerous recommendations on where to go on holiday in Austria. Experience regions that offer unforgettable experiences for connoisseurs and slow travellers. Below you will also find great travel tips for those who want to eat out. If you prefer hiking, we also have some recommendations for you. Alternatively, you can also relax in thermal baths, where we present you with relaxing wellness experiences. We have also selected cities for pleasure travel. Austria also offers beautiful gardens and parks to explore. There are also great tips for culture lovers and anyone looking for peace in the monastery. Finally, we show you panoramic roads through the mountains of the Alps. Explore the different regions of Austria and enjoy your Austria holiday to the fullest!
Spend your summer on vacation in Austria
Austria is the perfect holiday destination for you this summer. Why? Well, there are many reasons for a holiday in Austria.
Austria offers breathtaking landscapes that are particularly beautiful in summer. The mountain landscapes are full of lush meadows, colorful flowers and crystal-clear lakes. The Alps are a paradise for hikers and mountaineers. Nature is in full bloom and the air is fresh and clean.
Austria is a culinary highlight for connoisseurs. The country is known for its delicious specialties such as Wiener Schnitzel, Sachertorte and Kaiserschmarrn. But also in the smaller towns and villages you will find a variety of traditional restaurants and inns where you can enjoy regional delicacies.
Austria also offers many activities for all types of travellers. Whether you like to hike, swim, bike, climb or just relax - there is always something to do. Austria is also a paradise for wellness enthusiasts, with many thermal baths and spas geared towards relaxation and rejuvenation.
Finally, Austria is a very safe country, making it a perfect destination for travelers during these uncertain times. The people are friendly and hospitable, and there are many measures in place to ensure the safety and health of visitors.
So, what are you waiting for? Pack your bags and enjoy your summer vacation in Austria. Experience the beauty of nature, the delicious cuisine, the varied activities and the warm hospitality of this wonderful country.
Frequently Asked Questions
What are the best activities in the Austrian summer?
In summer you can hike, climb, swim, cycle and much more on holiday in Austria. If you are looking for relaxation, there are also many thermal baths and wellness facilities where you can relax.
Which places should I visit when vacationing in Austria to enjoy the scenery?
There are many breathtaking places in Austria that are worth a summer vacation. These include the mountains in Tyrol and Salzburg, Lake Neusiedl in Burgenland and Styria.
Which cultural events take place in Austria in summer?
There are numerous cultural events in Austria in summer. These include the Salzburg Festival, the Vienna Opera Ball and the Bregenz Festival.
How is the weather in the Austrian summer?
The weather in Austria in summer is not always perfect, although it is usually sunny and warm, with average temperatures between 20 and 30 degrees Celsius. There are also some rainy days, especially in the mountains, where the weather can change quickly. Nevertheless, you should always have one just in case rain jacket and have some warmer clothes with you so that you are prepared for all weather conditions.
What are the public transport connections like in Austria?
Public transport connections in Austria are not only very good and reliable, but also extremely practical. There are many buses and trains that traverse the whole country and take you to the most important sights and cities. However, if you want to be mobile, you should buy a public transport discount card to save money and take advantage of the many perks that come with the card.
Travel Guide for Austria
Travel know-how travel guide Austria
Baedeker travel guide Austria: with a practical EASY ZIP map
MARCO POLO travel guide Austria: travel with insider tips. Incl. free tour app (MARCO POLO travel guide e-book)
Vis-à-Vis travel guide Austria: With detailed 3D illustrations
Travel know-how travel guide Austria
Baedeker travel guide Austria: with a practical EASY ZIP map
MARCO POLO travel guide Austria: travel with insider tips. Incl. free tour app (MARCO POLO travel guide e-book)
Vis-à-Vis travel guide Austria: With detailed 3D illustrations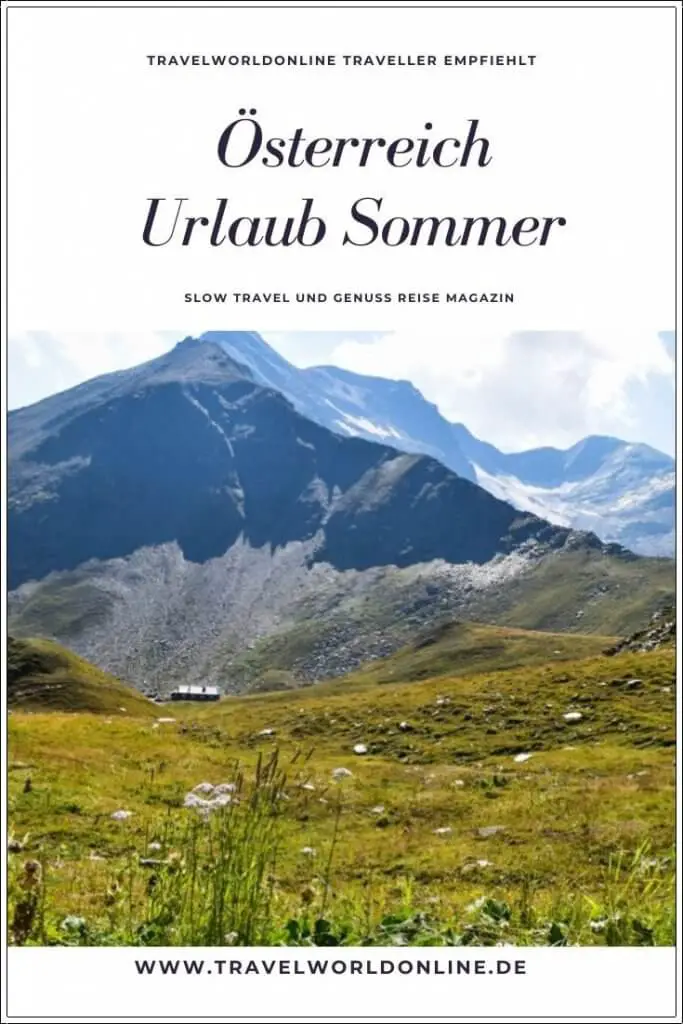 Source Austria Holidays: Research in Austria
Text Austria vacation in summer: © Copyright Monika Fuchs,
Photos: © Copyright Monika Fuchs,
Videos: © Copyright Petar Fuchs,
Last update on 1.06.2023/XNUMX/XNUMX / Affiliate links / Images from the Amazon Product Advertising API