Grilling spare ribs Photo: Wooden Earth—Wood Plates
Spare ribs are a delicious pork rib dish. The name comes from the English and means "remaining ribs". They are particularly popular in American cuisine and are often grilled or smoked. Different flavors can be created with different rib marinades. In North America, grilling ribs is a weekend treat. I remember many evenings in Yosemite National Park and endless conversations I had with friends while grilling spare ribs.
Spare ribs are very popular worldwide. Especially in the USA they are a classic. There you can often find them in barbecue restaurants. But they are also known in Europe and Asia. The variety of spare ribs comes from different marinades and preparation methods. They vary from sweet, spicy, smoky to exotic. When grilling spare ribs, you can cook them directly or indirectly. Spare ribs offer countless possibilities to create culinary experiences. This makes them a favorite for BBQ fans.
Grill spare ribs
Spareribs are therefore also one of our gas grill recipes for beginners. Grilled ribs are a North American specialty. They are a must at an American barbecue. A distinction is made between three types of ribs. There are the baby back ribs. This means ribs between the back and stomach. These are tenderer, meatier and shorter than the actual spare ribs. These are pork belly ribs. Finally there is the St Louis Cut. That's what the pork belly ribs are called. With these, however, the cartilage part and the thin tip of the rib are cut off. This part of the ribs is definitely more al dente than the meat of the baby back ribs. In addition, these ribs contain more fat and connective tissue.
The ribs marinade
The rib marinade is very important when grilling spare ribs. It gives the meat flavor and aroma. Marinades consist of oil, acid and spices. Different ingredients create different flavors. The marinade makes the meat more tender and juicy. It also helps brown the ribs. The exposure time of the marinade influences the taste. The longer, the more intense. Marinades offer many ways to individually prepare spare ribs. This makes barbecuing more exciting and varied.
A good rib marinade consists of three basic ingredients: oil, acid, and spices. Oil adds flavor and helps browning. Olive oil or sunflower oil are good options. Acid makes the meat more tender. Vinegar, lemon juice, or orange juice work well for this. Spices add character to the marinade. Salt and pepper are basics. Garlic, onions, peppers and chili flakes are popular. Herbs such as thyme, rosemary or oregano go well with it. The combination of oil, acid and spices forms the basis for delicious and varied rib marinades.
Do you want your rib marinade sweet, spicy, smoky or umami?
Spare ribs can be prepared in different flavors. Sweet flavors are created by sugar, honey or maple syrup. Chili peppers, chilli flakes or hot sauces provide heat. Smoky notes are obtained with smoked salt, smoked paprika powder or BBQ sauces. Umami, the savory flavor, comes from soy sauce, Worcestershire sauce, or tomato paste. You can also combine ingredients to create unique flavors. Try different mixtures and find your favorite marinade. The variety of flavors makes grilling spare ribs a special experience.
Recipes for rib marinades from BBQ specialists from the USA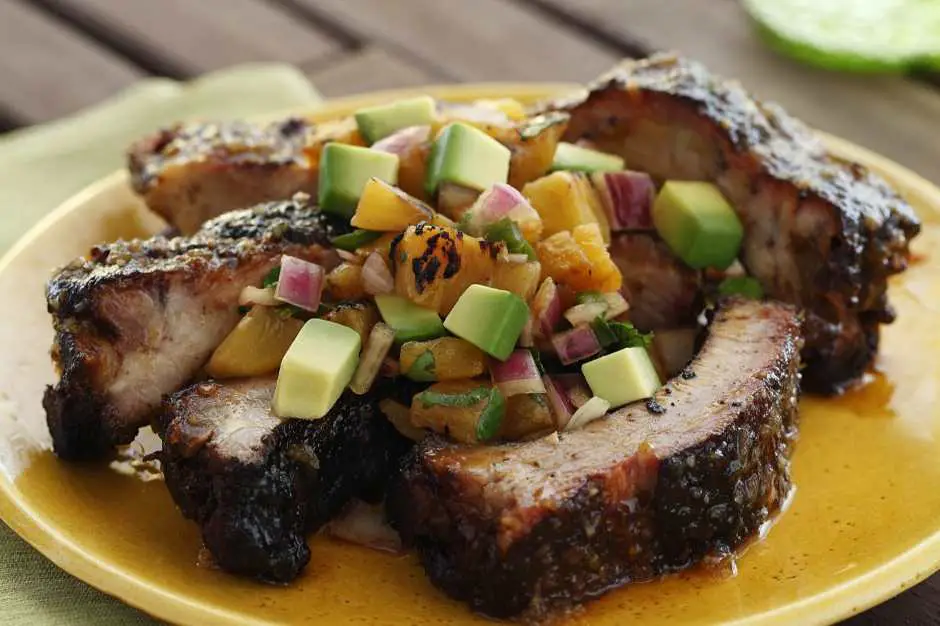 Recipe for Caraway Glazed Ribs with Grilled Pineapple Salsa
For people 6
Ingredients for the Glazed Ribs:
1/4 cup bell peppers
1/4 cup ancho chili powder
1/4 cup ground cumin
4 1/2 pounds pork ribs
Salt and freshly ground black pepper to taste
1/4 cup minced garlic
3 jalapeño peppers, stemmed and seeded if desired
1 tablespoon ground cumin
3 tablespoons hot sauce
1 cup freshly squeezed lime juice
1 teaspoons salt
1/2 cup honey
Ingredients for the Pineapple Salsa (can be made in advance): (see make-ahead recipe below)
Preparation:
Mix the paprika, chili powder, and cumin in a small bowl. Season the ribs with salt and pepper, then rub generously with the spice mix. Let them rest for 30 minutes.
Preheat the grill to 150ºC / 6ºF. Place the ribs in a baking pan and add about 45/XNUMX-inch of water. Bake with the lid closed for XNUMX minutes.
Cover the ribs with foil and bake an additional 45 minutes or until very tender.
Meanwhile, in a food processor, blend the garlic, jalapeños, cumin, hot sauce, lime juice, and salt to make the glaze.
Pour the mixture into a small saucepan and stir in the honey. Cook the glaze over low heat for 20 minutes, stirring constantly and being careful not to burn.
Increase the grilling temperature to 230°C / 5ºF. Remove the ribs from the baking pan and brush generously with the glaze. Grill them for XNUMX minutes per side, frequently brushing with extra glaze.
Slice the ribs apart and serve with grilled pineapple salsa.
Ribs Marinade Recipe for Grilled Pineapple Salsa
Ingredients:
2 tablespoons freshly squeezed lime juice
2 tablespoons of tequila
2 tablespoons brown sugar
1/3 ripe pineapple, trimmed + sliced ​​lengthways
1/4 cup sherry vinegar
1/2 small red onion, diced
1 jalapeño pepper, stemmed, seeded if desired, and chopped
1 mug Jicama*, peeled and diced
1/2 cup chopped fresh cilantro
1 tablespoon extra virgin olive oil
1 teaspoon salt, to taste
1/4 teaspoon freshly ground black pepper
Preparation:
In a shallow bowl, combine lime juice, tequila, and sugar. Add the pineapple and toss well. Let them marinate for 30 minutes. Remove the pineapple from the marinade and set aside.
Place the marinade in a saucepan over medium heat and add the vinegar. Let simmer, stirring frequently, until reduced by half. Take it off the stove and let it cool to room temperature.
Preheat the grill to medium-high. Wipe the grill down with an oiled towel and lay the pineapple on the grill at an angle. Cook, turning frequently, until the outside of the pineapple is lightly golden and caramelized, 6-8 minutes. Take them off the grill, let them cool and cut them into cubes.
In a bowl, mix the pineapple with the reduced vinegar mixture. Gently add onion, jalapeño, jicama, cilantro, olive oil, salt and pepper and mix well. Taste and season if necessary.
To trim the pineapple, cut off the top and bottom and stand upright. Use a sharp knife to cut off the rind in gentle downward strokes. Remove any remaining "eyes" with the tip of a paring knife. Quarter them lengthwise and cut out the woody core.
Enjoy your meal!
Thanks to Mary Sue Milliken and Susan Feniger at www.socalo.com for these two recipes. Culinary artist, author and entrepreneur Susan Feniger is best known for her contemporary Mexican concept of offering Border Grill restaurants, trucks and catering, which she runs with business partner Mary Sue Milliken of over 40 years.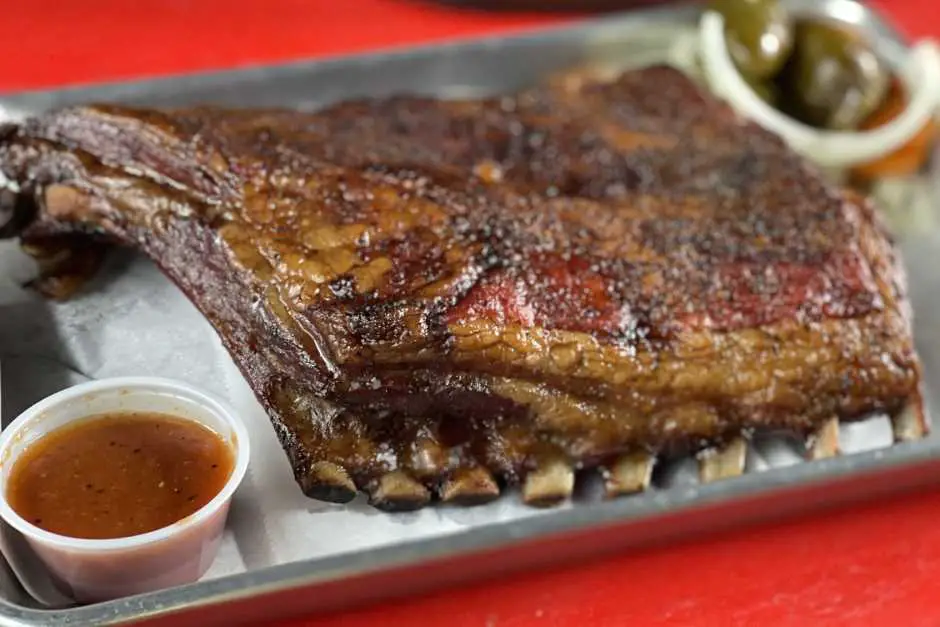 Davila's Original BBQ Sauce and Rib Marinade
(Makes 1 liter; 12-15 servings)
"My grandmother proudly confirms that this Texas-style tomato barbecue sauce is my grandfather's original recipe. Davila's BBQ has been serving it since we opened our doors in 1959, and over the decades we've produced countless gallons. While it shares some similarities with other tomato-based sauces, cumin and oregano bring the southern flavors that make the flavor unique. We smear it over everything as it goes well with chicken, pork, beef, lamb and even fish like salmon."
Ingredients:
1½ teaspoons margarine
½ cup tomato paste
half a cup of ketchup
½ cup tomato juice
2 tablespoons Worcestershire sauce
¼ cup sugar
¼ cup cornstarch
2 tablespoons dill pickle juice
1 tablespoon prepared yellow mustard
¾ teaspoon freshly ground black pepper
Three quarters of a teaspoon of garlic powder
¾ teaspoon ground cumin
½ teaspoon dried oregano
½ teaspoon of salt
Preparation:
In a large stockpot, melt the margarine over medium-high heat and stir in the tomato paste, ketchup, tomato juice, and Worcestershire sauce.
Combine the sugar, cornstarch, pickle juice, mustard, pepper, garlic powder, cumin, oregano, and salt in a large bowl. Mix well until the sugar and salt have dissolved, then stir the mixture into the stock pot.
Cook over low heat until sauce thickens, 10 minutes. Serve immediately or store in an airtight container in the refrigerator for up to 10 days.
Thanks to Adrian Davila, the owner of Davila's BBQ in Seguin, Texas for this recipe. A third-generation Pitmaster, Adrian Davila is proud of his Mexican-American ethnicity, as well as the business values ​​instilled in him by his grandfather and father. Adrian learned his family's techniques from a young age - skills he practices every day. Adrian Davila is the third generation BBQ restaurateur, chef and grill master at the renowned Davila's BBQ in Seguin, TX. His grandfather, Raul Davila, opened Davila's in 1959, more than half a century ago, and passed the secrets of his smoker grill to Adrian's father, Edward Davila. The Davies are deeply proud of their Mexican-American roots and their family tradition of creating the best barbecue in Texas.
White BBQ sauce for grilling ribs
Ingredients:
4 cups of mayonnaise
1 1/3 cup apple cider vinegar
4 tablespoons of water
4 teaspoons Worcestershire sauce
2 teaspoons kosher salt
Two teaspoons of garlic powder
2 teaspoons onion powder
2 teaspoons freshly ground black pepper
4 teaspoons hot sauce
Preparation:
In a small bowl, whisk together the mayonnaise, vinegar, water, Worcestershire sauce, salt, garlic powder, onion powder, pepper and hot sauce.
This recipe was sent to us by Executive Chef Mark Alba, Hartley Kitchen & Cocktails, The Kimpton Shane Hotel made available. He uses it at Hartley Kitchen & Cocktails for their fried chicken skin cracklings. He says it works beautifully on grilled and smoked meats. Executive Chef Mark Alba has worked as a professional chef at many of Atlanta's most popular restaurants for more than 20 years. Born in Atlanta and raised in the thriving food scene of Baton Rouge, La., Mark has also served as Executive Chef in the kitchens of renowned Southern restaurants such as JCT Kitchen, The St. Regis Hotel, STK, The Optimist, Legendary Events and 5Church.
Place the spare ribs in the marinade
Before you grill spare ribs, prepare them properly. Wash the meat under cold water. Pat it dry. Remove the thin silver skin from the back of the ribs. It prevents the marinade from penetrating the meat. Cut the meat into chunks or leave it whole. Place the spare ribs in a bowl or bag. Add the marinade. Rub them well into the meat. Leave the ribs in the fridge for at least 2 hours, preferably overnight. We always put them in the fridge overnight and roast them the next day.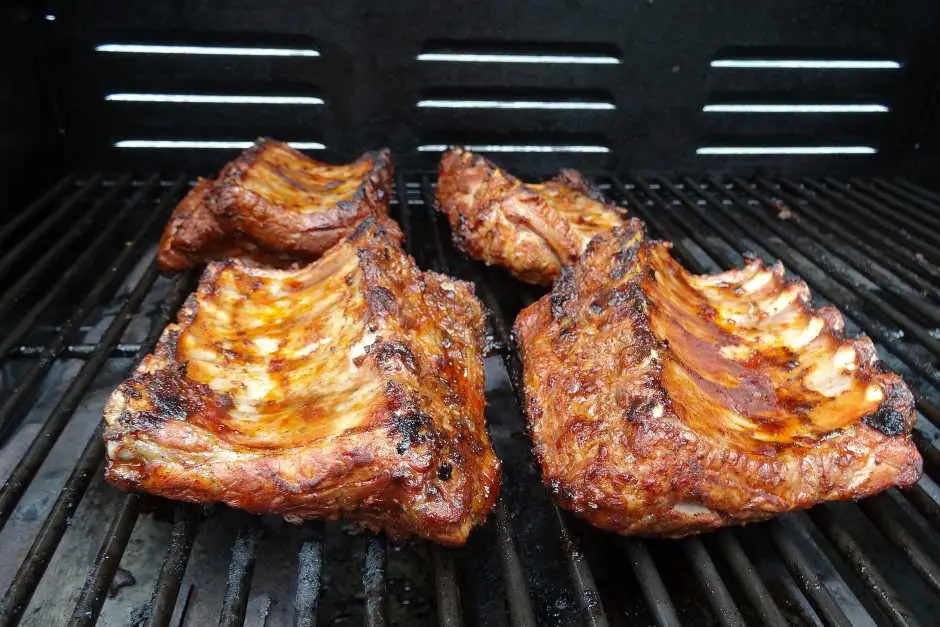 Grill Ribs
The right preparation of the grill is crucial for the success of the spare ribs. First select the right grill: charcoal, gas or electric. Each has its own merits. While charcoal grills impart a smoky aroma, gas grills heat up quickly and electric grills are easy to manage.
Before grilling, the grill should be clean. Therefore, clean the grill grates with a brush or sponge. That way the meat doesn't stick. Preheat the grill in good time. With charcoal grills, it takes about 30 minutes for the charcoal to burn through properly. Gas and electric grills, on the other hand, are faster.
To check the temperature of the grill, use a grill thermometer. Spare ribs are best grilled over low to medium heat. Set up the grill for direct and indirect grilling. enclose Charcoal grills the charcoal on one side of the grill. At gas Grills just light some burners.
Prepare the grill grate by brushing it with some oil. This prevents sticking and ensures nice grill marks. Additionally, before grilling, cover the ribs with aluminum foil to protect them from flames and heat. This keeps the meat juicy.
Now the grill is ready for grilling the marinated spare ribs. Make sure that you have all the necessary utensils such as grilling tongs, grilling gloves and a thermometer at hand. Then nothing stands in the way of grilling pleasure.
Grilling techniques for grilling ribs
There are several grilling techniques that can be used when grilling spare ribs. Direct grilling means the meat is directly above the heat source. This creates crispy edges and beautiful grill marks. However, there is a risk that the meat will dry out.
Indirect grilling, on the other hand, protects the meat because it is not directly above the embers. This cooks it evenly and keeps it juicy. This method is particularly useful for spare ribs. A combination of both techniques is optimal: First grill the meat, then let it cook indirectly. This is how you get perfectly grilled spare ribs.
Low-temperature grilling is a gentle method that slowly cooks the meat at 100-130°C. This keeps it juicy and tender. Spare ribs especially benefit from this technique. Indirect grilling is ideal for this.
Smoking also gives the spare ribs a smoky aroma. To do this, place smoking chips or pellets on the embers. The chips should be soaked in water beforehand. Gas and electric grills can also be used for smoking by using special smoking boxes.
Low temperature grilling combined with smoking is a great way to cook juicy and flavorful spare ribs. Give the ribs enough time to take full advantage of these techniques.
Grilling the marinated spare ribs
Once the spare ribs have marinated and the grill is ready, it's time to grill. First place the ribs on the grill, ideally with the meat side down. Make sure to place them on the indirect heat zone. As a result, they cook gently and become particularly tender.
The grilling temperature is crucial for the success of the spare ribs. Ideally, it should be between 110 and 130°C. At this low temperature, the ribs cook slowly, keeping the meat juicy and not drying out. Use a grill thermometer to keep an eye on the temperature.
Grilling time depends on the size and thickness of the ribs. In general, they should cook for about 2 to 4 hours. To keep the spare ribs juicy while grilling, brush them with a little marinade every 30 to 45 minutes. This also provides additional flavors.
There are several ways to check the doneness of the spare ribs. The core temperature is a good indicator: it should be around 90°C. You can use a meat thermometer for this. Another method is the so-called "bend test": Lift the ribs up in the middle with a pair of tongs. They're done when they bend slightly and the flesh tears slightly at the ends of the bones.
After grilling, it is important to continue cooking the spare ribs and letting them rest. Place them on a plate and cover with aluminum foil. Let them sit for about 10 to 15 minutes. This relaxes the meat fibers and keeps the ribs juicy and tender.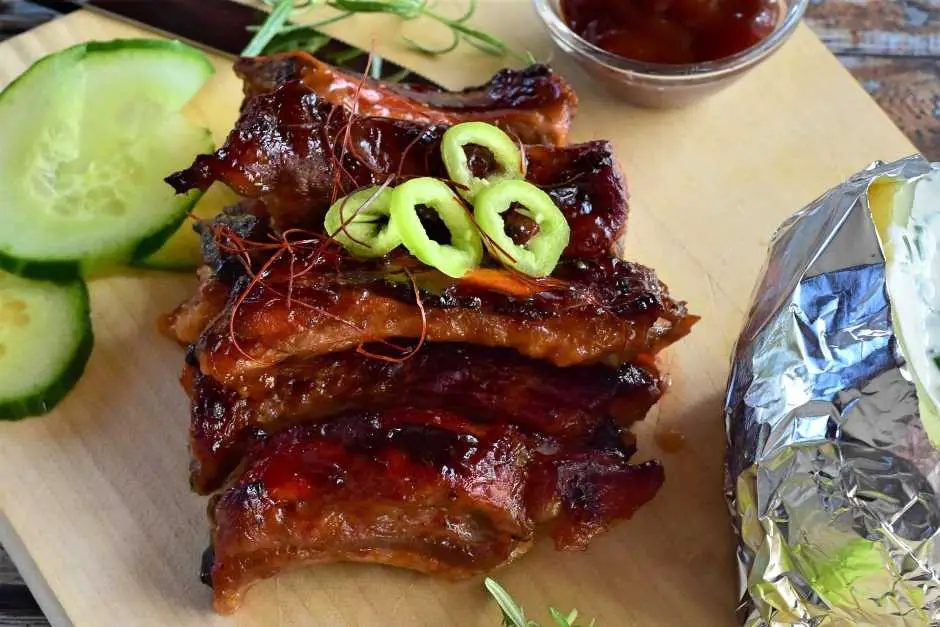 Serve the grilled spare ribs
After the spare ribs are grilled and rested, it's time to serve and slice them. To cut the ribs, place them on a cutting board and cut them into individual pieces along the bone. Use a sharp knife to make clean cuts.
When serving, you can serve the spare ribs on a large platter or on individual plates. Drape them attractively and garnish with fresh herbs such as parsley or coriander. Lemon or lime slices also give the dish a fresh touch.
Matching side dishes are diverse and varied. Corn on the cob, baked potatoes or French fries as well as coleslaw and grilled vegetables are popular. Depending on your preference, the side dish can be savory, sweet or light. You can also serve different salads or bread variations such as baguettes, ciabatta or flatbread.
Dips are another important part of enjoying spare ribs. Of course, a classic barbecue sauce should not be missing. Other tasty options include honey mustard sauce, garlic yogurt dip, guacamole, or a spicy salsa. Homemade dips taste particularly good and can also be prepared according to individual preferences.
And finally ...
To prepare successful spare ribs, there are a few important tips and tricks that will help you achieve the perfect result. Here is some advice to keep in mind for your next barbecue:
First off, you should remove the silver skin on the bone side of the ribs before marinating. This allows the marinade to penetrate the meat better and the ribs become more tender.
Then give the marinade enough time to take effect. At least 4 hours or better overnight is ideal. This will give you a more intense aroma.
In addition, it is important to use a grill thermometer to keep the temperature in the grill constant. An even, low temperature ensures tender meat.
You should also experiment with different marinades and flavors. From sweet to spicy, from smoky to umami - there are countless combinations you can try. That way it never gets boring.
You can also combine different grilling techniques, such as direct and indirect grilling or smoking, to prepare the spare ribs in different ways. Each method has its own advantages and can change the taste experience.
While grilling, it's a good idea to cover the ribs with aluminum foil to protect them from flames and excessive heat. This way they stay juicy and tender.
After grilling, it's important to let the spare ribs rest before slicing and serving. This way they stay juicy and tasty.
Be bold and try out unusual ingredients or spices in your marinades, for example. You could use Asian flavors, South American spice blends, or Mediterranean herbs.
Practice patience. Spare ribs need time to become really tender and flavorful. Don't rush them - it's worth the wait.
By following these tips and tricks and having the courage to experiment with different marinades and grilling techniques, you will no doubt create delicious and tender spare ribs that will delight your guests.
Questions and answers about grilling ribs
How do I prepare my own marinade for spare ribs?
Simply mix oil, acid (e.g. vinegar), spices, herbs and aromas to taste.
How can I also check the doneness of the spare ribs?
Use a meat thermometer and check the core temperature (approx. 90-95 °C).
Should I turn the spare ribs while grilling?
Yes, turn them regularly for both even cooking and a nice crust.
How do I remove the silver skin from the ribs?
First lift the silver skin with a knife and then pull it off with pliers.
Finally, is there a quick way to cook spare ribs?
You can par-cook them in the oven or pressure cooker and then grill them.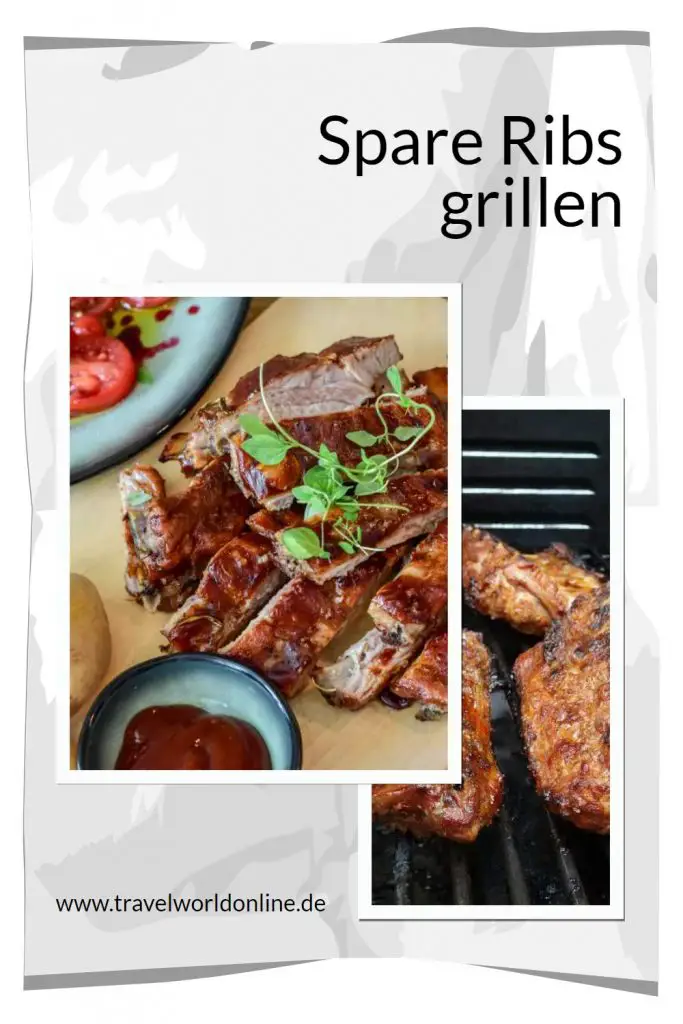 Do you also know:
Source Ribs Marinade: own research.
Text Grilling Ribs: © Copyright Monika Fuchs and TravelWorldOnline
Photos: © Copyright Pixabay and Amazon product photos
Rib Marinade Recipes:
Grill spare ribs with a US-style rib marinade