Grilling chicken – Our tips
You can do chicken and turkey well on the gas Grill grilling. You can also grill pieces well on charcoal grills. If you have the accessories for it, you can even use it above the campfire grilling. Here we present the options you have for this. There are also recipes for marinades that go well with chicken and turkey.
Grilling chicken and turkey provides variety on the gas grill
Whether you are a charcoal traditionalist or a gas grill enthusiast. Grilling fans can hardly imagine barbecuing without poultry. Because chicken, turkey and co. with their cuts not only offer variety. The types of meat also vary. Chicken and turkey fillet, schnitzel and medallions are characterized by their light meat. Thighs and drumsticks score with their meat for enjoyment that is aromatic.
Chicken griller - practical for the kettle grill
If you want to grill a chicken, it is worth buying a chicken grill.

You can use a chicken grill Order here*
Marinades for chicken or turkey vary in taste
Variation options offer marinades that you can make yourself. Because of its unique taste, poultry goes well with a variety of oils and sauces, herbs and spices. Whether plain or marinated, grilling poultry takes time. Before slicing, the grilled poultry should be left to rest for a few minutes. This means that less meat juice escapes when you cut it. When buying poultry meat you can pay attention to the origin from Germany. You can tell by the "D"s on the packaging. They stand for production according to standards for animal, environmental and consumer protection.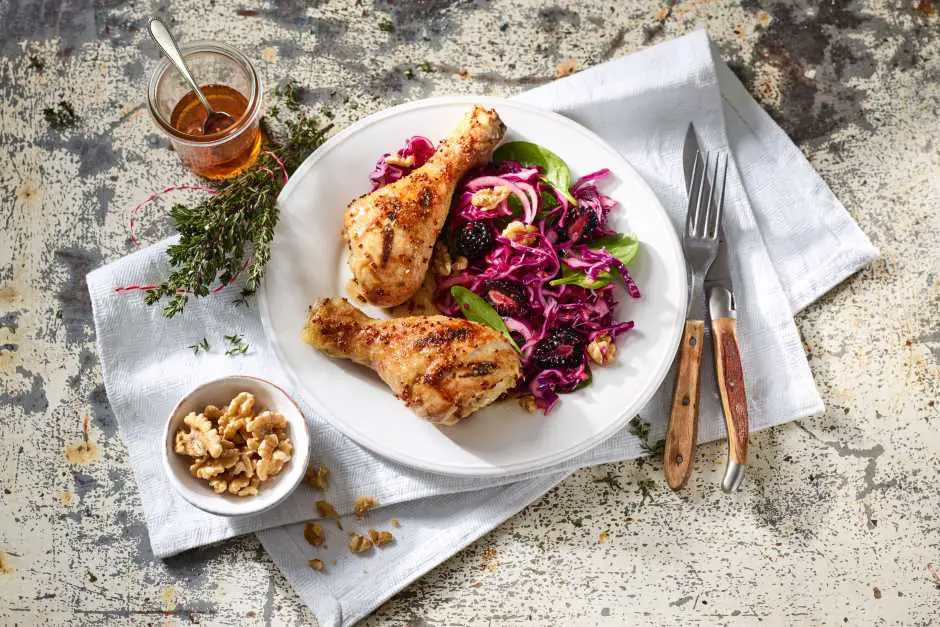 Grilled chicken with red cabbage spinach salad
Ingredients (for 4 persons):
For the chicken grilling with this marinade:
8 chicken drumsticks
2 tbsp coarse mustard
6 EL honey
1 tbsp paprika powder (noble sweet)
4 EL rapeseed oil
salt and pepper
For the red cabbage spinach salad:
2 EL maple syrup
1 tsp Dijon mustard
1 tsp cumin
2 tbsp apple cider vinegar
6 tbsp olive oil
70 g baby spinach
1/4 red cabbage
1 apple
1 onion
1/2 dried chili pepper
20 g walnut kernels
75 grams of blackberries.
Preparation:
Mix mustard, honey, paprika powder, rapeseed oil, salt and pepper. Pour the marinade over the chicken drumsticks. Grill the chicken over medium indirect heat for 30 to 40 minutes.
Mix together the maple syrup, Dijon mustard, cumin, apple cider vinegar, and olive oil. Cut the spinach, red cabbage, apple, onion and chili pepper. Then mix with walnuts, blackberries and dressing.
Serve the chicken drumsticks with the salad and enjoy.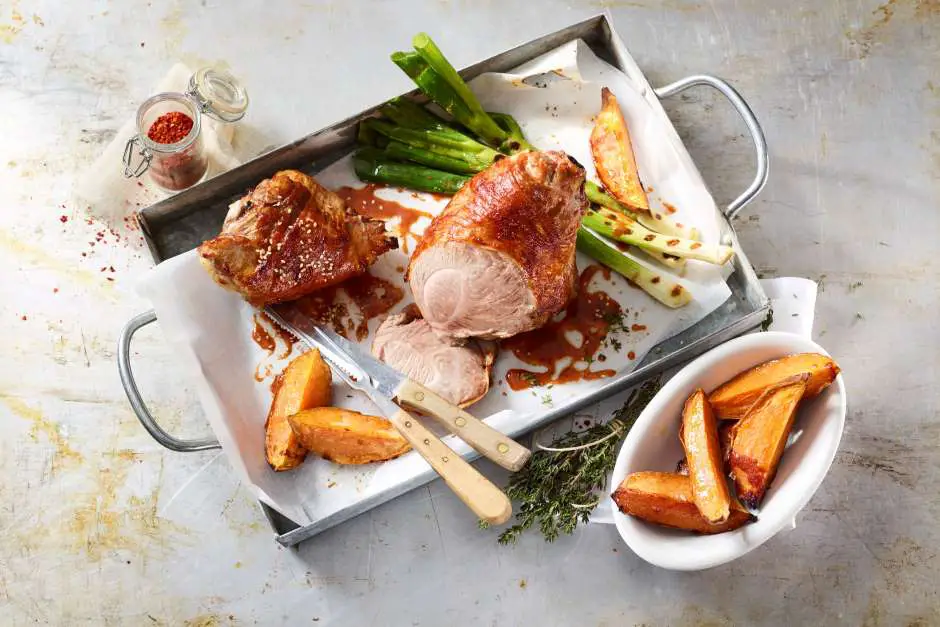 Grilled turkey with sweet potatoes
Ingredients (for 4 persons):
For the turkey marinade:
4 turkey drumsticks
2 sprigs of thyme
1 piece of ginger
two gloves of garlic
3 tablespoons white miso paste
1 EL honey
2 tablespoons sake
1 tbsp soy sauce
Side Dishes
700g sweet potatoes
16 spring onions.
Preparation:
Mix together the thyme, ginger, garlic, miso paste, honey, sake and soy sauce.
Spread it over the turkey drumsticks and grill over indirect heat at around 150 degrees Celsius for around 2 hours.
Add the sweet potato wedges after 75 minutes of grilling. From 10 minutes before the end of the cooking time, also place the spring onions on the grill.
Cut open the turkey drumsticks and enjoy with the grilled vegetables.
Grilling turkey and chicken with marinade provides a change from the gas grill. Information about poultry meat from Germany can be found at www.deutsches-geflügel.de.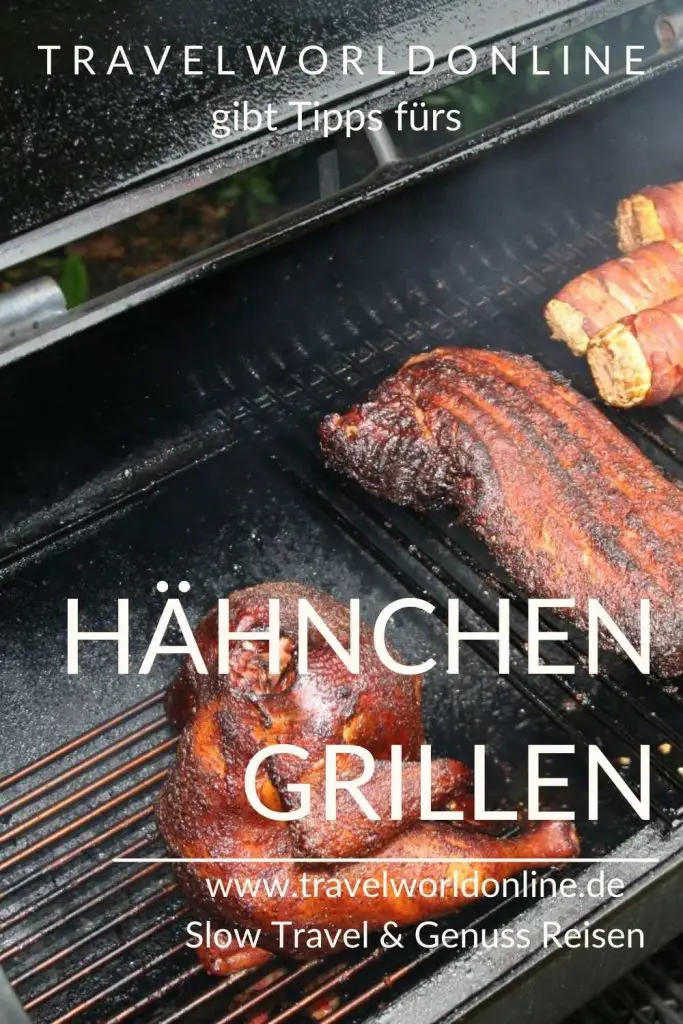 Do you already know:
Source chicken grilling: djd/www.deutsches-geflügel.de
Text grilling chicken : Monika Fuchs, TravelWorldOnline and djd/www.deutsches-geflügel.de
Photo grilling chicken: djd/www.deutsches-geflügel.de
Grilling chicken and turkey – recipes included