During our stay at the Chateau Laurier Hotel in Ottawa, we were able to try the different options offered at this hotel for dining: a breakfast at the Wilfried's restaurant with table service, a buffet breakfast at the Wilfried's Restaurant, and breakfast in the Fairmont Gold Class's private lounge , the great tea time in Zoe's Lounge, and a dinner that served us room service on our day of arrival after a long journey in our room. In addition, we were allowed to take a look behind the scenes, that is, Chef Louis Simard took us through the kitchen, where these delicacies all arise. So we got an interesting insight into the kitchen secrets of the Hotel Chateau Laurier in Ottawa.
Elegant Room Service at the Chateau Laurier Hotel in Ottawa
They all have one thing in common: they are impressive. We travel a lot all year round, and we go to various luxury hotels around the world. Sometimes, when we don't feel like eating in a restaurant after a busy day, we order the food from room service. During our stay at the Chateau Laurier in Ottawa, this made sense after our long journey via Toronto, which had resulted in additional waiting times for the aircraft to be de-iced. Our appointment for the reserved dinner was already over when we landed at the Ottawa airport. Instead, we were offered dinner in our room, which we gratefully accepted.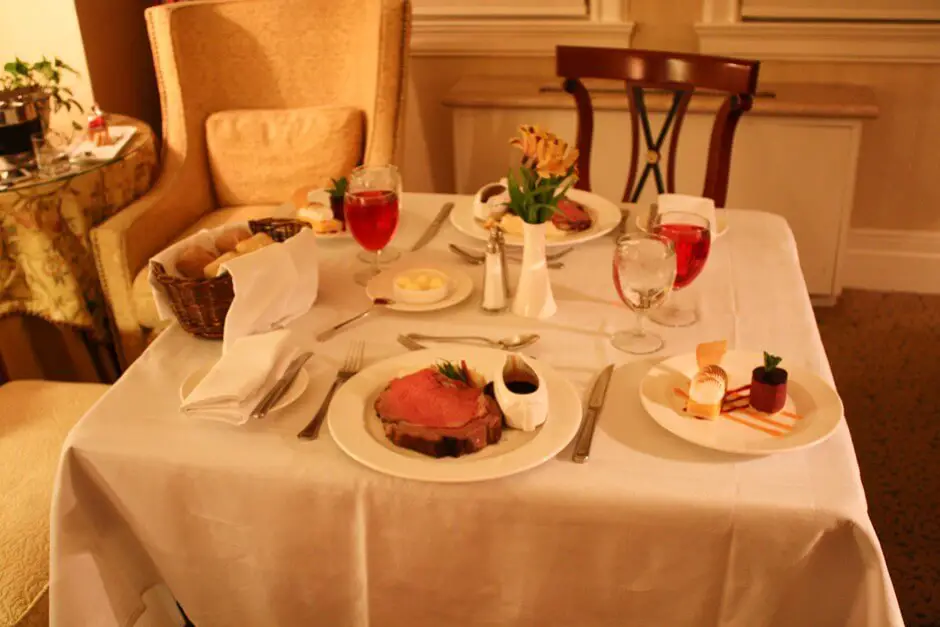 This time we were surprised: on the one hand there was Prime Rib on the menu of the Room Service, a thick steak made from specially bred cattle that is very juicy and tasty. Whenever I discover this on a menu card, I don't think twice. Prime rib is always the first choice. As in this case too. It was half an hour before the room waiter knocked on our door. Instead of a tray that I expected, he pushed a set table in front of him and got our perfectly fried prime ribs hot from a shelf. I felt a bit transported into one of the society comedies from the 40s and 50s, which were so popular with moviegoers at the time. Our waiter explained to us what we found on our dinner table and said goodbye, not without pointing out that we should simply let us know by phone when we were ready. The steak was just as it should be: juicy, tender and delicious. A great way to end a long day of travel!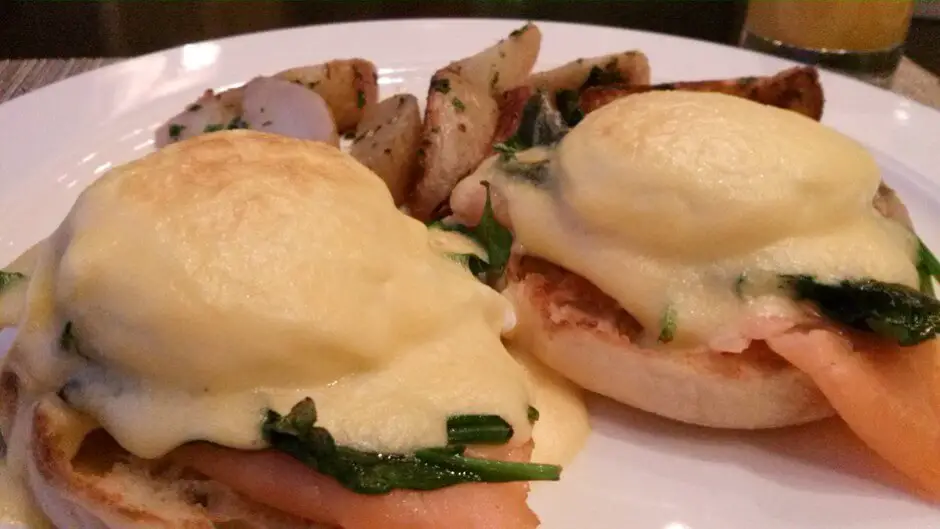 Three options for having breakfast at the Hotel Chateau Laurier
The next morning we had our breakfast in Wilfried's restaurant on the ground floor. There, the guest has two options: to order a finished breakfast from the menu or to serve himself at the large buffet. Since buffets are often too tempting, we usually prefer to be served and ordered East Coast Eggs Benedict - poached eggs with smoked salmon instead of ham on toasted biscuit. There is plenty of béchamel sauce. No low calorie breakfast, but once Eggs Benedict need to be on a trip. They are - similar to Prime Rib - one of those dishes that belong to me on every trip to the North American continent once on the menu. The great thing about this meal was that we could watch through the windows of Wilfried's Restaurant as the sun rose and the night over Ottawa's Parliament building was replaced by a bright blue sky.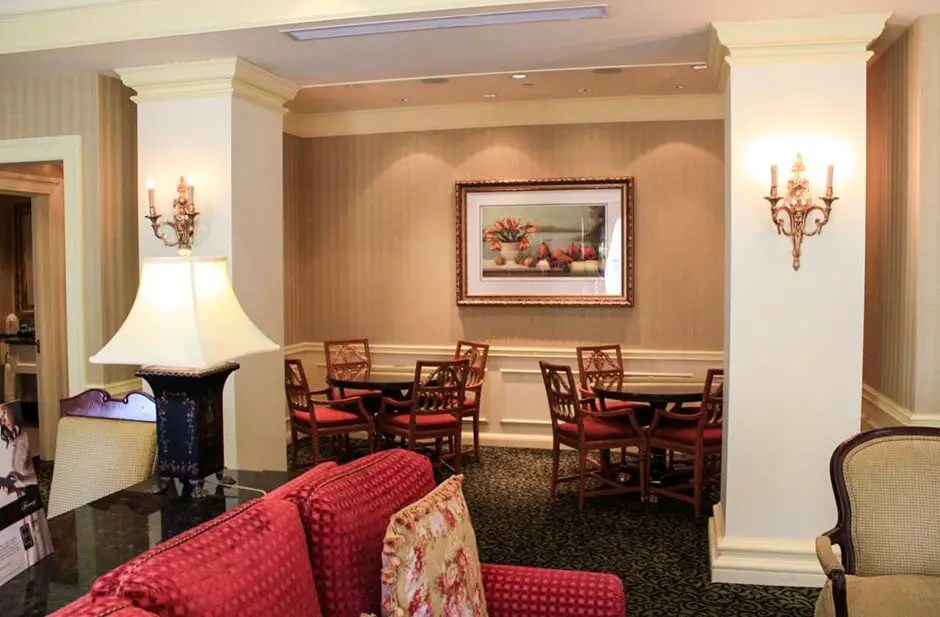 On the other two days of our stay we tried the two buffets in the mornings: once the big buffet breakfast in Wilfried's Restaurant, which offered a wide variety of hot and cold items, and once the smaller buffet in the Lounge of the Fairmont Gold Classwhich also offered a good selection of cold dishes. Only hot dishes are not there. But there is the breakfast in a more intimate environment, which looks almost like a living room. Some of the guests are sitting on sofas and comfortable armchairs around living room tables. This has the side effect that one likes to sit a bit longer at breakfast, and so not always enough space for all overnight guests in this room class is available.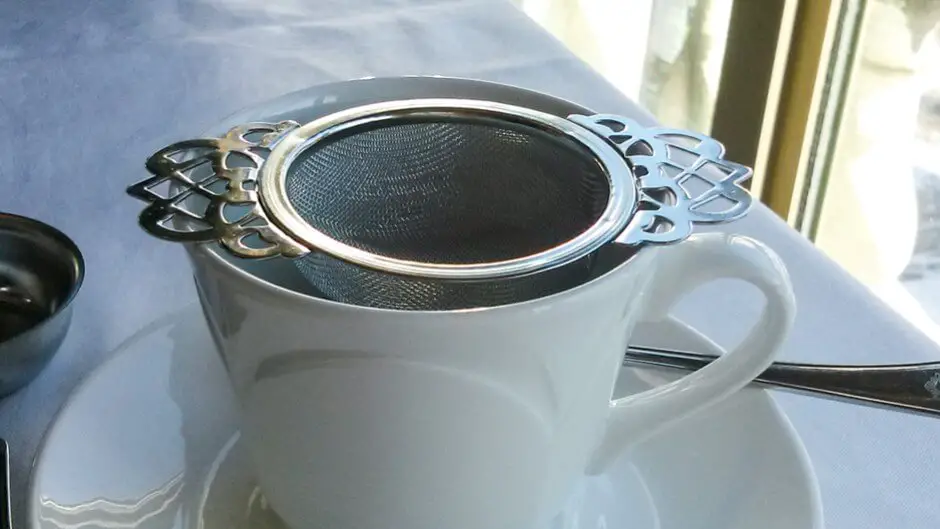 Tea Time in Zoés Lounge
Particularly impressive we found the elegant Tea Time in Zoés Lounge, which takes place in the afternoon. With a large selection of pastries and sandwiches and their tasty teas, it is a great substitute for lunch. Only the reservation should not be forgotten, because the tea time at the Chateau Laurier is popular and almost always filled to the last seat. We certainly enjoyed a few hours in the well-kept atmosphere of Zoés Lounge, from which we could watch the walkers who hurried past us, huddled in the cold of the Canadian winter.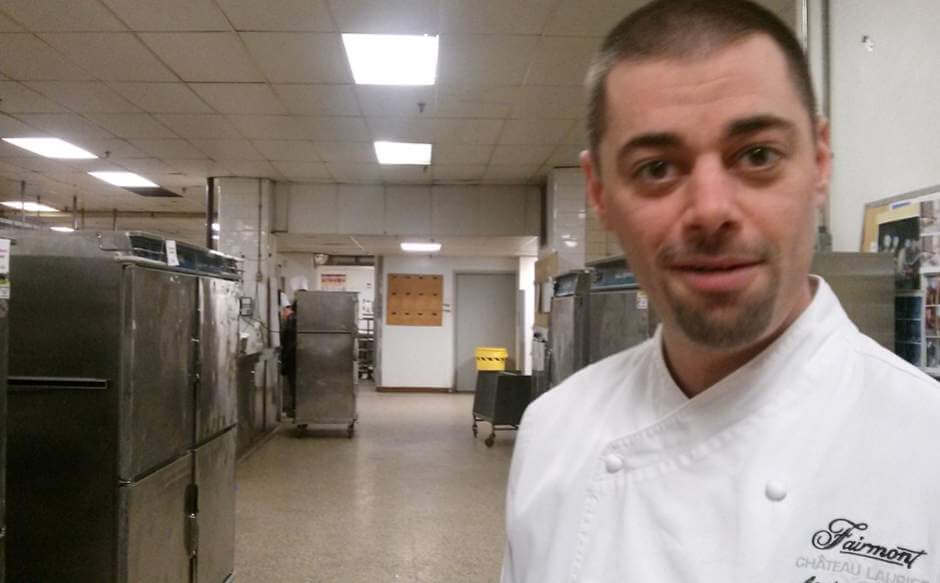 A look behind the restaurant scenes with Chef Louis Simard
When we visited, we were lucky that Chef Louis Simard took time for us and let us in on the secrets of his kitchen. "I have already cooked at the Royal York Hotel in Toronto, at the Banff Springs Hotel and at other hotels in the Fairmont chain," replied Louis Simard when asked about his career. "I attach particular importance to using regional products in my kitchen. Otherwise, I'm quite inventive about the dishes, "he laughs. He accompanies us through the different departments of his kitchen. All the delicacies that we were allowed to try during our stay are made there. Since we were there in the afternoon and the lunch hour was over, it was relatively quiet in the large hotel kitchen. The cooks sat around a table and discussed the menu for dinner. Only in the patisserie was it baked hard and was hectic. The desserts for the evening were just being made. The hard-working hotel staff was also preparing various halls for larger events. It was cleaned and decorated as much as possible.
Here are baked the delicious welcome surprises that we found in our room upon arrival: frosted strawberries, gossamer macaroons, maple syrup truffles and a delicious raspberry tart that made you want more.
In any case, one thing is clear: the culinary events at the Hotel Chateau Laurier are planned on a general-scale basis. The silverware of the hotel is waiting for its next use on shelves. "It is polished regularly so that it retains its beautiful shine," explains Simard, while a pastry chef lets us try out a taste of his current baking art: triangular truffles made from maple syrup, which are served on a dessert plate. We say goodbye to Louis Simard, who has to take care of dinner slowly while we try the delicacies of the patisserie at High Tea in Zoés Lounge.
---
Fairmont Chateau Laurier
1 Rideau Street
Ottawa K1N 8S7
further information, current availability query and easy online booking *
Other hotels in Ottawa *
---
Source: own research on site. We thank the Chateau Laurier Hotel in Ottawa for the kind invitation.
Text: © Copyright Monika Fuchs, TravelWorldOnline
Photos © Copyright Monika Fox, TravelWorldOnline
Hotel Chateau Laurier in Ottawa - So you eat there