Tea Time at Chateau Laurier in Ottawa

Very british - this is Canada especially during the Tea time, We are in Victoria Vancouver Island ever with Canada's relationship to Tea set apart and tested the high tea at Butchart Gardens. We particularly liked its surroundings amidst orchids and other exotic plants. From the tea time in the Chateau Laurier in Ottawa we had already heard on our last trip to Canada's capital a few years ago. At that time, however, we didn't have the time to be able to enjoy it. This time we wanted to treat ourselves to the pleasure and reserved an afternoon for afternoon tea at Chateau Laurier.
Especially on cold winter days, when the north wind is the temperature in the north Ontario slipping into icy depths, it is particularly fun to sit comfortably in front of a well-kept cup of tea. There are also delicious sandwiches, scones and cake slices. It is fun to watch the thickly masked passers-by hurrying towards warmer rooms in front of the large windows of the hotel. I almost want to shout to them: "Come on in! Here you can warm up with warm tea and in a great atmosphere before you continue to your destination. "For us, our afternoon in Zoé's Lounge at the Fairmont Chateau Laurier is an extremely welcome opportunity to tell us about the exciting experiences, but also about the to recover icy temperatures that we at our outdoor activities at Winterlude experienced in Ottawa.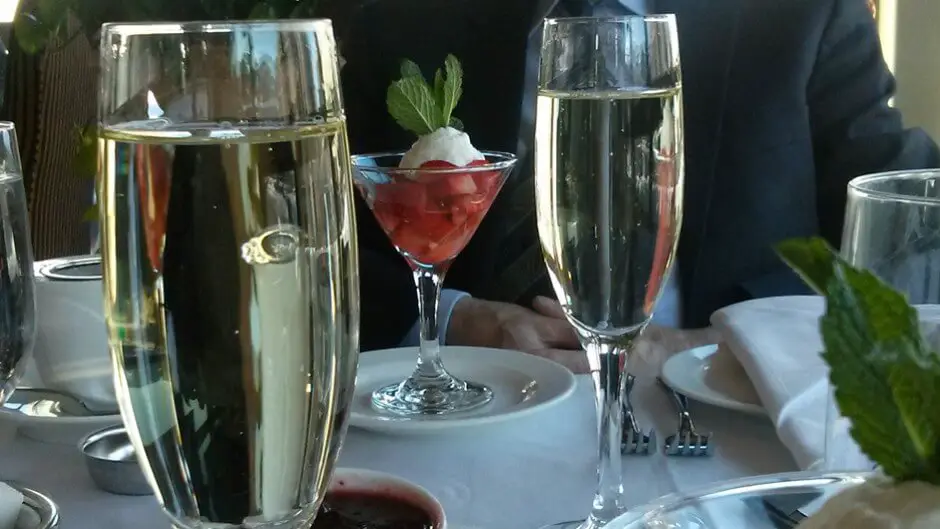 What is the dress code at Afternoon Tea at Chateau Laurier?
Tea time at Chateau Laurier is an elegant event that surprises us with even more delicacies than we have come across at afternoon teas. First of all, our friendly service explains that we have the choice between a typical English tea time and a "Canadian tea time". We are curious as to what the "Canadian" thing about this tea time is and we both order the country-specific version. Next, our waitress rolls us a cart with a large assortment of different types of tea and lets us smell different tea blends: among them are a spice tea blend with a hint of orange aroma, a tea blend with maple syrup taste and a tea blend with ice wine taste.
Even the smell that flows from the silver bowls that we hold under our noses promises an extraordinary tea aroma. Petar chooses the almost Christmas-scented spice mixture with orange scent, I opt for the Eisweintee, because I'm curious if he tastes just like Eiswein as he smells like it.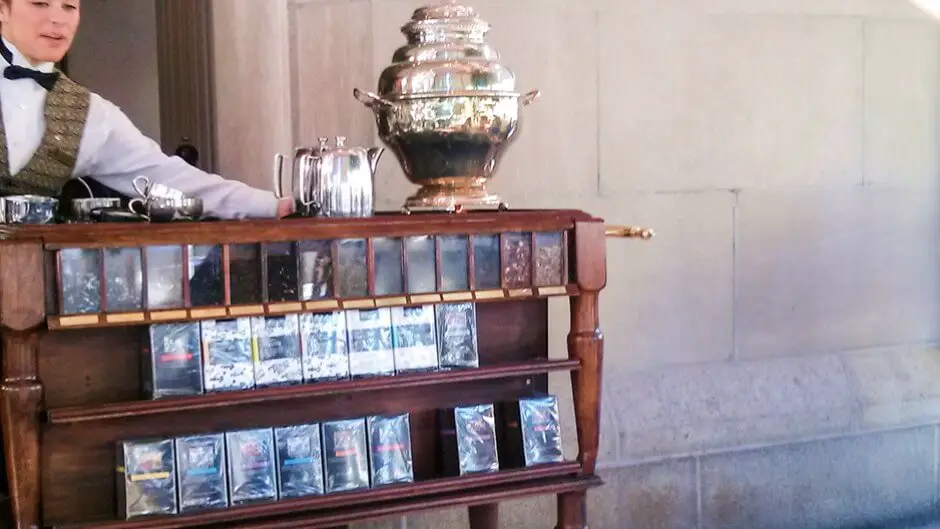 At Zoe's, tea time at Chateau Laurier begins with a glass of sparkling wine
In contrast to all previous teen afternoons that we have met on our travels, we get a glass of sparkling wine with strawberries marinated in ice wine in Zoé's Lounge to get in the mood for what is to come. A surprise for the palate and the senses! The sweet strawberries whet the appetite for the pastries and sandwiches that are served in the next course. On an etagère each of us gets two scones - one with blueberries, the other without -, four sandwiches - the indispensable cucumber sandwich and one sandwich each with goat cheese with truffle flavor, cress and smoked salmon, fried striploin and curry chicken salad - and three cakes: one Cream slices, a shortcrust pastry tart filled with cream and a fruit. These delicacies are all delicious! And we're glad we didn't have lunch today because they easily replace a full meal.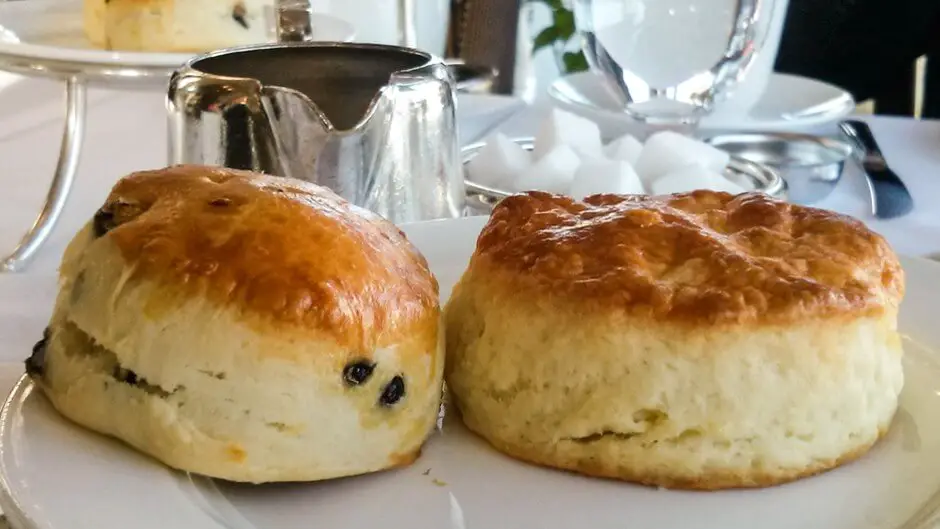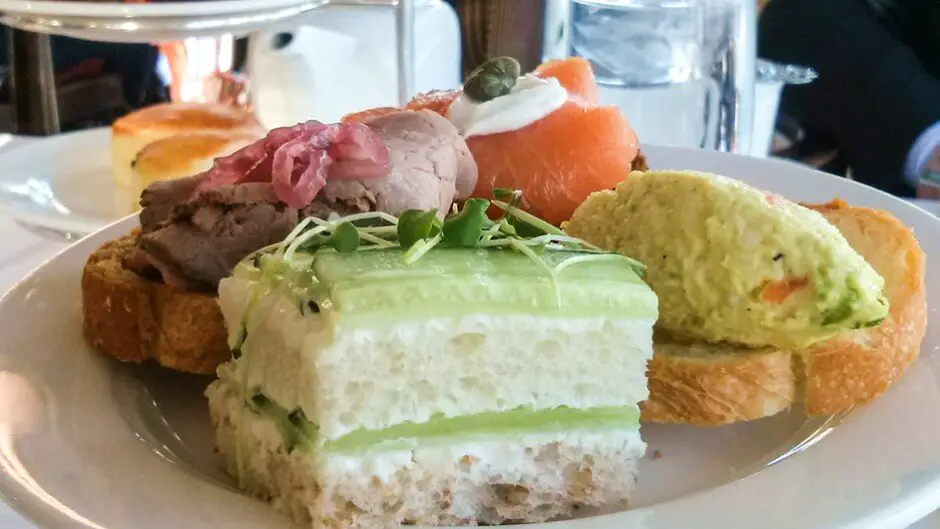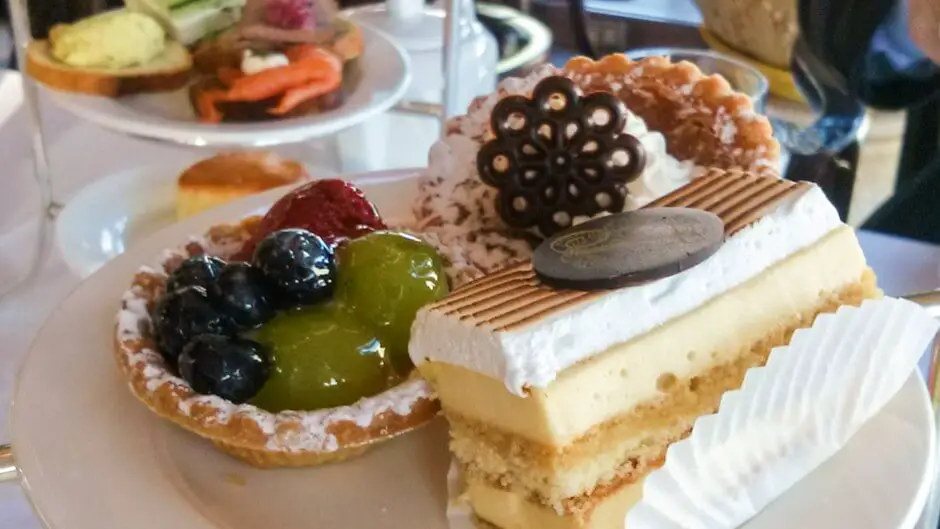 Canadian Tea Time at Ottawa High Tea
So we enjoy our cream tea in the pleasant surroundings of Zoé's Lounge at the Fairmont Chateau Laurier, listen to the murmuring entertainment of our table neighbors - a group of mixed-age women who have a nice afternoon here - and think about what the "Canadian" is about our "Canadian Tea Time" is. What we certainly cannot get in England is an ice wine tea, which actually tastes just as intensely of the delicious dessert wine as it smelled, and a tea with maple syrup taste. Is there freshly smoked salmon for high tea in England? I'm not sure. And what we have never had with any other afternoon tea is sparkling wine and fresh strawberries. At any rate, and Petar and I agree, one thing is certain: for tea time at Chateau Laurier in Zoé's Lounge, you should definitely plan a few hours if you are in Ottawa is. It is worth it!
That has to be in your   suitcase for a trip to Ottawa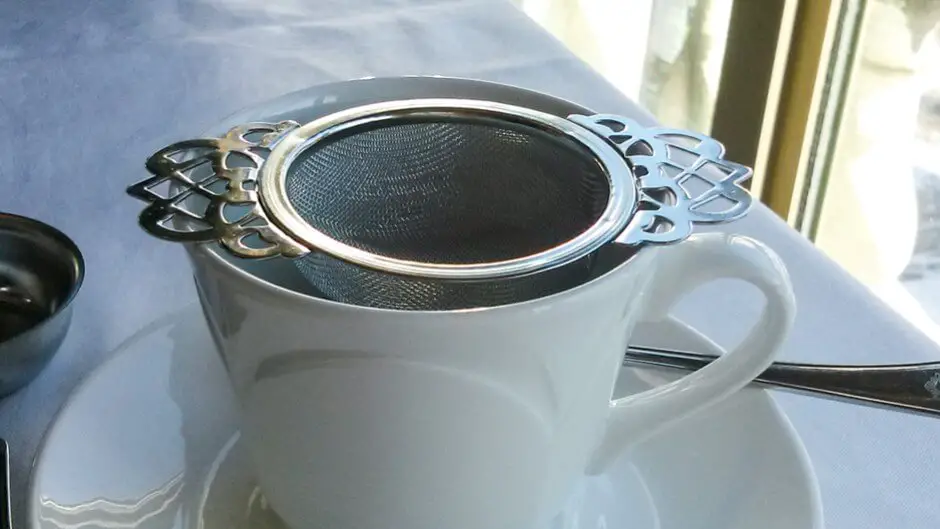 You need to know this for tea time at Chateau Laurier
The Afternoon Tea will be in Zoé's Lounge served on:
daily between 11.00 a.m. and 15.30 p.m
Dress Code is casual
Reservation is required for the afternoon tea. Tel. (613) 241-1414.
---
Travel Arrangements:
Parking at the airport
Here you can reserve your parking space at the airport.
Flight:
Book your arrival here*. Ottawa also has its own airport.
Car Rentals:
Cheap Car Hire - Book Fast and Easy! *
Camper Rentals:
Are you traveling with a motorhome? Then you can find it here booking options. Check with our Packing list for the motorhomewhether you have everything for the trip with you.
Ottawa Tours and Excursions:
Ottawa City Tours and more * You can book with our partner Get your Guide.
Tea Time at Chateau Laurier
1 Rideau Street
Ottawa K1N 8S7
Information, availability inquiries and online booking *
Hotels in Ottawa are also available on booking.com *
---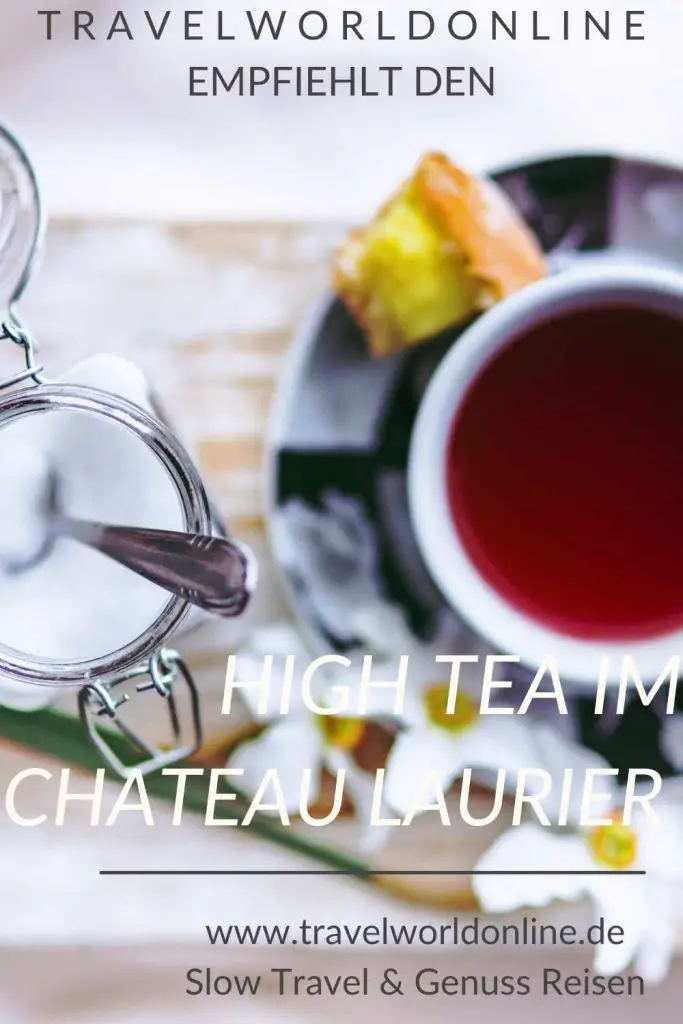 Do you also know:
Find more Tips for connoisseurs and Restaurant recommendations can be found here.
Source: own research on site. We also thank the Fairmont Chateau Laurier for the invitation. Our opinion, however, remains our own.
Text: © Copyright Monika Fuchs and TravelWorldOnline
Photos © Copyright MonikaFuchs as well as TravelWorldOnline and Canva
Tea Time at Chateau Laurier in Ottawa