Camper pitches Germany
We have clarified where it is allowed in Germany to spend the night with the motorhome. Where are there RV pitches in Germanythat are inexpensive? Who offers private parking spaces for motorhomes in Germany? Where are parking spaces for the motorhome in Germany in places that are worthwhile?
Camping and parking space guide for motorhome parking spaces in Germany
You will also need camping and parking space guides in book form. These pitch guides and camping guides will help you find them.
Parking spaces for motorhomes in Germany with private providers
We think these private parking spaces for motorhomes in Germany are nice because you don't just stand on the side of the road or in places on the outskirts. Many offer experiences in addition to a parking space. These are interesting for connoisseurs.
Country experience - motorhome parking spaces in Germany
So you can spend the night on farms with your mobile home. What could be better than standing in the middle of the action with your motorhome. This parking space guide presents 150 farms in Germany. Make sure that the parking spaces are located directly on the farm or very close by. Therefore, these pitches are suitable for families with children and everyone who wants to get to know country life.
GPS data, prices, leisure activities, excursions, equipment of the parking spaces and more can also be found in this parking space guide.
You can order *
---
Beer experience - motorhome parking spaces in Germany
Motorhome parking spaces from private providers in Germany are not only available at farms. Breweries either offer a parking space themselves, or there are parking spaces nearby. You can find these in this parking space guide. It not only provides address and contact details, but everything you need to know for a beer tasting holiday. You can plan your trip with information about beer tours, tastings and beer seminars. This enables a beer experience with the motorhome.
The trade magazine REISEMOBIL INTERNATIONAL has collected 170 parking spaces on which you can organize a beer adventure holiday with the motorhome. This either contains information about the distance to a motorhome parking space in the vicinity. Or the breweries that offer parking spaces are marked.
You can find the parking guide for beer lovers here order *.
---
Motorhome parking spaces Germany on apps
If you only travel in Germany and have a mobile phone, you can definitely download the camping and parking space guide to your mobile phone.
You can find RV parking spaces in Germany via the app store on your mobile phone and here:
RV sites Germany via Google search
You can also use Google to find search engines and lists of motorhome parking spaces in Germany. They have one thing in common. None of them list all RV sites. For this reason, we also used Google to search for motorhome parking spaces in the towns on our route. We have found pitches or campsites that are not listed in the pitch guides. It is worth looking out for parking spaces at your destination.
Motorhome parking spaces Germany in Molls travel forum
A source for motorhome parking spaces in Germany, but especially for questions about motorhome trips Moll's Travel Forum. We asked questions and got answers. It is worth taking a look at this travel forum. There are also motorhome groups on Facebook where you can get tips.
Travel bloggers recommend RV parks in Germany
We asked around among travel bloggers who are out and about in their motorhomes. They present their favorites among the motorhome parking spaces in Germany: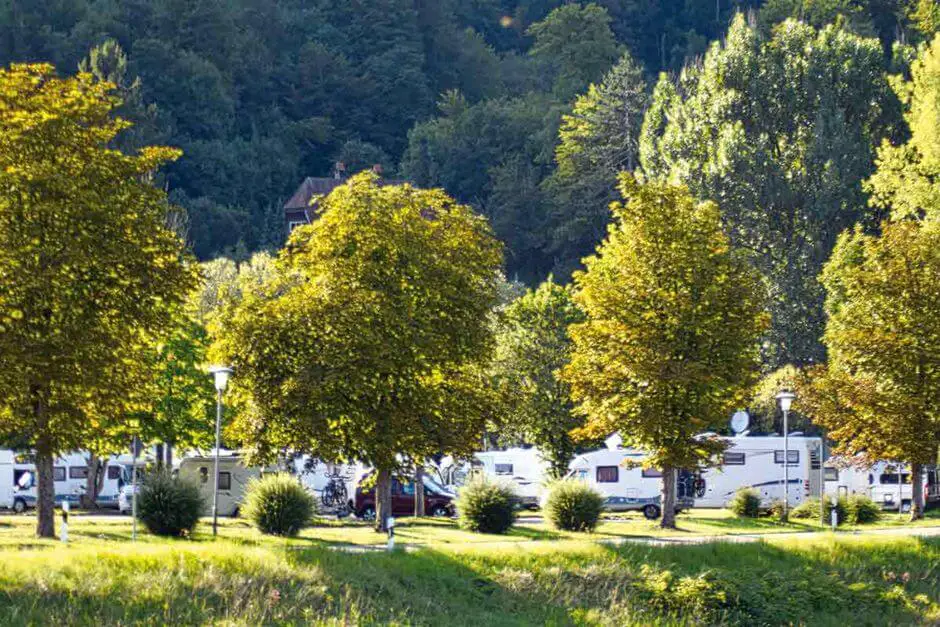 Motorhome parking spaces Germany in Beuron
Surrounded by the rocks of the Danube Valley, the motorhome parking space in Beuron is close to nature. But it is not just the nature on the banks of the Danube that distinguishes him. Here you can spend days hiking, cycling, climbing or canoeing. At the same time, there is a lot on offer for culture lovers. The Benedictine monastery of St. Martin, which invites you to worship, is within sight. Ideal for early risers, because Laudes begins at five o'clock.
The St. Maurus Chapel, two kilometers downstream, is also worth seeing. It is considered the cradle of the Beuron art school, which the monks developed from 1870 onwards. The Haus der Natur with its exhibition on the nature park also creates a connection between nature and culture. The gastronomy is regional and close to nature, on site as well as in the Jägerhaus, which is 3 km away, or on the Knopfmacherfelsen. There is a barbecue area right on the pitch. Or you can hike on the long-distance routes and circular hiking trails of the Southwest Alb. Beuron is also ideal for cyclists. There are not only bike routes, but also a bike dealer with a workshop and extras. If you miss the city, you can reach Sigmaringen or Tuttlingen after a 20-minute train ride.
Stefan Blanz is a journalist, web designer and father of two children. On tourstory.de he reports on recreational vehicles as well as culture and cuisine.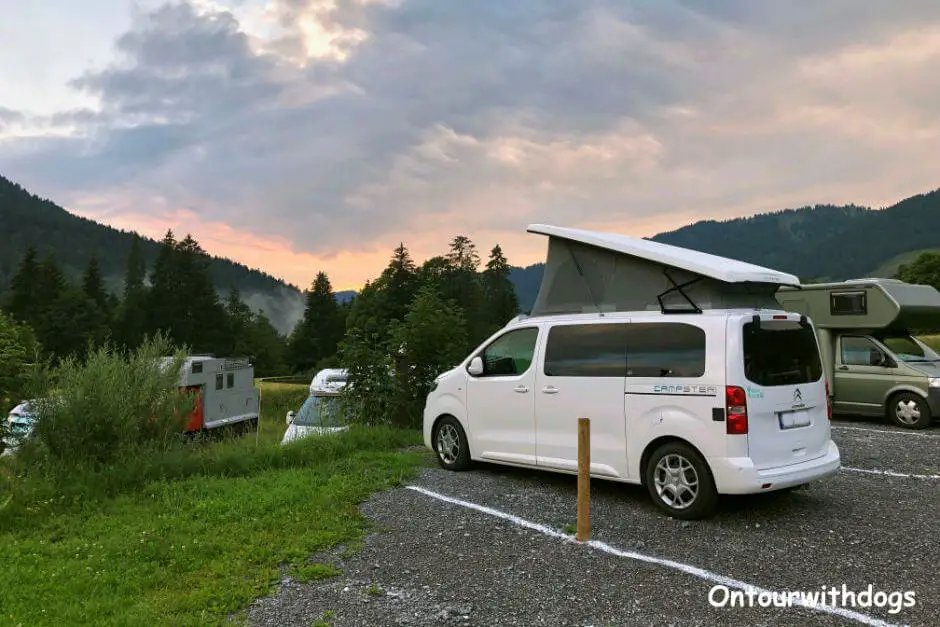 Motorhome pitches Germany - Alpengasthof Schwabenhof
One of my favorite places in Germany is the Alpengasthof Schwabenhof im Allgäu in Bavaria. Here you stand on terraces in the middle of the Alps and have a view of the mountains from every seat. In summer the place is the starting point for hikes and the ringing of the cowbells wakes you up. You can ski here in winter.
In addition to its location, what is special about this mobile home site is that it is right next to the Alpengasthof. There you can get food and even a breakfast buffet.
Equipment and prices:
Supply and disposal, including chemical toilet
Parking space, depending on the season and vehicle length, 12-19 euros
Electricity 4 euros per day
30 cents garbage fee per day
Shower 50 cents for 5 minutes
plus 1,20 euros tourist tax
WLAN in the inn free of charge
Sina is out and about in the Bulli with her dogs Jamy and Iria. She reports on vacation, camping and hiking with a dog on her blog Ontourwithdogs.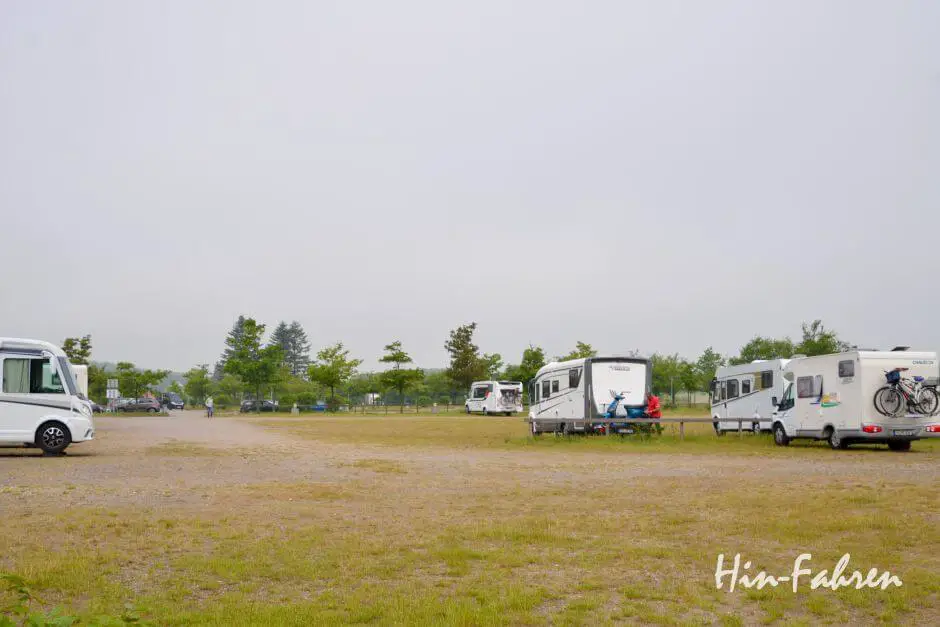 Motorhome parking spaces Germany - Rügen / Königsstuhl
In this national park is the Königsstuhl with a height of 118 meters. The prominence of the chalk cliffs on Rügen is the symbol of the Baltic Sea island. Access is only possible on foot. From the parking lot in Hagen, which also functions as a motorhome parking space, a 3-kilometer path leads through the forest to the national park center and the viewing platform above the Königsstuhl. Shuttle buses run as an alternative. Campers stand in an area between meadow and forest. Even if you don't find a place to stay overnight on Rügen, you will usually still find a corner here where you can spend the night in peace. It's not that bad for an overnight stay. If you like to eat game, you should stop in the "Försterei" opposite, fantastic.
Motorhome parking space: parking lot to the Königsstuhl
Stubbenkammerstrasse 57
18551 Lohme / Hagen
Phone +49 383 02/94 12
year-round
GPS: 54.562249, 13.626004
Supply and disposal
Current
WC
Shower
Katja is a journalist and traveler with a panel van camper. On Hin-Fahren.de she gives tips on travel destinations and tours - between southern Spain and the North Cape - and all about camping and motorhomes.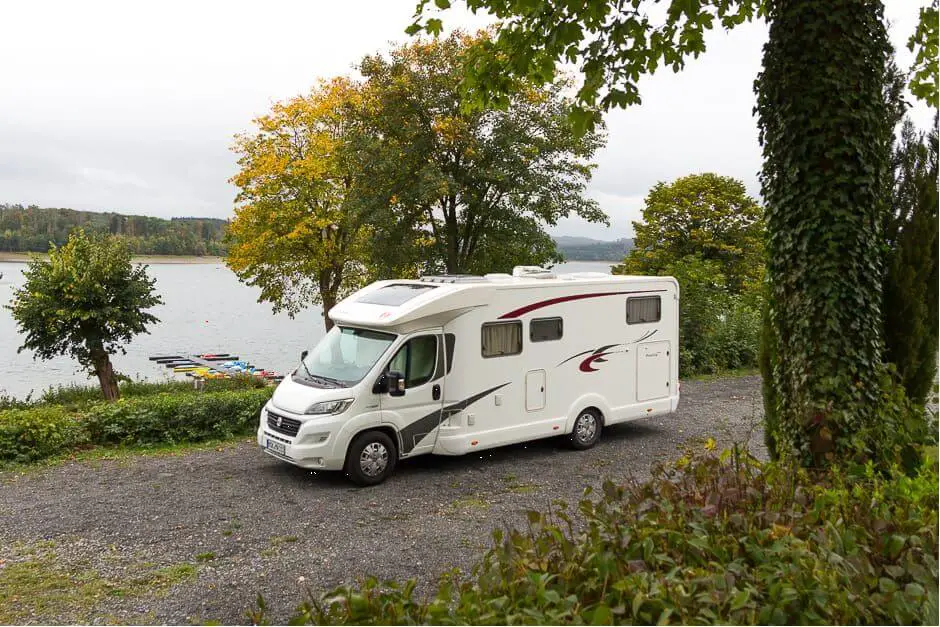 Motorhome pitches Germany - Delecke
The Delecke motorhome parking space is laid out on terraces. It is located on the north bank of the Möhneseesee and offers views of the water. The lake is one of the lakes in the Sauerland and is located in the Soest district in North Rhine-Westphalia. The parking space offers around 60 parking spaces for mobile homes. Access for mobile homes is only possible in the uppermost area, for mobile homes not at all.
In addition to a self-check, which is monitored by a camera, the Delecke motorhome parking space offers sanitary facilities for overnight guests free of charge including showers, the option of supply and disposal as well as electricity. WiFi is not available.
Right next to the parking space there is a playground, a lawn for sunbathing and, in summer, a pedal boat rental. Above the square there is the Pier 20 restaurant. The lido and the yacht club are also nearby. Restaurants and the landing stage of the MS Möhnesee are within walking distance. There are all around the Möhnesee Excursion possibilities.
Tanja writes on her travel and camping blog about traveling in Germany, Europe and the world. She prefers to travel with her daughter and in a mobile home.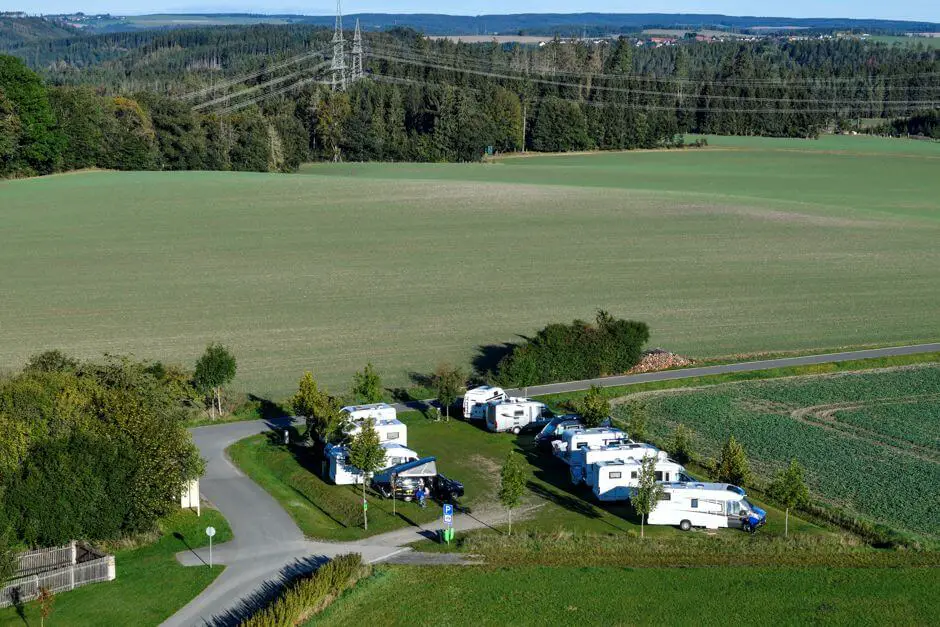 Motorhome parking spaces in Germany - in Burgk
The Saale-Orla district in Thuringia is a travel destination that is worthwhile. At Ziegenrück the Saale river meanders through a valley. The forests on the banks of the Bleilochtalsperre are ideal for hiking. Railway tunnels and bridge structures offer opportunities for excursions.
In Burgk, a place with a few houses and a castle complex in the middle of the Thuringian Slate Mountains Nature Park, there is a motorhome parking space. It is located right next to the Saaleturm at the end of a cul-de-sac above a hiking car park. There is space for around 12 campers here for the night. The parking space is free. The service includes a toilet in the hall tower, which is about 300 m away. There are also power pillars. A kilowatt hour of electricity costs 50 cents, as does the use of the toilet. However, one looks in vain for supply and disposal.
Because the federal autobahn 9 exit Schleiz is not far, it is also worth stopping here if you are traveling through to the south or north. The site is popular with campers because of its location. We recommend the ascent to the Saale tower with a panoramic view of the slate mountains, a visit to the castle complex from the 14th century and a hike to the Koberfelsen.
Address:
Local road 1
07907 Burgk
Germany
Nicole and Jörg from the blog missesundmister.com are out and about in the country with their ambulance, Ellie, discovering destinations and places to stay overnight.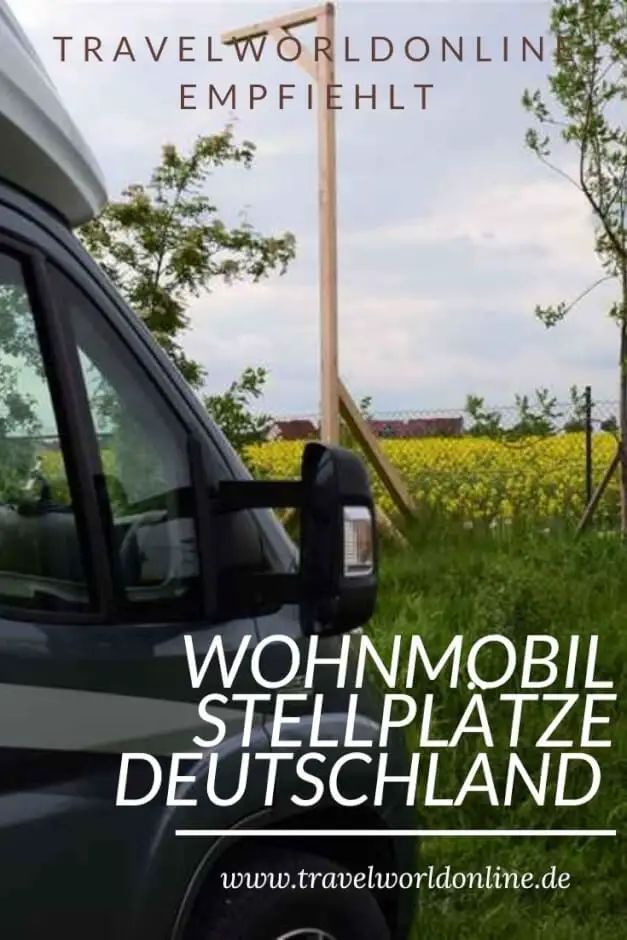 Do you already know:
---
Source motorhome parking spaces Germany: Research
Text: © Copyright Monika Fuchs and the travel blogger
Photos: © Copyright Monika Fuchs as well as Amazon and the travel bloggers