In Aachen, tradition meets modernity, and that makes Aachen a perfect destination for RV travelers. From the cathedral, which is a UNESCO World Heritage Site, to the warm thermal springs, Aachen offers many discoveries. The city is also the ideal starting point for exploring the Meuse-Rhine Euregion. With RV and campsites*, ranging from the city center to the idyllic surroundings, you will surely find the perfect place for your stay. Get ready to discover Aachen and its treasures with your motorhome! Your Aachen campsite is guaranteed to be one of our campsites.
The ultimate camping guide for Aachen
Are you looking for an adventure that takes you away from the hustle and bustle of everyday life? Then camping might just be the thing for you! And where could you go for a better camping trip than in the beautiful city of Aachen? Located in the western part of Germany, Aachen is a city of beauty and rich history. With its beautiful landscapes, forests and lakes in the area, Aachen makes an ideal destination for camping fans. But where to start?
Don't worry, we have everything for you! In this campsite guide we take you on a journey to the best campsites in and around Aachen, from hidden gems to well-known spots. Whether you are an experienced camper or a newcomer, we will provide you with all the important information you need to make your camping trip to Aachen a success. So grab your camper or tent, pack your bags and let's go!
The right choice of campsite in Aachen
Choosing the right campsite is an important factor in a successful camping trip. There are many options to choose from in Aachen, from basic campsites to luxurious options.
Overview of campsites in and around Aachen
Aachen offers a variety of campsites that have different advantages. Whether you want to camp right in the city or prefer to enjoy nature in the surrounding area, there is something for every taste. Some places offer an impressive view, others convince with their proximity to sights or leisure activities. To give you an overview, we have put together a detailed list with a description of the various campsites in Aachen. You can also find a map here*, which will help you locate the locations of campsites in Aachen. So you can choose the ideal place for your stay.
If you are looking for a simple but beautiful campsite, this is it Campsite Hoeve de Gastmolen* in the border triangle near Vaals is a great option. It is located in the Netherlands near the border with Germany and offers a quiet and relaxing environment.
However, if you're looking for another option, it might Campsite Boerderijcamping Schrouff* be an option. It offers beautiful surroundings, surrounded by forests and meadows. Both campsites are between five and seven kilometers from Aachen.
Parking space in Bad Aachen
In Aachen itself there is only this possibility to spend the night with your mobile home. What I like here is that you are in an allotment garden. In addition, the campsite in Bad Aachen is only 2,3 km from the city center. With its paved pitches, a family bathroom (also for the disabled) and a heated sanitary building, this site offers all the comfort you need. In addition, each pitch has water and electricity connections. The practical "CamperClean" station takes care of disposal.
In the morning, a roll and baked goods service with newspapers awaits you, while the free WiFi and the information board with tourist information will enrich your stay. For leisure activities, the site offers a small meadow with a barbecue, a wooden pavilion and an e-bike rental station. Your dog is also welcome and can go for a walk in the nearby Gillesbachtal. The 1,2 hectare, fenced-in course is located in the Gillesbachtal and is accessible around the clock.
Address:
Branderhofer way 11
52066 Aachen
Checklist for camping equipment in Aachen
The right equipment is the key to a successful camping trip in Aachen. For example, a good checklist should include:
Also use our motorhome packing list, where you can find everything you need to equip your motorhome.
Tips for a camping trip in Aachen
In order to get the most out of your camping trip in Aachen, you should definitely keep a few tips in mind. Here are some that can help you enjoy your stay at a campsite in Aachen:
Plan ahead and reserve your campsite early to avoid disappointment.
Bring enough food and water to ensure you are adequately supplied during your stay.
Keep your campsite clean and tidy to protect the environment and ensure other campers have a pleasant experience too.
Respect nature and follow the rules of the campsite.
Familiarize yourself with the area and plan your activities in advance.
Be prepared for changeable weather and bring appropriate clothing and gear.
Explore the beauty of Aachen with hiking, biking and more
One of the best ways to enjoy Aachen's natural beauty is through hiking and biking. The Aachen campsites are well suited for this. There are many hiking and cycling trails in Aachen and the surrounding area that are suitable for all levels of difficulty. The Eifel National Park is a must for nature lovers and offers a range of hiking trails that will take you through forests, valleys and rivers. The Vennbahn cycle path is another great option for cyclists, offering stunning scenery and interesting sights along the way. If you want to ride a bike on your camping trip in the area around Aachen, then it's also worth to bring an e-Bike.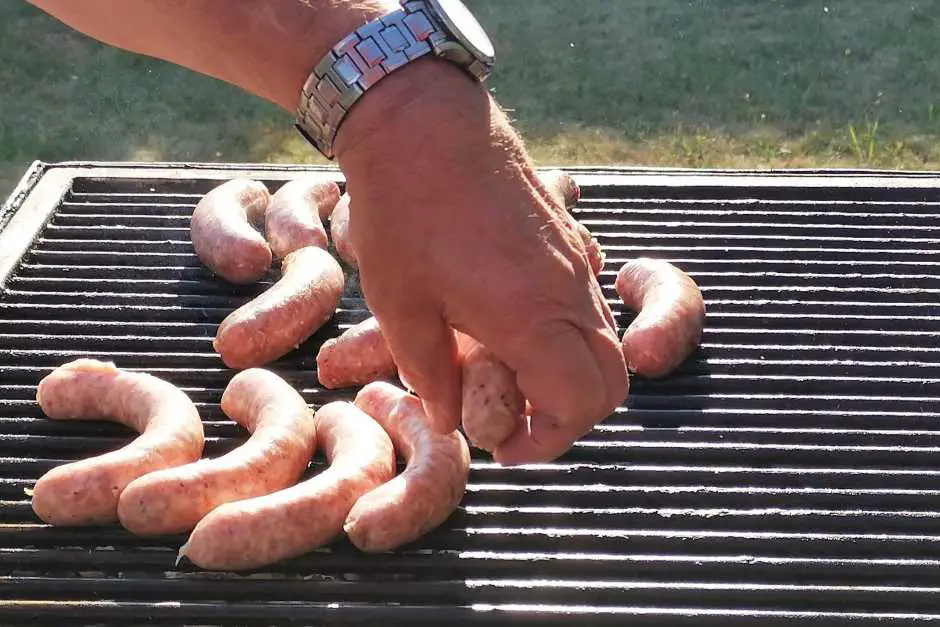 The best campfire recipes for a stay at an Aachen campsite
A campfire is an important part of the camping experience, and eating around the campfire can be an unforgettable experience. Here are some great campfire recipes to try at your Aachen campsite:
What do you think of stews from the Dutch Oven? You can prepare them over a campfire. Alternatively these BBQ recipes are perfect for an RV trip. You can prepare them well over a small gas grill or roast your meat over a portable grill.
Fun activities for families when camping in Aachen
Camping in Aachen can also be a great experience for families. For example, here are some activities that you can enjoy with your children from a campsite in Aachen:
Visit the Aachen Zoo and look at the animals.
Visit the Grube Wohlfahrt and learn more about the history of mining in Aachen.
A trip to nearby places is also worthwhile. Monschau is well worth a visit with its beautiful half-timbered buildings.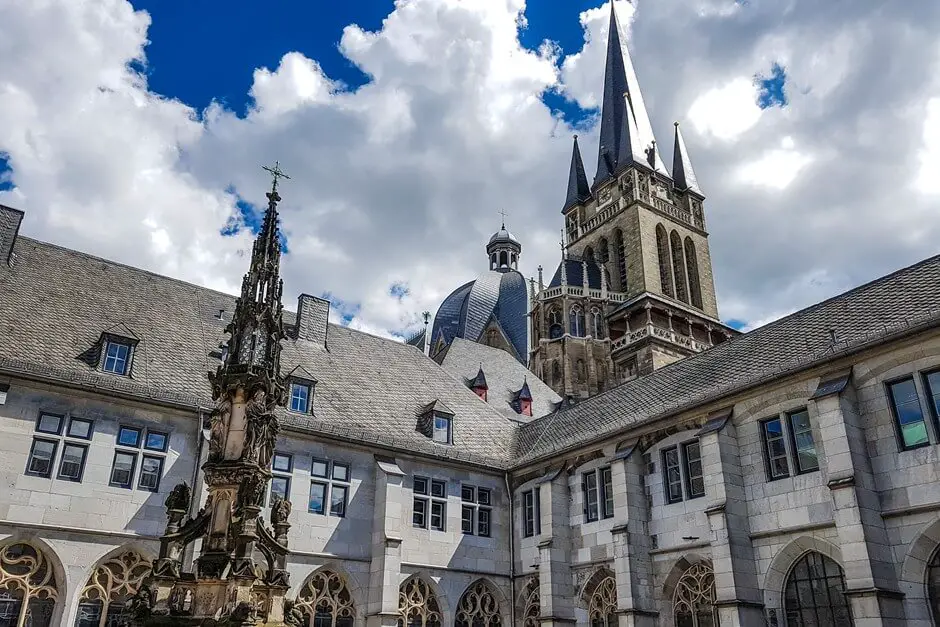 Explore the culture and history of Aachen - museums, a cathedral and more
Aachen has a rich history and culture to be discovered. Here are some places you should definitely visit. First, the Aachen City Hall, a UNESCO World Heritage Site. Then there is the Aachen Cathedral, an impressive church dedicated to Charlemagne. Also the Center Charlemagne, a museum that tells the story of Aachen and Charlemagne. You can find these and other tips for a visit to Aachen in our Aachen Guide. The best part is that you can easily visit these places from your Aachen campsite.
Safety tips for camping in Aachen
Camping can be a safe and enjoyable way to spend time in nature, but it's important to take some safety precautions. So here are tips that can help you stay safe at your Aachen campsite:
In any case, make sure you always have a flashlight and batteries with you.
Keep your camping gear clean and tidy to reduce the risk of accidents.
Be prepared for unpredictable weather conditions and bring appropriate clothing and gear.
Make sure you follow all campsite rules and respect nature.
Summary of a stay at an Aachen campsite
Aachen is a beautiful city with many opportunities for camping and exploring. First, it offers a chance to explore the natural beauty of the area. In addition, you can discover the rich history and culture of the city. Whether nature lover or culture enthusiast, there is something to do for everyone. With these tips and tricks you can also ensure that your camping trip to Aachen will be an unforgettable experience. So pack your bags, prepare yourself and get ready for an exciting camping trip to Aachen!
Questions and answers about an Aachen campsite
Are there several campsites in Aachen to choose from?
Yes, there are several campsites in and around Aachen that you can choose from.
Which campsites in Aachen are particularly recommended?
One of the recommended campsites in Aachen is the campsite in Bad Aachen, which is only 2,3 km from the city center.
Can I park my caravan at the campsites in Aachen?
Yes, on the campsites in Aachen there are usually special pitches for caravans with water and electricity connections. However, check the details of each campsite for precise information.
Do the campsites in Aachen offer Wi-Fi access?
Yes, many campsites in Aachen provide their guests with free WiFi so that you can stay online during your stay. Here, too, it is important to check the information provided by the respective campsite.
Are dogs allowed on the campsites in Aachen?
Yes, dogs are generally allowed on the campsites in Aachen. However, it is advisable to check the specific regulations of the campsite in question beforehand.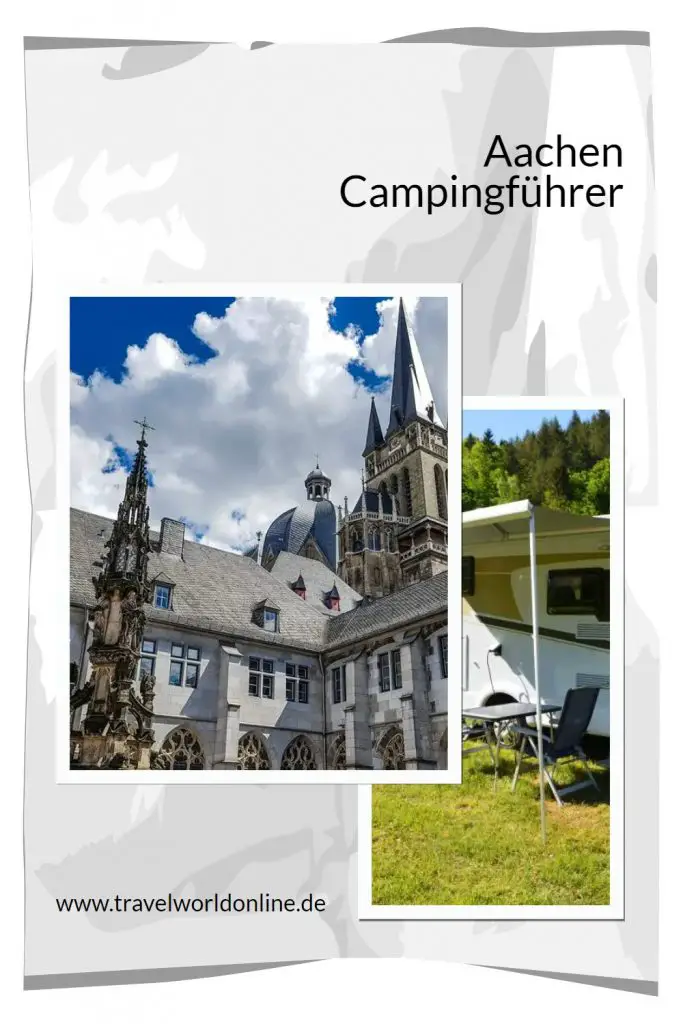 Do you also know:
Source: own research on site. In any case, our opinion remains our own.
Text: © Copyright Monika Fuchs and TravelWorldOnline
Photos: © Copyright Monika Fuchs as well as TravelWorldOnline and Pixabay, Reipen
The ultimate camping guide for Aachen