The Best California Beaches for a Beach Vacation in California
Are you in the mood for a California beach vacation? However, finding the best California beaches for a vacation in California is not that easy. The most beautiful beaches in California line up between Santa Barbara and San Diego along the Pacific coast from north to south. These are among the most beautiful beaches on the west coast of the USA.
West Coast Beaches for swimming are beaches in California - but not all
Which West Coast Beaches are best for a beach vacation in California? That depends on whether you prefer to go on beach hikes or bathing holidays. Not all beaches on the West Coast are suitable for swimming. This is due to the cold ocean currents that flow past part of the California coast. 
Beautiful beaches in California's coastal cities
Here are some beautiful beaches you can visit in California's coastal cities.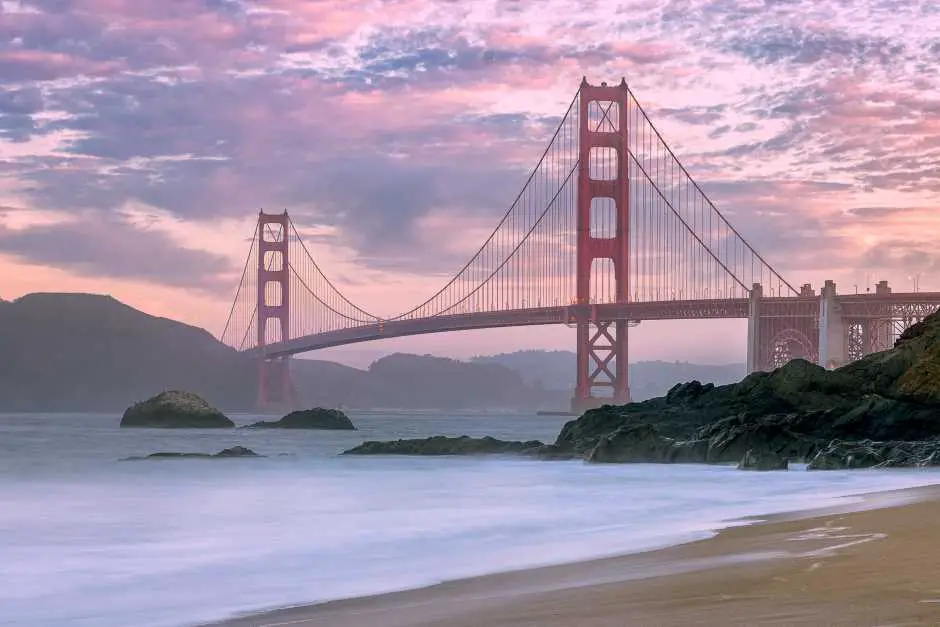 The best beaches near San Francisco
Because of the cold ocean currents, the best beaches near San Francisco are only for beach walkers. However, they will find a paradise here with beaches that never seem to end. If you like hiking along wide sandy beaches, you will find exactly what you are looking for south of the Presidio.
One of the most beautiful beaches in the world - the Baker Beach near San Francisco
It is perhaps one of the most beautiful beaches in the world: Baker Beach. However, it is not, because you can swim well there, because this is not possible here. The water is way too cold for that. The magnificent view of the Golden Gate Bridge more than makes up for this shortcoming. Baker Beach is worth a visit for the views of the Golden Gate Bridge. It is best for you to take it picnic with and enjoy the view.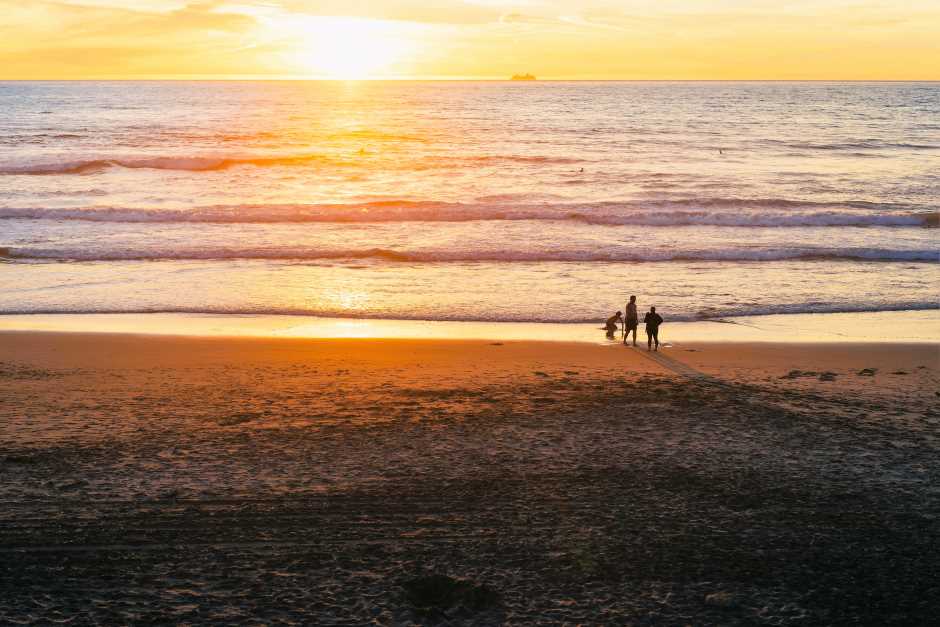 Beautiful beaches on the Pacific - the Ocean Beach near San Francisco
A little further south, Ocean Beach stretches seemingly endlessly along the west coast of San Francisco. It borders Golden Gate Park, the Richmond District and the Sunset District. Here you can take long walks on the beach. However, the water is too cold for swimming.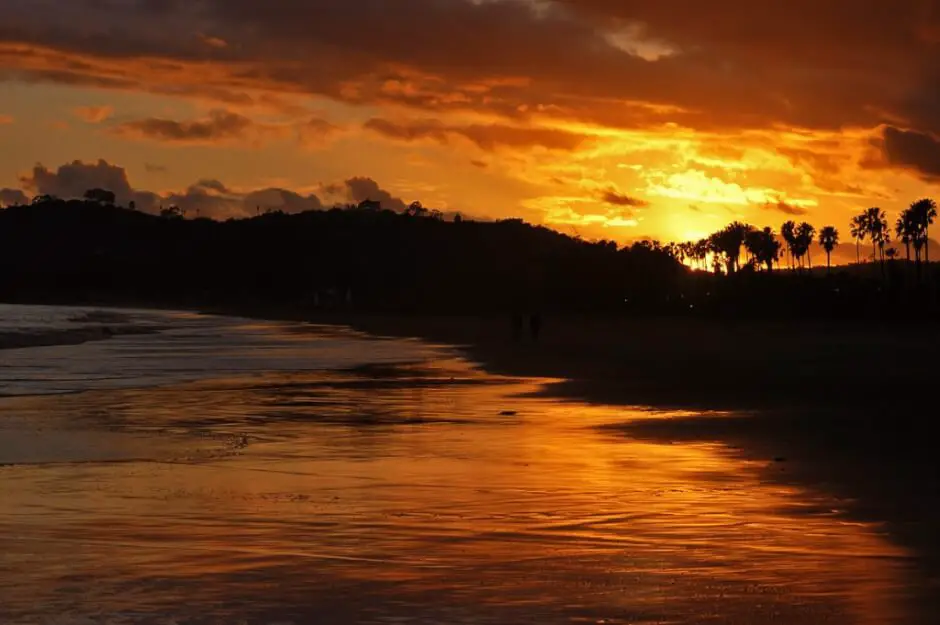 Best Beaches in Southern California
If you want to combine your visit to the beach with a swim, then this is only possible in southern California. Only there is the water warm enough for a swim in the Pacific to be fun. But which is the best beach in Southern California? The question is not that easy to answer, as the answer depends on how you want your beach vacation to go. Do you prefer swimming or surfing? Can the beach be a little crowded? Or do you prefer a natural coastal region? Therefore, we introduce you to the beaches in Southern California here.
Where is the warmest beach in California?
You can assume that the sea water is only warm enough south of Santa Barbara for comfortable swimming in the sea. The further south you go, the warmer the water temperatures. 
Beautiful Beaches for a Beach Vacation in California
Because the water off the California coast north of Santa Barbara is too cold for swimming due to cold sea currents, you can only count on bathing possibilities in and south of Santa Barbara with its East Beach. To the north you can see the Santa Ynez Mountains, to the south is Stearns Wharf with its yachts. Santa Barbara also averages nearly 300 days of sunshine. And those who come on Saturday can also browse the offerings from nearly 250 artists exhibiting at the Santa Barbara Arts & Crafts Show.
Discover, what to do in Santa Barbara*.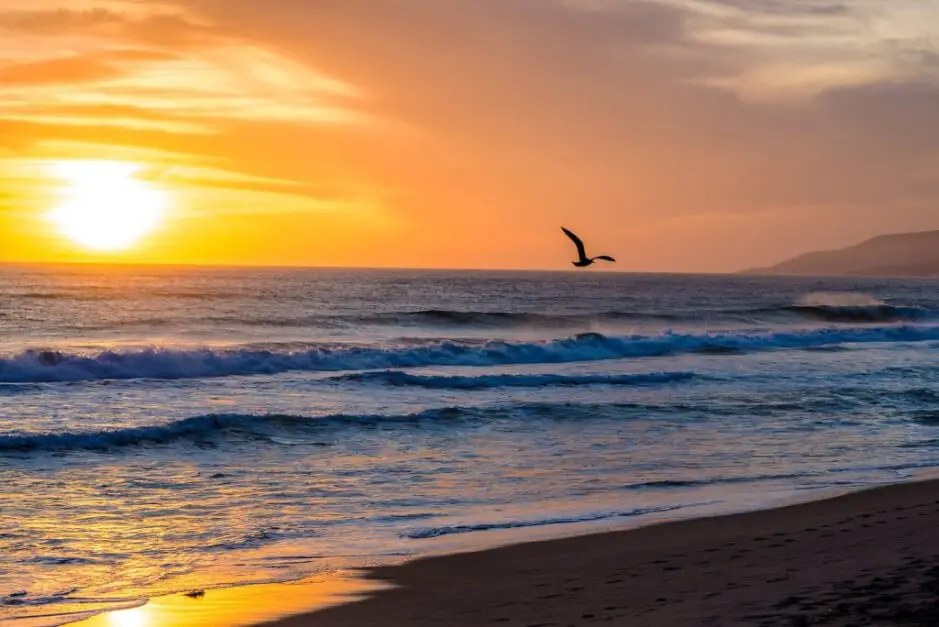 Zuma Beach - a vacation in California at Malibu
Approaching Malibu on Highway 101, be sure to look out for a line of cars tightly parked along the Pacific Coast Highway. This indicates that you are approaching Zuma Beach. If you see an empty parking space here, take it. Or pay the parking fee for the large parking lot. This beach is also a great place to relax - just bring a towel, bathing suit and time and while away the day at the beach. 
What you should definitely pack for your California beach vacation: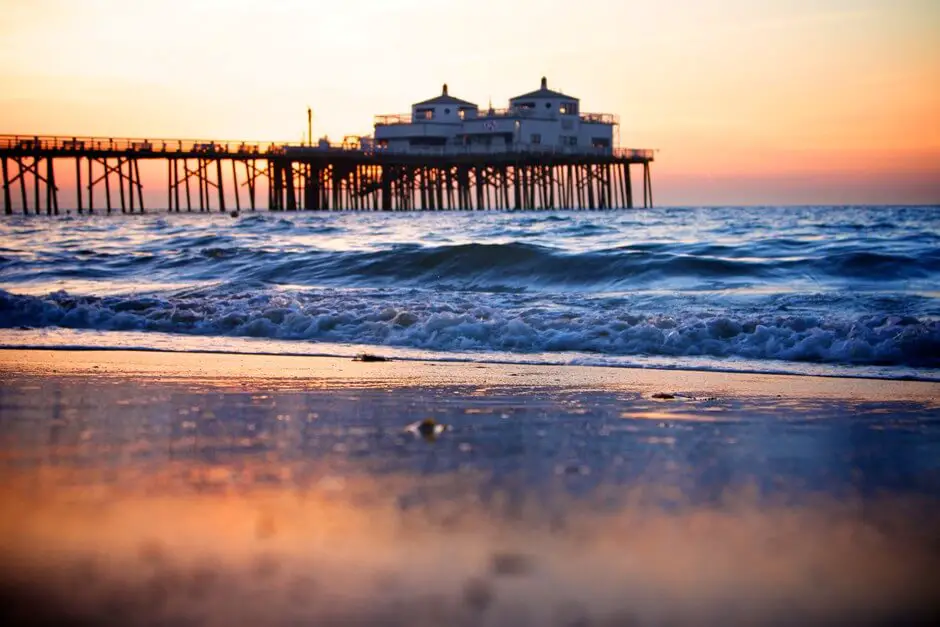 The best beach in Los Angeles
Los Angeles beaches line the Pacific Coast in suburbs stretching from Malibu far south, the perfect place to start California road trip. However, the "Best Beaches in California" are not directly in the catchment area of ​​Los Angeles. Due to the vastness of the MegaCity Los Angeles, it is not always easy to reach these beaches. Therefore, these offer Offers that you can book through our partner Get your Guide*, a practical solution. And of course there are also great activities on these beaches.
Malibu - California Vacation Tips for Beach Holidays
Parking on the Pacific Coast Highway is not allowed here. Instead, Geoffrey's Malibu even has valet parking. Don't miss seeing the beach beauties sipping cocktails at the Bussiparade. The best beach in Los Angeles is Malibu if you want to experience Californian beach life.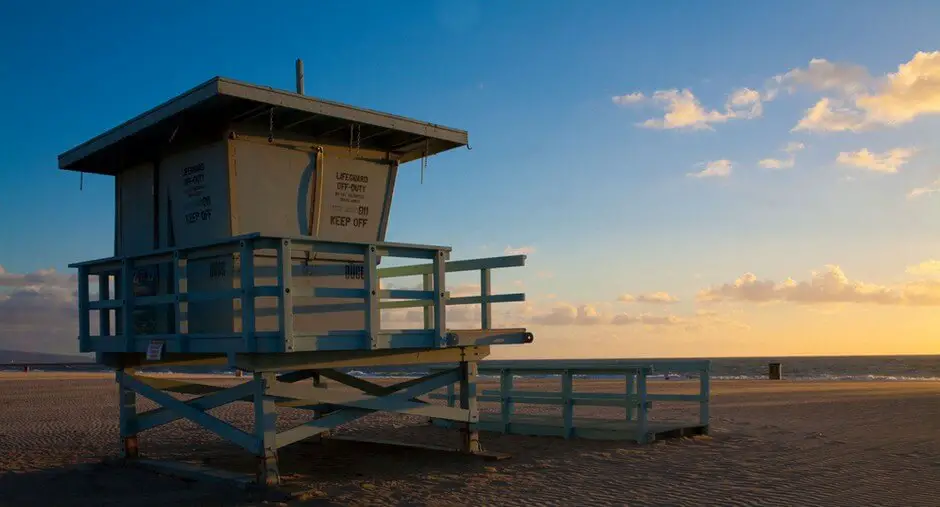 Venice Beach Hotels California are located on a famous beach in California
A well-known beach in California is Venice Beach. The beach community in Venice Beach is very different. Muscle men vie for the attention of sporty beach mermaids. Muscle Beach has been famous since Arnold Schwarzenegger flexed his muscles here. Dropouts also enjoy life on the beach. You need stamina to get behind the hustle and bustle on the promenade to the actual beach. 
Discover, what to do in Venice Beach*.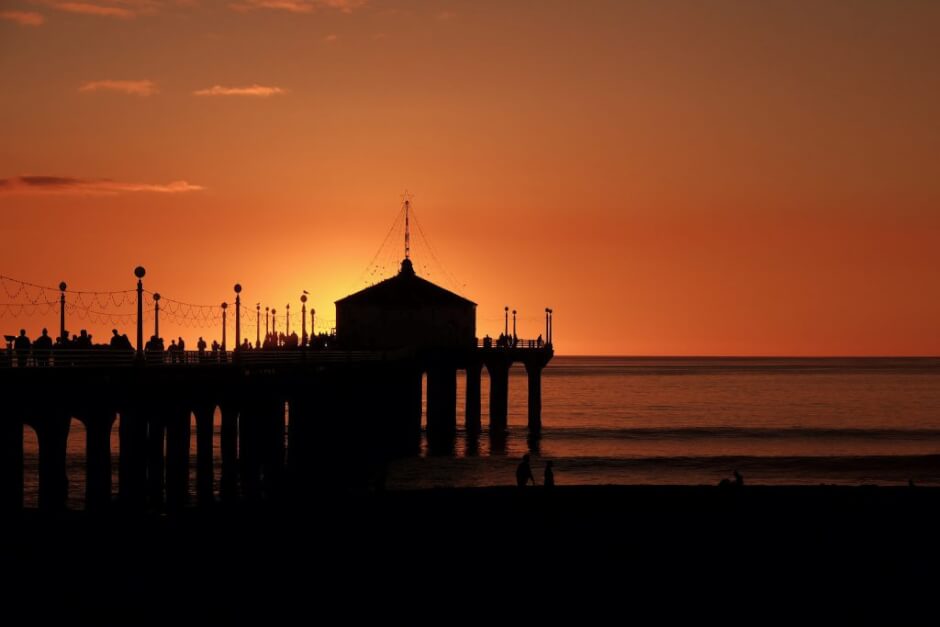 Manhattan Beach - glamorous vacation in California
Manhattan Beach feels like stepping into one of those glossy magazines that promote life on the shore. Manhattan Beach is easily one of the most stylish beaches in Southern California, with its bougainvillea-covered fences, groomed children playing on the beach, and cottages on the hillside behind the beach. 
Excursions to Manhattan Beach*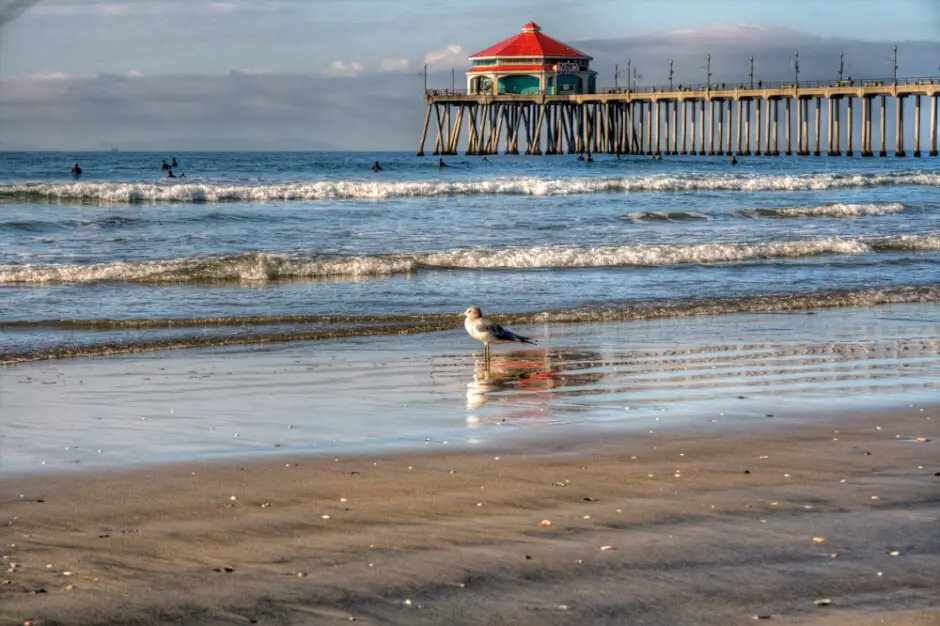 Cabrillo Beach - perfect for a California beach vacation with kids
Before San Pedro you can find Cabrillo Beach. Cabrillo Beach consists of two beaches. One is protected behind the breakwater. This beach is suitable for families with children. On the pier you can cast your fishing rod or just go to the end to get another view of the beach. In a park on the coast is the Cabrillo Marine Aquarium.
The second beach is outside the breakwater and exposed to the surf. This beach is a true paradise for those who enjoy tide pooling. What is tide pooling? Very easily. Ponds form in the steep cliffs on this coast, where marine life is stranded at low tide. With a bit of luck you will find starfish, sea anemones, crabs, mussels and other animals that otherwise feel comfortable in the water. When the next tide comes, it sweeps the animals back into the sea. It's fun to look around the tide pools for washed-up sea creatures. You just have to be careful. Because the surf on this coast is unpredictable and wild.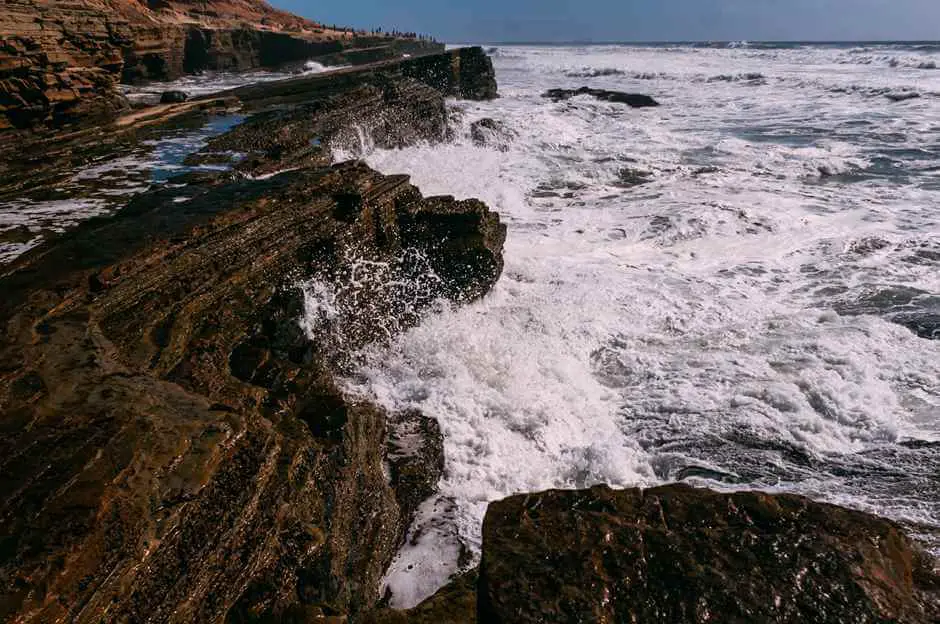 California beach vacation at Huntington
Surfin 'USA - that's happening at Huntington Beach. In any case, the city is considered one of the centers of surfing. No wonder that you keep walking past surf shops in town. There is even a statue dedicated to the surfer Duke Kahanamoku dedicated to one of America's most famous surfers. However, the view of the ocean is marred by offshore oil rigs. 
What to do in Huntington Beach*. Discover the 10 best beaches for surfers in California here.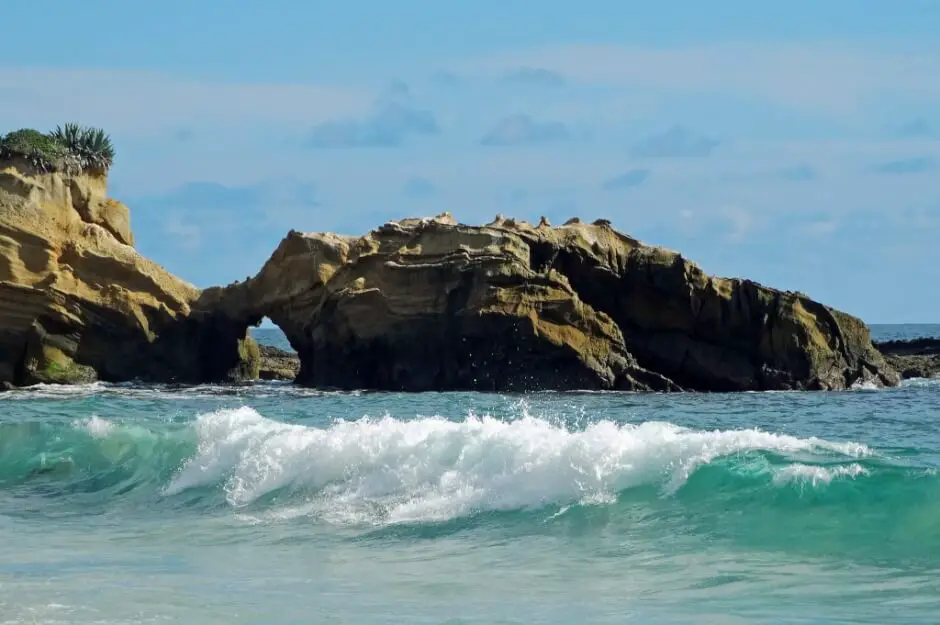 Laguna Beach California USA - one of the most beautiful beaches in California
It's more natural in Laguna Beach. One of the prettiest stretches of beach in this town is definitely Heisler Park, with its bougainvillea-lined walkways and rocky outcrops that reach into the sea.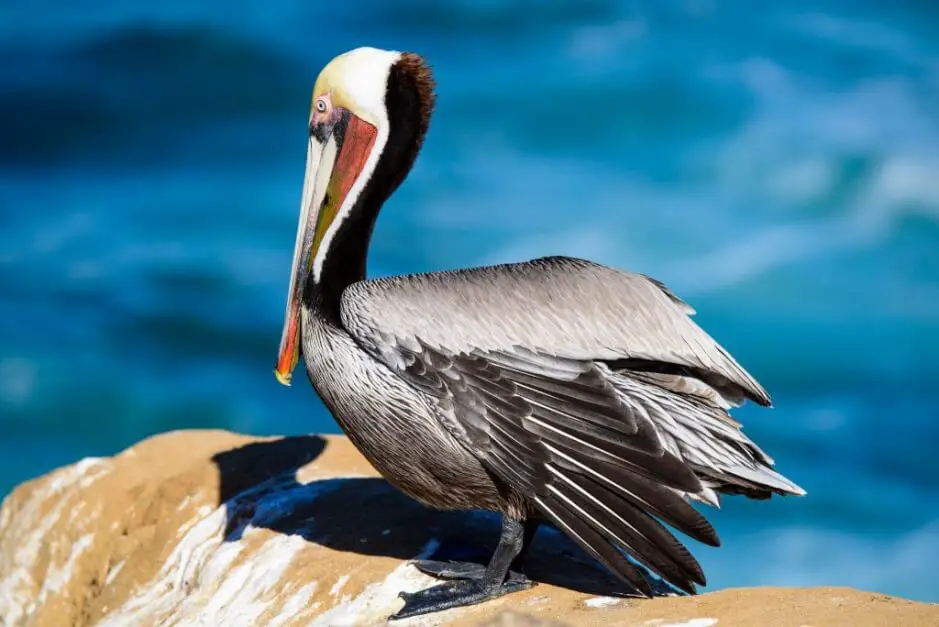 Enjoy a California beach vacation at San Diego
La Jolla Cove - one of the most beautiful beaches in California
La Jolla is where you live if you are part of the affluent segment of the San Diego population. But it's also a place for families with kids who enjoy exploring the sea caves, looking for starfish in the tide pools, or climbing the cliffs that border downtown.
Discover, what to do in La Jolla Cove*.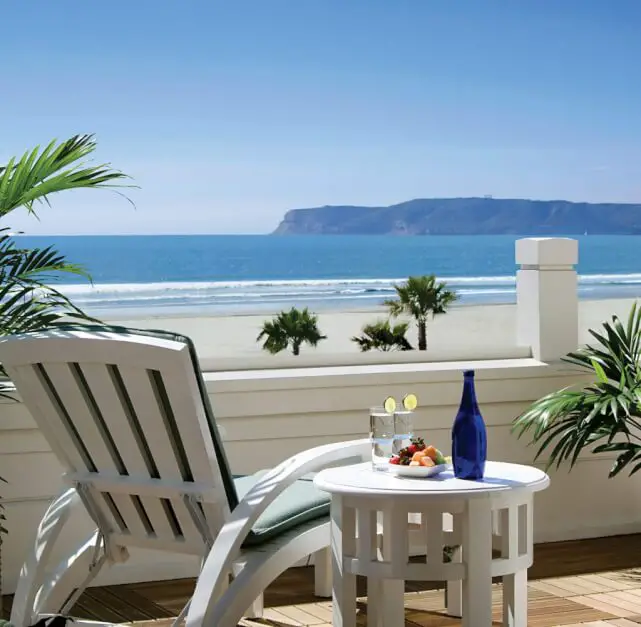 California beach vacation at San Diego
San Diego has a number of beautiful beaches that are worth visiting. One not to be missed is San Diego's Coronado Beach with its beachfront hotel, the Hotel Del Coronado. The charm that this five-star hotel radiates also gives the Pacific beach in front of it a very special appeal. However, military planes fly over the beach at irregular intervals when approaching the nearby military base. Special San Diego hotel tips * can be found under this link. Do you want the beaches of San Diego with kids * experience? Use this link to find hotels with family rooms near the beach. 
Discover, what to do on San Diego Beach*. 
Frequently Asked Questions
Where can I find the best beaches in California?
The most beautiful beaches in California are between Santa Barbara and San Diego.
Where can I find Venice Beach hotels for a California beach vacation?
Which San Diego hotel is located on Pacific Beach?
---
Travel Arrangements:
How to travel to your beach holiday California
Arrival by plane, bus or train*. Lufthansa, United and others will follow San Francisco and Los Angeles.
Car hire for your trip to the best beaches in California:
Cheap rental cars - book here! *
Are you looking for another beach hotel California?
Here you can book your Beach Hotel California *. Click on the map view. You can find a good selection of hotels in California* via this link.
Travel Guides
Find your Travel Guide for California * on Amazon.de.
Find more Slow Travel Tips under this link. Do you already know the most beautiful beaches in Canada?
Do you like to travel to your California beach vacation with your motorhome?
Do you already know: 
Source Holidays in California: Research on site. The article contains affiliate links.
Text beach vacation in California : © Copyright Monika Fuchs, TravelWorldOnline
Photos: © Copyright see photo and Wikimedia Commons public domain
The Best California Beaches