Romantic dinner in Cupids Newfoundland

All I knew about the small town of Cupids on the east coast of Newfoundland before our arrival was that it was the town in Canada that has been inhabited by Europeans for the longest time. Much more could not be found out about this stage destination of our Newfoundland trip. "All right," I thought. "It is certainly one of those places where the fishing and fish processing industry still set the tone today," and I didn't give it any further thought. What I least expected there, however, was that we would experience the most romantic dinner of our trip in Cupids. Even the name of the restaurant suggests that fish plays the main role: Skipper Ben's is located directly on the port bay of Cupids on Seaforest Drive.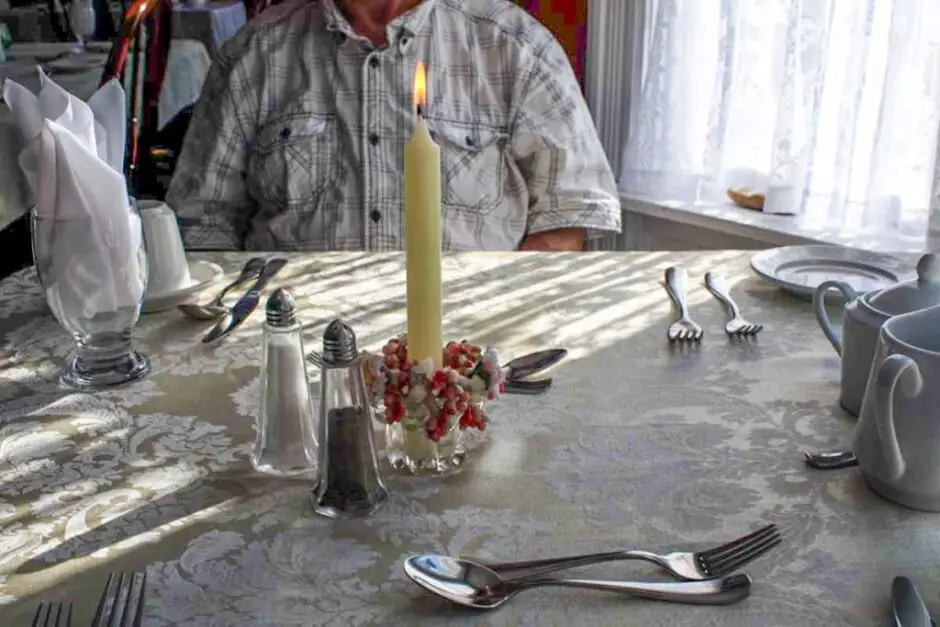 Cozy: Skipper Ben's
All the greater, therefore, was our surprise when we entered the small restaurant, which was in a more reminiscent of a residential building. As we quickly discovered, Skipper Ben also rents rooms and is a bed and breakfast that also offers dinner. I did not expect elegantly set tables with tablecloths, white napkins and even candles between the silver cutlery. We still had jetlag over Montreal after our arrival. So we decided to have an early dinner. That's why we were the first guests in the restaurant and could enjoy the tasteful atmosphere in peace.
Good food between antiques
Antiques, old family photos, homely sayings, which one likes to hang on the wall at home characterize the restaurant. The lovely decoration of the tables ensures that we feel right at home in this restaurant on the east coast of Newfoundland. And the waitress did the rest: neatly dressed in a white apron and a hairstyle that would have been a good match for a pretty maid in an English mansion, she introduces us to the specialties of the day. She gives us time to study the menu. The selection is not great, but the dishes sound tempting. We place our order in anticipation of what is coming.
Food with a view
In the meantime the restaurant has filled up. We're glad we came so early. So we could choose one of the tables by the windows. Through lace curtains and past a fresh rose, we look out over the bay of Cupids. There the sun slowly sinks towards the horizon. "All evenings of our trip can end with a glass of Iceberg beer," I think to myself and enjoy the wait for our meal.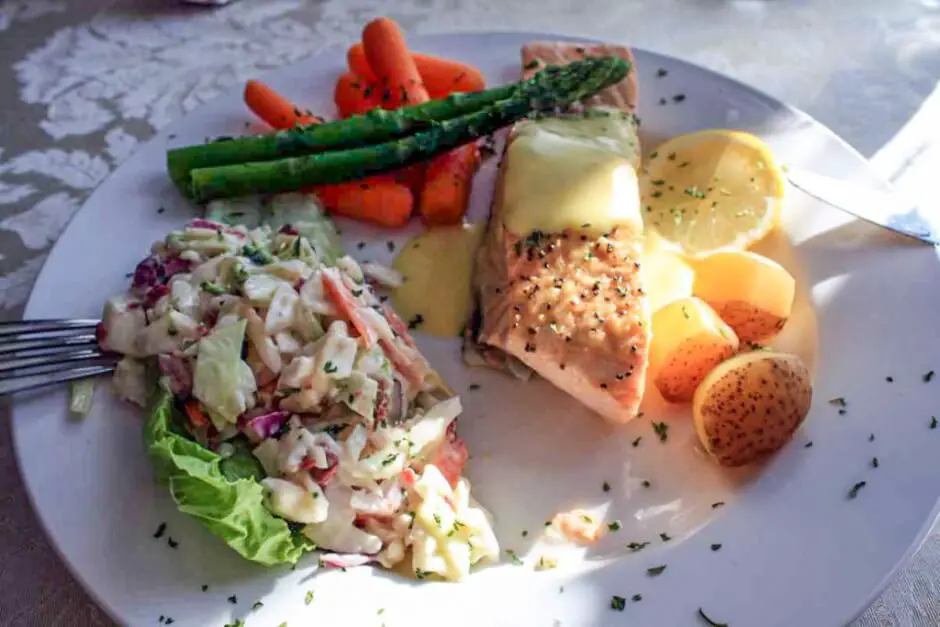 Tender salmon with crispy vegetables
And then comes the expected fish. Prepared so delicately that the sight of the photo alone makes my mouth water. Salmon that melts on the tongue, fresh potatoes cooked to perfection, a home-made coleslaw as best he can not be. Crunchy vegetables and a sauce hollandaise, after which I lick my fingers today. Our romantic dinner for two at Skipper Ben's was totally unexpected, but one of the best we got on our trip through Newfoundland.
Skipper Ben's
408 Seaforest Drive / Box 137
Cupids, Newfoundland
Canada A0A 2B0
---
Travel Arrangements:
Arrival
Arrival by plane, bus or train*. Lufthansa or Air Canada fly to Newfoundland. It is best to book a flight to Toronto, Montreal or Halifax first and then a domestic flight to St. John's.
Car Rentals:
Cheap car hire - book quickly and easily!
Hotels in the area:
Hotels around Cupids * you can book here. You can also spend the night at Skipper Ben's. However, we cannot report on this from our own experience.
---
Do you also know:
Source: own research on site with the kind support of Tourism Newfoundland & Labrador.
Text: Copyright Monika Fuchs, TravelWorldOnline
Photos: Copyright Monika Fuchs, TravelWorldOnline
Romantic dinner in Cupids Newfoundland