St. John's Newfoundland
That's how I imagined St. John's Newfoundland, or at least something like that. The capital of Newfoundland With around 100 inhabitants, the largest town on the rock is "the Rock", as the Newfoundlanders affectionately call their island. St. John's is definitely an exciting travel destination. You will be amazed by the fascinating mixture of culture, history and breathtaking nature. Discover the beautiful coastal landscape and feel the maritime atmosphere that characterizes the city.
Map of St. John's Newfoundland
 
The people of St. John's are extremely hospitable. You will quickly notice that they are proud of their cultural heritage. There are many opportunities to experience the local culture in the city. Visit interesting museums, art galleries and historical sites.
St. John's is also a paradise for nature lovers. The city is surrounded by green parks, hiking trails and idyllic lakes. Here you can observe the breathtaking wildlife and enjoy the fresh sea air. Whether you like shopping or you like good food and live music, St. John's has something for everyone. In the city center you will find cozy pubs, trendy restaurants and unique shops.
Downtown and George Street
It's a bit bigger than I thought, but downtown, the heart of the city, is just a couple of parallel streets stretching northwest from the docks. There are banks, shops, hotels and the (somewhat hidden) George Street. It is the nightlife area of ​​St. John's, where the bear dances every evening. The selection of pubs, restaurants and music bars here is so large that you can change bars every hour and in the morning there is still a large selection that easily suffices for further nightly forays through the entertainment district.
Residential area close to nature
The residential areas are grouped behind the city centre. From Signal Hill you can see that these are interspersed with a lot of green. In between there are always small lakes like Long Pond, Muddy Pond or Kents Pond: nature is never far away in St. John's. This gives the city a very pleasant atmosphere. You can also experience nature and the outdoors on your own doorstep.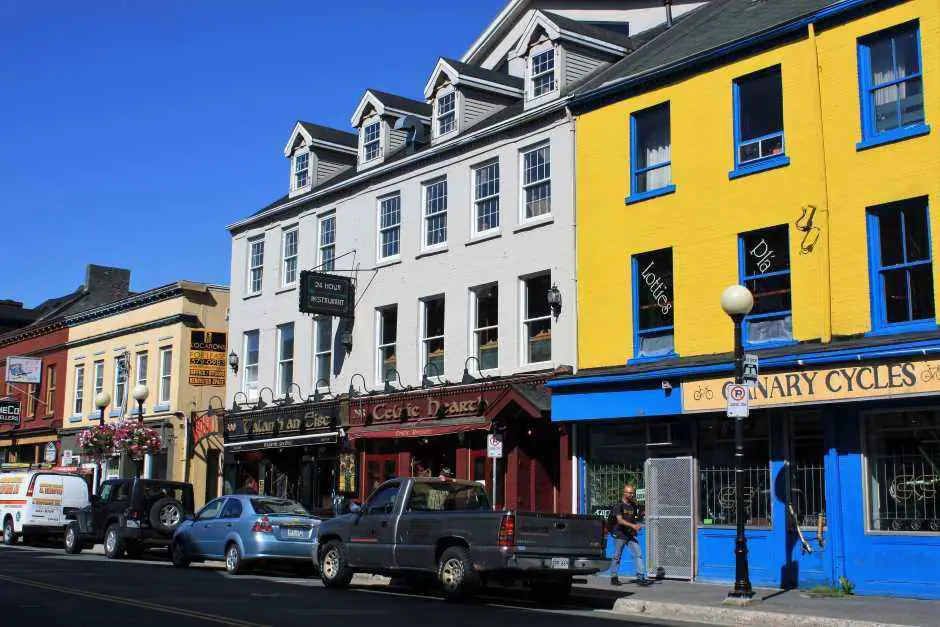 Irish heritage in St. John's Newfoundland
The fact that many Irish people live in this city cannot be overlooked when strolling through the downtown shopping streets. At least, many of the ancestors of St. John's residents are from the Irish Isles. They are proud of their Irish heritage. This is clearly evident when walking through the city.
Gaelic names and brightly colored facades
St. John's is full of shops with brightly colored facades and Gaelic names, a nod to their Irish origins. Strolling through the city, you often come across such shops and Irish surnames. Many of the residents have Irish or English ancestry. One is proud of this and shows it in the traditions of the city.
Typical music
At O'Brien's on Water Street - the oldest shop on the oldest street in the oldest city in North America (as the shop boasts) - we get local music for our trip through the island: for example pub songs, reels, gigs and sea shanties that entice you to sing along. This also shows how connected the residents feel to the culture of the British Isles.
Relaxed atmosphere in the city center
Downtown St. John's is cozy and uncluttered. And no one is in a hurry here. If you are short on time, you should be prepared to be late, because the traffic through the city center is not hectic and stressful and rolls through the city center at walking pace. Pedestrians have the right of way - and they take full advantage of that. There are sidewalks and traffic lights, but people hardly pay attention to car traffic when crossing the street - on the contrary, people are used to cars giving way to pedestrians.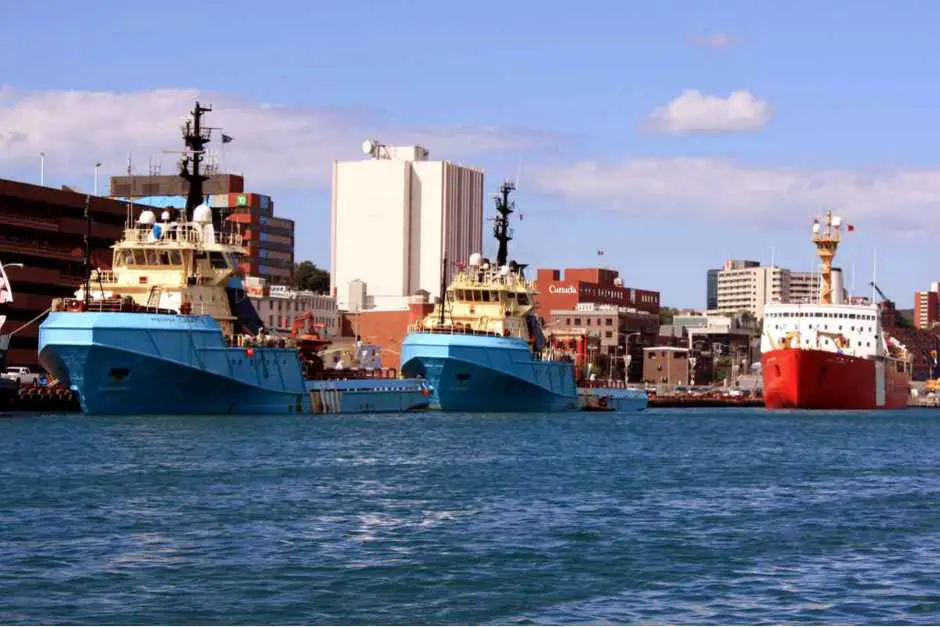 The harbor and shipping in St. John's Newfoundland
Fishing Boats and Coast Guard
Just down the parallel street, fishing boats, Coast Guard vessels and even a stranded Russian freighter line Harbor Street.
Story of the stranded Russian freighter
Bernadette, our companion, who shows us the city, tells us that a Russian shipping company was the owner of the rather battered ship. She reports that she went bankrupt and her freighter and crew stranded in St. John's.
Newfoundland Solidarity
It took time for the mills of bureaucracy to straighten out the confusion of the bankrupt ship, and during this time the Russian crew stayed on board their ship in the port of St. John's - at least for a few months. The Newfoundlanders took care of the stranded sailors and prepared them a lavish Christmas party, including gifts.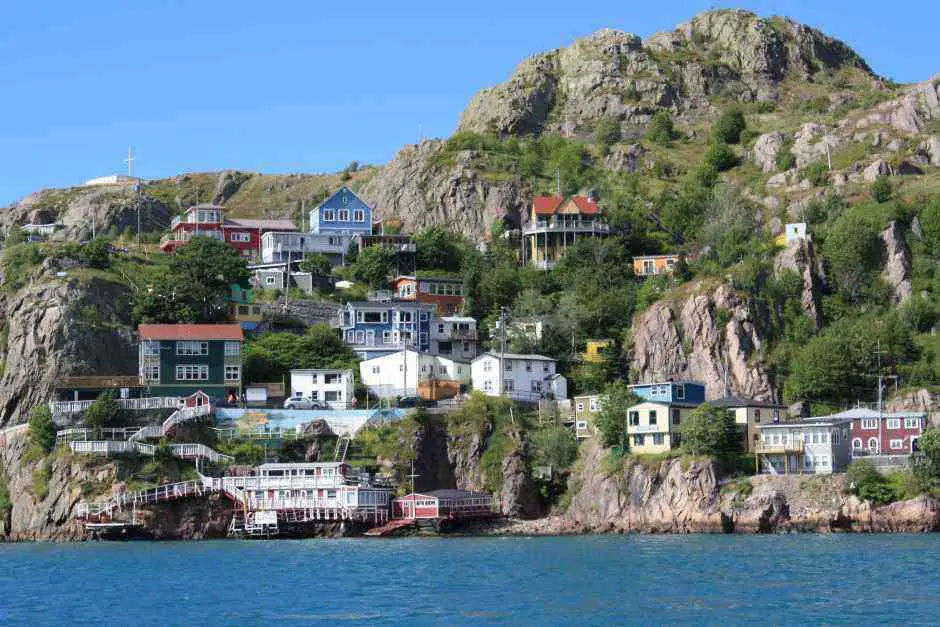 Formation of the city of St. John's Newfoundland
St. John's, like most Newfoundland settlements, grew along the coast. The sea used to be the main link between towns along the Newfoundland coast. Road connections between the places came into existence only late.
Discovery by John Cabot
It is located in a sheltered harbor that John Cabot is said to have discovered on June 24, 1497 on behalf of the English king.
historical controversy
To this day, historians are still arguing about whether it is true that he set foot on North American soil for the first time. There are other places that claim this honor.
Coastal cliffs and fishing villages
What is undeniable, however, is that the first settlements in Newfoundland were established along the coast from where fishermen sailed out into the Atlantic. The houses in St. John's, which were built on the steep coastal cliffs and seem to cling to it with difficulty, are therefore also striking.
Nature in St. John's Newfoundland
Parliament in the countryside
The Parliament of the Province of Newfoundland and Labrador shows how close nature is to this city. The building is surrounded by greenery.
Moose Story: "Harry"
The residents of the city can also sing a song about it. Bernadette tells us about her sister, who owns a house with a garden in Portugal Cove, a suburb of St. John's. A moose is a permanent guest. He was born nearby and has been coming back every year since he was a child. The family has since christened him "Harry". Harry has his civilizing quirks. He loves spinach. That's why it happens from time to time that freshly bought spinach, which was actually intended for the family table, ends up in the stomach of the large "pet". Also, Harry likes the luxury of the city. When the lawn in the family garden is watered, Harry comes regularly to take his summer shower.
Bottom Line: This is St. John's Newfoundland
St. John's, the capital of Newfoundland, is cozy and manageable. The Irish heritage can be felt everywhere. The relaxed atmosphere invites you to explore. The harbor areas and steep coastal cliffs bear witness to a long history closely linked to America's fishing and exploration.
People are friendly and helpful, as evidenced by the story of stranded Russian sailors. Nature is omnipresent. You can see that in the residential areas as well as in Parliament.
St. John's is definitely unique and worth seeing. It offers cultural experiences, relaxed atmosphere and closeness to nature. The city invites you to learn about its history, people and beauty and inspires exploration of Newfoundland.
Activities in St. John's Newfoundland
St. John's Newfoundland Questions and Answers
What are the must-see attractions in St. John's?
St. John's has some amazing sights that you shouldn't miss! The famous Cabot Tower on Signal Hill offers stunning views over the city and harbor. The colorful Jellybean Row, the historic buildings in bright colors, is also a must-see. Also, Quidi Vidi Village is a fishing village with a picturesque setting that you should visit.
Is there good shopping for local produce or souvenirs in St. John's?
Yes, definitely! In downtown St. John's you will find many boutiques, art galleries and gift shops. Visit the Murray Premises and Duckworth and Water Streets to discover local art, handcrafted products and traditional crafts. It is also worth visiting the "St. John's Farmers' Market to shop for fresh local produce and culinary delights.
Which historical sites and museums should I visit in St. John's?
St. John's has a rich history and there are some fascinating historical sites and museums to visit. The Rooms is an award-winning cultural center presenting a variety of exhibits related to the history and culture of Newfoundland and Labrador. The "Johnson Geo Center" offers exciting insights into the geological development of the region. The Commissariat House and Newman Wine Vaults are historic buildings that offer a glimpse into the city's past.
Are there nice parks or beaches around St. John's to relax on?
Yes, there are some beautiful parks and beaches around St. John's that are perfect for relaxing. Bowring Park is a scenic park with lakes, meadows and trails, ideal for walks and picnics. Middle Cove Beach is a popular spot for relaxing on the beach and spotting whales and seabirds along the rocky shoreline.
What special activities are there for the adventurous in St. John's?
For the adventurous, there are some exciting things to do in St. John's! You could join an "Iceberg Watching Tour" to get up close and personal with majestic icebergs. Local operators also offer zip-lining adventures and kayak trips along the coast. If you are a hiking lover, I recommend exploring the spectacular East Coast Trail, which will take you to stunning cliffs and secluded coves.
What weather conditions can I expect in St. John's Newfoundland?
The weather in St. John's is maritime, with mild summers and cool winters. Temperatures range from -1°C in winter to 20°C in summer. It's often windy and foggy, and rain is common, so pack rainproof clothing and a windbreak.
What are the transportation options in St. John's?
St. John's offers public bus services, taxis and bike rentals. However, a rental car is recommended to explore the surrounding areas. St. John's International Airport connects the city to other Canadian cities as well as international destinations.
What regional specialties should I try in St. John's?
Newfoundland cuisine is characterized by both seafood and traditional Irish dishes. Sample fish and chips, Jiggs Dinner (a stew of meat, cabbage and potatoes) and the local delicacy, the Newfie Fries (French fries with dressing and gravy). In Quebec they are as poutine famous.
Are there outdoor activities in St. John's?
St. John's offers numerous outdoor activities such as hiking, boat trips for whale and iceberg watching, and fishing. The east coast trail is a popular hiking trail that runs along the coast and offers breathtaking views.
What events and festivals are held in St. John's Newfoundland?
St. John's hosts various events and festivals. The annual George Street Festival in the summer celebrates local music and culture. In winter finds that Mummer's Festival where the participants wrap themselves in creative disguises and parade through the streets.
---
Travel Arrangements:
Parking at the airport
Here you can reserve your parking space at the airport.
Getting to St. John's Newfoundland:
Arrival by plane, bus or train*. Air Canada flies to St.John*s on Newfoundland. So book a flight to first  Toronto, Montreal or Halifax. You can then book a domestic flight to St. John's.
Car Rentals:
Cheap car hire - book quickly and easily!
Hotels in St. John's Newfoundland:
Book your hotel in St. John's Newfoundland here*. A Selection of good hotels at good prices can be found here.
Camper Rentals:
You can book a mobile home here.
Newfoundland Travel Guide:
Canada - Newfoundland and Labrador: 50 tips off the beaten path
Nelles Guide Travel Guide Canada: The East: Ontario, Quebec, Atlantic Provinces (Nelles Guide: English Edition)
Travel know-how travel guide Canada, the maritime east: Nova Scotia, New Brunswick, Newfoundland with Labrador, Prince Edward Island, Québec's Gaspé and with Montréal and Québec City
Baedeker travel guide Canada East: with a practical map EASY ZIP (Baedeker travel guide e-book)
Canada - Newfoundland and Labrador: 50 tips off the beaten path
Nelles Guide Travel Guide Canada: The East: Ontario, Quebec, Atlantic Provinces (Nelles Guide: English Edition)
Travel know-how travel guide Canada, the maritime east: Nova Scotia, New Brunswick, Newfoundland with Labrador, Prince Edward Island, Québec's Gaspé and with Montréal and Québec City
Baedeker travel guide Canada East: with a practical map EASY ZIP (Baedeker travel guide e-book)
---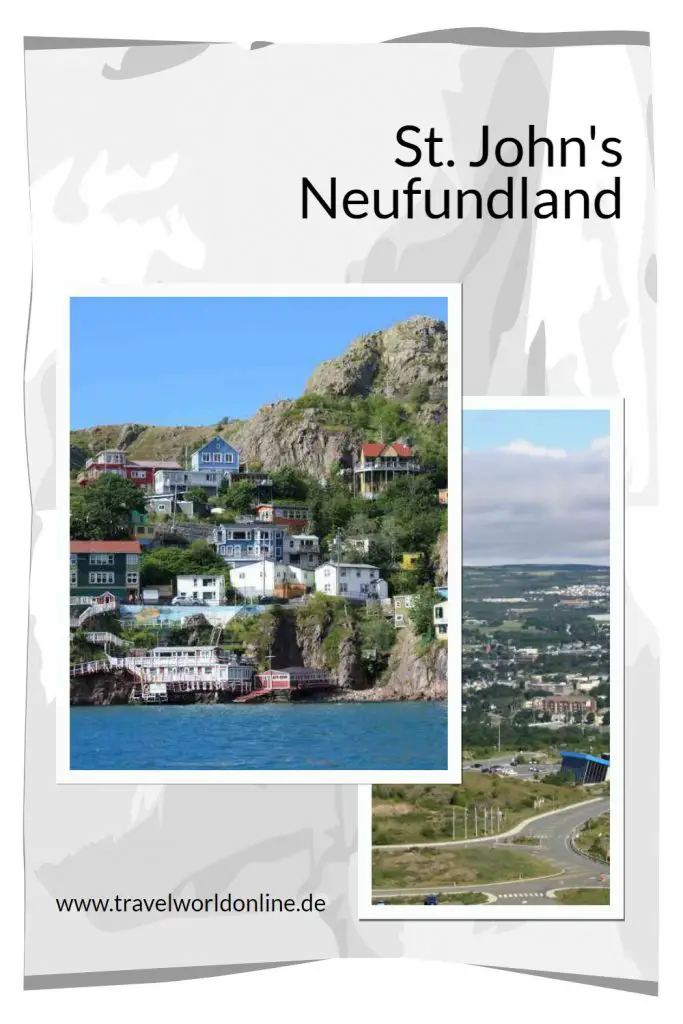 Do you also know:
Source: Field research supported by Tourism St. John's, Tourism Newfoundland & Labrador and the Canadian Tourism Commission. However, our opinion remains our own.
Text: © Monika Fuchs and TravelWorldOnline
Photos: © Monika Fuchs and TravelWorldOnline
St. John's Newfoundland - the capital of the island
Last update on 8.09.2023/XNUMX/XNUMX / Affiliate links / Images from the Amazon Product Advertising API