Poutine, the Quebec specialty

In Quebec I really wanted to try poutine. I've heard a lot of this dish before, but I've never tasted it before: some describe it as disgusting as a potato pudding with sauce, the others are almost offended because they are not served in all restaurants outside of Quebec Poutine , It has a cult status in French-speaking Canada and is almost a Quebec national dish.
The secret national dish of Quebec
Well, the national dish is perhaps a bit exaggerated, since the most common version of the dish was not invented until 1957 - and rather in passing. The innkeeper Ferdinand LaChance from Warwick did a favor for a customer who ordered a portion of French fries with cheese to take away. LaChance was not very enthusiastic about his customer's request because he said: "ca va faire une maudite poutine" ("it will be a real mess").
And even the buyer of this first serving came rather by accident to this mixture of fried potato sticks with cheese: his name is Eddy Lanaisse, and this later told a Canadian television reporter that he was the fresh French fries in the showcase of Fast- Food restaurants had seen next to which was fresh cheese. He had an appetite for both and just let them mix together.
The idea with the sauce
The sauce came later. Supposedly, the landlord Jean-Paul Roy of Drummondville, Quebec 1964, came up with the glorious idea of ​​serving a generous helping of sauce to his fries. When he noticed that his guests were still sprinkling fresh cheese on it, he simply added it to his fries - et voila: the first real poutine had been created.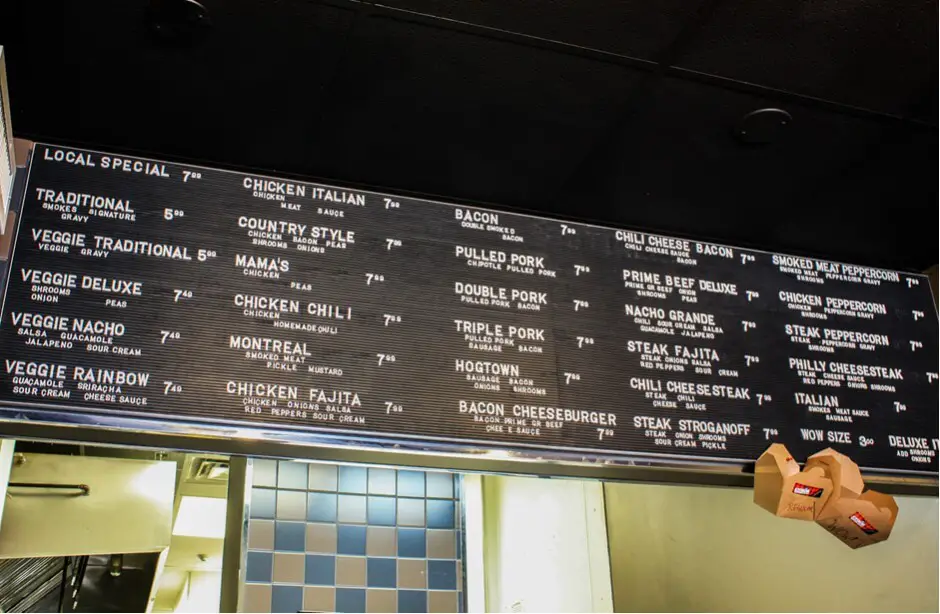 The agony of choice - Poutine in all tastes
But woe to anyone who now expects a simple and hearty meal that lives on the menu a lonely existence. When we started looking for the court, we made an amazing discovery: Poutine is not the same as Poutine. There are a number of different versions of it: besides the traditional poutine, which consists of fries, daily fresh cheese and a dark chicken or calf-based sauce, we also discovered a host of other variations. There is Poutine with sauce Bolognaise, in the Italian way with marinara sauce, BBQ style with barbecue sauce and - especially adventurous - Poutine Mole, which is drowned in Mexico's native Mole Poblano, a spicy sauce with lots of chocolate.
There is not just one kind of poutine
Especially great was the variety of poutines that we discovered at Smoke's Poutinerie in Toronto: there are, in addition to the traditional, among other things, vegetarian poutine or with chicken, bacon, pork, my beloved pulled pork, bacon and cheese, nacho orange, steak fajita, Steak Stroganoff, and much more. In this shop you could eat cheese fries alone for a month without repeating one sort. By the way, Smoke's Poutinerie is considered one of the best poutineries in Toronto. We were in the store in 578 Queen St W. There are quite a few of them Smoke's Poutineries in the city. One is safe near your Toronto hotel.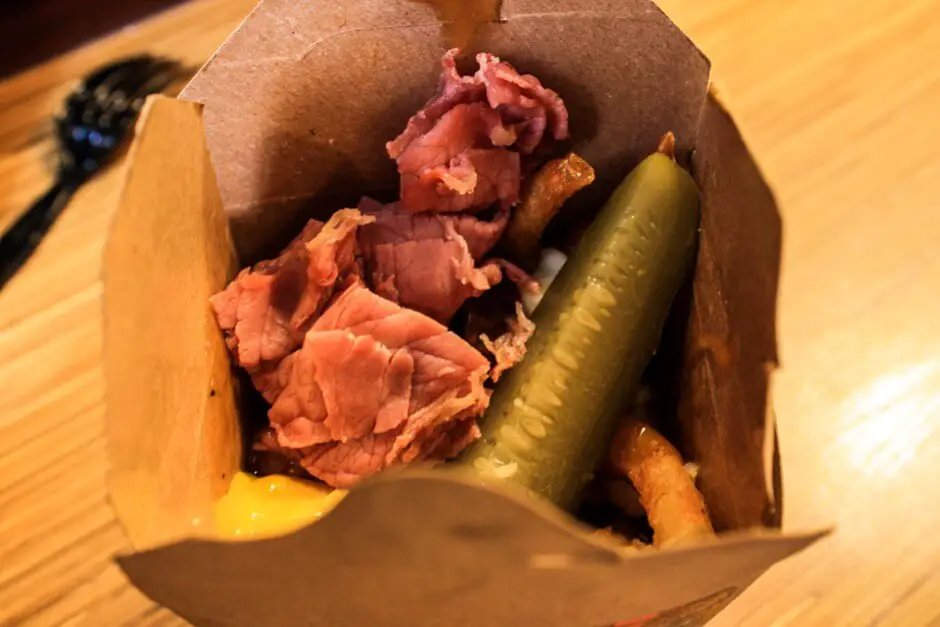 Toronto's Poutines
Our stay in Toronto was not enough to try out all the varieties. After all, I was looking for the "Quebec national dish", so I decided to add poutine with meat - in this case with smoked meat, one Montreal Specialty. My first impression was surprising: because the cheese in the poutine squeaks! As I later learned, this must be so, otherwise it is not a real poutine. It must be cheese that is finished as much as possible on the day of preparation, because only then does it still contain enough moisture to produce a squeaking noise when chewing.
How does Poutine taste?
And how did she like me? Honestly, the variations from Toronto tasted much better than the Quebec original. Maybe that was because I had eaten my first traditional poutine in a simple rest house on the Transcanada Highway, and the next all without exception at Smoke's in Toronto. I could not get enough of it there. I would have liked to eat through the entire menu.
This is how to prepare Original Poutine
Ingredients
Prepare the French fries for guidance, either in the oven or in the deep fryer. They have to be really hot and crispy.
Prepare the gravy according to the instructions on the package. (You can order them via the link above.)
For an original poutine you absolutely need cheddar cheese curd, because only this has the right consistency for poutine. Only this one has the desired effect that it squeaks when eating the poutine between the teeth. Cheese Curds (Cheddar cheese curd) are not available for purchase. You can order it via the link above.
You distribute this cheese on a plate. Over it comes a layer of hot french fries and over it again a thick layer of cheese curds. The whole thing is finally poured over with sauce.
Poutine is a very sumptuous dish and quickly gets full. Let them taste you!
Source: own research on site with the kind assistance of Bonjour Quebec
Do you already know:
Text: © Monika Fuchs, TravelWorldOnline
Photo Copyright Monika Fuchs, TravelWorldOnline
Poutine, specialty from Quebec