Culinary tour of Toronto
On our Pleasure trip Throughout the world we don't want to miss a glimpse into Toronto's cuisine. Toronto is with its populations As if made for a culinary tour through Toronto, and we are sure that we will discover a lot of interesting and, above all, delicious.
That is why we join a culinary tour through Toronto with Trina Hendry, which takes us for three hours to the delicacies that we are allowed to taste on the way. We are traveling in the residential areas around Queen and King West Street, so west of the city center and from Chinatown and away from the city's shopping malls. Here we are in neighborhoods where Toronto residents do their shopping, away from the malls and supermarkets.
We get to know specialty shops and restaurants that offer what the people here like to eat themselves. That can be seen, as we find out very quickly. This Toronto food tour shows us the specialties of the West End.
Teas at tealish
We meet with Trina and other gourmets at tealish, a tea shop that hides between second-hand shops and tattoo studios, and where at first glance we are not sure whether we are in the right place. However, the doubts quickly disappear when we enter the shop. Tins with different teas are neatly lined up on a clinker brick wall. Green tea and Darjeeling are of course just as much a part of it as tea blends that we have never heard of.
Citrus Grove, for example, consists of tea with orange peel, lemongrass and ginger. Pomegranate Goji is green tea with goji berries and pomegranate. On the other wall of the shop, shelves are filled with everything a tea lover needs to brew a cup of tea: teapots and teacups, glasses, a whisk to stir the tea leaves, tea caddies and more. In the adjoining room of the tea shop we are asked to sit at a table where we can try four types of tea - each better than the other and wonderfully refreshing for this July day.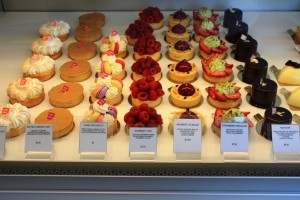 Tarts at P'tit Choux
Trina proves to be a connoisseur of the specialties and the cuisine of Toronto. "I came across this business by chance," she says with a laugh when I ask her why she started offering food tours. "I've been on tours like this time and again while traveling and found out that this doesn't exist in Toronto yet. So I quit my marketing job and started discovering the Toronto food and beverage scene. From this my company developed: Chowbella. "
She knows about it, as we can see in the next store. She takes us to a Parisian-style patisserie, the P'tit Choux. There we find Danish pastries filled with apricots, raspberries, nuts and blueberries. This makes our mouths water just as much as the tarts with meringue topping, cream, caramel or strawberries. We are allowed to macarons choose the macaroons that taste like cassis, raspberry, vanilla or coffee. If you like sweets, this tour is the right place for you.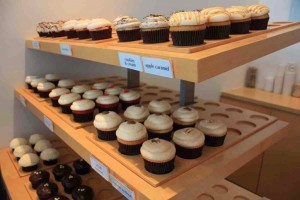 Cupcakes at Dlish
We noticed that in the next shop too: Dlish Cupcakes. The owner specializes in making cupcakes and does nothing other than bake many varieties of them every day. The selection is enormous: there are coconut macaroon cupcakes, strawberry cupcakes, vanilla and vanilla on chocolate cupcakes, red velvet cupcakes (the best seller in the store) and chocolate marshmallow cupcakes.
Here, too, we'll try again - a Red Velvet Cupcake, of course. Because despite the walk between the shops, we notice how our stomachs are filling up more and more. And we want to leave room for the delicacies that are still waiting for us. We are also let in on a secret that we are not allowed to divulge: Dlish Cupcakes presents a cupcake creation every month, which is presented to its customers in a big way. And we can reveal this much: it is delicious!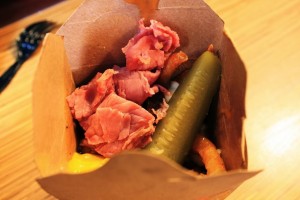 Poutine in Smoke's Poutinerie
Then let's move away from sweets to a specialty that we didn't expect in Toronto. We visit a poutinerie. With its cheese, french fries and sauce, poutine is a Quebec national dish. In Smoke's Poutinerie, however, the poutine has been perfected.
They are available here in all variations. Traditionally with gravy, vegetarian with gravy, vegetarian deluxe with onions, mushrooms and peas, vegetarian nacho with salsa, guacamole, jalapeno and sour cream, with Italian-style chicken, country style, as with Mamma, with chicken and chilli, Montreal style with smoked meat, cucumber and mustard, and so on. One thing should be clear. The selection of poutines is enormous at Smoke's. It is good too, very good in fact. Whether it's healthy, however, remains to be seen.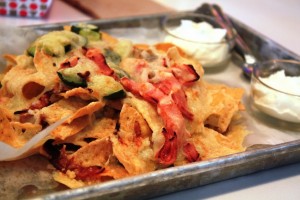 Cheese sandwiches on the Toronto food tour
So it is good that we have to go a little further for our next stop on our city tour of Toronto. Our goal is CheeseWerks, a gourmet restaurant that only serves cheese sandwiches. They are named after places across America. There's a Houston cheese sandwich with jalapeno jack, beef, and barbecue sauce on sourdough bread. Or a Miami cheese sandwich with Swiss cheese, beef, smoked ham, dill and Dijon mustard. Perhaps you prefer a Los Angeles cheese sandwich with Havarti, avocado, arugula, and citrus compote on grilled sourdough bread instead. There's also a Charleston cheese sandwich with brie, caramelized onions, and apricot chutney on a walnut and raisin bun.
Sounds good or what do you think? I like the Chichen Itza cheese bread with mozzarella, chicken, salsa rojo and coriander corn sauce the best. We try one of the sandwich creations. At the same time, the head of the restaurant says that he will be traveling to Europe the next day to collect suggestions and types of cheese for his cheese sandwiches. Perhaps next year they will all have the names of cities in Europe?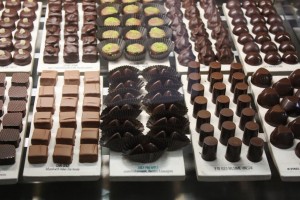 Chocolate of all kinds at SoMa
Our last stop on this tour through Toronto's West End takes us almost back to the city center: our destination is the chocolate maker SoMa. This offers chocolate and pralines in all variations. These include varieties such as chai pralines that are filled with tea; Pineapple chocolates; Chocolates filled with eight year old balsamic vinegar (don't ask me how they taste. We didn't try them). But there are also types of pralines such as chocolate and nut heaps, orange and marzipan pralines or butter caramel with a pinch of salt on top.
As a chocolate fan, I'm in exactly the right place here. I would like to try my way through all the chocolates. In the meantime, however, we are so full that only one sample will fit. That's why I choose an orange and marzipan praline thickly coated with dark chocolate. The perfect way to end a tour of Toronto's food scene.
---
Travel Arrangements:
Check in:
Arrival by plane, bus or train*. Air Canada, Lufthansa, Condor and Icelandair fly from Germany Toronto.
Car Rentals:
Cheap car hire - book quickly and easily!
Camper Rentals:
Transfers:
Conveniently from the airport to the city center bring you these transfers *.
Hotels:
Hotels in Toronto * You can book here.
Tours in and around Toronto:
Book yours here Tours in Toronto or a trip to Niagara Falls * .
Food Tours in Toronto:
Do you want to get to know Toronto's gastronomy? On this Tours through Toronto * is that possible.
---
Enjoyment travel tips here. Restaurants we recommend, you can find here.
Do you already know:
Source: On-site research for the Toronto tour with the support of Tourism Ontario. Our opinion remains our own.
Text: © Copyright Monika Fuchs
Photos: © Copyright Monika Fuchs
Video: © Copyright Petar Fuchs