In Toronto, that tastes good - even chocolate with crystal salt

Offer me chocolate and I won't say no. It tastes just as tasty in Toronto as it does elsewhere. I love chocolate in every shape and intensity. And so I can rarely walk past chocolate, pralines, chocolate pudding or chocolate cream. Every dessert menu that contains chocolate dishes has already won for me, as has a shop that makes its own pralines, caramels or chocolate. It was the same on my last stay in Toronto. But first from the beginning:
Biff's Bistro on Toronto's Front Street - Tastes good in Toronto
We discovered a new bistro on Front Street off St. Lawrence Market and had dinner there on each of our three evenings in Toronto, so delicious were the dishes and the atmosphere was so pleasant. The first dinner I ordered was a wonderful beef bourguignon that I liked so much that I insisted on going back the next evening to enjoy it again. The only drawback was that I could not order another dish to better appreciate the offerings from the kitchen at Biff's Bistro.
Petar, on the other hand, tried different dishes. And so I could also enjoy fried pork belly with spaetzle and fennel with appetizers from his plate - an unusual but interesting set of dishes reminiscent of Alsatian specialties - and excellent filet mignon with bacon and brandy peppercorn.
Pleasant ambiance in a French bistro in the middle of Toronto, Canada
In addition to the food, we liked the hospitable atmosphere at Biff's Bistro. On the second evening the young lady welcomed us like old friends, and on the third evening she told us that she came from a winemaking family from Niagara on the Lake and that she was earning the spurs for her restaurant at Biff's. The rest of the staff were just as nice, courteous and well trained. Each of them went out of their way to fulfill our every wish and made sure that we were comfortable on all evenings.
The wine was poured from the right side - the selection was excellent, by the way. There was homemade mustard as a side dish, "because this is so popular with guests." At least that was what our waitress told us. The food was served after a pleasant waiting period, and once the glass was empty, wine was immediately refilled. We were very pleased with this courteous and attentive service, which could not be criticized on any of the evenings.
And the regular customers of Biff's Restaurant we liked well: since we only ate there in the evening, it was mostly office and bank employees from the surrounding shops, office and bank buildings, who met here with friends or a meeting in a pleasant environment in put in the daily routine, before they went on the way home. Obviously, many of them were guests who did not dine at Biff's for the first time, which also speaks for the quality of the restaurant.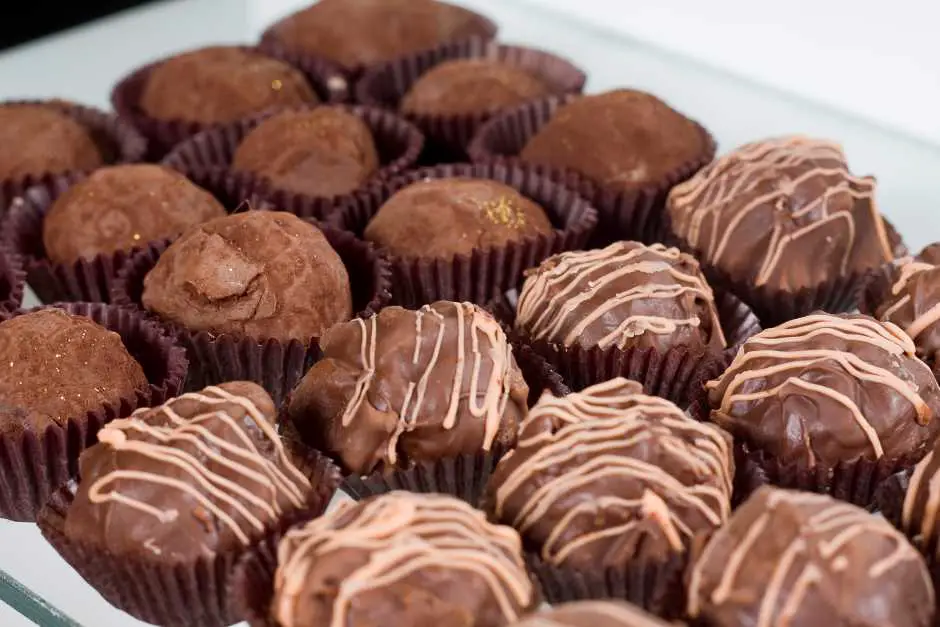 Surprising dessert - it tastes good in Toronto
So far so good. But now to chocolate: If I want to get to know a restaurant, I also like to try a dessert to get the most comprehensive picture possible. And as I mentioned at the beginning, I can hardly avoid chocolate. It was the same with Biff's Bistro. So it was clear to me from the start that I would choose the "Chocolate Pot de Crème" as evidence.
Said and done. Since I could not think of anything specific at first, I asked our waitress what it was all about, and got the answer that it was a simple dessert, like pudding. Sound promising! So I ordered the chocolate pot.
And in fact a little potty came with a chocolate cream that was reminiscent of pudding, but was only airier. It was decorated with white crystals. "Aha, sugar crystals," I thought, convinced that I knew the right ingredients. But what a surprise awaited me: when I put the first spoon of this delicacy into my mouth, I swallowed completely perplexed. The white crystals were salt! As a precaution, after the first spoon I tested a second one, and indeed: salt! And since I actually liked it - and surprisingly - I ate the rest of my dessert.
Since I was not completely at ease with the whole thing, I decided to order the same dessert again the next evening - maybe the cook had made a mistake in the pot. But - lo and behold - again the chocolate cream was served with crystal salt. My conclusion: an extraordinary, but surprisingly good-tasting taste experience that made my visit to Biff's Bistro even more interesting. It tastes good in Toronto!
Chocolate pralines with crystal salt - it tastes good in Toronto
We found out that this combination of chocolate with salt is nothing unique when we visited the SoMa Chocolatemaker on King Street in Toronto. A shop exactly to my taste, everything is made there: pralines, chocolate and caramel. Everything is homemade in stores. It tastes good in Toronto.
And here, too, I find this unusual combination of flavors of chocolate and salt, this time in the form of pralines. SoMa chocolates are filled with very exotic ingredients. There are, for example, whole milk pralines with chai masala, pineapple pralines, chocolate pots filled with 8-year-old balsamic vinegar, or chocolate cones that olive oil contain. So it's no surprise that we come across the combination of chocolate and salt in this shop too, with butterscotch pralines thickly coated in chocolate and generously sprinkled with crystal salt. Here again an experience for the palate.
---
Travel Arrangements:
Parking at the airport
Here you can reserve your parking space at the airport.
Check in:
Arrival by plane, bus or train*. Air Canada, Lufthansa, Condor and Icelandair fly from Germany to Toronto.
Car Rentals:
Cheap car hire - book quickly and easily!
Camper Rentals:
Transfers:
Conveniently from the airport to the city center bring you these transfers *.
Hotels:
hotels in Toronto * You can book through our partner booking.com.
Sightseeing tours in and around Toronto:
Bay here your sightseeing Tours in Toronto or a trip to Niagara Falls * .
Tickets and tickets:
Do not feel like standing in line? Then book yours here Toronto Attractions and Niagara Falls * Attractions.
Tours for connoisseurs in Toronto:
Do you want to get to know Toronto for Foodies better? On this Tours through Toronto * is that possible.
---
Do you already know:
Source Taste it in Toronto: On-site research supported by Tourism Ontario and the Canadian Tourism Commission. However, our opinion remains our own.
Text Tastes good in Toronto: © Copyright Monika Fuchs and Travel World Online
Photos In Toronto it tastes good © Copyright Monika Fuchs as well as TravelWorldOnline and Pixabay
In Toronto this tastes good