On my travels through the world, I have repeatedly encountered places that have saved themselves from economic ruin through surprising ideas and initiatives. But a village that has dedicated itself to the poppy seeds was not there until last year when we bought the poppy village Armschlag im Waldviertel in Lower Austria got to know. It's really all about poppy seeds!
In the Dorfwirtshaus, which - how could it be otherwise - calls itself a "poppy host", you can try almost anything from traditional to newly created poppy seed dishes. The village parking lot is embellished by the largest poppy painting in the world - it obviously doesn't work in this small village without superlatives. The Mohndor shop is opposite and a walk leads to the poppy garden. If you arrive here unexpectedly, you think you are in another world. We have been invited to learn more about Mohndorf and its history. And that's exciting!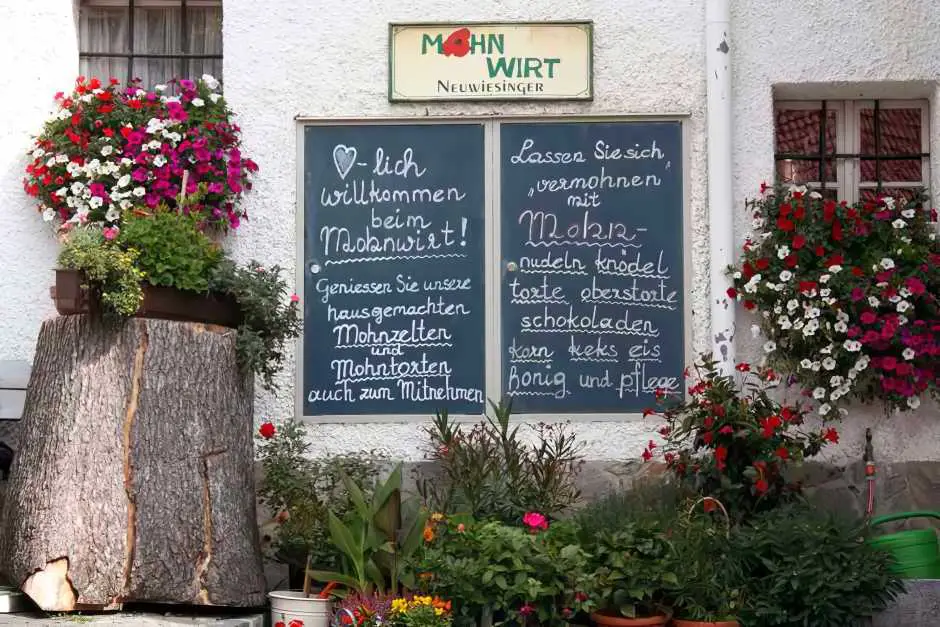 You have to like poppy in Armschlag, Mohndorf in Waldviertel
You have to like poppy seeds if you visit Armschlag, because no one can avoid trying it here. But since we have always liked to eat poppy seeds, we are excited to see what we will get to know at the Mohnwirt. The poppy landlady herself, Rosemarie Neuwiesinger, welcomes us and tells us the story of her village. It was she and her husband Johann who came up with the idea of ​​getting the starving little village of Armschlag and its residents to put poppies on their village flags, figuratively speaking. Like many villages in the Waldviertel, there was also an arm blow: the youth migrated to the cities, there were no jobs, and agriculture did not yield enough to really be able to live on it. Then Johann and Rosemarie Neuwiesinger decided to put their village inn entirely under the motto of the poppy seeds, which various farmers cultivated in and around Armschlag on the high fields of the Waldviertel. And they set out to convince the villagers to put the entire village under this motto. That was difficult at first. "Shoemaker stick to your last" is the guiding principle of the people in this region, and so it took a few years for the idea to take hold. However, if you come to the Mohndorf Armschlag today, you can no longer ignore the subject of poppy seeds.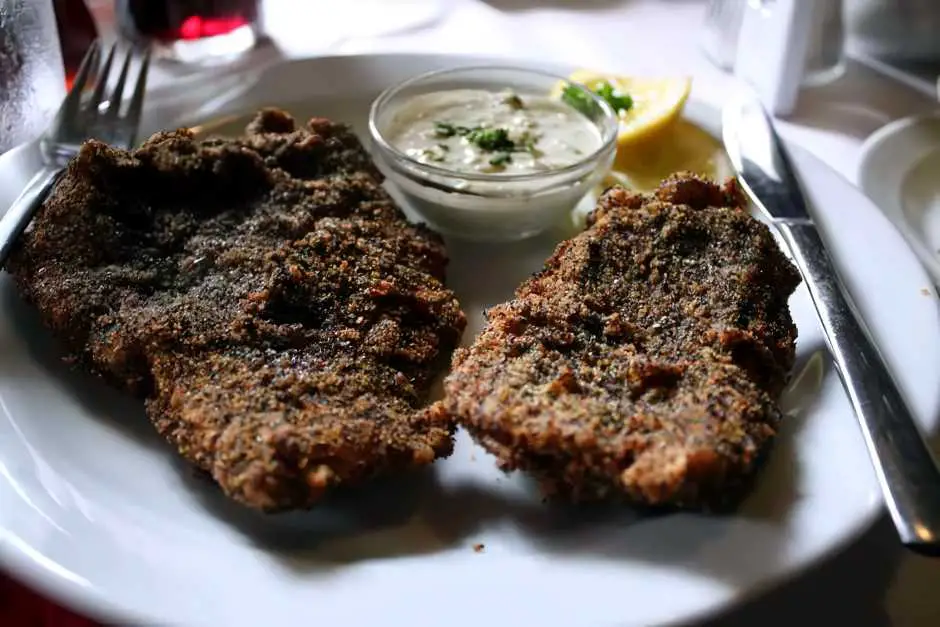 Delicious poppy specialties at the Mohnwirt
"And that is a good thing," says everyone we meet on our tour of the village. The tables in the garden of the poppy host are just as full as in the restaurant itself. Rosemarie Neuwiesinger tells us that today she is expecting a larger bus group that also wants to enjoy their poppy specialties. And they can be seen - or taste better. We order poppy seed noodles and poppy seed dumplings. A real treat! My poppy seed noodles are potato noodles in poppy butter and rum, and they taste so good that I now cook them again and again at home. And Petar eats his poppy seed dumplings with Hollerkoch as if he hadn't had anything to eat for days. A sure sign that he likes something!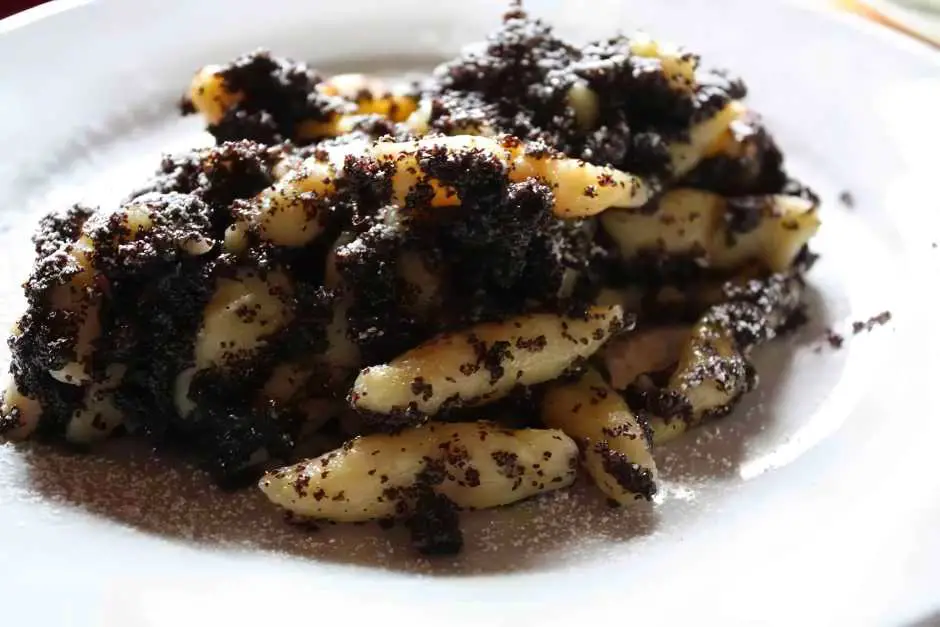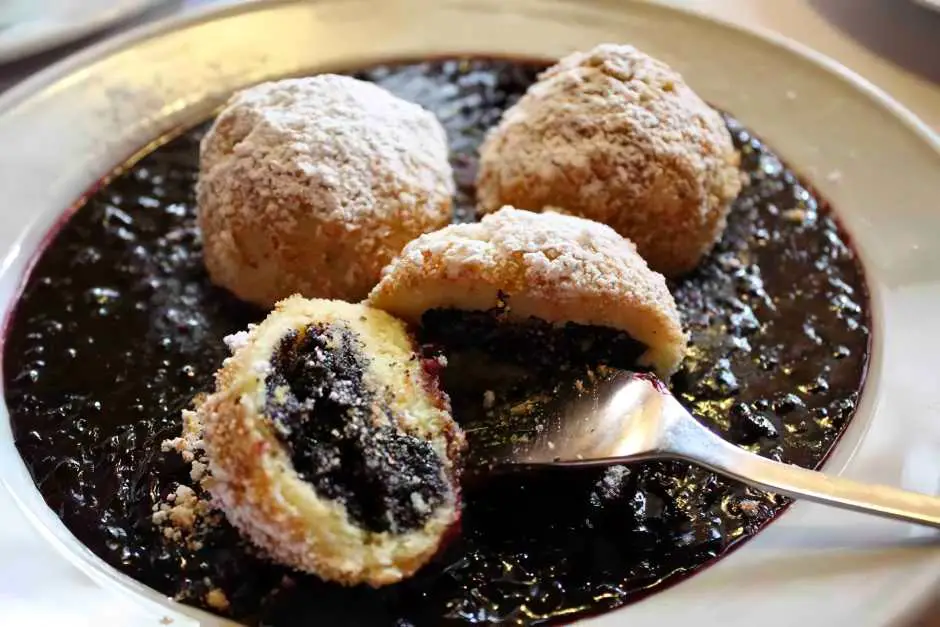 If you want, you can refine your entire menu with poppy seeds: there is poppy seed soup, poppy cheese salad with apples and pumpkin seeds, carp fillet in a poppy-seed coat with potato salad or herb-cheese-poppy-seed melon, and dessert with poppy seed noodles and poppy seed dumplings, poppy seed ice cream with eggnog, Poppy tents and poppy seed cake with cherry sauce to choose from. And there's, as it should, poppy seed coffee or a stamperl poppy seed. You should bring only an empty stomach, because the delicacies fill you up fast.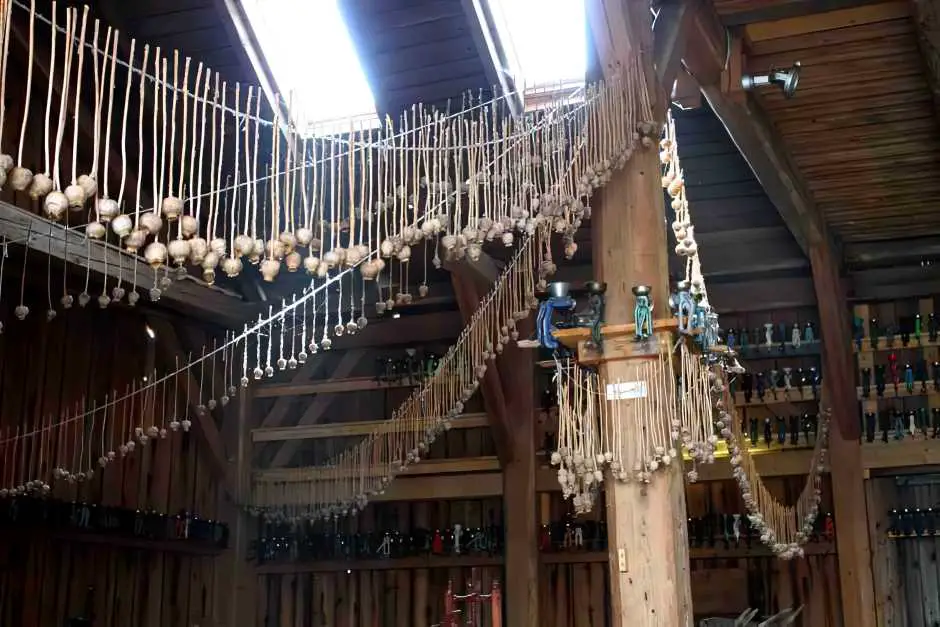 The whole village "lives" the poppy
After our delicious lunch, we go on a tour through the poppy village and are allowed to look into the barn of the poppy farmer. Its interior walls are filled with shelves filled with hundreds of poppy seed mills, in all shapes and colors. The windows of the inn's outbuildings are decorated with poppy capsules that hang like garlands along the roof.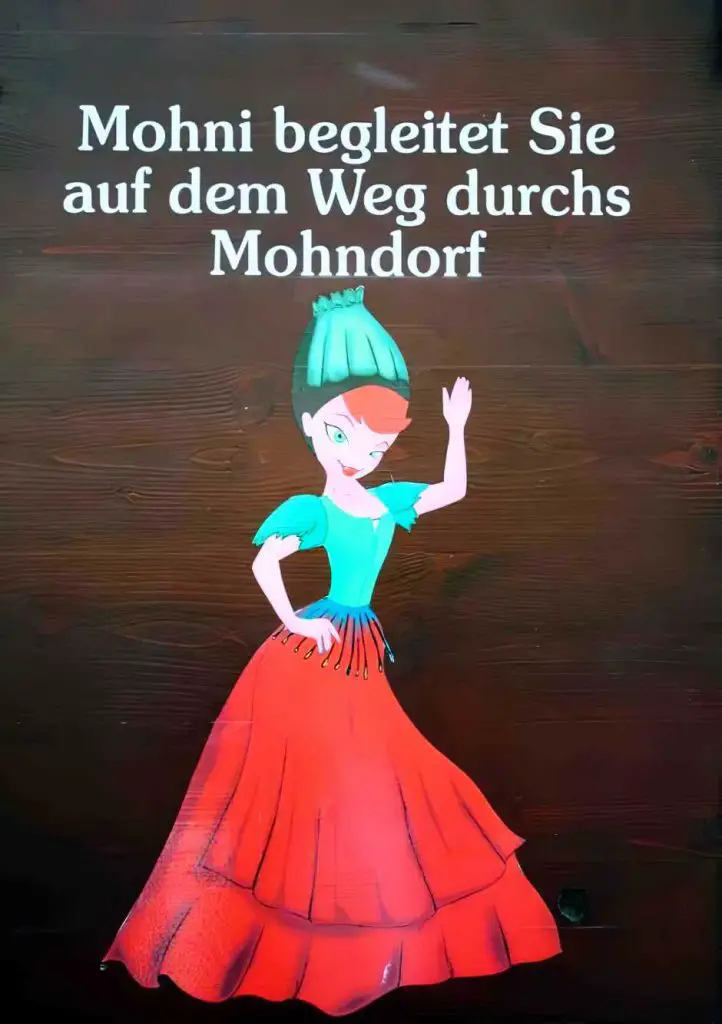 A few steps further, we see on a local map that all hiking trails, which, how could it be otherwise, also lead to poppy fields, are led by "Mohni", a figure who shows the way to the hikers. Right next door is the poppy shop, where you can find everything from empty poppy capsules that can be used for autumn decorations, cookbooks for poppy seed dishes to mohndirndl, which the village women have had specially designed, and in which they are today represent their village.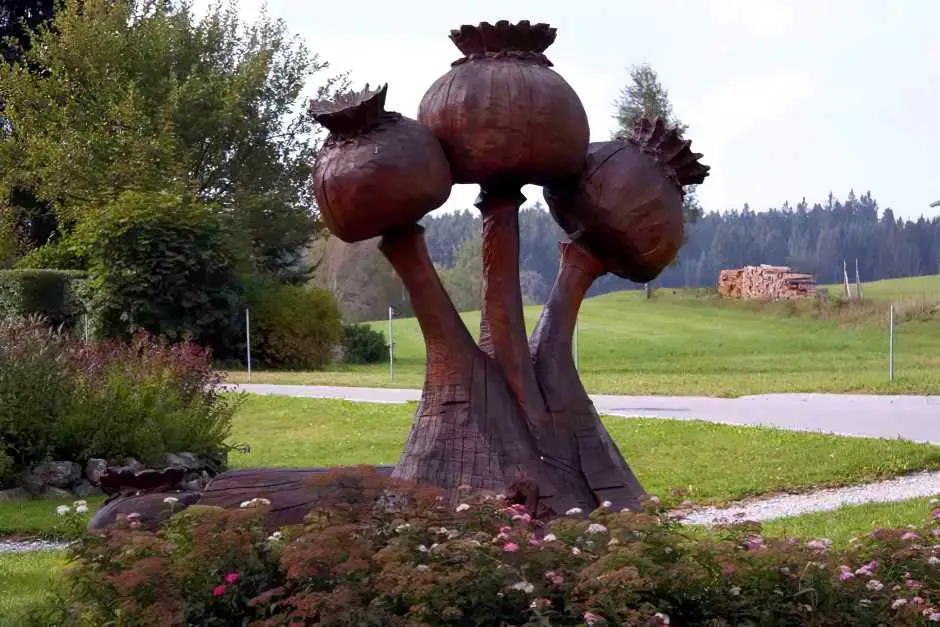 Here you are really serious about the subject of "poppies". Only a few meters further on we finally come to the poppy garden, in which the poppy varieties from all over the world are grouped around three oversized poppy capsules made of wood: from California poppy to Afghan poppy, you can see all varieties that are available worldwide. The only thing we miss during our stay at Armschlag is the blooming of the poppy fields. But we're late for that in September. To see that, we have to come back in the summer. Because Armschlag, Mohndorf in the Waldviertel, more than excited us with its specialization in poppies. A good reason to come back.
Do you already know:
Find more Destinations there's to find here. Discover others Places in Austria.
Source: own research in Armschlag, Mohndorf in the Waldviertel, with the kind support of Waldviertel Tourismus
Text: © Copyright Monika Fuchs, TravelWorldOnline
Photos: © Copyright Monika Fuchs, TravelWorldOnline
Video: © Copyright Petar Fuchs, TravelWorldOnline
Armschlag, poppy village in the Waldviertel