Why you should see Stockholm

A perfect day in Stockholm? You need more time to see the capital Sweden and really get to know their surroundings. Stockholm is not only the seat of the Swedish government. The royal family lives here. Maybe you're lucky like us and you see members of the royal family on your visit. We were there when Prince Carl Philipp married his wife Sofia. They drove past us in their wedding carriage just a few meters away. Even if their wedding messed up our travel plans for Stockholm, it was an experience that for us will always be associated with Stockholm. But even if you do not experience a major event of the king's family during your visit, the city is extremely interesting. 1 day in Stockholm is tight.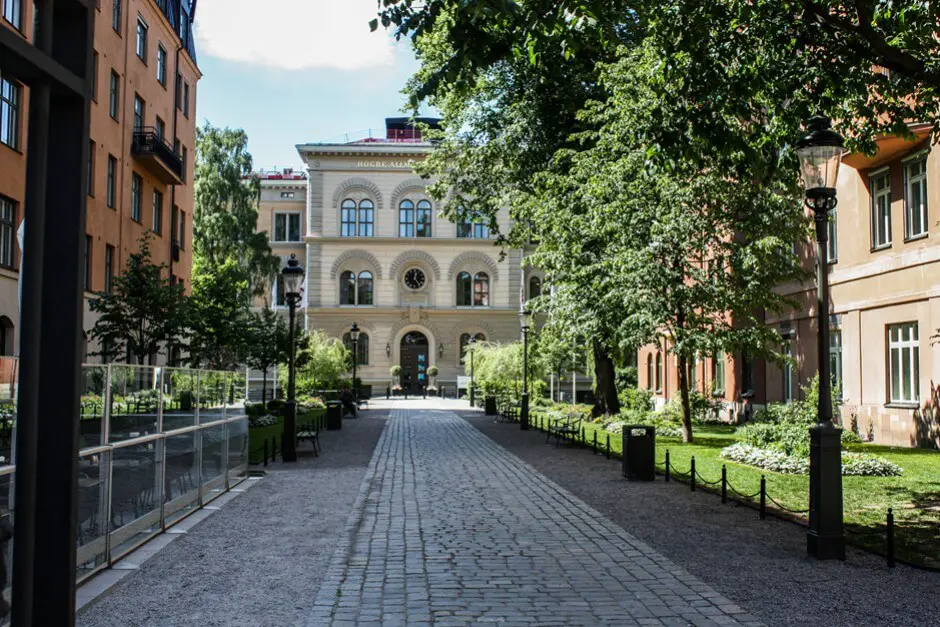 We reach Stockholm from one Journey on the Göta Canal. On board the Juno we were en route on one of the oldest passenger ships in the world. This brought us from Gothenburg across Sweden to Stockholm. The capital of Sweden should be seen by everyone who is interested in the cities of the Baltic Sea interested.
On Gamla Stan you can see the palace of the king and the parliament as well as alleys, in which it is good to stroll. Stockholm is the city that awards the Nobel Prize every year. A visit to the town hall is therefore also worthwhile. A stroll along the promenade that leads along the water is nice. There you will quickly get an impression of the importance of the proximity to the sea in Stockholm. That is also one of the reasons why we recommend more time than a day for Stockholm. The archipelago in front of Stockholm is worth a stay of several days. We have excluded this island world and the area around Stockholm on Lake Mälaren from our recommendations for a short trip to Stockholm for lack of time. Therefore, before your trip, consider whether you can extend your stay in Stockholm. The city and its surroundings are worth it.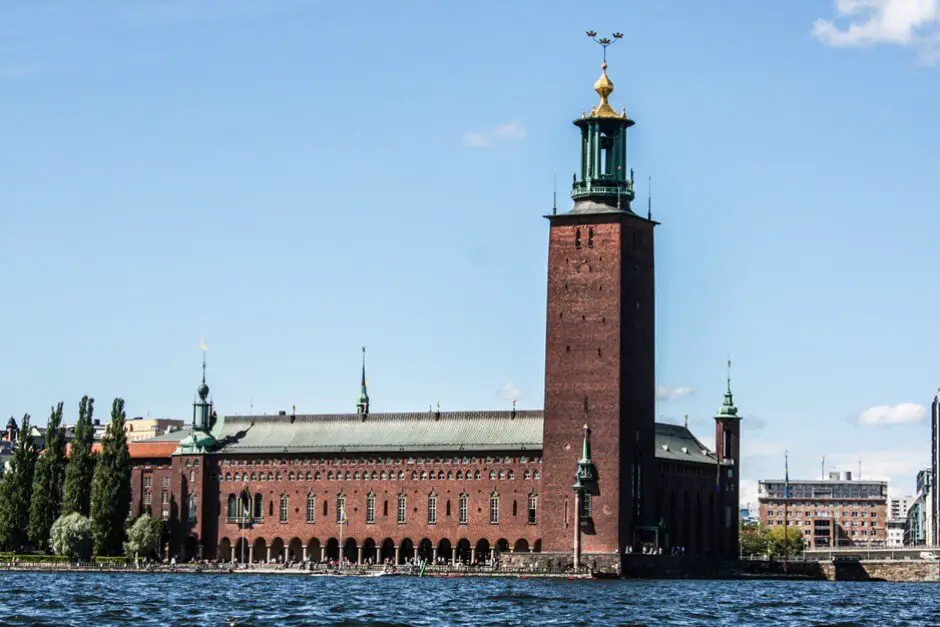 A perfect day in Stockholm Sweden
What can you do in 1 day in Stockholm? First of all: one day is far too little time to really get to know this interesting city. We were there for three days and there is still so much to discover. Even so, not everyone has the time for a long stay in Stockholm. Therefore, at this point I am collecting tips on how 24 hours are enough to get an overview of the city and its sights.
Provide an overview of the sights
Stockholm's core is Gamla Stan, the Old Town, from which the city has spread over the centuries in all directions and over several islands. Many parts of the city can be reached by boat quicker than by road. Therefore, I think that a city tour by boat is essential for a stay in Stockholm.
You need that for a day in Sweden's capital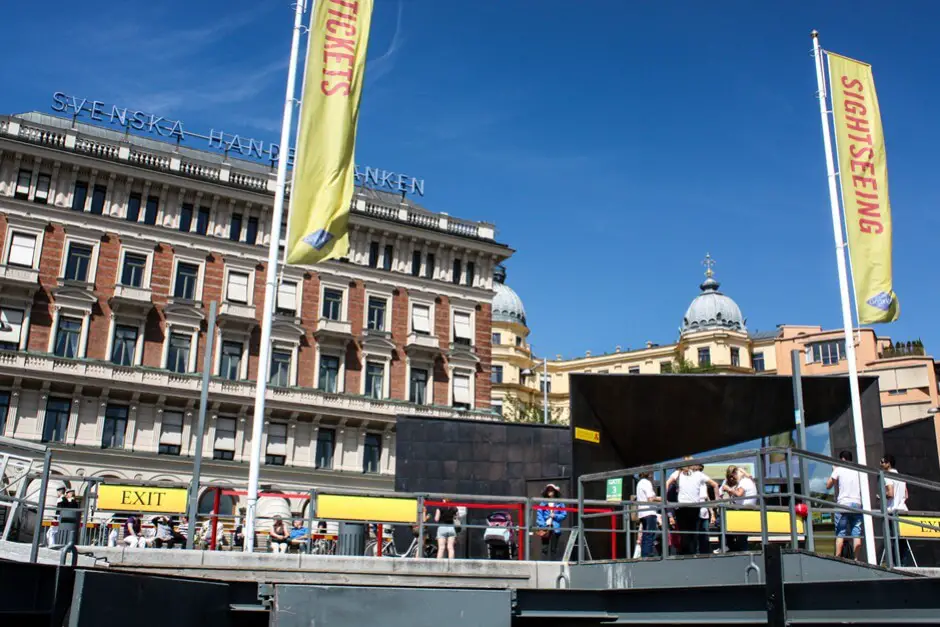 Boat tour
Stockholm is located on one side on the Baltic Sea and is bounded on the other side of Lake Mälaren. The city is also spread over several islands. So, water is something that you always come across in Stockholm. Therefore, you should see Stockholm from the water, to discover this proximity to the sea and the lake itself. 24 hours in Stockholm allow you the city tour by boat good at planning it. This tour will take you to the main attractions of the city, except that you will discover them from the water. The beauty of this boat tour: You can always get off the road again to take a closer look at certain attractions.
You can also take this bus trip with the Hop On Hop Off Bus Tours through Stockholm *. Or you can travel by boat (if you choose the Hop on Hop off boat tour*). The Wi-Fi on board has not always worked, but who wants to stare at the screen, when the beautiful views of Stockholm are there to look at?
In order to see as much of the city as possible in one day, we recommend these tours because they bring you directly to the highlights and save time. If you use public transport, this stops more often and takes up valuable time. We have done the Boat trip without a stop.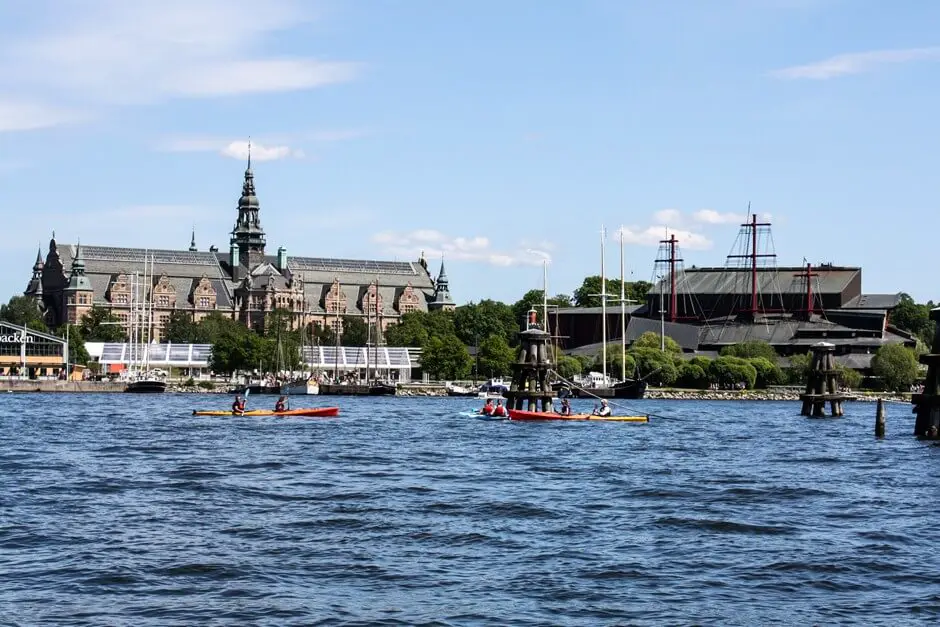 Vasa Museum
You shouldn't miss it Vasa Museum, probably the most famous museum that Stockholm has to offer. In it you can see the almost completely preserved ship Vasa from the 17. See the century. Nowhere else in the world is there such a well-preserved ship from that time. The ship sank shortly after its launch in the harbor and was there 1956 rediscovered and salvaged. Like yours Vasa Museum in one hour optimal visit You can recommend the specialists of the museum (in English) at this link. Whether and how long you have to wait at the entrance to the museum depends on the number of visitors on the day of your visit. Without waiting it will be difficult to organize, unless you book the not cheap 2,5 hourly guided tour including Vasa Museum without waiting times *.
Discover Stockholm actively
If your perfect Stockholm Tour is more active, you can discover Stockholm by bike *. There are different tours of different lengths and at different times of the day.
You may also like these activities offered in Stockholm*. You will get to know Sweden's capital in a varied and sometimes extraordinary way. On some of these adventures you can discover the city the Swedish way. What do you think about a kayak tour or a wildlife safari? Or camping on one of the islands?
We visited Gamla Stan on our own schedule . What we have discovered, you will find in this post.
Also, wander a bit through the modern city center north of Gamla Stan and have a look at the great buildings that stand here. You will discover impressive architecture on every corner. Cross the bridge from Nörrbro towards the Opera or the Riksbron coming from the Riksdag to the north and you are right in the center of modern Stockholm.
Explore Stockholm's history and culture
Do you want to know more about the history and culture of the city? Then take a look at these tours *. Maybe you are interested in the story of ABBA. Or do you want to know more about the Vikings? What role do murder and manslaughter play in the city? In Sigtuna Village you will learn more about Sweden's oldest city. Markim-Orkest even goes back to the Bronze Age. Also churches from the Middle Ages are exciting. Or do you want to find out more about Swedish beer?
Travel tips for Stockholm
---
Travel Arrangements:
Getting there
Lufthansa and SAS fly to Arlanda.
Car Rentals:
Cheap Car Hire - Book Fast and Easy! *
Stockholm sightseeing by boat:
In addition to the Hop on Hop off boat tours, there are other Sightseeing Boat Tours in Stockholm * for which you can also book tickets through Get Your Guide and avoid waiting in Stockholm.
City tours of Stockholm:
If you want to experience Stockholm on one City or Theme Tour *, there is a large selection of tour options.
Hotels in Stockholm:
Stockholm Hotels * You can book through our partner booking.com at this link. If you Accommodation in or near Gamla Stan * seek, you will find it here.
---
Do you already know:
Source: own research on site. We financed this stay in Stockholm ourselves. Updated: December 2020
Text: © Copyright Monika Fuchs, TravelWorldOnline
Photos: © Copyright Monika Fuchs, TravelWorldOnline