It's pouring rain. it's pouring And it's pouring. The sky empties buckets of water on us. Not exactly the best weather for outdoor attractions, so we're very glad that a glass factory in Vermont is on our agenda today. As it turns out, that's exactly the right occupation for such a day. We're on the road in Vermont, driving through the pretty villages in the Green Mountains. They are also pretty in the rain, but exploring them isn't much fun when we get our feet wet.
That's why we take a short walk to the Covered Bridge in beautiful Woodstock and continue to nearby Quechee. At the Simon Pearce Glassworks in Quechee, a glass factory in Vermont, we only have to walk the few steps from the parking lot to the restaurant, because we are also invited to lunch here. And what a meal! At first I was amazed that we also got food in a glass factory and had expected one of the typical cafeterias that are otherwise common in tourist attractions. But we were surprised, and how!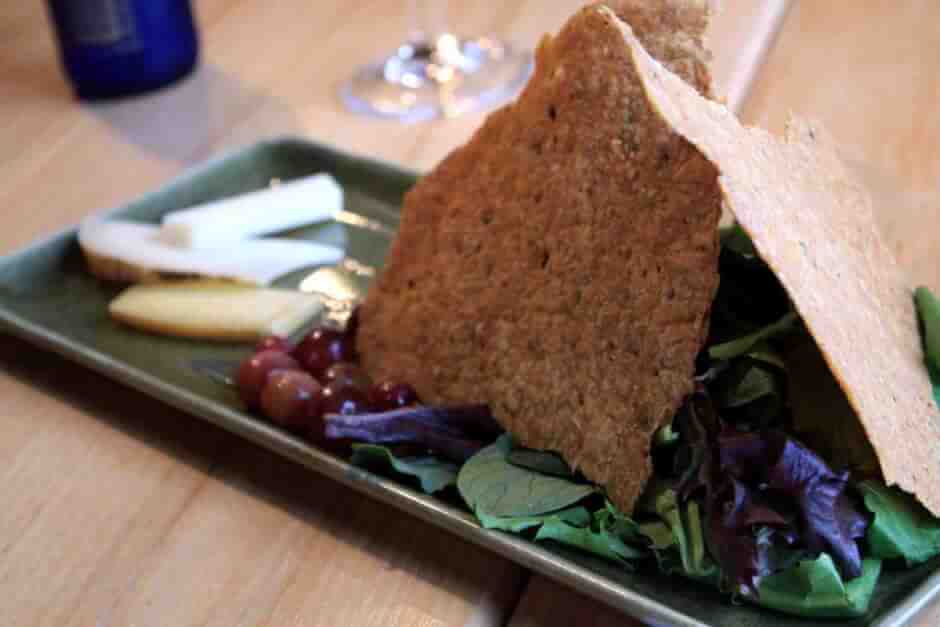 Great food is included in this glass factory in Vermont
The lunch menu at Simon Pearce offers something amazing: a grilled sesame chicken, Rock & Jonah crab cakes, a shepherd's pie, a crispy and flavorful calamari salad, grilled teriyaki salmon from the Faroe Islands or a Mediterranean lamb burger. And just as interesting - and attractively dressed as they sound - are the dishes that are served to us. Even the starter - a selection of cheeses with salad and crusty flatbread - is surprising. And the crab cakes and calamari salad that Petar eats also win us over.
Unlike in the usual coffee shops, where you usually serve yourself, we are served here by extremely friendly and courteous waiters who know their trade. But it's not until we're joined by Meghan Mahoney, who shows us around the showrooms and glass factory after dinner, that we learn why. The owners are Irish who immigrated to the US a few years ago and have found great success with their concept of an artisanal manufacturing facility combined with a restaurant serving good food.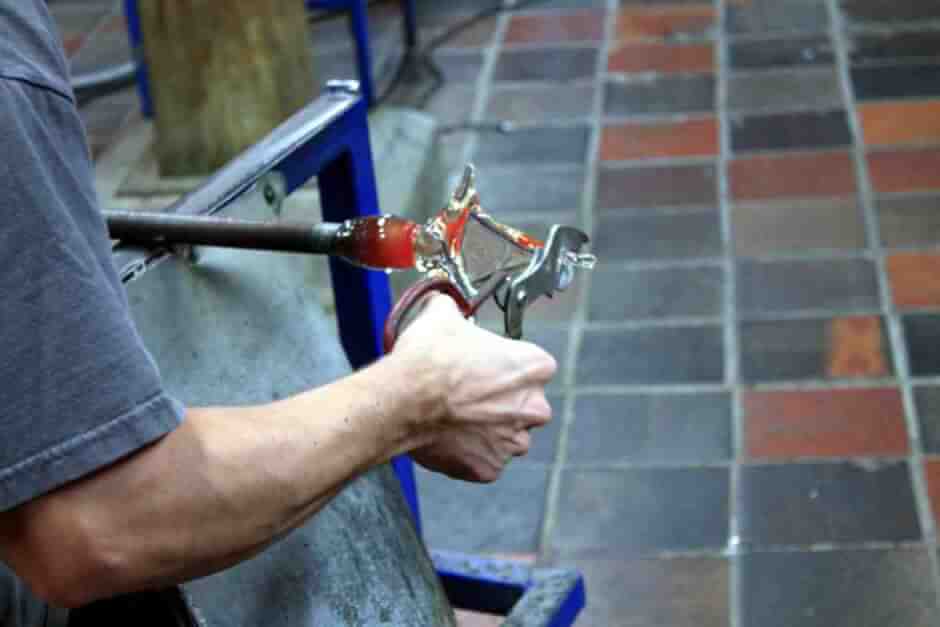 Glass blower in the glass factory
Meghan tells us that the owners train their employees and artisans themselves in the glass blowing. It is mostly young people from the area who want to familiarize themselves with the glass manufacturing craft. You learn here through practical experience and are obviously full of enthusiasm. The workshop where they manufacture the glass bowls, glasses, vases and works of art that can be seen in the exhibition rooms and on the tables in the restaurant is open to the public, and we can watch the works of art being created in the red-hot kilns. "Not an easy job in summer," I think to myself. And Meghan laughs: "It is cozy and warm in here in winter."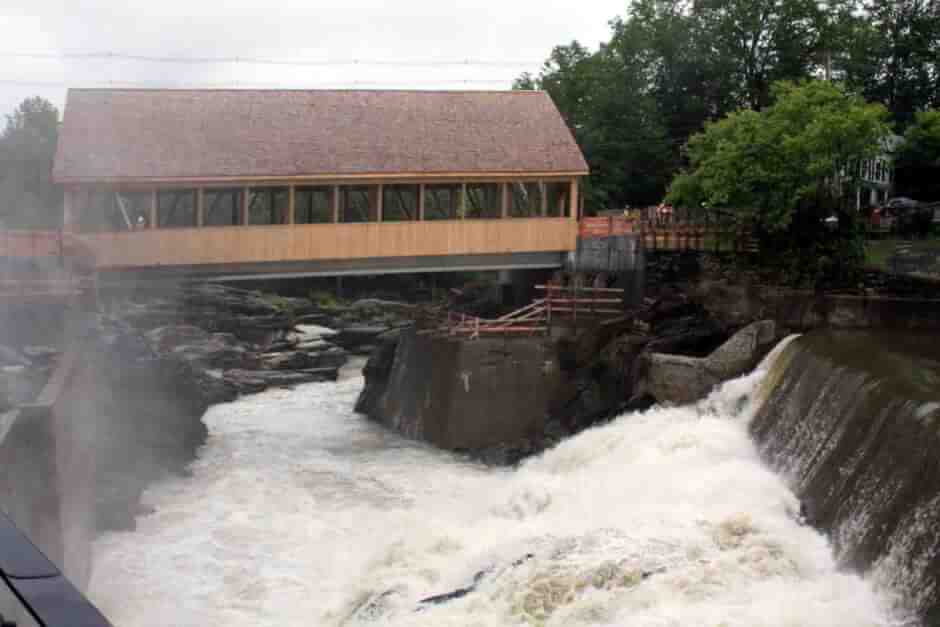 Waterfall in front of the glass factory in Vermont
She leads us out onto the terrace above the river, which, next to the glass-blowing workshop, rushes wildly down a waterfall and shoots foaming under a covered bridge that is currently being repaired. The machines in the glass factory are powered by the power of water. And Meghan explains to us: "Everything where we are right now was under water a few years ago when Hurricane Irene hit here. The whole workshop was flooded and we subsequently found some of our machines and tools on the river bank where the water had washed them."
When I asked how she was able to rebuild everything, she replied: "With a lot of commitment and the help of our employees, who were willing to help with the reconstruction." Impressed, I watch the young people who are fully concentrated on the production of pretty Glass drinking glasses and small sailing ships, which are one of the most popular souvenirs at the shop above the workshop, Meghan tells us.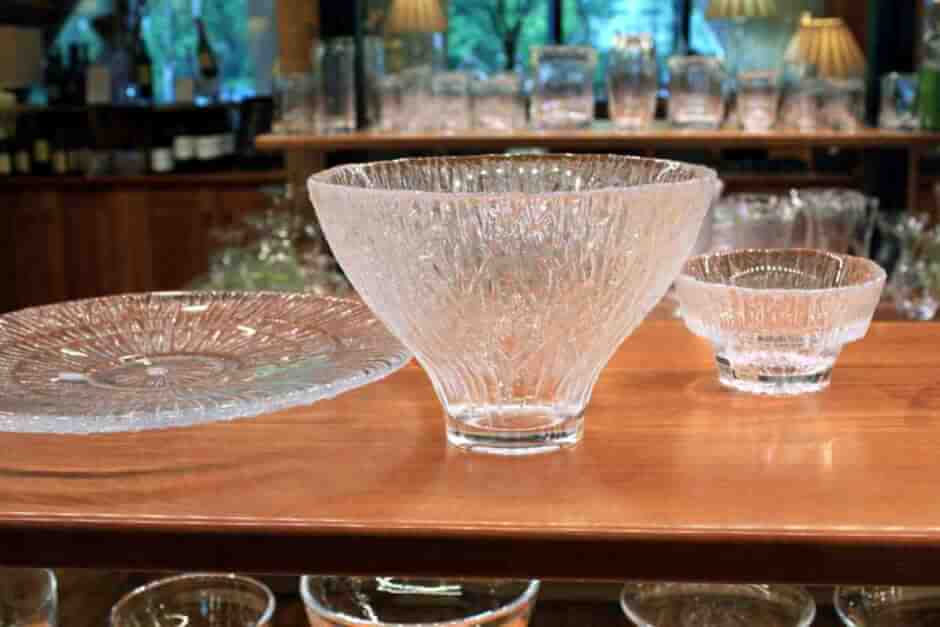 Glass handmade at this glass factory in Vermont
Anyway, the shop! Here we see how diverse the products created in this glass factory in Vermont are. There are bowls in all sorts of shapes - curved, round, square or with a serrated surface -, vases of similar shapes - wide, narrow, high or low, thick or thin -, glasses, plates and much more. Everything made of glass. A wonderful place to combine a good lunch with an afternoon talking to a creative team. And the subsequent browsing in the store may bring one or the other souvenirs or souvenirs from the trip to light. In any case, we spend a very pleasant afternoon at the Simon Pearce glass factory in Quechee, Vermont.
Here you can find this glass factory in Vermont:
Simon Pearce The Mill
1760 Quechee Main Street
Quechee VT 05059
We also discovered a glass region in Sweden: the Kingdom of Crystal in Smaland in southern Sweden.
---
Do you already know:
Source Vermont Glassworks: On-site research with trip support from Discover New England and the Simon Pearce Glassworks in Vermont
Text glass factory in Vermont: © Copyright Monika Fuchs, TravelWorldOnline
Photos: © Copyright Monika Fuchs, TravelWorldOnline
Video: © Copyright Petar Fuchs, TravelWorldOnline
Glass factory in Vermont with a covered bridge