Hildene Estate in Manchester Vermont

Our drive through Vermont brings us to the pretty town of Manchester, which is everything you would imagine a New England town to be: with a whitewashed church on the village green, well-kept mansions with lovingly tended front yards where gorgeous perennials and flower arrangements attract attention, and the typical nice New England decorations that embellish front doors, porches or garden gates. Here we would like to spend a whole day looking at the houses and gardens. We are, however, awaited at a mansion a little out of town: at Hildene Estate in Manchester Vermont where the descendants of the American President Abraham Lincoln once lived. Lincoln himself was never here. And whether he, who was born in a simple log cabin on a farm in Kentucky, would have understood that his children, grandchildren and great-grandchildren lived in such magnificent surroundings, remains to be seen.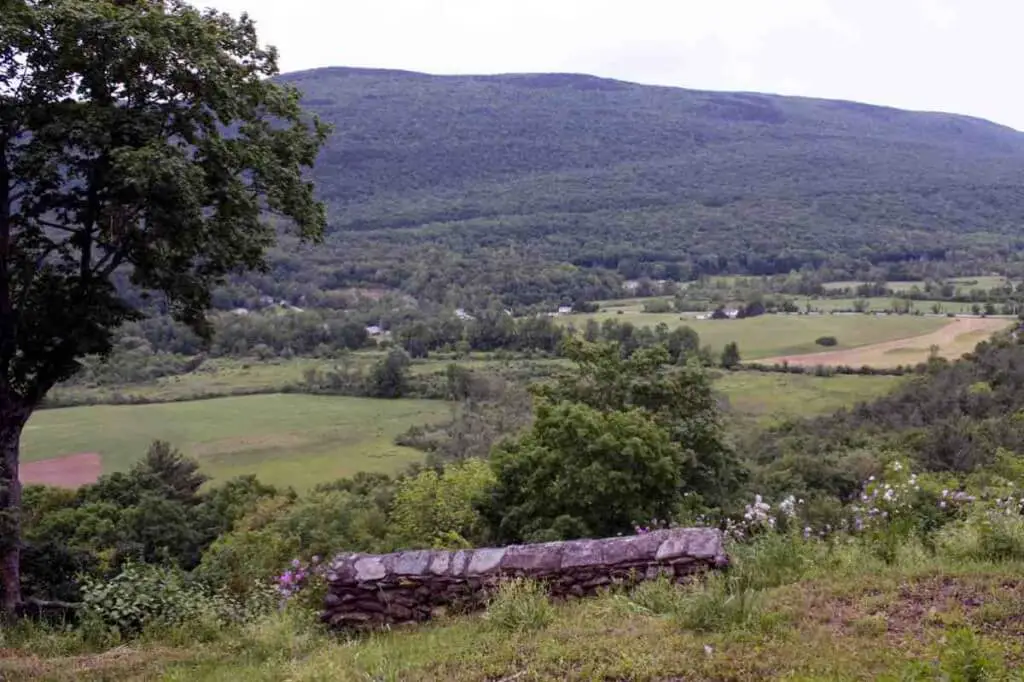 In any case, we are impressed by Hildene in Manchester Vermont with his mansion, which sits enthroned on a mountain ledge above the valley and offers wide views of the valley and the Green Mountains on the other side of the valley. It was the residence of Robert Todd Lincoln, the eldest son of Abraham Lincoln, who was the only one of Lincoln's children to survive into adulthood. He had come here at the age of 20 while visiting with his mother and younger brother.
Forty years later, as President of the Pullman Company, he bought the property in Manchester and built the present mansion on it in 1905. Two years later, the formal garden was created with its lush peonies, which attract numerous visitors from around the world each June when it is in bloom attract. Jesse Lincoln had this garden laid out as a birthday present for her mother. We are lucky to be here at just the right time of year to see the bloom in this garden.
Hildene in Manchester Vermont - great gardens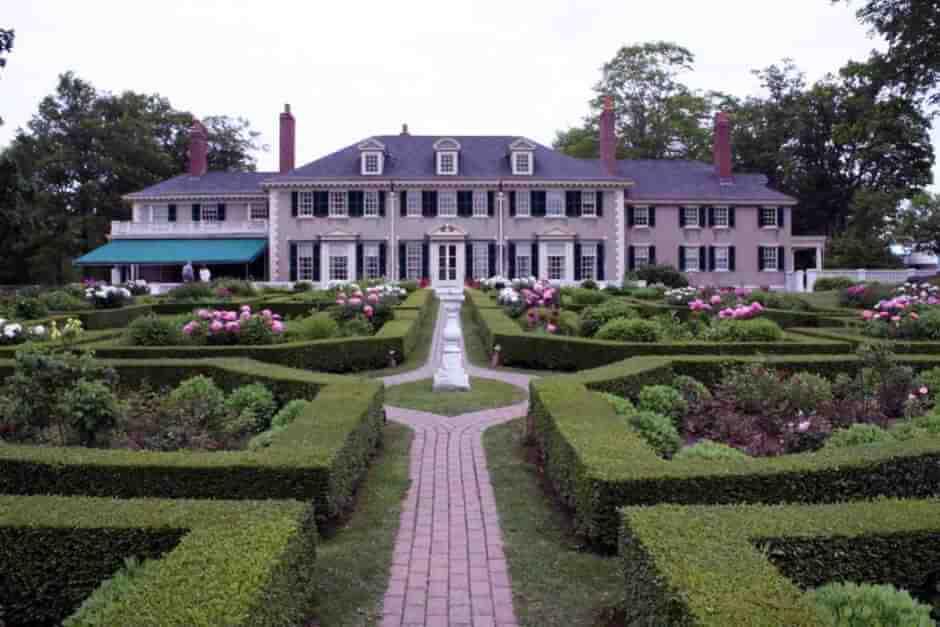 The home itself contains many furniture and memorabilia by Robert Todd Lincoln and his parents. The house was inhabited until 1975 by descendants of Abraham Lincoln. Mary Lincoln Beckwith was the granddaughter of Robert Todd Lincoln and inherited the house in the year 1938. She lived in it until her death. Her brother Robert Todd Lincoln Beckwith, the last direct descendant of Abraham Lincoln, died 1985. This is the house until the second half of the 20. Century in the possession of the Lincoln family. Today it belongs to the association Friends of Hildene, who bought it 1978 and since then look after.
Do you like to travel by motorhome?
Do you want to rent a motorhome? Then you will find information and a selection in these  booking options.
Check our packing list for campers to see whether you have packed everything for your motorhome tour.
practical Motorhome equipment you can also find here.
There is a nice RV park here: 48 Camping on the Battenkill #8565, Arlington, VT 05250, United States
You want to know where you can  stay overnight in New England and New York *  and are looking for parking spaces and campsites? You can find information about this under this link.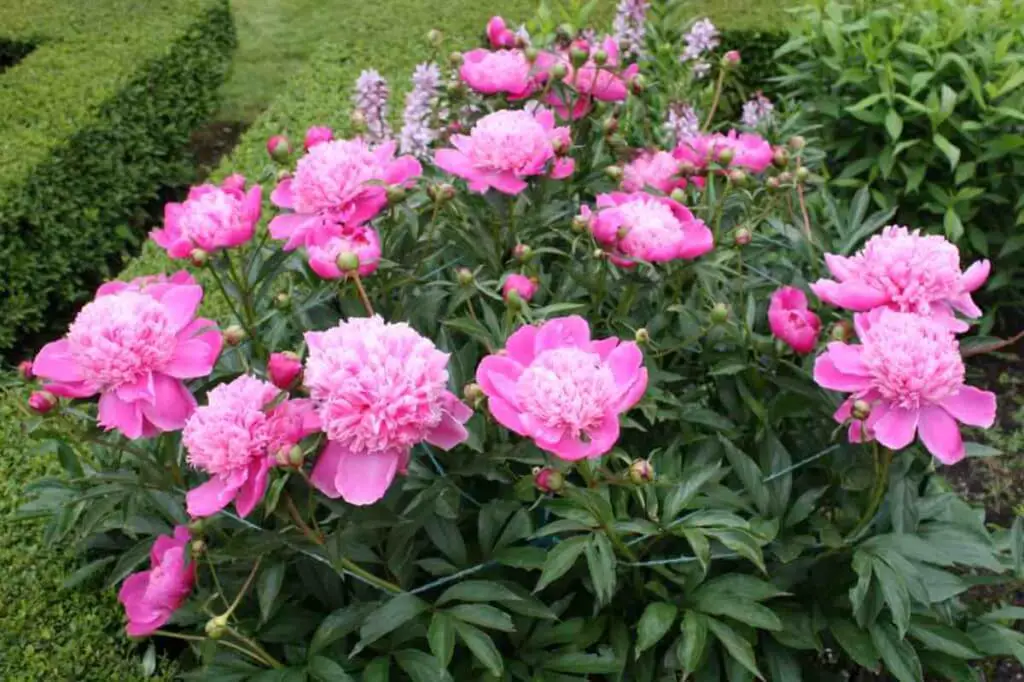 What we like best is the view of the surroundings that one has from the park over the valley. Almost as if from an eagle's nest, we look down over the forest slopes and the hills of the Green Mountains on the other side of the valley. I can well understand what drew Robert Todd Lincoln here and what prompted him to build his family's ancestral home here. I think his father, President Abraham Lincoln, would have liked it too. Here you are far away from any big city and live in an environment in the middle of the country. Perhaps that was what impressed his son so much here? Who knows. In any case, he spent the rest of his life in Hildene.
This has to be in the suitcase for a trip to New England
1005 Hildene Road
Manchester
Vermont 05254
Tel. 800 578-1788 802 362-1788
---
Travel Arrangements:
Arrival
Book yours here Arrival by plane, bus or train*. airports Boston (180 miles, 3,5 hours), New York (200 miles, 4 hours), Montreal (200 miles, 4 hours). There you can rent a car or a mobile home. From Bennington, Vermont, the drive takes approximately half an hour (20 miles).
ATTENTION: Google Maps and MapQuest often send you to the Hildene Exit Road, which is not marked. The correct exit is a mile north of this and is well marked.
Car Rentals:
Cheap Car Hire - Book Fast and Easy! *
Hotels:
Hotels and Inns * You can also book through our partner booking.com at this link.
---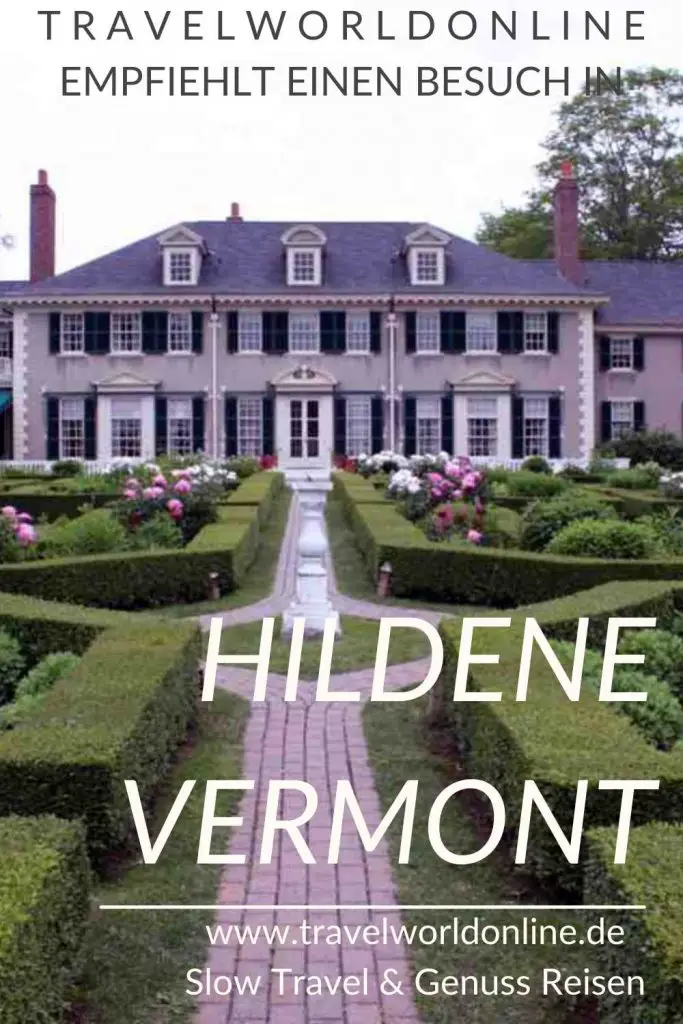 Do you already know:
Source Hildene in Manchester Vermont: Research on site at the invitation of Discover New England. Our opinion remains our own.
Text Hildene in Manchester Vermont : © Copyright Monika Fuchs, TravelWorldOnline
Photos Hildene in Manchester Vermont: © Copyright Monika Fuchs, TravelWorldOnline
Video Hildene in Manchester Vermont : © Copyright Petar Fuchs, TravelWorldOnline
Hildene in Manchester Vermont: where Lincoln's grandchildren lived