Since 2022, the Michelin Guide has been honoring restaurants in Vancouver. To do this, restaurant testers visit the restaurants and rate them according to specified criteria. There are eight Michelin Star restaurants in Vancouver in 2022. Here we present which restaurants in Vancouver have received a Michelin Star. These are the high end Vancouver restaurants.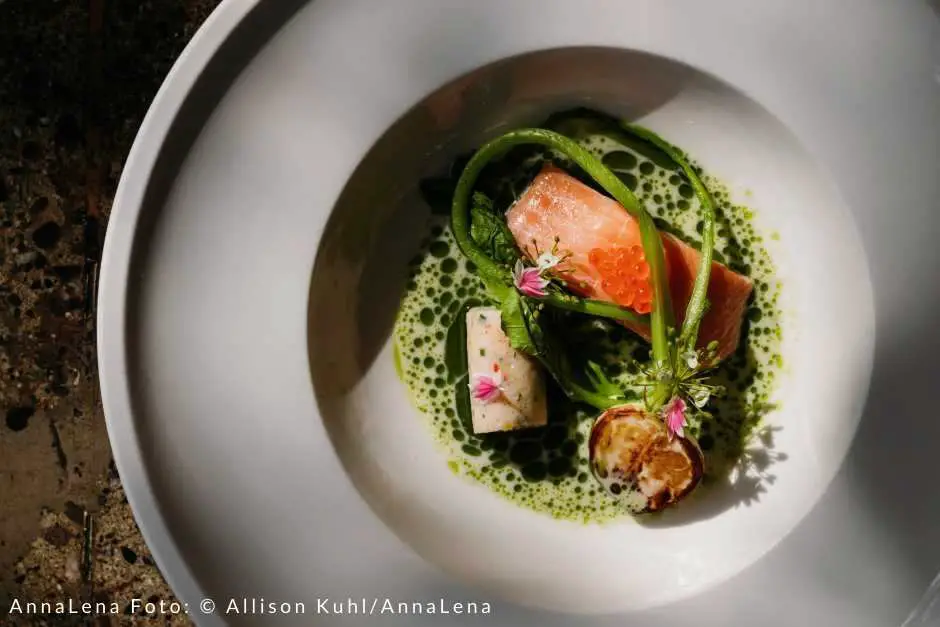 AnnaLena – Michelin Star Restaurant in Vancouver
According to the Michelin Guide, don't be fooled by the restaurant's unassuming atmosphere. excellent cuisine without the chi-chi at this Michelin-starred Vancouver restaurant. AnnaLena is a restaurant serving tasting menus just a few steps from Kitsilano Beach. The restaurant is also within walking distance from downtown Vancouver. The tasting menus vary from week to week. The food focuses on ingredients from local farms and producers. For example, you will find tuna, pumpkin soup, mushroom spaghetti, duck breast and carrot cake. If you want to eat at AnnaLena, you can reserve a table four weeks in advance.
Anna Lena
1809 W. 1st Ave., Vancouver, V6J 5B8, Canada
Tel. +778 379
Email: info@annalena.ca
Hours of Operation: Tuesday – Sunday from 17.00pm with a last session at 21.00pm
Price for the tasting menu without drinks: $88 per person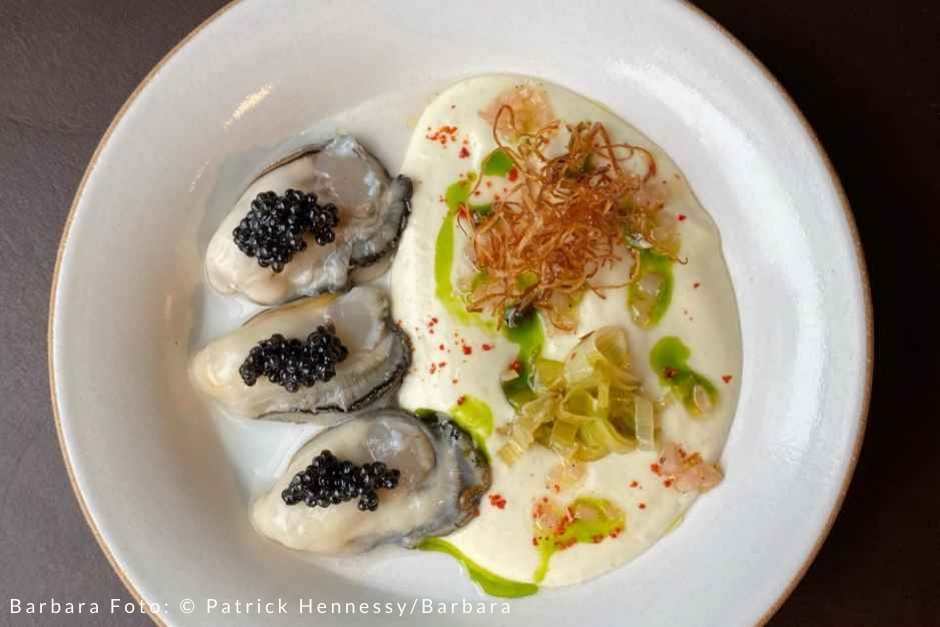 Barbara
Chef Patrick Hennessy serves contemporary cuisine. He learned his craft in New York, among other places, where he worked in Eleven Madison Park. His Michelin restaurants in Vancouver Barbara is located near Japantown. He also serves his guests a three-course tasting menu. On it you can find, for example, beets with walnuts in honey and balsamic wine. He also serves lamb croquettes with kalamata and harissa tapenade on smoked cucumber. Would you like a mushroom tart as the third course? Or an arctic char with hummus, pine nuts, mint and dill? A pork neck with pear puree, sprouts, mushrooms and sherry jus is also possible. The map varies depending on the season. Hennessy uses local and sustainable ingredients for its dishes.
Barbara
305 E. Pender St., Vancouver, V6A 0J3, Canada
Reservation is required at info@barbararestaurant.com
Opening hours: Tuesday – Friday 17.30 p.m. – 22.00 p.m
Price for the tasting menu without drinks: $70 per person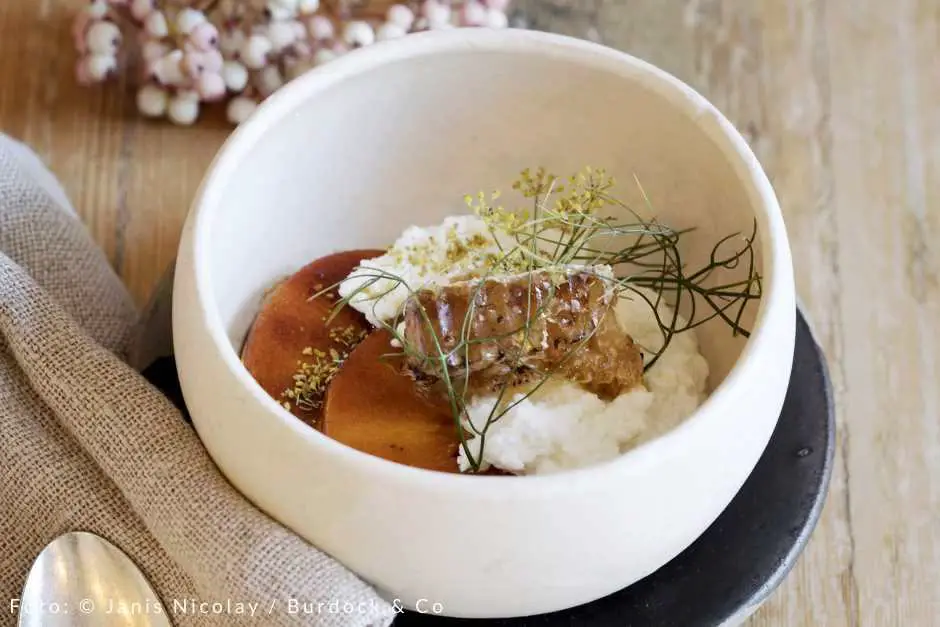 Burdock & Co
Contemporary cuisine is also available at Andrea Carlson. Michelin restaurants in Vancouver is located in the Mt. Pleasant neighborhood. Chef Andrea Carlson specializes in farm-to-table cuisine. The ingredients are typical of the Pacific Northwest region and come from farmers and gatherers who supply ingredients from nature and the surrounding area. On the menu you will find, for example, cauliflower mushrooms with rice porridge, scallops with radish cake in sake butter, Duck Breast with Squash and Koji Puree and Bramley Apple, a Frangipani Tart with Shoyu Butterscotch and Fig Leaf Ice Cream.
Burdock & Co
2702 Main St., Vancouver, V5T 3E8, Canada
Tel. +604 879
Email: eat@burdockandco.com
Opening times: Thursday – Monday, 17.00 p.m. – 22.00 p.m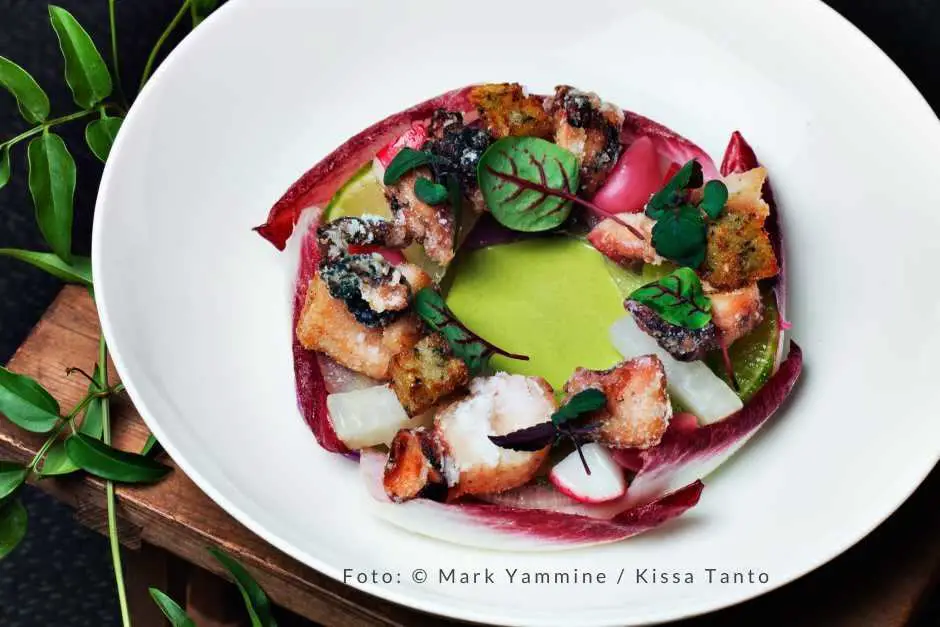 Kissa Tanto - Michelin Star Restaurant Vancouver
If you like Japanese cuisine, then Kissa Tanto is the place for you. Or even better: Kissa Tanto serves a mixture of Japanese and Italian cuisine. The whole thing is served in a Michelin restaurant in Vancouver that is reminiscent of the jazz cafes in Tokyo in the 1960s. The menu features Wagyu beef carne cruda from a Snake River farm as an appetizer. How about a whole fish fried with daikon soya sauce for dipping as a main course? These are just two of the dishes you can find on the Kissa Tanto menu.
Kissa Tanto
263 E. Pender St., Vancouver, V6A 1T8, Canada
Tel. +778 379
Email: hello@kissatanto.com
Opening times: Wednesday, Thursday and Sunday, 17.30 p.m. – 22.00 p.m
Friday and Saturday, 17.30 p.m. – midnight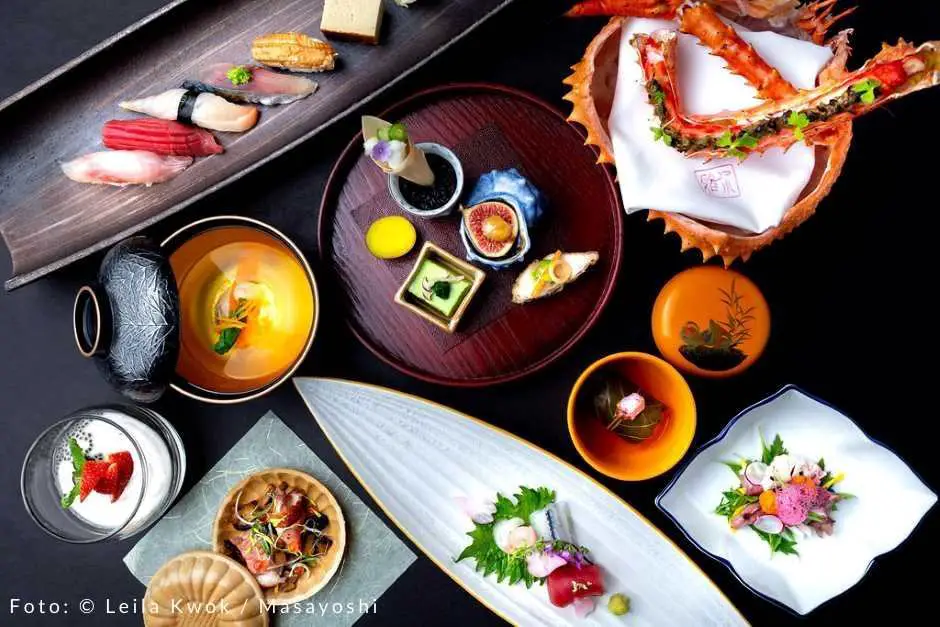 Masayoshi
At Masayoshi you will find Japanese sushi specialties that will make your mouth water. Away from downtown Vancouver, veteran sushi chef Masayoshi Baba runs his Michelin-starred restaurant in Vancouver, having worked at Tojo's Restaurant for more than ten years. Masayoshi doesn't just have one Michelin star to show for it. The restaurant has also been voted one of the top sushi restaurants by The Georgia Straight and Vancouver Magazine. So it's worth trying Chef Masayoshi's sushi.
Masayoshi
4376 Fraser St., Vancouver, V5V 4G3, Canada
Tel. +604 428
Opening times: Tuesday – Saturday with two sessions from 18.00 p.m. and 20.00 p.m.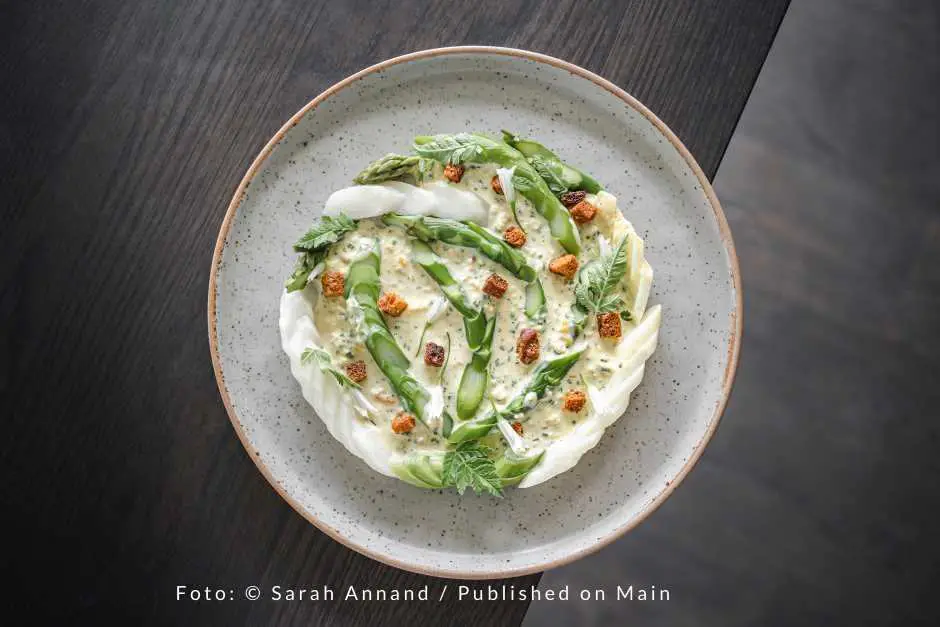 Published on Main – Michelin Restaurants in Vancouver
Also just outside of downtown is Published on Main, a Michelin-starred Vancouver restaurant where Chef Gus Stieffenhofer-Brandson serves food sourced from local farms and forests. Here you can enjoy contemporary regional cuisine. The menu features Japanese milk buns with bee pollen and butter, as well as aebleskiver. These are Danish donuts filled with steamed herbs and served on a fresh herb cream. The bison striploin with potato snow and an elder bearnaise also sounds exciting.
Published on Main
3593 Main St., Vancouver, V5V 3N4, Canada
Email: info@publishedyvr.com
Opening times: Monday – Sunday, 17.00 p.m. – 23.00 p.m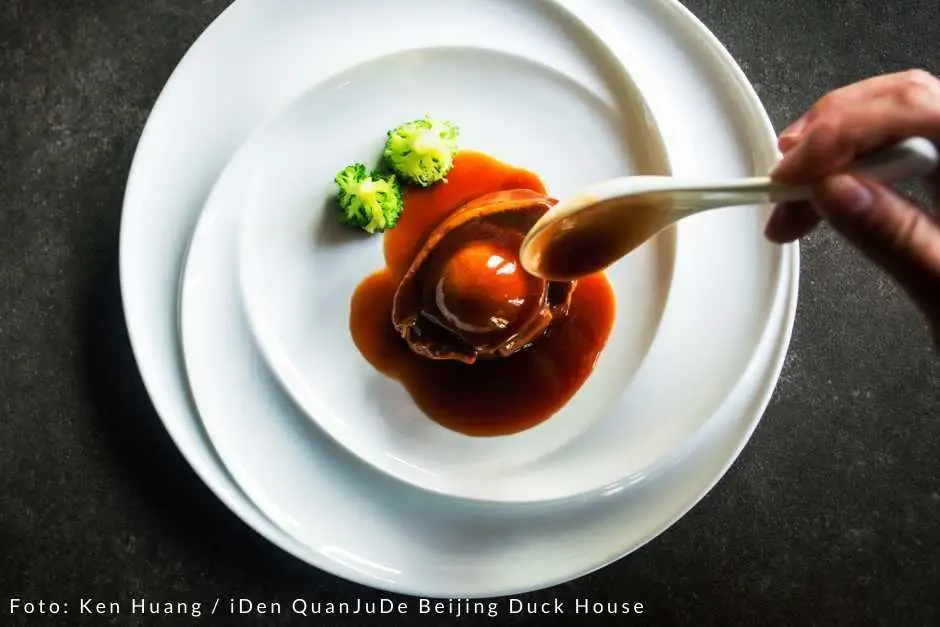 iDen & QuanJuDe Beijing Duck House – Michelin restaurants in Vancouver
If you like duck, there's no better place to eat it in Vancouver. It's the star dish at Michelin restaurants in Vancouver iDen & QuanJuDe Beijing Duck House. Here you will also find king crabs, sea cucumbers or even a bird's nest on the menu. The QuanJuDe also looks back on a long past. As early as 1864 the family ran a restaurant in Beijing, China. They brought this culinary heritage with them to Vancouver.
iDen & QuanJuDe Beijing Duck House
2808 Cambie St, Vancouver, BC V5Z 2V5, Canada
Tel. +236 477
Email: info@quanjude1864.com
Opening hours: Monday – Thursday, 11.30 a.m. – 14.30 p.m., 16.30 p.m. – 22.30 p.m
Friday – Sunday, 11.30 a.m. – 22.30 p.m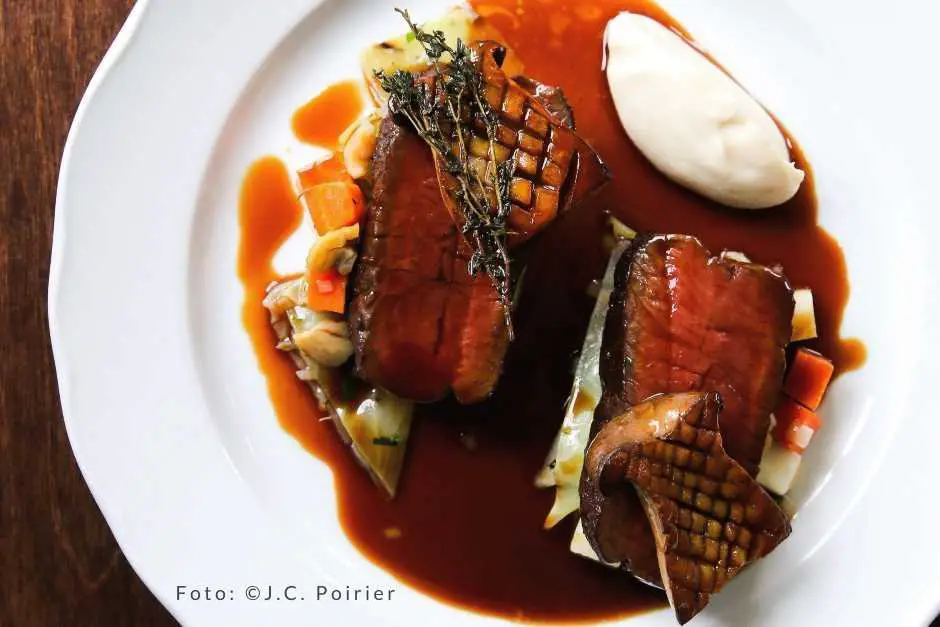 St. Lawrence - Michelin restaurants in Vancouver
Chef Jean-Christophe Poirier serves French-Canadian dishes at his St. Lawrence restaurant. In his bistro he brings Quebec cuisine to the table. Each month, there is a limited-edition special dish reminiscent of the cuisine along Quebec's St. Lawrence River. Let yourself be surprised. Better yet, order the tasting menu. Chef Poirier serves seven courses consisting of a starter, main course and dessert. What do you think of foie gras pudding with maple syrup, breadcrumbs and pepper? Among the main dishes you can find Oreilles de crisse. It's fried pork rinds with maple syrup and Montreal spices. A tarte au sirop d'érable might be on the menu for dessert. This is a maple syrup tart with milk foam and spruce.
St Lawrence
269 ​​Powell St., Vancouver, V6A 1G3, Canada
Tel. +604 620
Email: info@stlawrencerestaurant.com
Opening hours: Tuesday – Sunday, 17.00 p.m. – late evening
The tasting menu is $89 (plus tax and tip).
Enjoy your meal at Vancouver's high end restaurants!
---
Travel organization of your Vancouver trip:
Check in:
Arrival by plane, bus or train*. Vancouver has an international airport where direct flights from Germany and Europe land.
Rental car for your Vancouver trip :
Cheap Car Hire - Book Fast and Easy! *
Camper Rentals:
Compare motorhome prices here.
Hotels:
Accommodation in vancouver* You can book through our partner booking.com.
Travel Guide:
---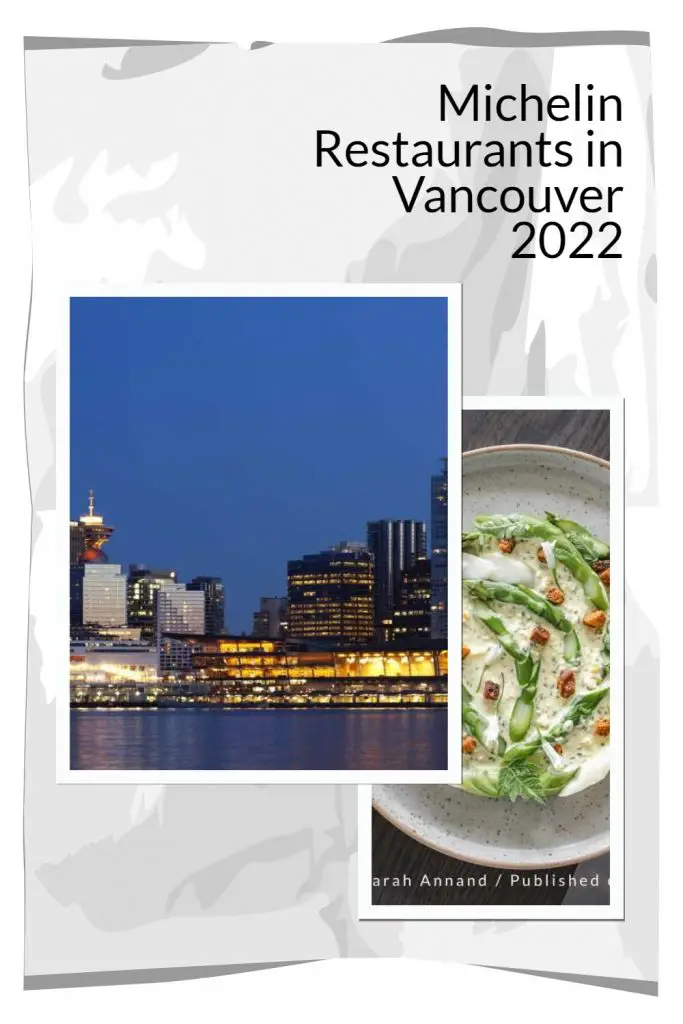 Do you also know:
Source: own research
Text: Monika Fuchs and TravelWorldOnline
Photos: Pixabay and the photographers in the photo descriptions
Michelin restaurants in Vancouver 2022
Last update on 1.06.2023/XNUMX/XNUMX / Affiliate links / Images from the Amazon Product Advertising API