Paprika Recipe from Southern Italy
With this paprika recipe for peperonata you can prepare the paprika vegetables like a housewife from Apulia, Calabria or Sicily does. Everyone has their recipe that they swear by. It is not clear where the recipe originally came from. Some say it comes from Sicily. The others consider Calabria or Puglia to be the place of origin. Even in Romania you can find the paprika vegetables. Because our Enjoyment trip failed to Sicily this spring, we simply bring the south of Italy into our kitchen. Instead of experiencing the smells on the Catania market, our kitchen now smells of peppers, tomatoes and garlic.
The dish nowadays is cooked in all parts of Italy. There are regional differences in its preparation. It is refined with olives, pine nuts, basil. In Tuscany you eat it with potatoes. Piedmont adds capers and parsley. Veneto complements it with eggplants. The variety is great. However, this recipe largely corresponds to the original from southern Italy.
We received the recipe for peperonata from one of our readers. A tip from Maremma Geheimtipp. Also a recipe that we are guaranteed to cook more often.
Ingredients for the paprika recipe - peperonata
three peppers
three tomatoes
an onion
two cloves of garlic
butter
Olive oil
a dash of white wine vinegar
salt and pepper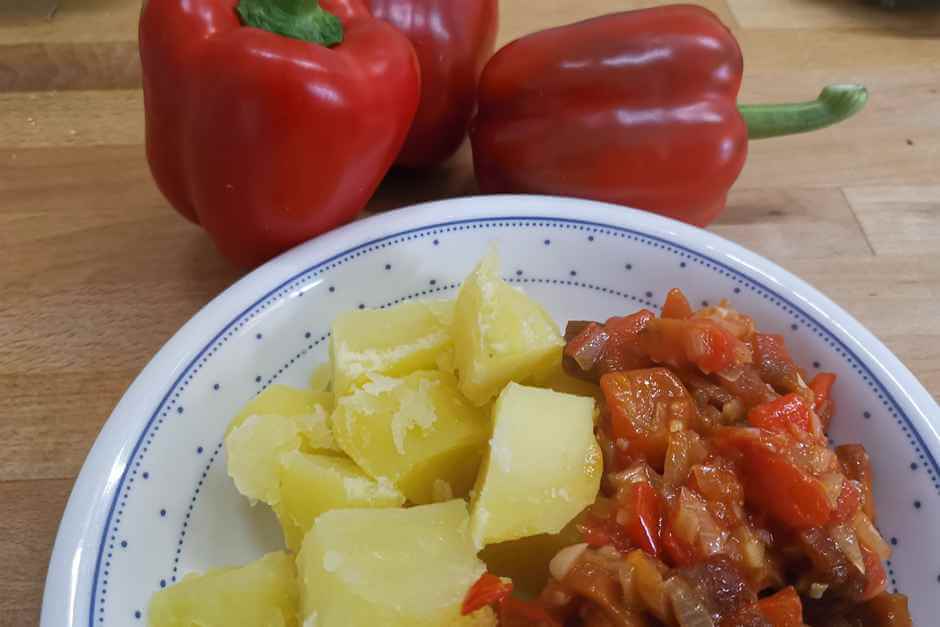 Paprika Recipe Preparation
heat olive oil in the pan. We refine this with a tablespoon of butter.
Meanwhile, chop the onion and garlic. Fry them as soon as the fat is hot. Add a dash of white wine vinegar.
If you want to prepare peperonata like in southern Italy, you peel tomatoes and peppers. You do this by cutting into the tomatoes. Then you hold it under hot water until the skin can be loosened. You can then peel off the skin.
Put the peppers in the oven at 200 ° Celsius for about a quarter of an hour. Once the skin blisters, you can take it out of the oven. The skin can now be easily removed.
Cut the tomatoes and peppers in bite sized pieces.
Add tomatoes and peppers to the pan, then let them simmer for about an hour. Only then does the paprika recipe Peperonata develop its taste.
Side dishes to this paprika recipe - Peperonata
You can eat Peperonata on bread. It also accompanies meat dishes well. We cooked the paprika recipe with potatoes. That's how you eat them in Tuscany. You can cook the potatoes in the vegetables. However, we prefer boiled potatoes.
Questions and answers about the paprika recipe
Is paprika used in Italian food?
Yes, paprika is used in some Italian dishes, especially in southern Italy. For example, in Calabrian cuisine, peperoncino, hot red peppers, are commonly used to flavor dishes. In some regions of Italy, sweet peppers are also used in dishes such as antipasti, pasta sauces and as a side dish.
Which type of pepper is most commonly used in southern Italian pepper recipes?
Most southern Italian pepper recipes use the sweet red pepper variety, also known as "peperoni cruschi".
How are the peppers prepared in southern Italian recipes?
Typically, the peppers are cut into thin strips or rings and then fried or fried in olive oil.
What are the key ingredients in a typical southern Italian paprika recipe?
In addition to paprika, the most important ingredients are olive oil, garlic, salt and possibly vinegar or lemon juice.
What kind of dish can you make with southern Italian peppers recipes?
Southern Italian paprika recipes can be served as a starter, side dish or main course. Popular dishes include paprika salad, stuffed paprika or chili peppers as a snack.
Are there any vegetarian or vegan southern Italian pepper recipes?
Yes, many southern Italian pepper recipes are inherently vegetarian or vegan as they rely on plant-based ingredients like peppers, olive oil and garlic. However, one should always check the exact ingredients in the recipe to ensure no animal products are included.
Recipes with few ingredients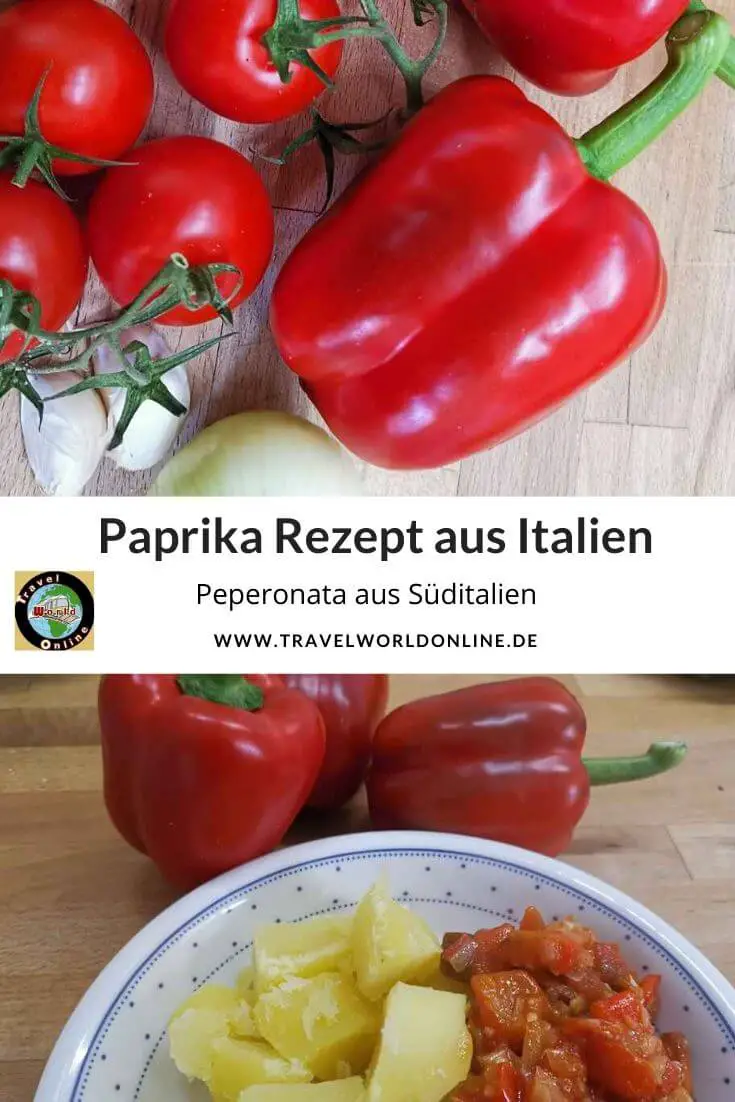 Do you also know:
Source for Peperonata: a tip from Maremma insider tip
Text Paprika Vegetable Peperonata: © Copyright Monika Fuchs and TravelWorldOnline
Photos Paprika Recipe – Peperonata: © Copyright Monika Fuchs and TravelWorldOnline
Paprika Recipe from Southern Italy - Peperonata