Your Sweden vacation in Smaland southern Sweden

This Sweden holiday in Smaland southern Sweden is an experience for connoisseurs. Our Oslo trip made us curious. So we wanted to see more of Scandinavia. To start with, we chose the region between Jönköping and Växjö southeast of Stockholm select. A Sweden holiday in Smaland southern Sweden. I knew this was the land of Pippi Longstocking. But that was it. I didn't know much more about this region. Our goal was to learn more about Smaland Sweden. On this Sweden trip we wanted to take a look behind the scenes. Follow us in our footsteps through beautiful Smaland.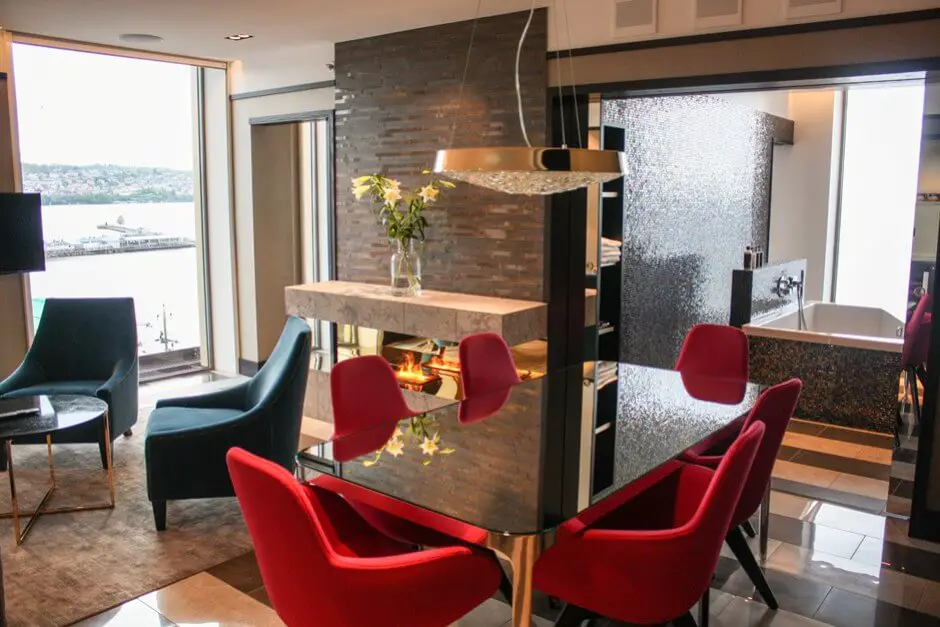 9 top ideas for a gourmet summer in Smaland, southern Sweden
After our arrival in Gothenburg we take over our rental car. From there we drive about two hours to Jönköping. In the town on Lake Vättern we spend our first night in Sweden's newest hotel, the Vox Hotel *. The first nice surprise awaits us there: "We have accommodated you in a suite," is how the friendly lady at the reception welcomes us. So an upgrade. But what a thing! Our suite has a living room with a sitting area, an open fireplace and a minibar. The bedroom is in the corner of the suite with a view of Lake Vättern and the city of Jönköping.
I would love to look out the window at the lake all night long. The best thing about our suite, however, is the wellness area, because it can no longer be described as a bathroom. We have two toilets, a bathtub with a view of the lake from the bathtub. The shower is so big that we can dance in it. And from the sauna we have a direct view of the lake. Simply terrific! Our evening program for this evening of our pleasure trip through Smaland is also fixed. Enjoy the suite and its spa area.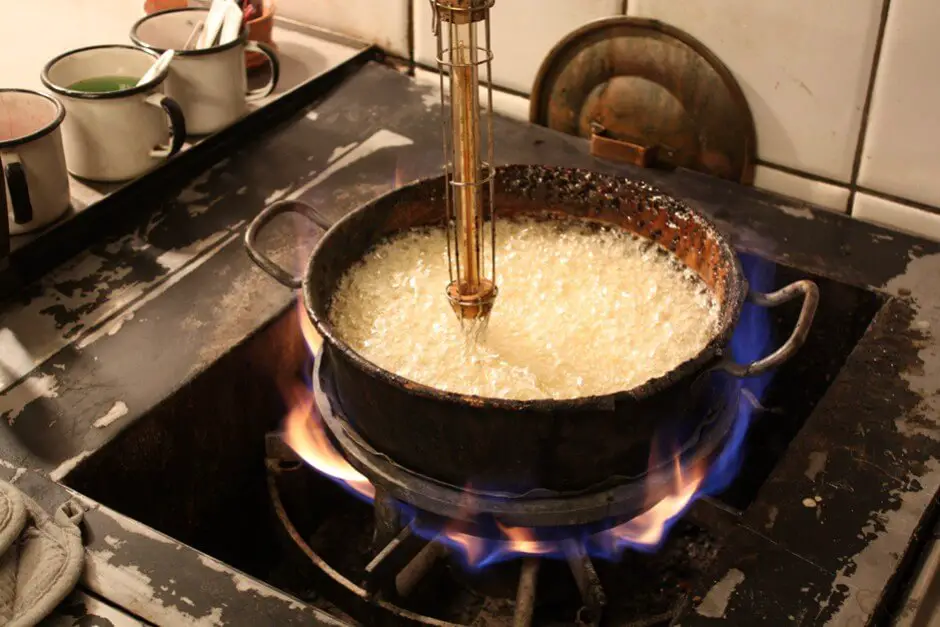 Candy canes turn in Gränna
As befits a pleasure trip, culinary specialties play an important role. So the next morning we set out for the town of Gränna, which is north of Jönköping on Lake Vättern. He is known for the candy canes Polkagrisar, which have been manufactured there since 1859. The inventor was "Aunt Amalia", a single mother who had to look after her child and herself after the death of her husband. She and her successors succeeded so well that today every child in Sweden knows Gränna: the red and white striped candy canes are a popular souvenir for children not only in Smaland Sweden.
Adults also like to suck on a piece of the refreshing peppermint sticks from time to time. We do that too, because I can try making these candy canes myself in Gränna and then take my products home with me. On our two-week trip, they last until the last day. Petar can't get enough of it and, before leaving Stockholm, considers whether he should get more supplies.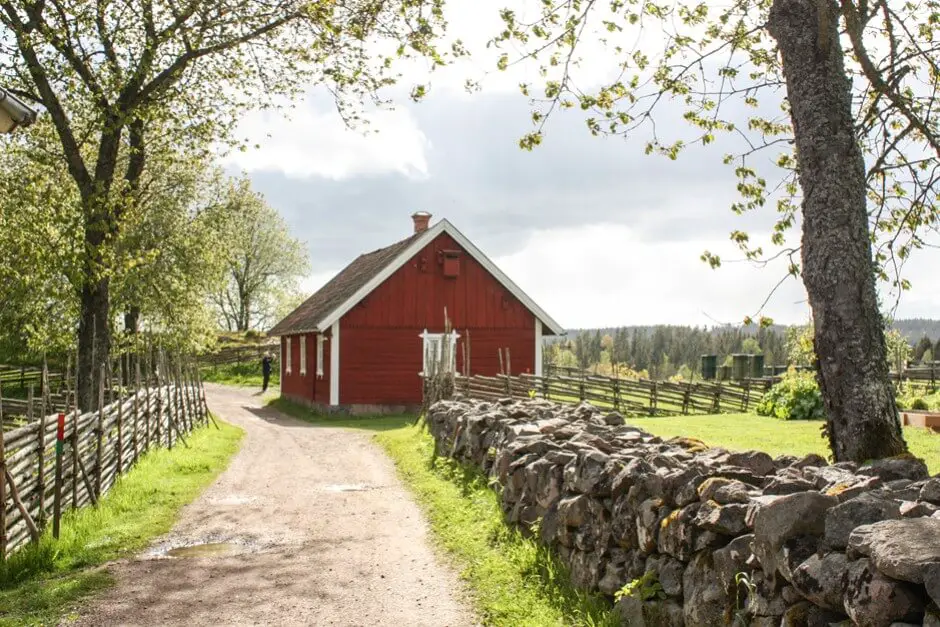 This is how farmers once lived in Smaland Sweden
After lunch at Restaurant Sjön in Jonkoping by Tommy Myllymäki, Bocuse d'Or Europe and member of the Swedish national culinary team, where I choose delicious fresh salmon and Petar a hamburger - yes, you can get that in one of Sweden's best gourmet restaurants (!) - we embark on the Asens cultural reserve on the Search for the peasant life of yesteryear. The time at the beginning of June turns out to be a stroke of luck, as the fruit trees and meadows in front of the red-painted farms are in bloom and transport us to a world that is confusingly similar to that of Astrid Lindgren's Bullerbü. At any moment I expect Pippi Longstocking to peek out from behind one of the corners of the farmhouses and think about how she can play a trick on us. We are there in the evening and have the area almost to ourselves. The walk through the orchards between the red houses is a very special pleasure in the light of the evening sun.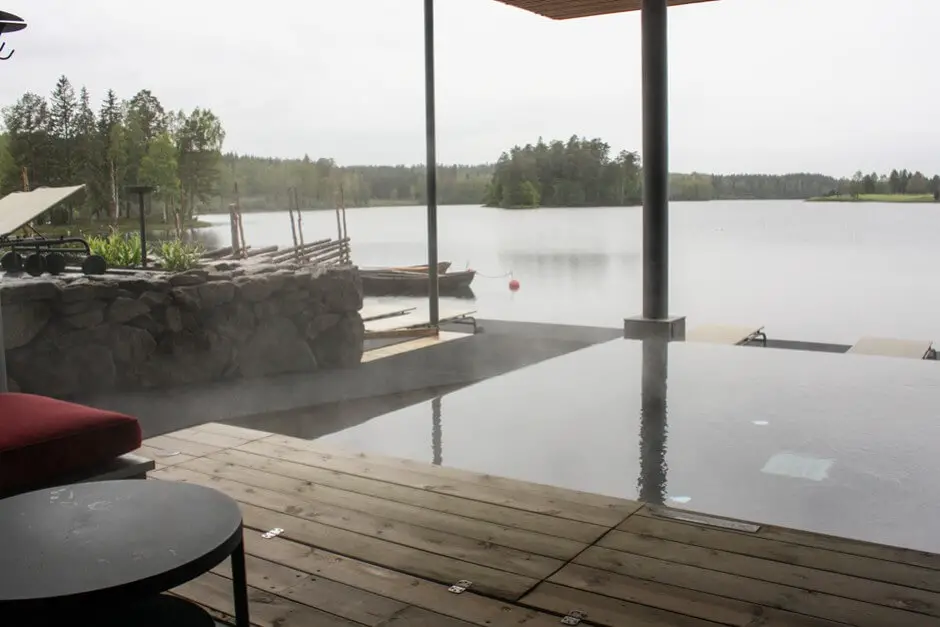 A spa overlooking the lake in southern Sweden
We spend the night south of Jönköping near the small town of Hok in the manor hotel Hooks Herrgard directly on Lake Hokasjön. The hotel has one of Sweden's most traditional golf courses and a great spa area, which we thoroughly enjoy the next morning. Since the weather isn't playing along that day, we spend half a day in the spa, in the sauna and in the pools with different temperatures. We find the most beautiful of them covered outdoors. Imagine looking out over the pools to the lake from the sauna! One can only enjoy that!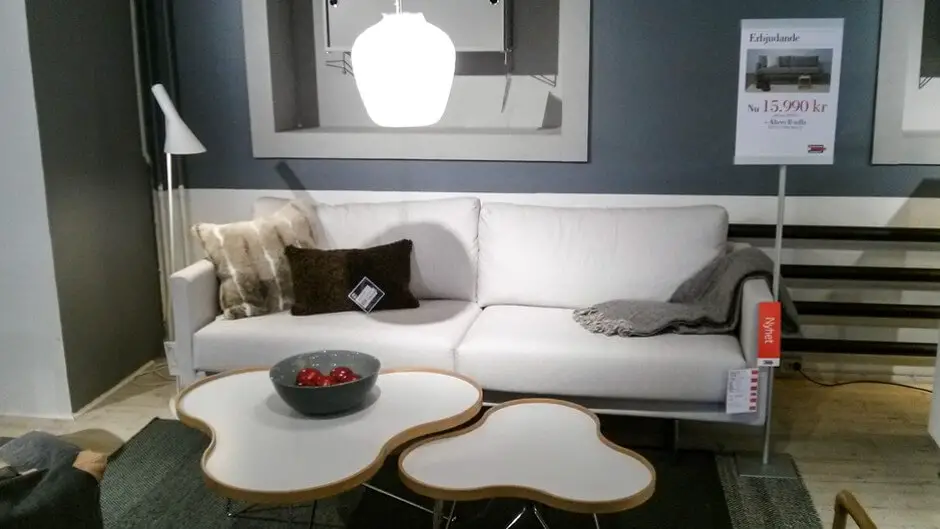 (Art) crafts and patchwork rugs from Smaland
In Lammhult, we look at the typical Swedish furniture design in the furniture kingdom at Svenssons and discover that not only Ikea produces good and tasteful furniture. Clear lines, colorful details, great lamps - that's what makes Swedish interior design so typical. There would have been some of the exhibits at Svenssons on Lammhulter Hauptstrasse that we would have liked for our own apartment if it hadn't been for the flight and transport costs.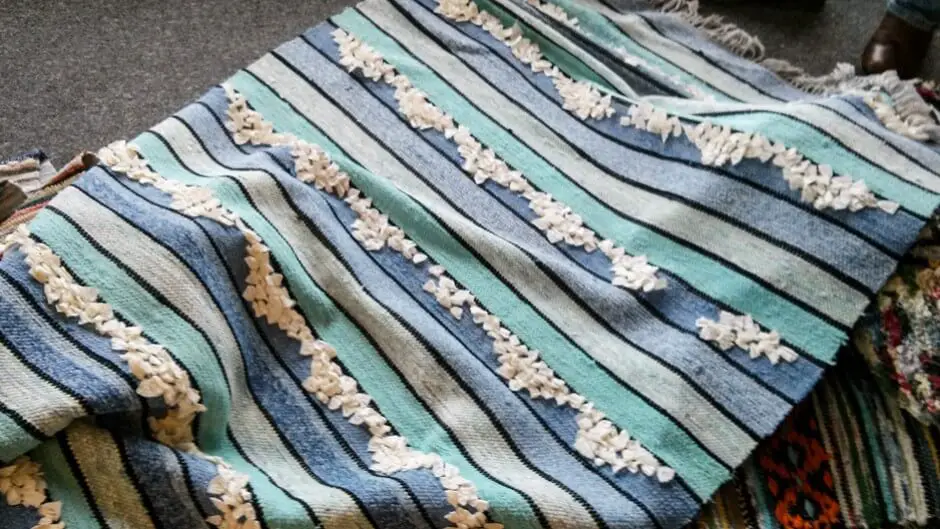 Swedish rag rugs
We wander a bit in Lammhult looking for Eva Valente's shop "Svenska Trasmattor", and only when we ask about it in a neighboring furniture store, we are pointed out to the inconspicuous building in which Eva is currently setting up her shop. She started making rag rugs herself a few years ago and became increasingly interested in the old rugs that everyone in Smaland used to have in their homes. They were mostly self-made from worn-out clothes, old curtains or other materials that were no longer suitable for anything else. In her search for old carpets, Eva came across true masterpieces, but also numerous curiosities that she has shown in exhibitions over time and sold in her own online shop.
customers from all over the world
"My customers come from as far away as Australia," she laughs, and proudly tells the story of one of her regular customers, who has already had several of her traditional rag rugs shipped Down Under. The store may not look like much just yet, but if you go by there, take a look inside. The stories that Eva has to tell are worth just looking at her great carpets. By the way, although her shop isn't even open yet (it won't be for another two weeks), two customers walked in off the street and bought one of her patchwork rugs during our visit. They have now become a trend and go wonderfully with the rather straight-forward furnishings of Swedish furniture stores.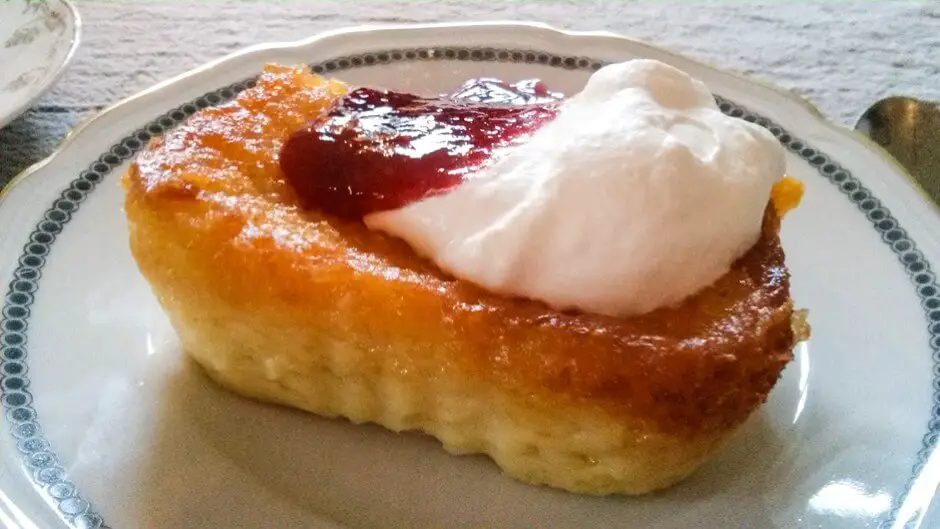 Enjoy Swedish cheesecake at Stella Nilsson
After so much new and old Swedish design we got hungry and continue to Stella Nilsson (Pilås Norregård, 36042 Braås, Tel. +46 70-33 22 338) who makes Ostkaka, real Smaland cheesecake in a traditional way. Stella runs a farm with her husband Thomas, where they raise cattle and pigs. She rents rooms to guests and gets up every morning to first process the fresh milk into cheese, which she then uses to make a wonderful cheesecake that we get to try. When I asked if there was a recipe for it, she laughed and said: "It's top secret. Ostkaka is a topic of discussion among the women of Smaland Sweden. Everyone has their own recipe for it and each homemade cheesecake tastes a little different. Your own is of course always the best."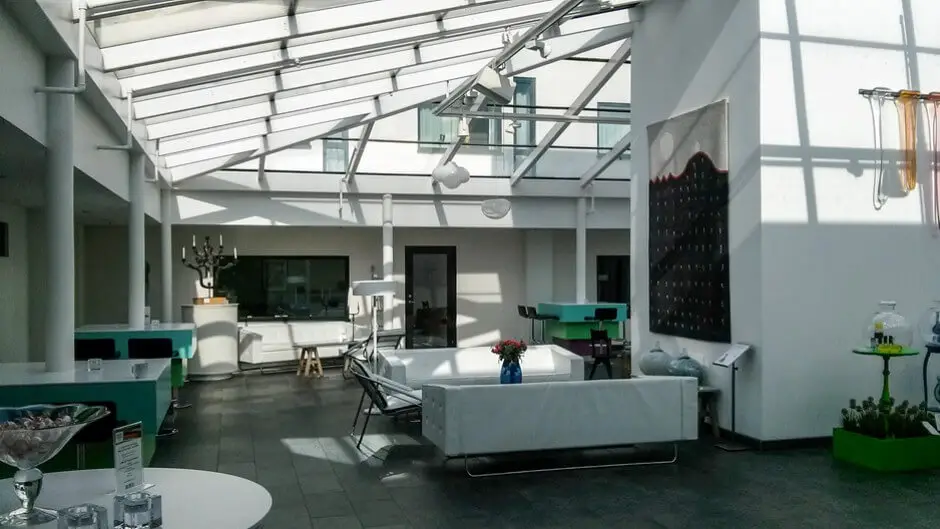 Glass art in the Kingdom of Crystal of Smaland Sweden
Via Växjö we continue to Kosta, where we Kosta Boda Art Hotel * Stay overnight in the middle of the "Crystal Kingdom" of Smaland. This new hotel is dedicated to the theme of glass, as the name suggests. And in every room you will find great glass work by glassblowers from this region. The owner of the hotel is also the owner of the local glass factory, which was close to bankruptcy a few years ago. He had made a fortune in other businesses and came to Kosta to select glasses for one of his businesses. He fell in love with what he found here, bought Kosta Boda glass and reorganized the company. Today it is one of the most successful glass factories in the Kingdom of Crystal in Smaland Sweden, which stretches from Växjö to the east of the region.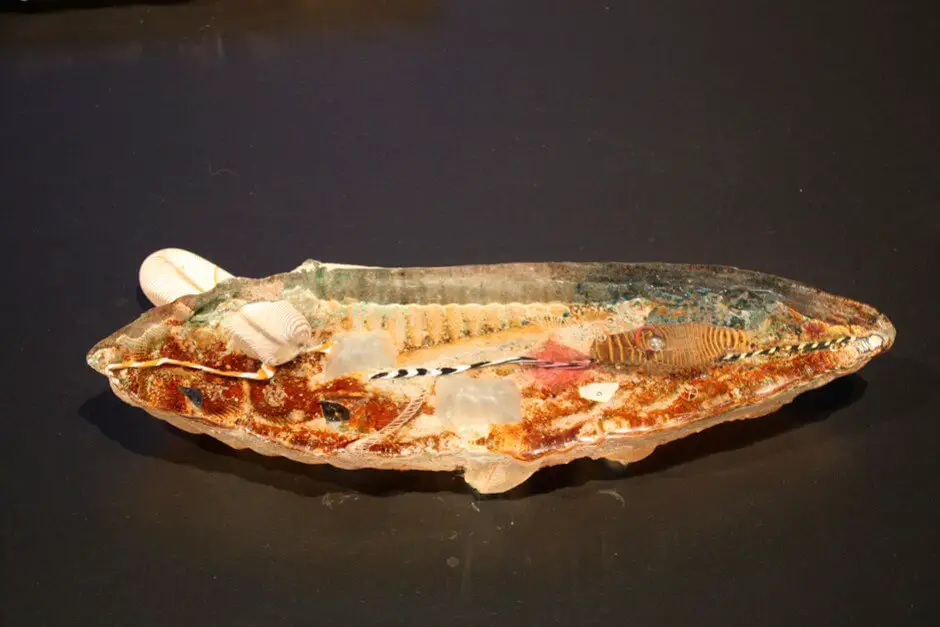 Glass factory in Boda Glasbruk
The next morning we drive on through endless forests Glass Factory in Boda Glasbruk, where we meet Maja Heuer, the director of this glass museum. A young German woman awaits us, who has nothing museum-like about her. Maja studied art history and worked in various Swedish museums before taking over the management of the Glass Factory a few years ago. "Every year around 50 art glassblowers from all over the world meet here to create new designs," she says and introduces us to some of them. They come from Denmark, Sweden and even Australia. There is also a group of art students who are preparing their theses for an exhibition. Some established glass artists install their moving glass mobiles in another space for a temporary exhibition. In the permanent exhibition we see how diverse the glasswork and designs are that have been created in the Småland Kingdom of Crystal over the centuries.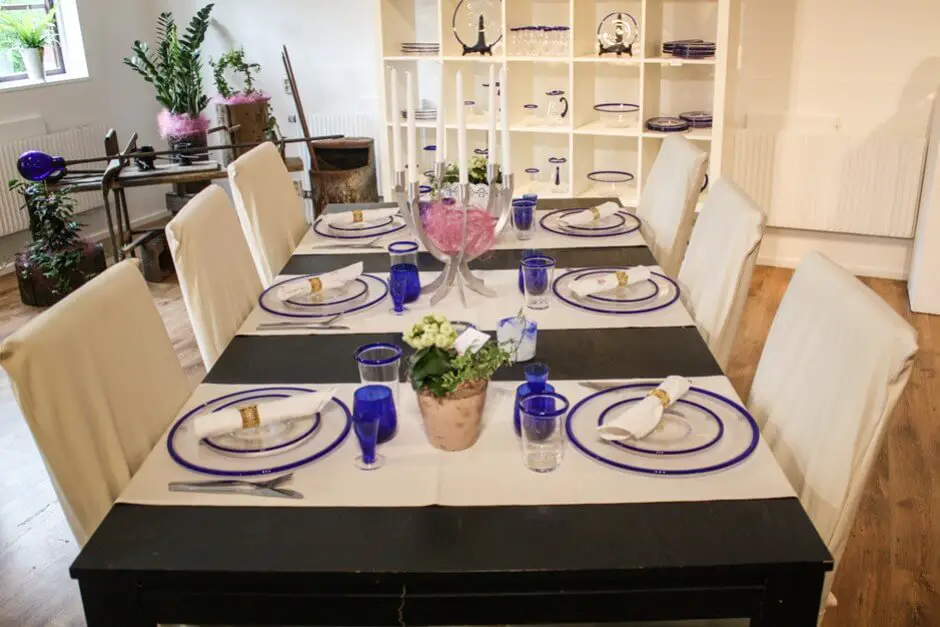 The Swedes grow up with glass from Bergdala
Glass has been made in the densely forested regions of southern Smaland for centuries. "The soil doesn't lend itself to anything here," explains Kerstin Hallberg from Destination Smaland. "Since there was a lack of specialists in Sweden, they were brought in from other parts of Europe. A colorful mixture of Swedish, Bohemian and Italian glassblowers, who practiced their art in Smaland, gathered in the Kingdom of Crystal in Smaland." However, not all glass works are artistically demanding. "In Bergdala, north of Lessebo, you will find a glass that every Swedish child knows and from which they ate their morning muesli." Of course we have to look at that as well. The glass bowls with dark blue edges are typical of this. How good does muesli have to taste if it brings back memories of your own childhood?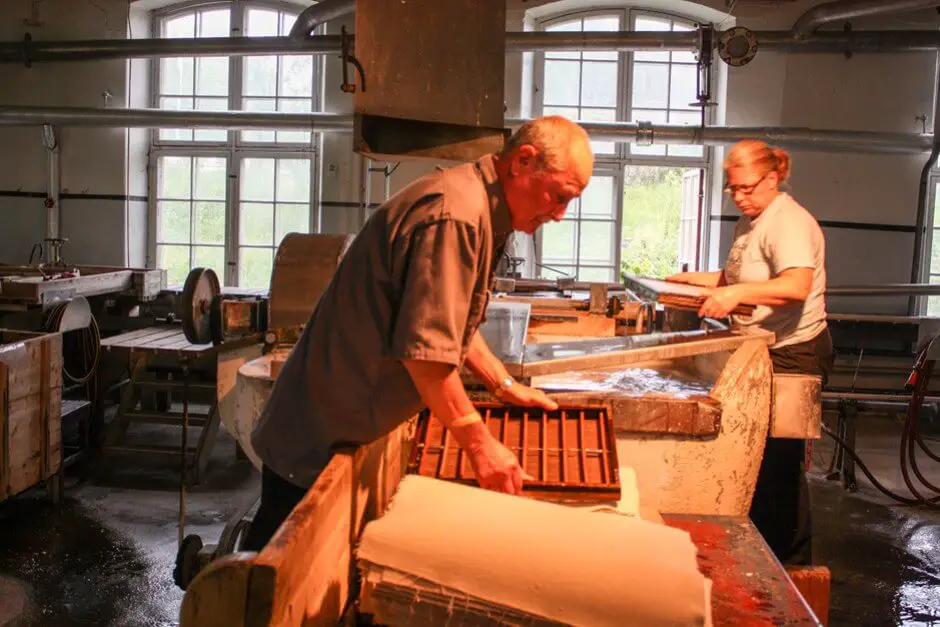 Where paper is still made by hand
At the end of this day we visit the Lessebo Handpapersbruk, the oldest paper factory in Sweden, where paper is still made by hand. We watch as the pulp is stirred in a vat and finally scooped onto a sieve by hand. The paper is left to dry in thick stacks and provided with beautiful watermarks, depending on the order. Among them are the likenesses of the Swedish royal couple as well as company logos of large corporations. The handmade paper always looks valuable.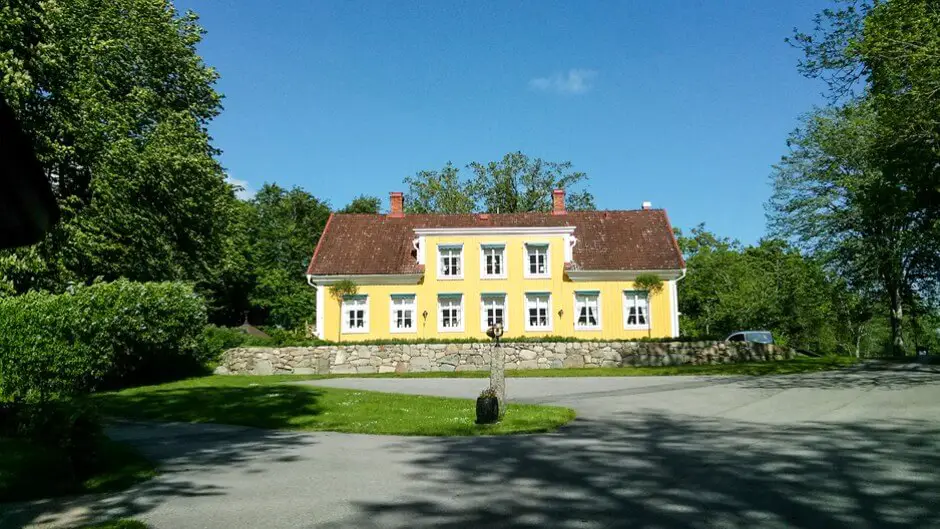 Grimsnäs Herrgard, a gourmet B&B
We spend our last night in Smaland Sweden in Grimsnäs Herrgard, a hotel pension whose avenue of oak trees takes our breath away. It leads to a well maintained main house which houses our room and the restaurant where guests have dinner during the summer months. We are the only guests on this spring evening and are spoiled by the master of the house, Sune Markmann, with wonderful dishes: he shows us how different herring from Småland can taste and serves us an entrecote with vegetables and potatoes, as it is more perfect hardly goes. The rooms at Grimsnäs Herrgard may not be very large due to the historical building, but the warm hospitality of Mia and Sune Markmann and the wonderful food more than make up for it. Anyone who comes here wants to relax. for is Grimsnas Herrgard* the perfect place.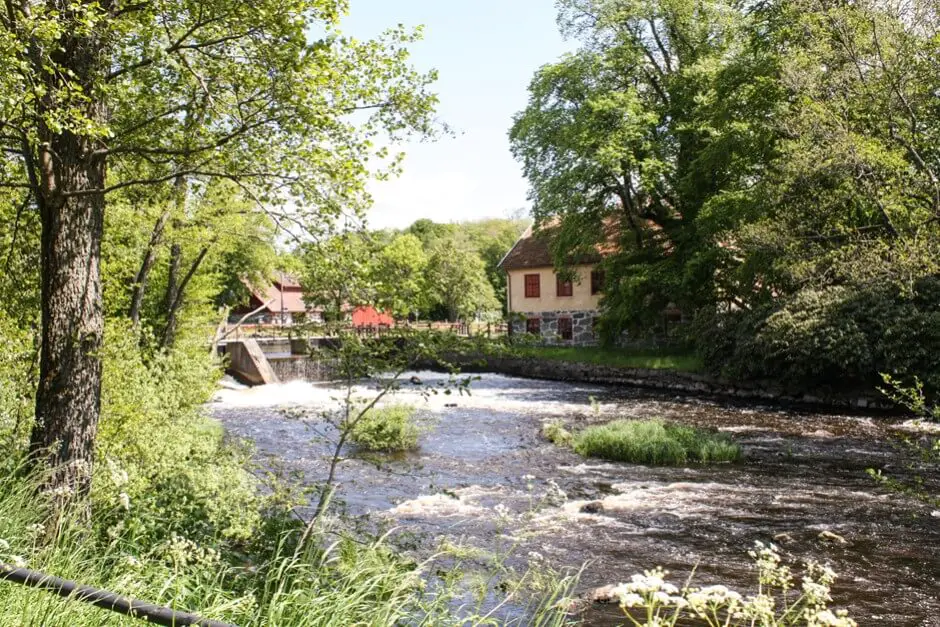 Huseby Bruk Manor House and Park
Huseby Bruk is a 17th century estate. You can still admire its parks and gardens today. The early industrial workshops in which iron was once processed are well preserved. At the entrance to the site we can see how the waters of the River Helge still power water wheels that once powered sawmills, mills and hammer forges. We take the time to walk around the grounds and admire two pairs of peacocks with their magnificent ornamental feathers, who startle passing visitors with their loud screams in an enclosure at the herb garden. Visiting this stately complex makes it difficult for us to say goodbye to Smaland Sweden.
Our four days in this part of Sweden were varied, interesting, enjoyable and certainly not the last we spent in Sweden. Smaland made us curious for more. There is sure to be more to discover in this delightful part of Sweden. This time we drive back to Gothenburg where we start our journey with a River cruise on the Göta Canal will continue. However, that is another story.
More travel tips for your Sweden vacation:
---
Travel Arrangements:
Parking at the airport
Here you can reserve your parking space at the airport.
Arrival by plane, car, bus and train

Arrival by plane, bus or train*. The nearest airport is in Gothenburg or Stockholm. It is also possible to arrive by ferry and rental car. You can, for example, take the ferry from Sassnitz to Trelleborg to travel.
Car Rentals:
Cheap Car Hire - Book Fast and Easy! *
Hotels in Smaland:
Accommodation in Smaland* You can book through our partner booking.com. You find accommodations in the described places in the article.
Travel Guides
Travel guide for southern Sweden* There's Amazon.de
---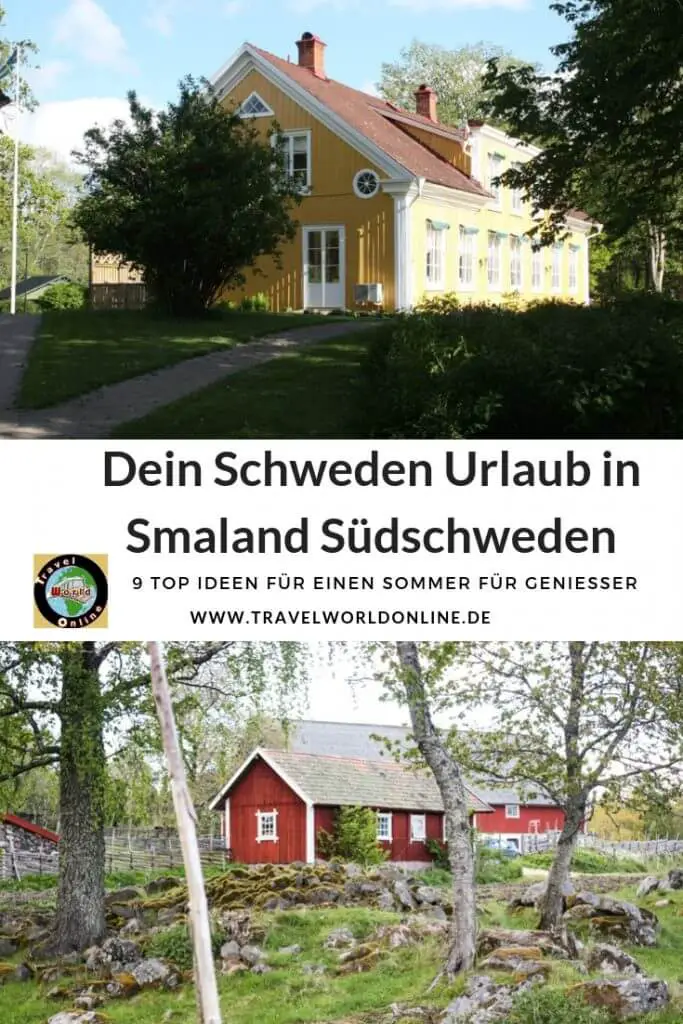 Do you also know:
Source: On-site research. We thank Visit Smaland for the invitation to this trip and for the support. However, our opinion remains our own.
Find more Slow Travel Tips can be found here.
Text: © Copyright Monika Fuchs and TravelWorldOnline
Photos: © Copyright Monika Fuchs and TravelWorldOnline
Your Sweden vacation in Smaland southern Sweden