Irish food of today

Typical Irish food. These are Irish Stew, Irish Coffee and Shepherd's Pie. Who does not know her? Typical Irish food is home-cooked food. It is hearty and hearty. Even poor people eating. At least those were Irish specialties, as I knew them so far. In recent years, in Ireland Kitchens have done quite a bit. Well, many of these foods are still available in restaurants today. But in a different way. Prepared with more love. Done with imagination. Cooked with local ingredients, but also with new recipes. The dishes are created by young chefs. Many of them have learned their trade abroad. Others come from new cooking schools in the country. This changes Irish cuisine. In a hurry!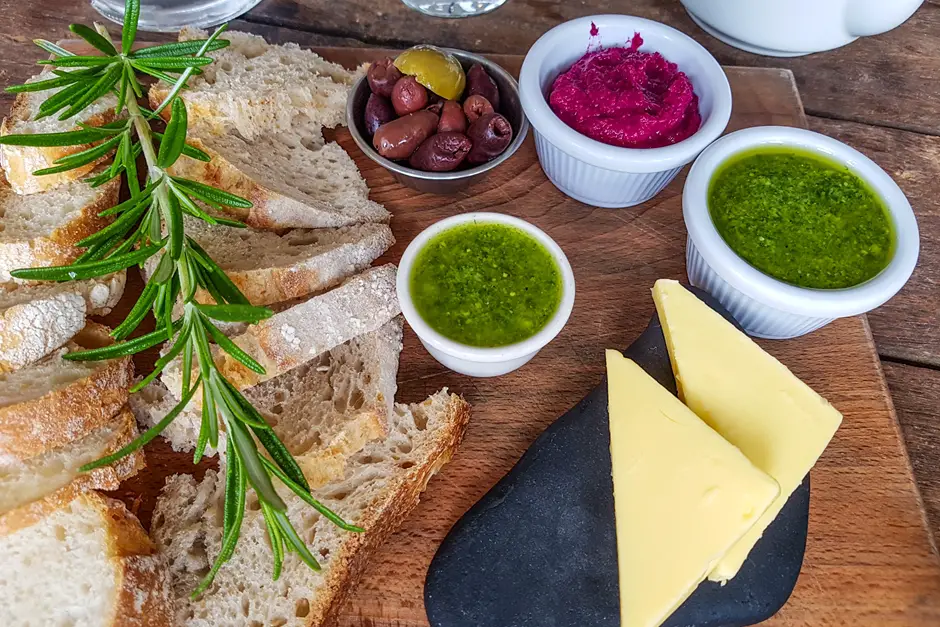 Irish food - reinterpreted
Of course, there is also typical Irish food today. However, Irish steaks now come from cattle that are bred according to sustainable principles. Food trends change in Ireland. Care is taken to deliver quality rather than quantity. The same applies to the production of vegetables and fruits. What is produced in the country, you like to use. The shorter the way to the saucepan, the sooner the ingredients end up in it. The Irish producers have learned to do so. They build their products according to ecological principles. They are inventive. Was formerly Whiskey, Ale, Lager or Guinness a typical Irish drink, today it is cider, mead or apple schnapps. This creates new ones Cocktailsthat you didn't know before. An exciting development - not only for foodies. Or who has heard of a cinna-bon-bon cocktail or a gin and tonic with raspberries?
From the farm to the table
However, one does not follow exotic paths. Instead, the young chefs focus on what the island has to offer. Apples, strawberries, raspberries, honey, beef, sheep, seafood and yes, also cabbage. Traditional ingredients are used in the new recipes. "When I got here from the United States, there was more than 70 dishes on the menu," says the chef at the Pembroke Hotel in Killarney. And he shakes. "Except for one recipe, I threw everyone away." If you look at his menu today, his dishes will make you curious. The Cinna Bon-Bon Cocktail comes from him. He created it with apple products from the surrounding area. It just tastes delicious! Fresh, spicy, but just as surprising.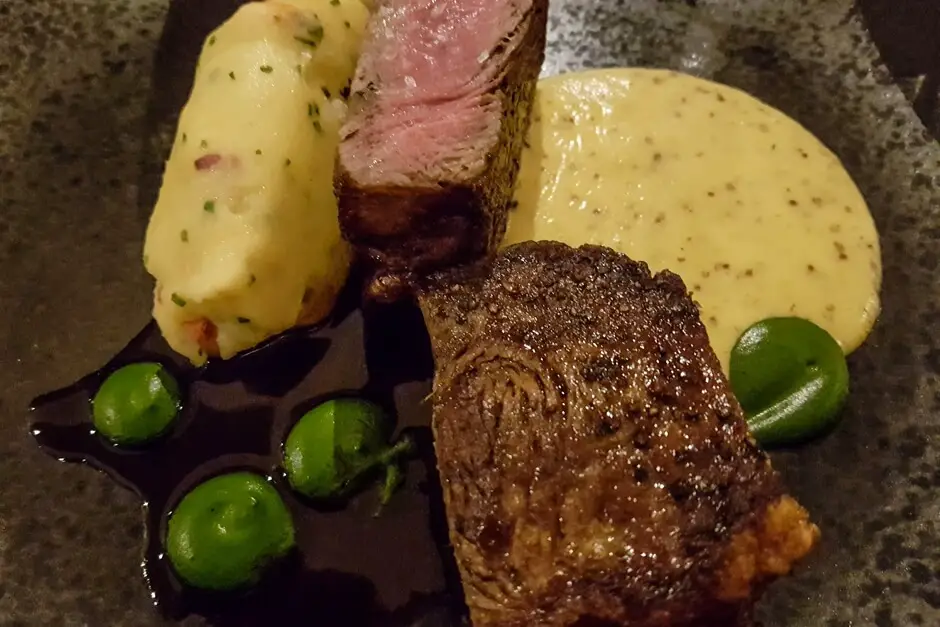 Pot roast - traditional recipe in Ireland
Inventive is Damian Finnegan, the head chef of the Pembroke Hotel in Kilkenny. His menu now only contains a dish from his predecessor, the beef stew. This dish is the only typical Irish food he still cooks today. All the other food he serves his guests, he has developed with ingredients from the farms in the area. These can be proud of!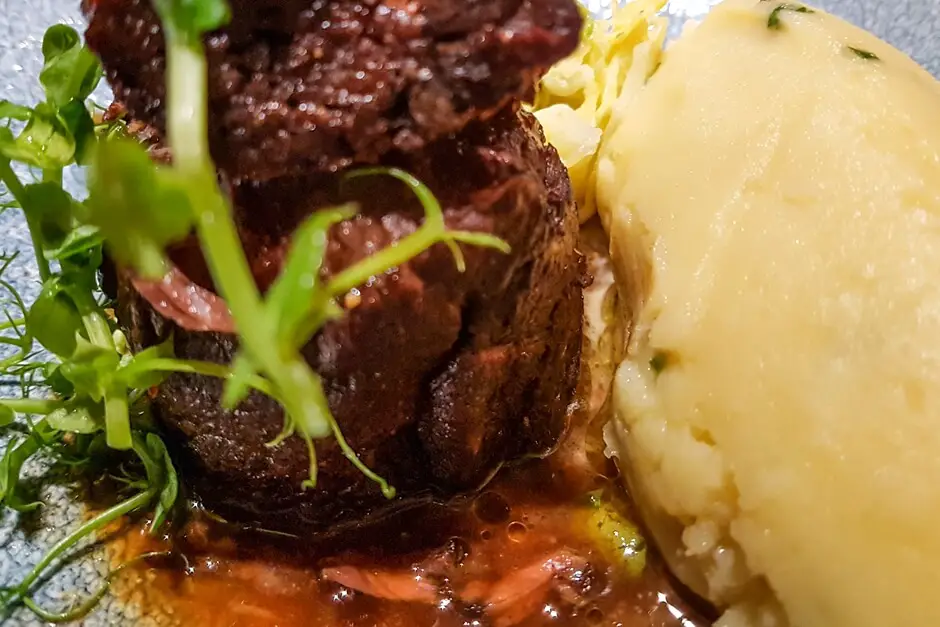 Our meal begins with a cocktail mix of pear vodka, apple cider, lemon juice, apple syrup, cinnamon and the foam of a passion fruit, the aforementioned Cinna-Bon-Bon drink. Sounds and tastes very delicious. Apple syrup and apple cider both come from one of the apple farmsthat we visited on our trip. For starters, he serves us foie gras in pistachio crust on rocket and apple jam. For the main course I choose the traditional beef stew. A poem for all who like roast meat.
Imaginative Irish Sweets - Snickers Tart
Irish pastries have always been good. Irish cakes as well as Irish desserts. But something has changed here too. Surprising is the Snickers Tart, which Damian Finnegan created as a dessert. The name he borrowed from the famous chocolate bar. However, he has prepared a chocolate and toffee cake, which he decorates with peanut crumble. There's also caramel ice cream.
Statham's Bar and Restaurant
Pembroke Kilkenny
Patrick Street
Kilkenny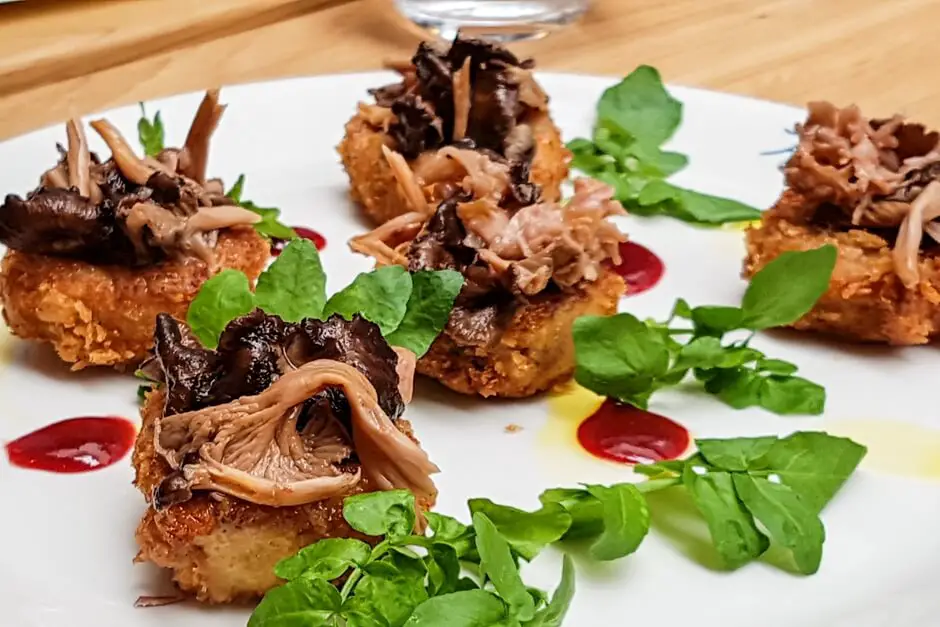 Delicious at Mikey Ryan's in Cashel
I am particularly impressed by Liam Kirwan, the new chef at Cashel's Mikey Ryan's in-pub. His dishes take up traditional Irish specialties. He even serves traditional Irish dishes like crubbeens to his guests. These are boiled pig's feet. "The problem is that nobody wants to try them," he laughs. "They just taste delicious." I won't let that be said twice. I try his crubbeen fritters ... and I melt away. Along with the smoked pork that melts on my tongue. The poor Irish certainly hadn't dreamed of that at the time of the famine in the 19th century. Her recipes, which arose out of necessity, now land in gastro pubs, where they amaze visitors.
Irish snacks - honeycombs with whiskey for dessert
Liam tells us with enthusiasm that his pig feet come from the butcher in town. "He can tell you exactly which farmer the pig comes from." After we have sat at the table full of our midday meal, we actually want to avoid desserts. Espresso and coffee are all we order at the end. It doesn't take long, however, and Liam brings us a cheese platter with locally produced cheeses. "I know the farmers personally. And I know which types of cheese they are currently producing. You have to try the honeycombs. I serve it with a dash of Tipperary Whiskey, "he explains. "I tried around for a long time until I got the idea. So I'm curious to see how you like it. "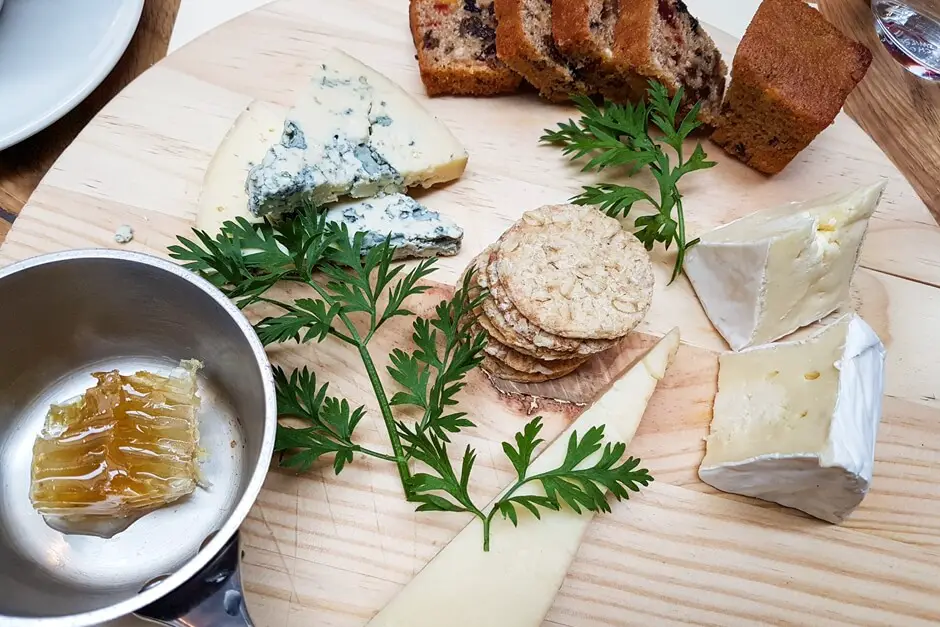 As I write these lines here, I feel the taste of this delicious combination on the tongue and my eyes are rolling upwards in memory of a taste experience that is second to none. The crust of the honeycombs melts in my mouth surrounded by the warm feeling that triggers the honey-whiskey mixture on the palate. A culinary highlight on our journey through the southeast of Ireland, which you should not miss, if you are planning an Ireland trip.
Mikey Ryan's Pub
76 Main St
St. Dominick's Abbey
Cashel
Co. Tipperary
Anyway, a visit to these two restaurants is a must for Foodies! It's also worth keeping an eye out for Pubs and restaurants with an innovative approach. Although black pudding and white pudding, scones and potatoes are still part of a full Irish breakfast and fish and Irish stew are on the menu, there is also the delicious new Irish cuisine worth exploring. Enjoy your journey through Ireland and do not get to know such typical Irish food.
Restaurant prices
If you eat in a restaurant, the prices for food in Ireland are comparatively high. Usually they start at 15,00 Euro per court. Some restaurants offer tourist menus that serve three courses at a price between 10 and 12 Euro. Locals who serve up these menus can be recognized by a green sign that shows a cook with a cap and the inscription tourist menu. The menus are of medium and high quality Irish and international cuisine. But if you want to try the new Irish cuisine, you have to dig deeper into your pocket.
---
Travel Arrangements:
Arrival
Arrival by plane, bus or train*. Lufthansa and Air Lingus will follow Dublin. Other airlines fly to Kerry.
Car Rentals:
Accommodations in Ireland's Ancient East:
Hotels in Ireland's Ancient East * You can also book via booking.com.
Hotels where you can taste Irish specialties:
Hotel Minella * in Clonmel
Pembroke Hotel * in Kilkenny
Killashee Hotel * in Naas
---
Do you already know:
Source for the article Typical Irish food : Research on site. Thanks to Failte Ireland for inviting me to this trip Ireland's Ancient East, My opinion, however, remains my own.
Text: © Copyright Monika Fuchs, TravelWorldOnline
Photos: © Copyright by Monika Fuchs, TravelWorldOnline
Irish specialties - reinterpreted