Today there is one Omnia oven recipe for the camper kitchen by Chris from @camper_culinaric. Once again he has outdone himself with his Quiche Lorraine recipe for the Omnia oven. Just looking at his quiche makes my mouth water. We are also happy to prepare the French specialty from Lorraine at home. With Chris' recipe you can also cook Quiche Lorraine quickly and easily on motorhome trips. How to do this, Chris shows us in his recipe and in his Video on YouTube.
Ingredients for the Quiche Lorraine recipe
250 grams of flour
five eggs
200 grams of bacon cubes
160 grams butter
a bunch of spring onions
a stick of leeks
250 milliliters of cream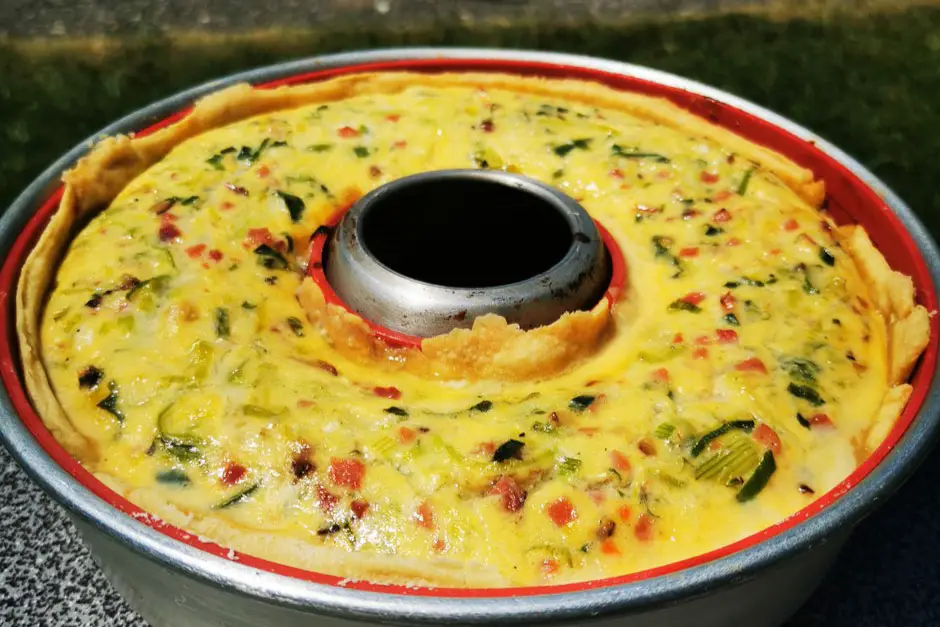 Preparation in the Omnia oven
First, chop the leeks and onions very finely. Then you wash them. This will make them cleaner than washing them before chopping them up.
Then you melt butter in the pan. Then you add the bacon and fry it in the pan. Then you add the leeks and onions so that they can fry.
When the leek is done, take the pan off the stove and let it cool down.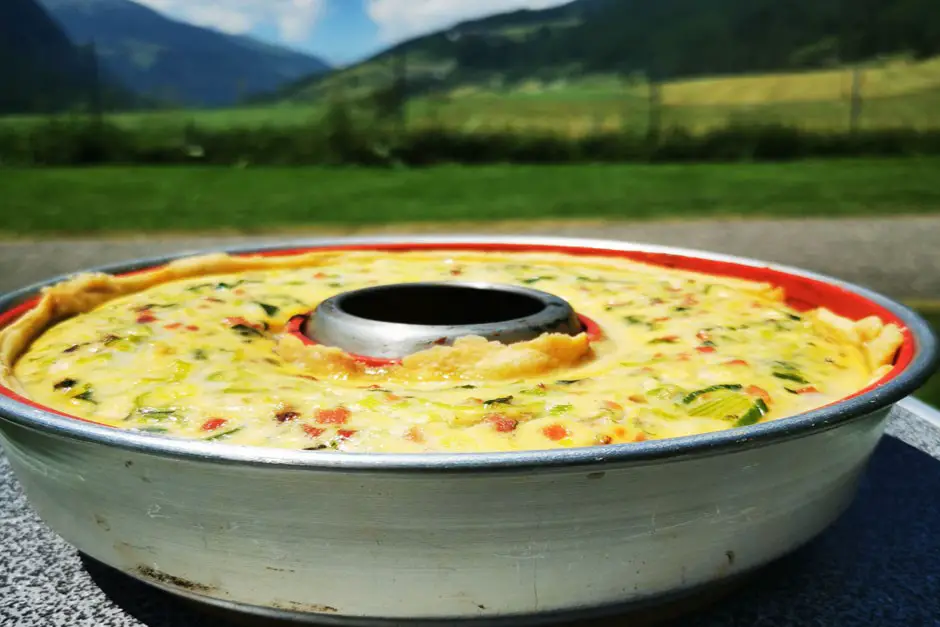 This is how you prepare the dough
For the dough, mix 160 grams of ice-cold butter, 250 grams of flour, an egg and some salt. The butter must be ice cold. The best way to do this is to put them in the freezer first. Knead the dough until you get a smooth dough.
You then wrap it in cling film and chill it in the fridge.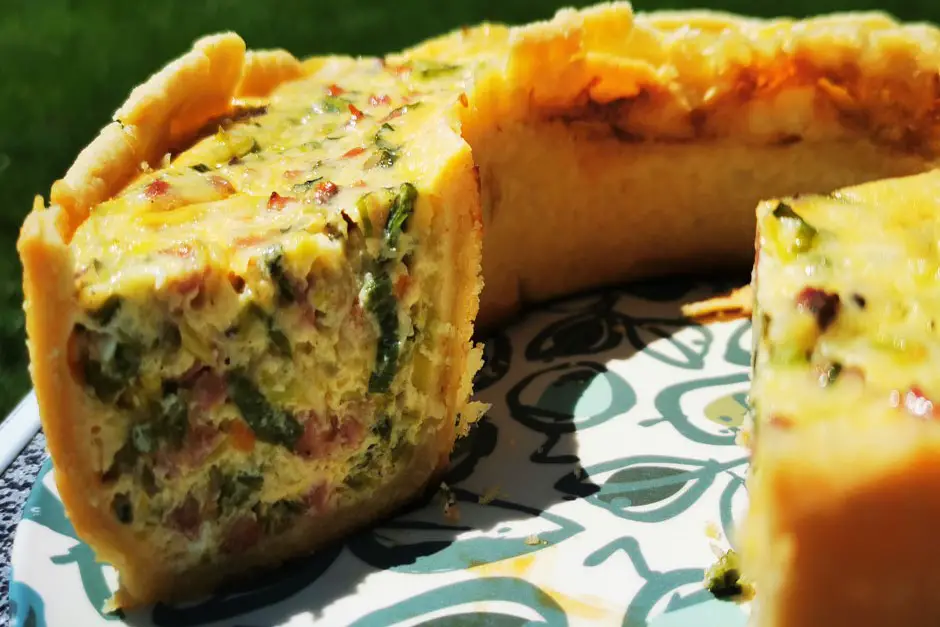 Completion of the quiche Lorraine
Now add four eggs and 250 milliliters of cream to the onion and leek mixture.
Season everything with pepper, salt and nutmeg. You mix it up well.
Now, get the chilled dough out of the fridge and use a rolling pin – or a wine bottle, like Chris does – to roll it out to fit in the Omnia oven.
Now put the dough in the baking pan. Use excess dough to repair torn areas.
Then the filling goes into the Omnia.
Start by baking the Quiche Lorraine on full gas for five minutes. Then you bake them for another hour at half the gas.
Be careful when removing the quiche from the pan. Otherwise it could break.
We would like to thank Chris for this recipe and wish you a good appetite.
OMNIA oven kit with accessories - set with camping oven, silicone mould, baking grid, bag and potholders
Camping Oven Economy Set | Oven + silicone baking mold + cookbook (new edition) + baking grid
Sun and Ice economy set 6 pieces Omnia Camping Oven Solar Edition with grip tongs
camping.parts Omnia Camping Oven Economy Set silicone mold casserole dish cookbook recipes oven
OMNIA oven kit with accessories - set with camping oven, silicone mould, baking grid, bag and potholders
Camping Oven Economy Set | Oven + silicone baking mold + cookbook (new edition) + baking grid
Sun and Ice economy set 6 pieces Omnia Camping Oven Solar Edition with grip tongs
camping.parts Omnia Camping Oven Economy Set silicone mold casserole dish cookbook recipes oven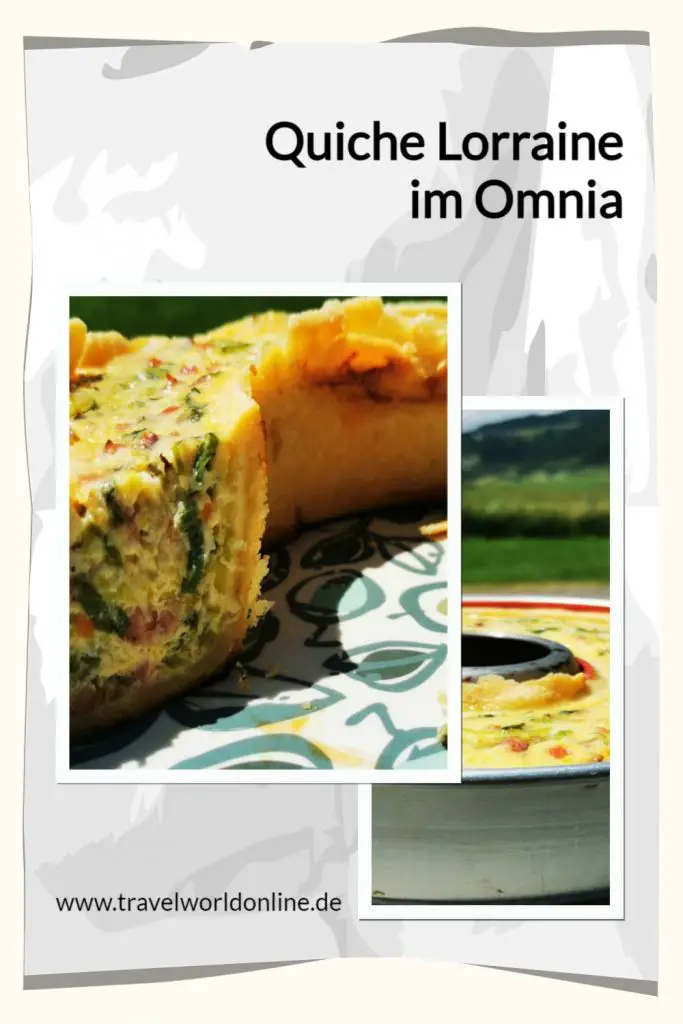 Do you already know:
Source: Recipe by Chris from Camper Culinary
Text: © Copyright Monika Fuchs and TravelWorldOnline
Photos © Copyright Chris of Camper Culinary
Quiche Lorraine recipe for the Omnia oven
Last update on 29.11.2023/XNUMX/XNUMX / Affiliate links / Images from the Amazon Product Advertising API