Chris from camper_culinaric has once again an ingenious cake recipe for the Omnia oven. You can do this cake well with that bake in the mobile home. Chris was traveling around Greece for a few weeks this summer. From there he brought an orange cake recipe from Greece. This delicacy is called Portokalopita. It is made from sweet oranges. The cake is very popular in Greece. There it is mainly eaten as a dessert with coffee. Among Greek cake specialties, it belongs to the same type of cake as baklava. This type of cake is called in Greece siropiasta. Typically, these cakes are soaked in syrup. The cake is best eaten the next day. Until then, the orange syrup will soak into the cake batter. This gives the orange cake recipe Portokalopita its intense taste.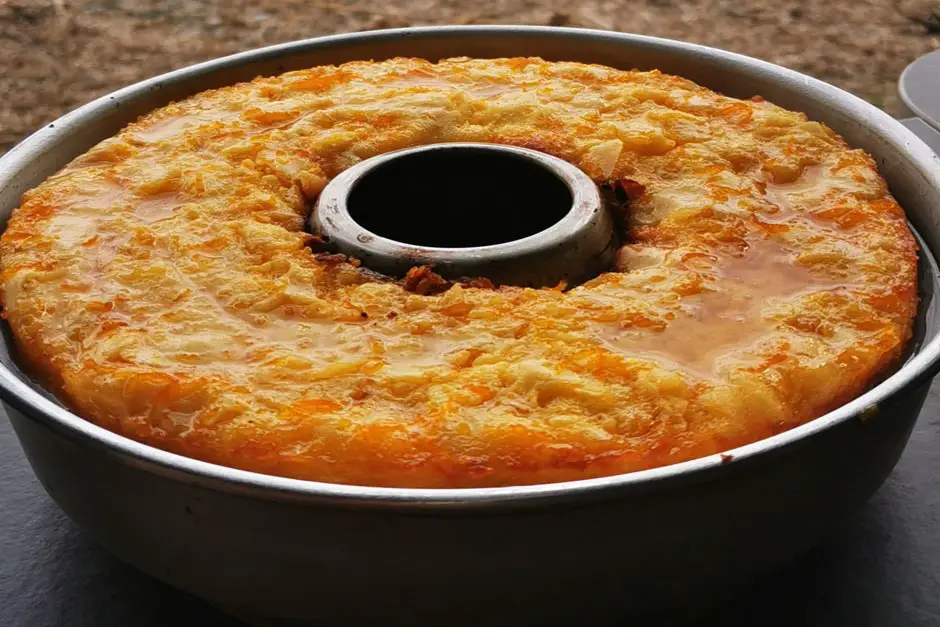 Orange cake recipe from Greece
This is how you prepare the cake in the Omnia oven in the camper:
Ingredients for the orange cake recipe
What you need for the orange syrup:
300 g sugar
250 ml orange juice
Zest and juice of 2 oranges
Cinnamon
Put these ingredients together in a pot. Then you put him aside.
Ingredients for the cake batter for the orange cake recipe
four eggs
150 grams of sugar
vanilla sugar
baking powder
200 ml rapeseed oil
300 grams of yogurt
Juice and zest of two oranges
450 grams of filo pastry
Preparation Orange Cake Recipe Portokalopita
Beat eggs, sugar, vanilla sugar and baking powder.
Then you add the yoghurt, the oil and stir it all well. Then you add the peel and the juice of two oranges to the orange cake recipe.
Break the filo pastry into small pieces and slowly fold them into the pastry until everything is covered with pastry. A filo pastry is a thin dough similar to puff pastry. It is often used in Arabian and Turkish cuisine.
Now put the dough in the Omnia. Bake the portokalopita on high (full throttle) for 45 minutes. Then continue baking the cake for XNUMX minutes on a low flame (half gas).
Preparation of the orange syrup
Bring the syrup to a low boil and let it simmer for 20 minutes.
Then remove the still warm cake from the silicone mold. Drop it into the Omnia (without the silicone mould) and then pour the syrup over it. Then you let the orange cake stand for two hours.
Chris and we wish you good luck and good appetite. Further Omnia oven recipes by Chris can be found via this link.
OMNIA oven kit with accessories - set with camping oven, silicone mould, baking grid, bag and potholders
Camping Oven Economy Set | Oven + silicone baking mold + cookbook (new edition) + baking grid
Sun and Ice economy set 6 pieces Omnia Camping Oven Solar Edition with grip tongs
camping.parts Omnia Camping Oven Economy Set silicone mold casserole dish cookbook recipes oven
OMNIA oven kit with accessories - set with camping oven, silicone mould, baking grid, bag and potholders
Camping Oven Economy Set | Oven + silicone baking mold + cookbook (new edition) + baking grid
Sun and Ice economy set 6 pieces Omnia Camping Oven Solar Edition with grip tongs
camping.parts Omnia Camping Oven Economy Set silicone mold casserole dish cookbook recipes oven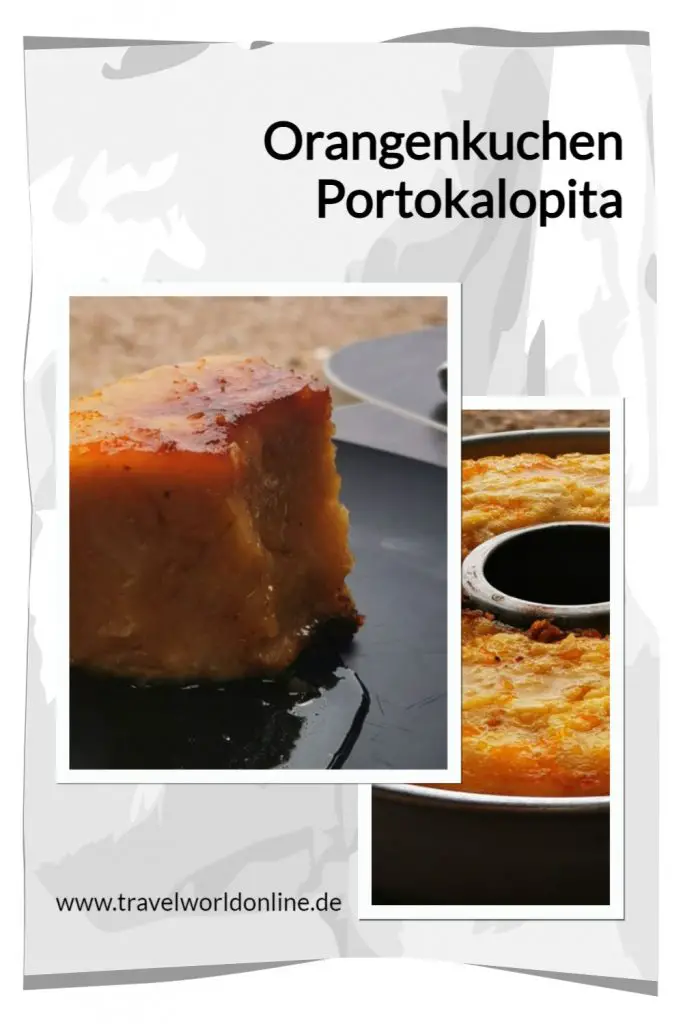 Do you already know:
Source Orange Pie Recipe Portokalopita: Chris from camper_culinaric
Text orange cake recipe Portokalopita: Monika Fuchs and TravelWorldOnline
Photos: Chris from camper_culinarc
Orange cake recipe from Greece - Portokalopita in Omnia
Last update on 30.11.2023/XNUMX/XNUMX / Affiliate links / Images from the Amazon Product Advertising API