Exceptional shopping experience in Nova Scotia
We almost missed it, the small parking lot in front of the Tangled Gardens in Grand Pré, Nova Scotia. And with it a great shopping experience in Nova Scotia. We had heard about this garden from friends and were keen to see this gem for ourselves, which had been highly recommended. It's already announced on the freeway that we took from Halifax, but when we left the freeway at Exit 10 near Grand Pré, we almost drove past the sign. From the outside you don't see much of this small garden area with its herb beds, ponds, the maze and the sculptures cleverly placed between perennials, bushes and trees. The surprise is all the bigger when you enter it.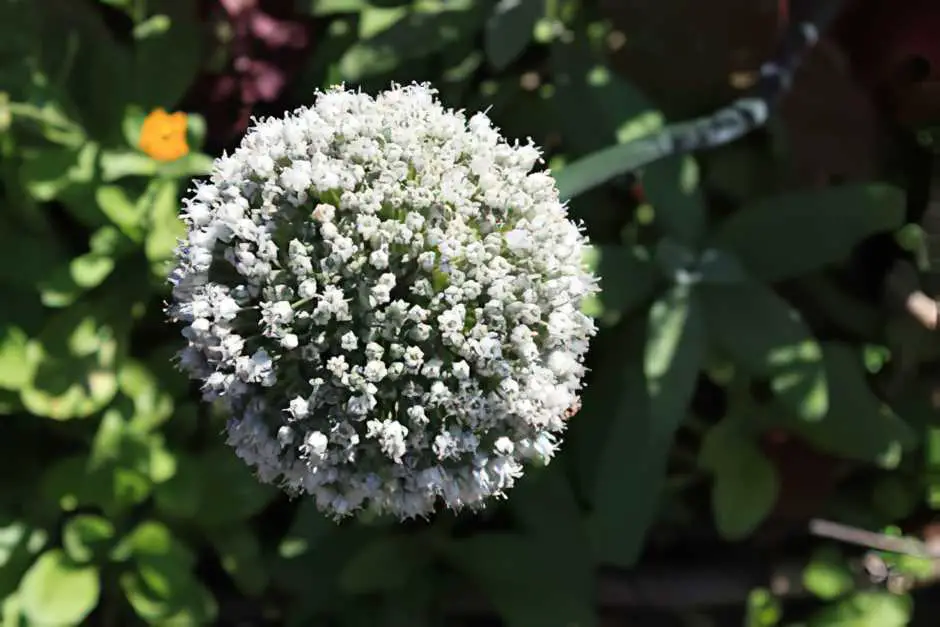 A shopping experience in Nova Scotia for garden lovers
Even when we pay the small fee in the shop, which is required for the garden tour, we realize that something special awaits us here. But I do not want to anticipate. So we set out to explore this green oasis. Through a portico, we come to a garden shed, which looks like it has sprung from one of these glossy lifestyle magazines: from weathered wood, overgrown with climbing plants, he gives the impression of a haunted witches cottage. The signposts in front of it show what awaits us: a sunflower corner, a lavender path, a herb garden, a lily pond and even a labyrinth. Interesting! Sounds exciting! And it will be.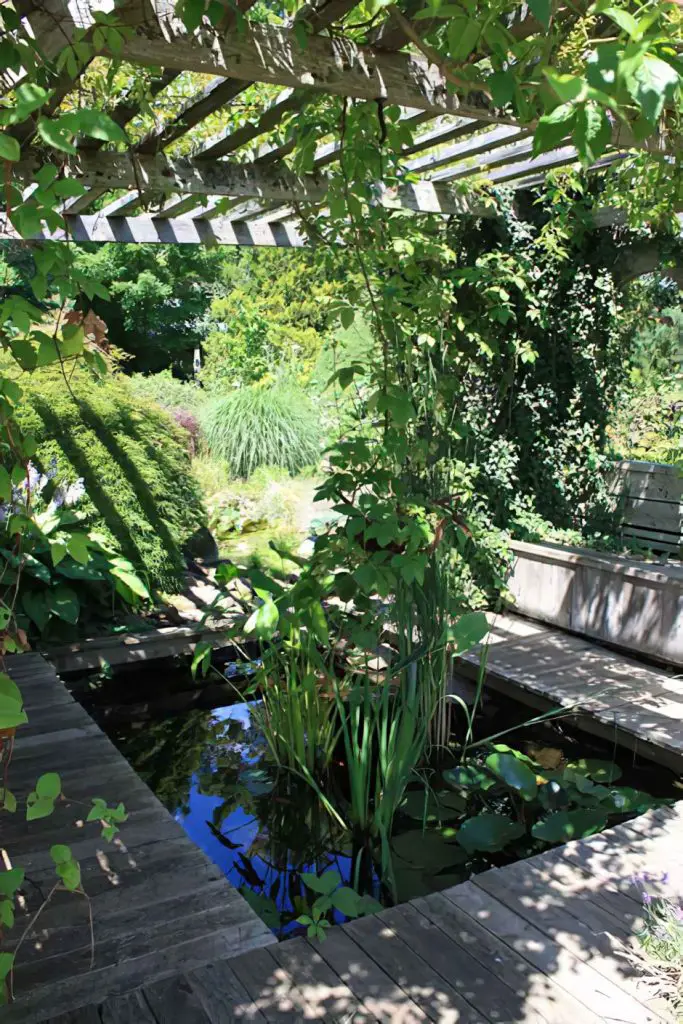 herbs of all kinds
A garden can hardly be more varied: we walk through a herb garden where well-known and unknown types of herbs sprout lusciously. It looks a bit wild, but still it is unmistakable that a clever helping hand is behind it. As we learn later, the owner of the garden has created and designed this paradise herself - always with the ulterior motive of creating a kitchen garden that on the one hand should be attractive and on the other hand supply the ingredients from which to make their idiosyncratic but very delicious culinary creations wanted to. Basil, thyme, sage, rosemary, mint, chives, fennel, garlic, horseradish, ginger, roses, geranium, lavender, lime and other fragrant herbal and plant varieties thrive on the formerly unused property.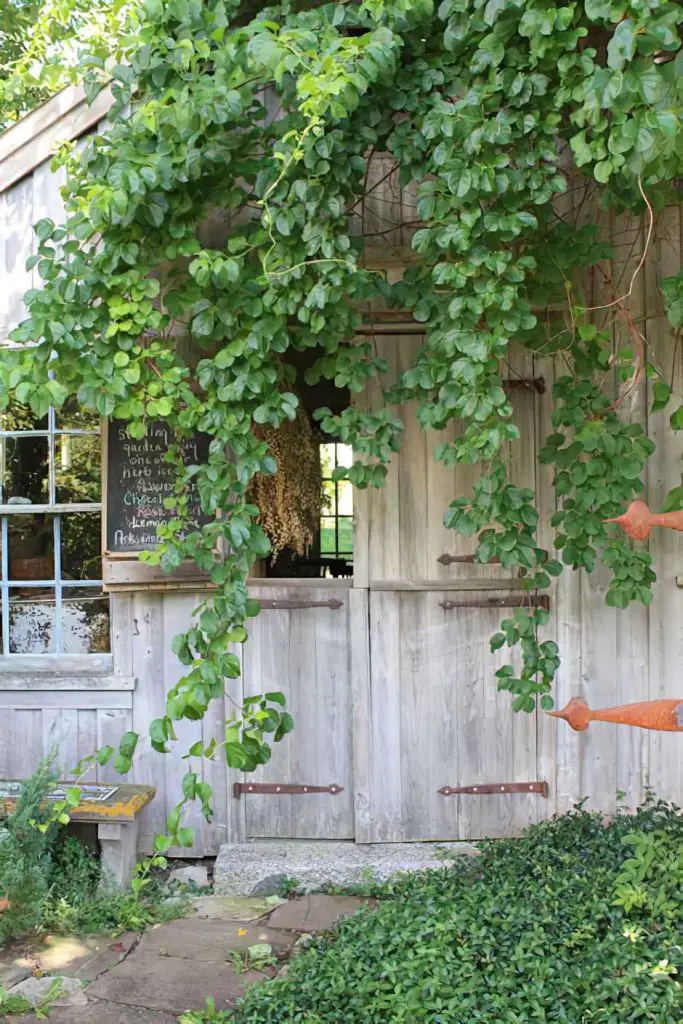 art in the garden
In between, skilfully placed small and large sculptures in the midst of the lush vegetation that attract the eye and harmonize wonderfully with the deep green of the surrounding bushes, shrubs, grasses and trees with their unusual forms of rust-colored metal. Recycling in a tasteful way! Although flowers are also available, play a minor role in this garden. They also serve more to loosen up the green structures created by the different types of herbs and grasses on which the gardener's main focus lies.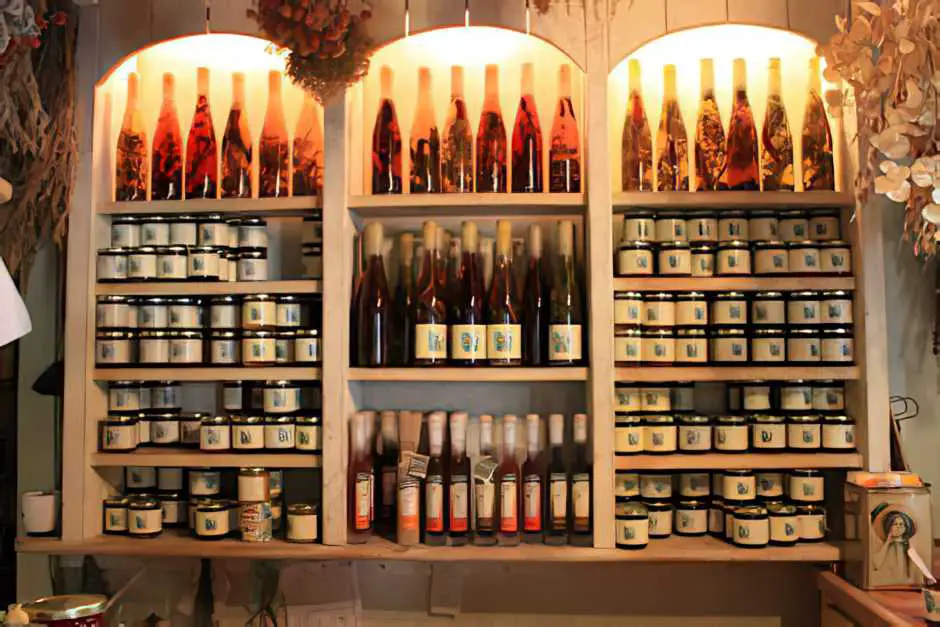 When we've finally had our fill of the tastefully put together herb ensembles, we go back into the shop. And there a special kind of taste experience awaits us: the countless herbs that we saw on our walk through the garden are cooked by hand into exotic combinations with oil, vinegar and jam - six bottles or glasses at a time. The saucepan at home is not enough for larger quantities. What we see here in front of our eyes is unbelievable: Bottles full of vinegar or oil, closed with wax, in which the most diverse branches of herbs are floating decoratively. And we taste our way through amazing treats.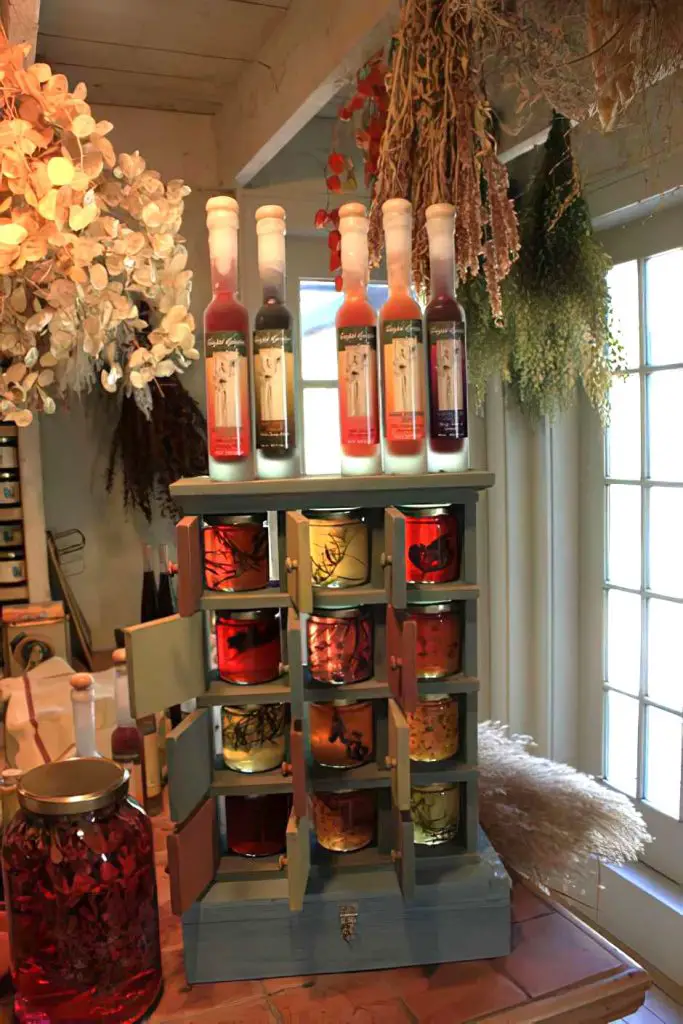 Shopping experience in Nova Scotia at the Tangled Gardens
Among them are jam jars filled with the most amazing combinations of jam and herbs: there is strawberry jam with tarragon, mint or lavender, raspberry, rhubarb or peach jam with angelica, lavender, rose or rosemary honey, chutneys with apples, apple and mint, Cranberry and sage, roasted garlic and onion, wild blueberries and tarragon. And above that are bottles of herbal liqueurs: raspberry liqueur with roses and geraniums, plum liqueur with sweet basil, cranberry liqueur with orange mint, strawberry liqueur with blue lavender, pear liqueur with rosemary, Café Diablo (whatever that is) with spicy aniseed, and the list goes on and further. Our shopping experience in Nova Scotia will definitely remain in our memories.
If you want to plan an extraordinary shopping experience in Nova Scotia on your journey, you will reach the Tangled Garden at this address: Highway 1, Grand Pré, Nova Scotia, Tel. (902) 542 9811
---
Travel Arrangements:
Parking at the airport
Here you can reserve your parking space at the airport.
Check in:
Arrival by plane, bus or train*. Air Canada, Condor and Icelandair fly from Germany to various airports in eastern Canada.
Car Rentals:
Cheap car hire - book quickly and easily!
Hotels:
Nearby you can in Wolfville * or Grand Pré * stay. Hotels in the Annapolis Valley and the Bay of Fundy * you can, for example, book through our partner booking.com.
---
Do you also know:
Source Shopping experience in Nova Scotia: own research on site. In any case, our opinion remains our own.
Text shopping experience in Nova Scotia: © Monika Fuchs and TravelWorldOnline
Photos: © Copyright Monika Fuchs and TravelWorldOnline
Shopping experience in Nova Scotia