A Charming Quebec Village : Knowlton Quebec is part of the city of Brome Lake
Do you know that too? You visit a place you have never heard of or imagined and are amazed by what you find there. That's what happened to us last year in the small village of Knowlton in Quebec's Eastern Townships, about 100 km south of Montreal. Knowlton Quebec Canada is part of the city of Brome Lake, which merged with six neighboring towns under one city government in 1971. Actually, the place consists of different villages to this day. These are on Lac Brome. Knowlton is considered the center and is a charming Quebec village. We were once again on a discovery tour through unknown regions in Quebec and stayed in West Brome, one of the other districts of Brome Lake and were curious about the "centre" of the city.
In order to reach this, we first had to drive a few kilometers through forest and agricultural areas. As we passed the town limits of Knowlton, it only looked like one of those typical street villages that Quebec has so many of. A supermarket, a gas station and the typical residential buildings lined up. Only after several kilometers does the road branch off to Lac Brome. Everything that is interesting in Knowlton is concentrated around this crossroads: cafés, restaurants, shops, a city park and of course the lake, on the banks of which there are a number of elegant villas in their beautifully manicured gardens and parks.
Where is Knowlton Quebec Canada located?
Knowlton Quebec Canada is one of those villages on Quebec's border with the United States where, after the end of the American Revolution, loyalists loyal to England fled to British-ruled Quebec. In 1802, so-called United Empire Loyalists from New England settled in the small town of Coldbrook, as the town was then called. It was originally named after the small stream that today murmurs picturesquely through the park in the town center over dam walls, where we can enjoy the tranquility of this place on a park bench. In 1855, the town even rose to become the administrative seat of the region, taking the name of its first administrator, the Honorable Paul Holland Knowlton. Knowlton reminds us a little of the villages in New England with its town center grouped around the church with its steeple.
What is there to do in Knowlton Quebec Canada?
The best thing about Knowlton are the villas in the village center and the shops that are so lovely to browse. It is also thanks to these houses that the village is now one of the most beautiful villages in Quebec. Rightly so, in our opinion. Time seems to have stood still here. There are no attractions that make up the charm of this village. If you're looking for something spectacular, you've come to the wrong place.
On the contrary: a few older Victorian-style houses, a few cafes and restaurants, a few antique shops, galleries and shops that invite you to browse, the idyllic village park, that's it. We couldn't name a particular attraction why we liked this village so much. It's all in the mix. This jumble of houses, the antiques, the village and restaurant signs that attract customers and the impression that life in this village has on us.
Shopping in Knowlton Quebec Canada
We allow ourselves to be seduced by the shop signs and follow their invitation. They tempt us to browse the antique and vintage shops. There we dig for the old, the used and the nostalgic. This reinforces our impression of a place where time stands still. Silver crockery, crystal glasses, patchwork quilts on sofas, lampshades, hats and all sorts of odds and ends take us back to the "good old days". Or what we think they are.
A time when hectic was still unknown. When family was the most important part of life and when you didn't eat in a restaurant but in the kitchen at home. It's fun to rummage through this hodgepodge of discarded items. It brings back some memories of our own childhood. Somehow I also want to turn the clock back a little here to sniff back into the time of my childhood.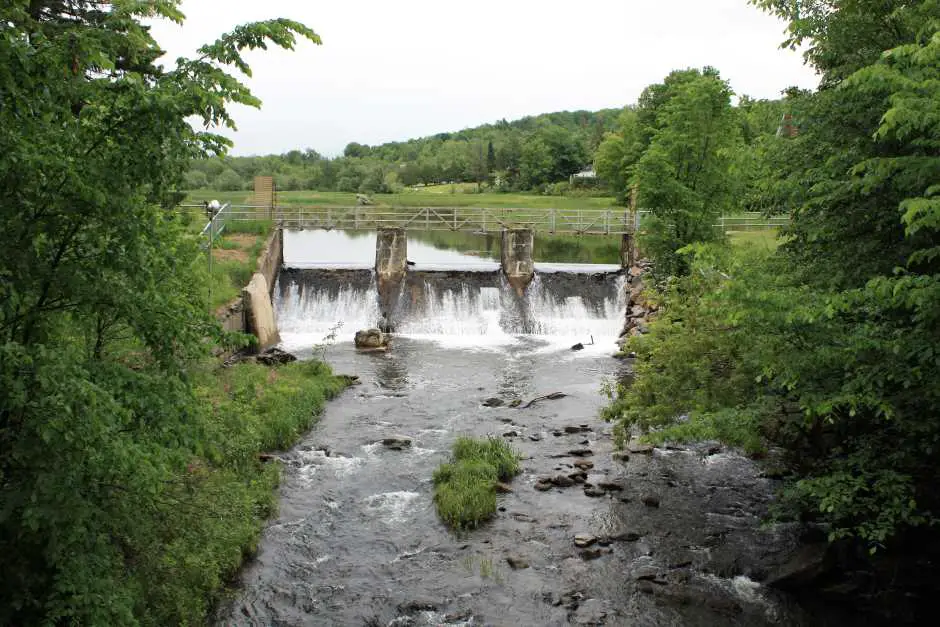 Knowlton Quebec's candy shop
Maybe this memory of my childhood is also due to the candy shop at Knowlton. It tempts us to visit with his brightly colored lollipops. They are huge. The lollipops on display opposite the checkout counter. They look seductive as they shine towards us in their cellophane covers. But since we also want to visit the Cafés de Village that day, we decide not to buy them. Instead, after a few hours in Knowlton, we continue our exploration of the Cantons de l'Est. Not without leaving the village of Knowlton with a sense of regret.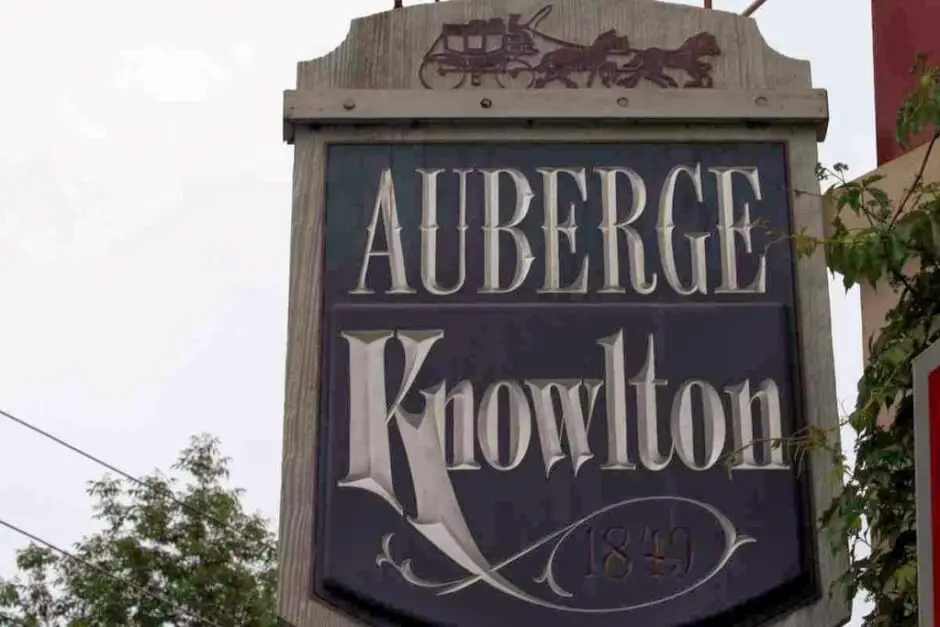 Knowlton Quebec restaurants
These Knowlton Quebec restaurants get a good to very good rating on Google:
Le Relais Restaurant Bistro
The Knowlton Restaurant serves Quebec and Canadian dishes.
286 Knowlton Rd, Knowlton, Quebec J0E 1V0, Canada
Sapin- Bistro du Lac
A Knowlton Quebec restaurant for Quebec specialties.
61 Chem. Lakeside, Knowlton, QC J0E 1V0, Canada
Buzz
The Buzz Café & Bistro also serves specialties from Eastern Europe.
291 Knowlton Rd, Knowlton, Quebec J0E 1V0, Canada
Excursions around Knowlton Quebec
The Bleu Lavande Lavender Farm
A tour to Bleu Lavande Lavender Farm takes you away in clouds of scent of lavender. A hike through the lavender fields is worthwhile in June and July, for example, when the plants are in full bloom.
The Route du Vins
Do you like wine? Then we recommend a trip from Knowlton Quebec along the Route du Vins in the Eastern Townships. The winemakers will definitely be happy to tell you how they manage to grow wine in Quebec's climate. Of course you can try this too.
How about you? Do you like villages so well, too, in which the longing for the "good old days" is conveyed?
What you need for hiking around Knowlton ca
Questions and answers:
How far is Knowlton from Montreal?
From Montreal to Knowlton you drive a good 10 kilometers on Autoroute 100 E. This takes about an hour and fifteen minutes.
---
Travel Arrangements:
How to get from Montreal to Knowlton:
Arrival by plane, bus or train*. Montreal has an international airport where direct flights from Germany and Europe land.
Car Hire Montreal Canada:
Cheap Car Hire - Book Fast and Easy! *
Hotels in and around Knowlton Canada:
Accommodations in the Cantons de l'Est* You can also book through our partner booking.com.
Traveling to Knowlton Quebec by motorhome?
Do you want to rent a mobile home? Then you will find here, for example, information and a selection of booking options.
Also check with our packing list for campers to see whether you have packed everything for your motorhome tour.
---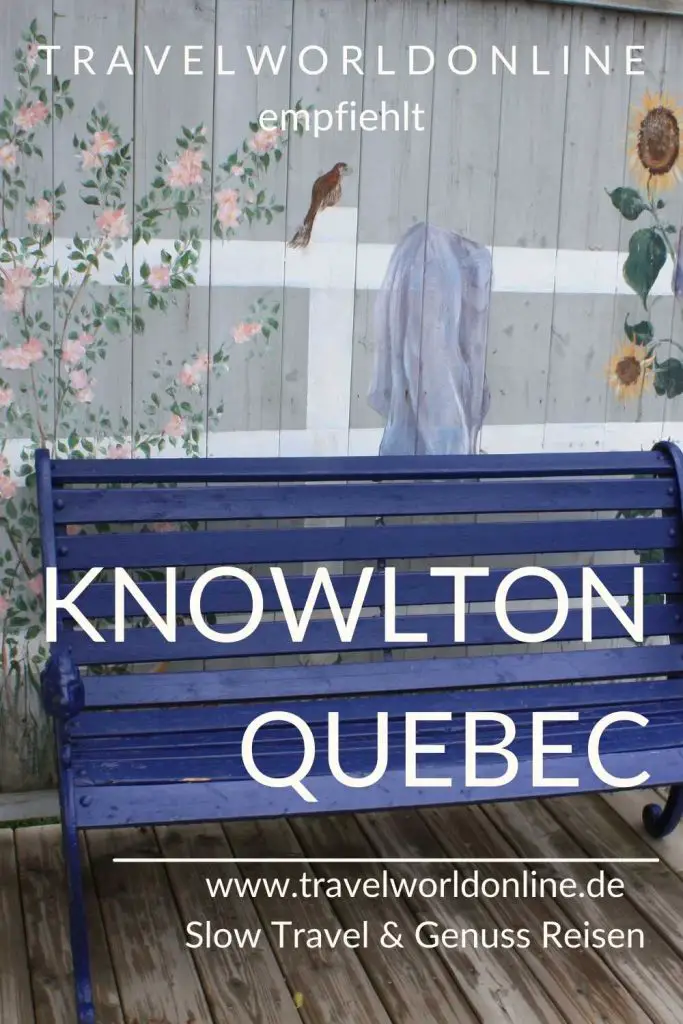 Do you also know:
Source Knowlton Quebec Canada : On-site research supported by Tourism Quebec and CTC. However, our opinion remains our own.
Text Knowlton Quebec Canada : © Copyright Monika Fuchs and TravelWorldOnline
Photos © Copyright Monika Fuchs and TravelWorldOnline
Video © Copyright Petar Fuchs and TravelWorldOnline
Charming Quebec village - Knowlton