Discover Halifax Nova Scotia Canada
Planning a trip to Halifax Nova Scotia Canada? The city is the only metropolitan area in Atlantic Canada and is also the capital of Nova Scotia, the second smallest province Canada. With its mix of modern skyscrapers and historic buildings, it has a unique charm. There is much to see and do on a Halifax city tour. In addition to the largest port on Canada's Atlantic coast, the city offers adventure for outdoor and water fans as well as exciting things for history fans. Foodies enjoy the specialties that the sea, the farms and the city's chefs dish up in their restaurants. Craft lovers will discover Arts and Crafts creations in the city's boutiques and galleries.
What you need to know for a Halifax vacation: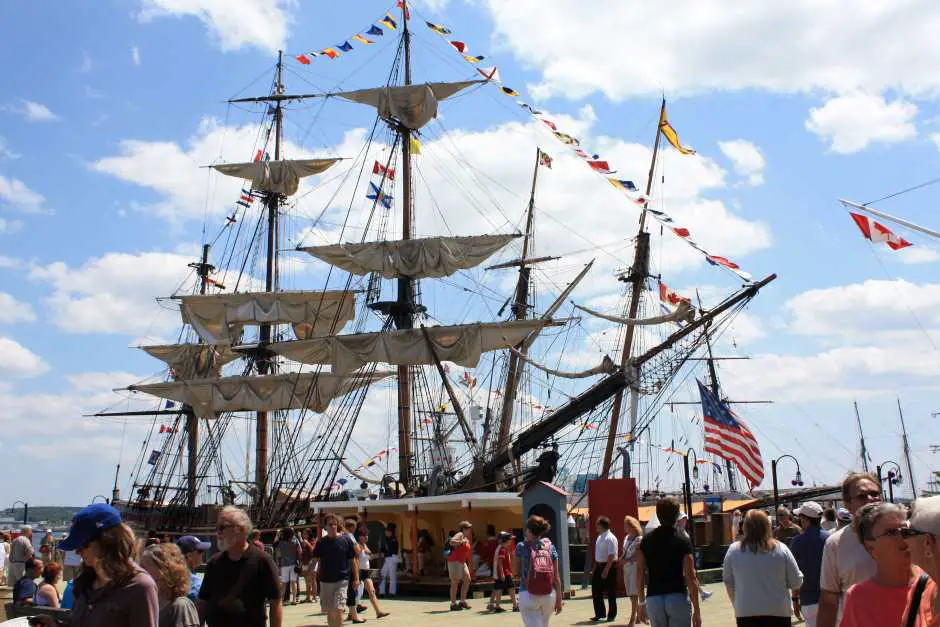 Experience Nova Scotia's bustling port city
Explore the vibrant and young port city of Halifax in Nova Scotia Canada, where the residents warmly welcome you. Visit one of the cultural or musical events and let yourself be carried away on a stroll through the city, its parks or along the waterfront. The city is at its most beautiful in summer. Then there are numerous boats in the harbor and who knows, maybe you will see one of the impressive tall ships at anchor. The Bluenose is at home in Halifax. Explore downtown, the Boardwalk with its museums, restaurants and outdoor cafes.
Stroll through the Public Gardens or one of Halifax Nova Scotia Canada's other parks, and retrace your steps in history with a visit to the Citadel and the Clock Tower on Citadel Hill. The city's museums are also worth seeing: learn interesting facts about the history of seafaring at the Maritime Museum of the Atlantic, which has determined what is happening in the city from the very beginning. Learn more about the immigrants to Canada at Pier 21.
Best time to travel to Halifax: late May to late September.
You don't need a car for Halifax. You can discover the city very well on foot.
A guide to Halifax, Nova Scotia, Canada
Discover all that Halifax, Nova Scotia, Canada has to offer! This helpful guide will tell you where to stay and what to do. Planning a trip to Halifax, Nova Scotia, Canada? Then experience the beauty of this Canadian destination and its numerous attractions. From local museums and galleries to outdoor activities and lively restaurants, you're sure to find plenty of exciting things to do in Halifax!
Where to stay in Halifax, Nova Scotia Canada?
Whether you're looking for a downtown hotel or a seaside retreat, Halifax has a variety of accommodations to suit every budget. For example, the Marriott Halifax Harbourfront is a popular hotel for its prime waterfront location and outstanding service. For those who want to immerse themselves in the great outdoors, campgrounds like Shubie Campground in Dartmouth offer close proximity to the city. If you prefer something more leisurely, you can also book a B&B – there are many cozy and conveniently located options to choose from. In our Hotel Guide for Halifax we recommend the most popular hotels in the city. Among them is guaranteed one that suits you.
Food adventures in Halifax
Halifax is also known for its abundance of seafood dishes, ranging from casual lunch spots to fine seafood restaurants. The waterfront offers some of the city's most unique dining experiences. So head to one of the seafood restaurants for an evening of fish and chips, raw bar specials and a variety of freshly caught seafood dishes. If you want something a little more romantic, head to Five Fishermen instead, one of the oldest and best seafood restaurants in town. Whether you're looking for a picnic by the sea or a fancy dining experience, Halifax has it all!
Halifax landmarks
Halifax is home to many museums, galleries and various attractions. History buffs will love exploring Citadel Hill and the Maritime Museum of the Atlantic. Art lovers will not be disappointed with The Art Gallery of Nova Scotia and numerous independent galleries showcasing local talent. Nature lovers should also head to Point Pleasant Park for harbor views and a stroll through the expansive green space. So find out which ones here Halifax attractions has to offer.
Shopping, Arts & Culture in Halifax, Nova Scotia, Canada
Halifax is a great place to shop, with many boutiques and markets selling local goods. For beer and fashion, be sure to visit Historic Properties or Alexander Keith's National Brewery. Visit one of the farmers markets in town like the Seaport Farmers Market for fresh Atlantic produce. Arts, culture and food buffs can also explore Dartmouth's Alderney Landing or one of Halifax's craft breweries for an afternoon exploring unique venues, shops and galleries.
Outdoor activities and excursions from Halifax
Halifax offers a dizzying array of outdoor activities to explore the city and its beautiful surroundings. Take a stroll along the famous Halifax Boardwalk while admiring the views of the harbour, fortifications and local landmarks. Spend the afternoon at Point Pleasant Park - a sprawling 200-acre forest with many hiking trails, wooded areas and beaches to explore. Whatever your interest, you can find adventures for all skill levels in Halifax! discover, what to do in Halifax.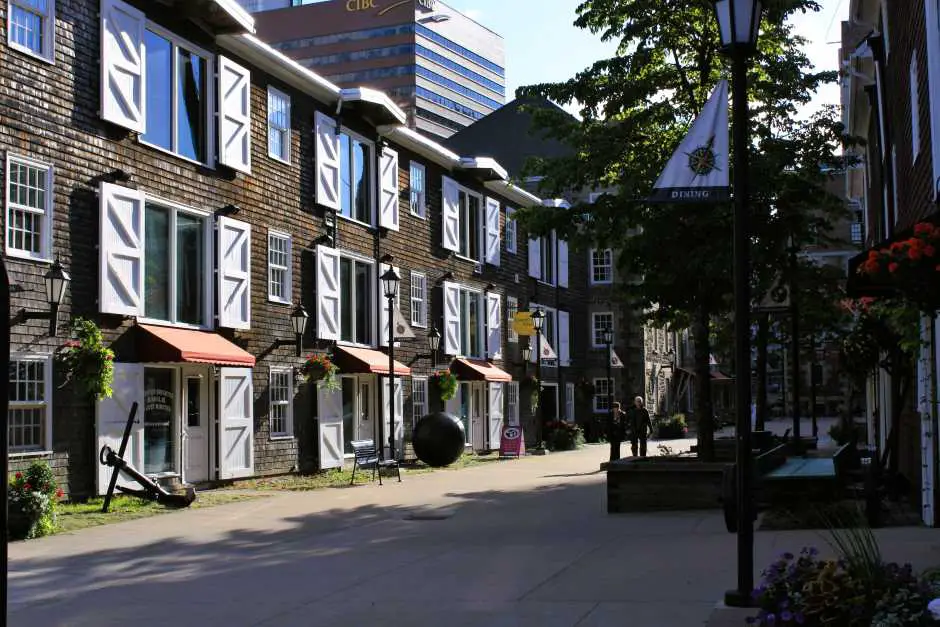 Things to know about Halifax Nova Scotia Canada:
History:
Halifax Nova Scotia Canada has a rich history and was once an important commercial and naval port. The city also has a turbulent history during the Second World War.
Geography:
Located on Nova Scotia's east shore, Halifax is surrounded by water, including the Atlantic Ocean and Bedford Basin.
Culture:
Halifax Nova Scotia Canada is known for its diverse culture, which is reflected in its museums, theatrical performances, music and arts festivals, and delicious cuisine. The city is also a popular tourist spot that attracts many visitors with its beautiful landscape and sea.
Economy:
Halifax is an important business location, particularly in the areas of shipping, trade, finance and defense. The city is also an important educational location with numerous universities and research institutions.
Free time activities:
In Halifax Nova Scotia Canada there are many opportunities for recreational activities including hiking, fishing and sailing. The city is also known for its many parks and public squares, as well as for its lively nightlife.
Halifax Nova Scotia Canada Questions and Answers:
How do I get to Halifax?
There are several ways to get to Halifax. Halifax Stanfield Airport offers flights to and from Canada and the United States. If you plan to drive, Halifax is accessible via the Trans-Canada Highway and Highways 101 and 102. You can also take the bus or train to get to Halifax.
What are the top attractions in Halifax?
There are many great attractions in Halifax including the Halifax Citadel, Halifax Seaport Farmers' Market, Maritime Museum of the Atlantic, Point Pleasant Park and the Halifax Public Gardens. Each of these attractions offers something unique and special to experience during your visit.
What activities can I do in Halifax?
There are many activities you can do in Halifax including boating, kayaking, hiking, biking, golfing, fishing, wine tasting and more. Halifax also has a vibrant arts scene with theatres, concerts and art galleries for you to explore.
When is the best time to visit Halifax Nova Scotia Canada?
The best time to visit Halifax is from June to September, when the weather is mild and pleasant and there are many activities and events. However, if you enjoy winter sports, Halifax is also a great place for skiing, ice skating, and snowshoeing in the winter.
Where can I stay in Halifax?
There are many in Halifax Accommodation options, including hotels, motels, bed and breakfasts, and vacation rentals. Most hotels are located downtown or near attractions and activities. However, it is best to book early to ensure you find the best accommodation for your needs.
What culinary delights should I try in Halifax?
There are many local specialties in Halifax that you should definitely try. This includes fresh seafood like lobster, clams, and oysters, but also other local fare like donair (a type of doner kebab), fish tacos, fried fish patties (fish cakes), and poutine (a Canadian specialty made with french fries, cheese, and gravy).
Are there beaches in Halifax?
Yes, Halifax has many beaches including Lawrencetown Beach, Rainbow Haven Beach and Martinique Beach. All beaches are easily accessible by car and offer stunning sea views. Many beaches are also suitable for swimming, surfing or kite surfing.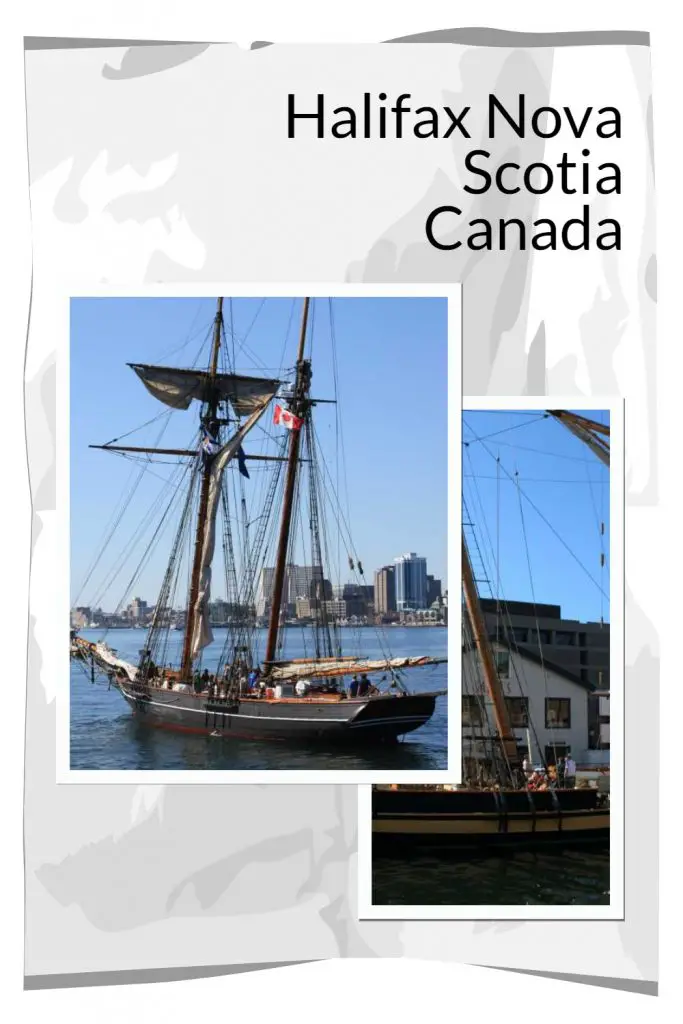 Do you also know:
Source Halifax Nova Scotia Canada: On-site research supported by Tourism Nova Scotia and the Canadian Tourism Commission
Text Halifax Nova Scotia Canada: Copyright Monika Fuchs and TravelWorldOnline
Photos: Copyright Monika Fuchs as well as TravelWorldOnline and Wikimedia Commons Public Domain
Video: Copyright Petar Fuchs and TravelWorldOnline
Halifax Nova Scotia Canada