Are you interested in events and festivals in Burgenland?Summer is festival time in the Burgenland. We were able to experience this ourselves in August on our Kultour Journey through the Burgenland, which brought us closer to the borders of the country.
Events and festivals in Burgenland at Tabor Castle
Our journey began in Neuhaus am Klausenbach. There is Castle Tabor. Mercenary leader Ulrich Pessnitzer from Styria built this in 1469. Since 1607 it has belonged to the Batthyány noble family from Hungary. It was restored in 2002 and 2003. Today it serves as a backdrop for opera performances at the Jennersdorf Summer Festival. One of the festivals in Burgenland.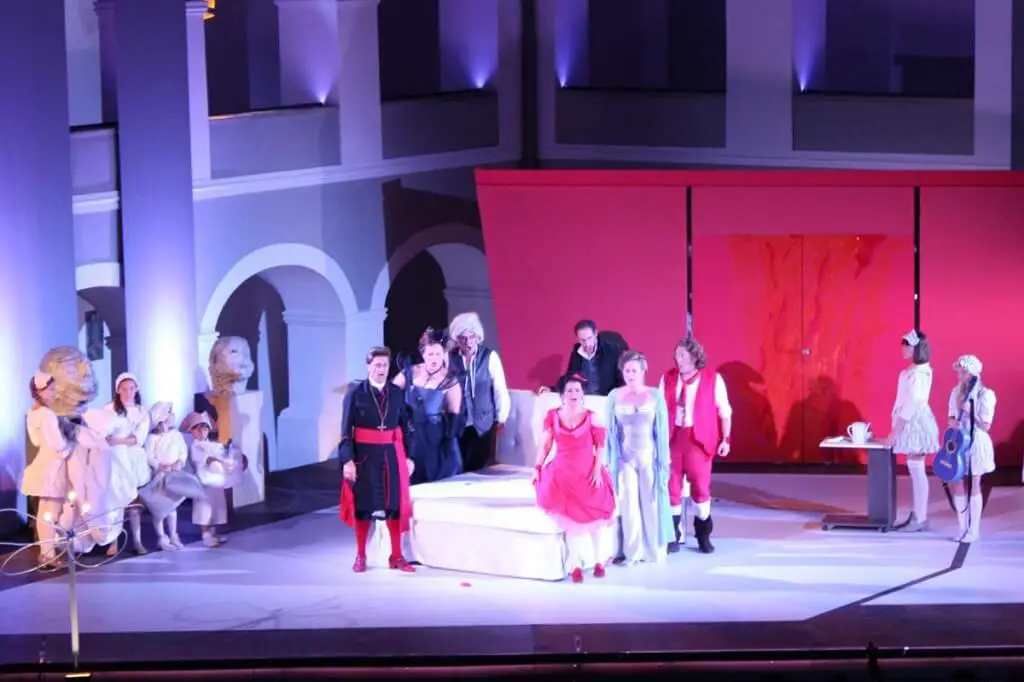 There are opera or operetta performances
We had the pleasure of watching the premiere of "The Marriage of Figaro" at Tabor Castle at the festival in Burgenland. An opera buffa in which Wolfgang Amadeus sends his protagonists through a tangle of love affairs.
The bass-baritone Derrick Ballard as Figaro and the baritone Mathias Hausmann as Count Almaviva were outstanding. Director Dietmar Kerschbaum brought an international ensemble of singers to Tabor Castle. They excelled in their roles. Among them were Renate Pitscheider as Susanna, Anna Schoeck as Countess Almaviva, Elisabeth Pratscher as Barbarina and Regina Schörg as Marcellina. Countertenor Thomas Lichtenecker impressed us as Cherubino. With singers like these, J:Opera Jennersdorf has been able to bring world-class singers to the Schlossbühne in Schloss Tabor for 10 years now. Among them are singers who also sing at the Salzburg Festival, at La Scala in Milan and even at the Metropolitan Opera in New York.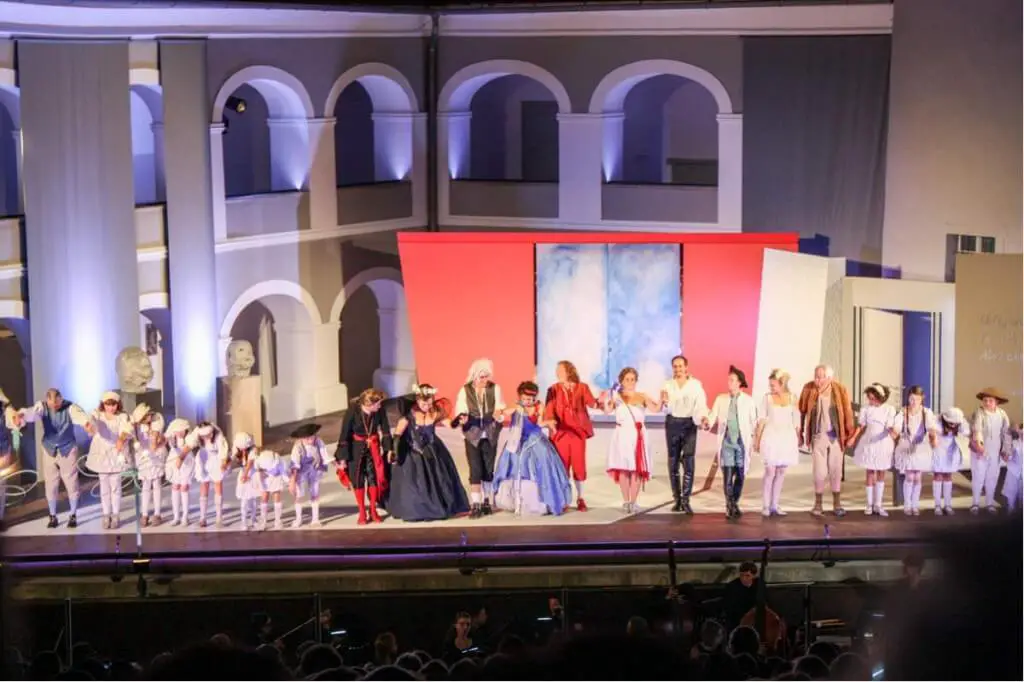 Information on events and festivals in Burgenland can be found here:
Cultural Association Tabor Castle
Tabor Road 3
8385 Neuhaus am Klausenbach
Mobile: + 43 (0) 664 / 253 33 59
Events 2022 at Tabor Castle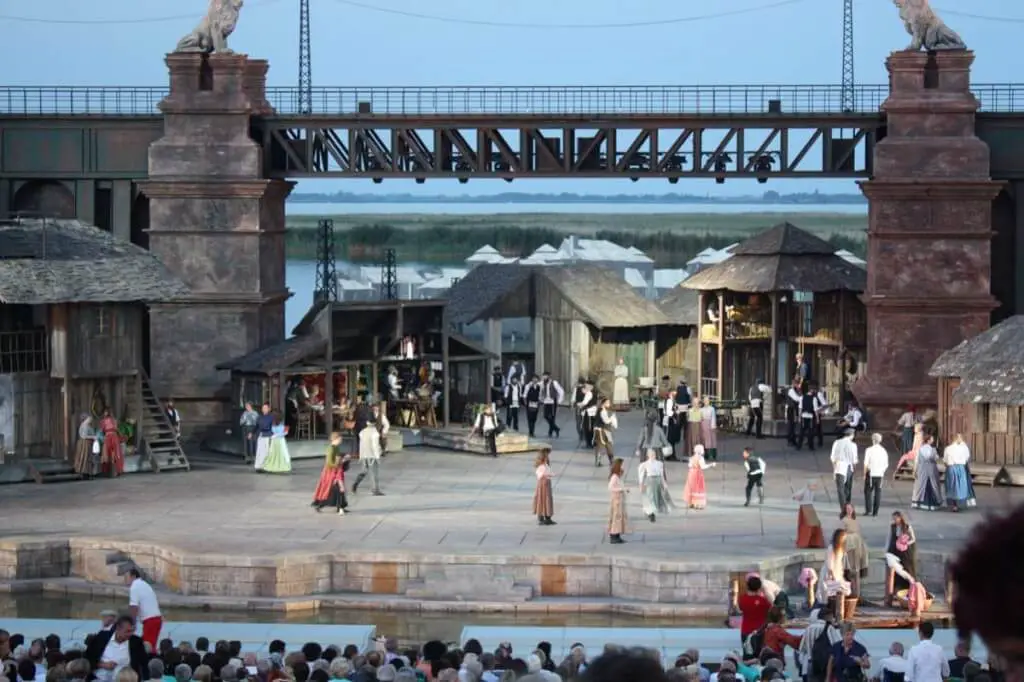 Lake Festival in Mörbisch on Lake Neusiedl
The scenery at the festival in Burgenland on the lake stage in Mörbisch is impressive. Behind the scenes there are views of Lake Neusiedl and the villages on its shore. We were allowed to experience the production of the musical "Anatevka" by Jerry Bock in this setting. Her set portrayed life in a village in Russia.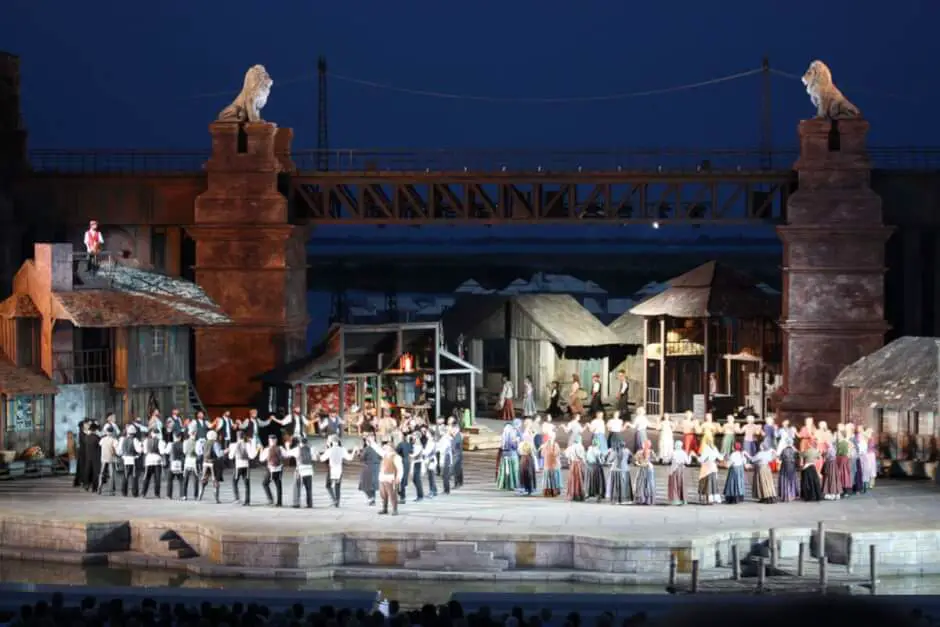 Festivals in Burgenland on the Mörbisch lake stage
We visit Anatevka at the festival in Burgenland on Lake Neusiedl. The story of the milkman Tevje and his family brings this performance to life in a very emotional way. His three daughters choose partners as husbands who do not live up to what Tevje and his wife Golde hope for their children. None of them meet the requirements that Jewish tradition places on them. This shakes up Tevye's world. In the end, however, love for his children wins. He finally releases her into her life with his blessing. Even if it's not what he expected her to be.
The events in Tevye's family are embedded in the annihilation of the shtetl world by the Shoah. At the same time, the emigration of Jews to Israel or America plays a role. The tragedy of the Jews gives the musical its character. Tevje's conflict between love and tradition reinforces this. Only at the end of the musical do the departure for America and the fireworks display a glimmer of hope.
A festival in Burgenland that will be remembered.
From the 14. July to 15. August 2022 stands The king and I on the program of the festivals in Burgenland. 
Information :
Association of the Seefestspiele Mörbisch
Joseph Haydn Alley 40 / 1
A-7000 Eisenstadt
Phone: + 43 (0) 2682 / 66210 - 0
Fax: + 43 (0) 2682 / 66210 - 14
---
Do you like to travel to the festivals in Burgenland in your camper van?
---
Travel Arrangements:
Convenient travel to the festivals in Burgenland by plane, train and long-distance bus
Lufthansa, Austrian Airlines and Swiss fly to Vienna. Also drive Long-distance buses * to Vienna. From there you can rent a car. Arrival by train is possible.  Timetable and booking*.
Book your rental car for the festivals in Burgenland here:
Rent a car cheaply and conveniently online *
Book accommodation for the festivals in Burgenland here:
---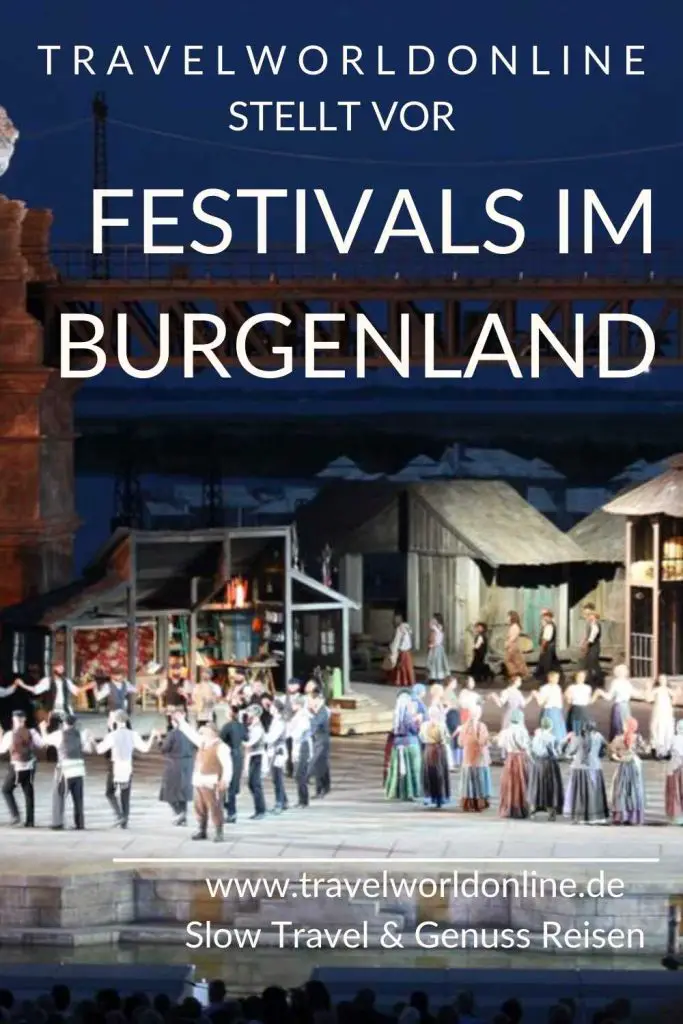 Do you already know:
Source Festivals in Burgenland: On-site research. Thank you for inviting us to this trip. Our opinion remains our own.
Text : © Copyright Monika Fuchs
Photos: © Copyright Monika Fuchs
Two open air festivals in Burgenland