The 30000 islands in Ontario, Canada
30000 islands in Canada are said to be located in the southeast half of Georgian Bay of Lake Huron in Ontario form an archipelago landscape. Among them are rocks as well as large islands overgrown by dense forest. Every now and then, luxury properties with a tennis court and swimming pool nestle in it. However, these tend to be among the accommodations on the islands of this region, which are rare on the islands. Metropolitan residents from Toronto or Montreal have built their cottages on the 30000 Islands. Sometimes with a power connection, sometimes without. Then you sit by candlelight in front of the fireplace in the evening and enjoy the silence of the island world.
To the island by seaplane
The easiest and fastest way to get to such an island is by seaplane. In Parry Sound, Georgian Bay Airways offers a fleet of seaplanes for private charter as well as for sightseeing flights over the islands off the east coast of Georgian Bay. City dwellers like to come to this region in the summer months. Here they spend the weekend or their summer vacation in their cottages.
This is how passengers and supplies come to the islands
Anyone planning a stay on one of these islands has to plan carefully. Because once you are on your island, the supermarket is not just around the corner. The quickest way to get there is by seaplane. Unless you own a boat. This takes you to Parry Sound, where the nearest supermarket is located. Many visitors therefore stock up on everything they need for their stay before arriving and stow it in the seaplane. This transports the supplies to the island together with the vacationers. If you have forgotten something, it often means waiting until the agreed time when the seaplane brings new supplies. Or you can take care of yourself on site - many cottage owners use the time to cast a line from the shores of their islands and catch fish for dinner.
Do you like to travel by motorhome?
A life close to nature on the 30000 islands
Living on one of the 30000 islands in Canada means doing without amenities such as electricity, tap water and telephone connections. Here the stoves are fired with wood. The water for brushing your teeth or for the bath or shower is heated on the stove or laboriously collected in the tub. Telephone connections are only available to those who live near a cell phone mast. Electricity is generated by generators. However, there is no guarantee that these will work reliably. Then you have to know how to help. Do-it-yourself is popular! When the generator goes on strike, the fish from the lake simply ends up on the grill in front of the house instead of in the frying pan.
That belongs in the suitcase
In Georgian Bay you will find numerous places where you can swim in the lake. Our Checklist for a beach holiday is helpful so that you don't forget anything.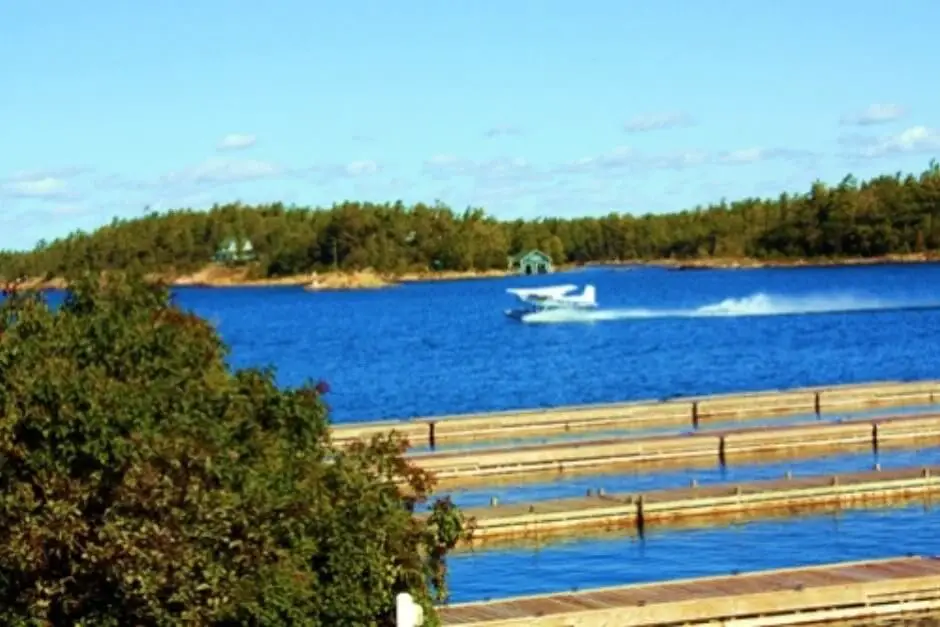 Back to nature on the 30000 islands in Canada
This life close to nature, however, is what many are looking for who can afford a cottage here. Fatigue from civilization and the search for an existence without the hustle and bustle of the big city lead many Canadians to create an oasis of calm on their island. You can see that they like this life on a trip through the archipelago of the 30000 islands: friendly waving summer visitors who relax on the terraces in front of their wooden houses or sunbathe on wooden chairs on the jetties on their islands definitely show that they are enjoying themselves feel good on your island.
---
Travel Arrangements
Getting there
Book yours here Arrival by plane, bus or train*. Best you fly to Toronto. Air Canada, Lufthansa and other airlines fly there. It's a good two-hour drive from Toronto. Of Ottawa You need about five hours and from Montreal almost six hours.
Rental car
You can order a rental car here *.
Caravan
Hotels in Parry Sound
Hotels in Parry Sound * you can reserve here.
Do you already know:
Source 30000 Islands Canada: On-site research
Text 30000 islands of Canada: © Monika Fuchs, TravelWorldOnline
Photos 30000 islands of Canada: © Monika Fuchs, TravelWorldOnline and Canva
30000 Islands Canada in Georgian Bay in Ontario